Zaha Hadid: an architectural visionary
In play-it-safe times, Hadid's social ambition shone through.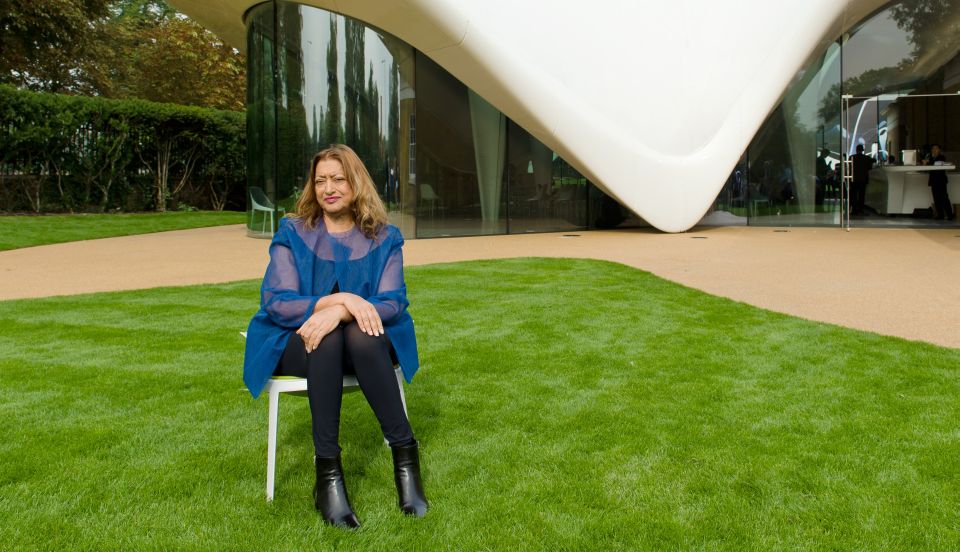 The death of architect Dame Zaha Hadid, aged 65, was as sudden as it was premature. The vast array of tributes now being paid to her, from Iraq, her birthplace, to the UK, her adopted home, is testament to her impact on the world around us.
What set Hadid's work apart was her unfettered social ambition. When she won the competition to design the Peak Leisure Club in Hong Kong in 1982 (which was never built), the modernist 'Hi-Tech' architectural style that had dominated the 1970s, incorporating modern industrial elements and technology into building design, was on its last legs. British architects were in the process of abandoning the ideologically charged outlook of modernism in favour of a postmodern approach, which meant playfully and ironically re-appropriating architectural history for symbolic meanings and associations.
Hadid was different. While her peers were abandoning modernism, she was inspired by it, in part, as she was later to admit, because she grew up in Baghdad at a time when key modernists Le Corbusier, Frank Lloyd Wright and Walter Gropius were working on, respectively, a sports centre, a cultural centre and a university campus. Hadid was especially interested in the Russian Suprematist Kazimir Malevich (1879-1935), a painter and art theoretician. Malevich and his peers were interested in the 'infinite extensibility of space'. They imagined that abstract art could help us understand the world in a new way, that art could transcend the limitation of two dimensions. Their paintings consisted of simple forms that were arranged as such to evoke thoughts about the material property of the object and its presence in space. The constructivist architecture that followed in the 1920s and 1930s, combining the 'non-objective' abstraction of Suprematism with a distinct social purpose inspired by the Russian Revolution, proved to be highly energetic.
Whereas her contemporaries were raiding the past, and stripping it of its content, Hadid refused to do this. It was the socially transformative content of modernist architecture that inspired her. She was clearly thrilled by the sense of possibility in these works, and carried it over into her own projects. The acrylic paintings for the Peak, and her student work at the Architectural Association school in London, clearly show Hadid's aspiration to create buildings that give form to the movement, flow and rapid communication of modern society. Hadid's work was open, energetic and rich in social possibility. Contrast this with the formulaic, technocratic and closed architectural language of those architects and designers in thrall to welfarism.
Vitra Fire Station (1993), in Weil am Rhein, Germany.
In the beginning, Hadid's work was largely speculative rather than actually built. The Peak provided her with the funds to set up an office in London, but she had to wait nearly a decade before her first real commission, the Vitra Fire Station at Weil am Rhein in Germany, which was finished in 1993. The fire station, which sits on the edge of town, was conceived as a means to draw a line between the surrounding agricultural landscape and the manmade structures of Weil am Rhein. The building lies low and appears to rise from the ground like an extension to the landscape rather than a distinct object. In plan, the building is very narrow with concrete shard walls, and apparently free-standing planes, some bent or tilted. Space appears to flow through the building rather than being enclosed by it. The functional needs of the users, such as the kitchen, are built into the solid sections of its strange geometrical arrangements giving the interior its own sculptural richness and sense of movement.
This early work, finished when she was 43, was tagged as 'deconstructivist', but Hadid rejected that title. Her work was all about 'modern life', she said. Her 1994 proposals for Cardiff Bay Opera House explored how you might break down the mass of a building, not because she was ideologically committed to the idea of 'deconstruction', but because she imagined a very accessible public place. It was to have had a fabulous lobby, a 24-hour exhibition hall and natural light penetrating every room, including the auditorium.
Unfortunately the opera house wasn't built – principally, it seems, because the Millennium Commission lacked the nerve to fund such a radical approach to public building. The decision was justified on the grounds that money was needed for sports facilities, rather than an 'elitist' project like an opera house.
This was a major setback for Hadid. She had to wait several years before the stigma of losing the Cardiff commission wore off, and new clients would trust her. However, she did start to pick up work outside the UK, in Germany, China and Azerbaijan and then, finally, in Scotland with Maggie's Kirkcaldy (2006) and the Glasgow Transport Museum (2011), and in London with the Evelyn Grace Academy (2010) and the Olympics' Aquatic Centre (2012).
When I interviewed her in the mid-1990s, Hadid seemed angry about the fact that the Welsh public, who had backed her project, had been deprived of a substantial cultural asset. This is why it is particularly galling to read the Telegraph obituary saying the fact that '[Hadid] was ready to place her interests ahead of every other concern was exacerbated by her readiness to build for regimes with poor human-rights record'.
This prejudice against Hadid is widely held in the architectural world. Architects often use her name as shorthand for 'everything that is wrong with the profession in our neoliberal age'. The Telegraph obituarist continued: 'The complexity of [Hadid's] buildings' sculptural expression all too frequently seemed to speak of a lack of concern for the complexity of the wider world.' In other words, the sheer expressiveness of Hadid's designs symbolises her detachment from the social issues architects apparently need to address.
This sentiment is not just an insult to Hadid – it's also an insult to architecture. In recent years, particularly in the UK, it has become compulsory to wear your commitment to social justice on your architectural sleeve. To be interested in the form of a building from a sculptural point of view is deemed to be an abdication of social responsibility towards users' needs. Among many newer architectural practices, it is legitimate to explore formal issues as long as the exploration is restrained and largely decorative rather than spatial. And spatial playfulness is only legitimate if pursued after a prolonged period of consultation with the proposed building's end users. The architect must be modest in every respect – formally, socially and creatively.
Architects interested in the manipulation of the form of a building, like Hadid or Frank Gehry, are dubbed 'staritects' and derided as throwbacks to the days of the Modern Masters when we foolishly believed in creative genius. As such, Hadid was swimming against the stream. One can't help thinking that she received a Royal Institute of British Architects Gold Medal, not because her work was finally accepted in Britain but because she was a woman and RIBA was keen to demonstrate its inclusivity.
Many have suggested that Hadid was the victim of sexism. However, when she herself criticised the 'Old Boys' network', she was referring to the risk-averse commissioning class in the UK's public and private sectors. She might also have been referring to the school of 'restraint' that dominates serious architectural discourse in UK. Hadid was not given support by the British government or business, but she was also not given support by the vast majority of her architectural colleagues. So, when students first arrive at architecture school, they will often tell you that their favourite building is Hadid's Heydar Aliyev Center (2012) in Baku. Over the course of their education, this sentiment will be educated out of them. By the end of their studies, they will cite David Chipperfield or Tony Fretton as the markers of good taste.
Heydar Aliyev Centre (2012) in Baku, Azerbaijan.
Hadid was not afraid to venture into unknown territory. As Rem Koolhaas, an internationally renowned architect, said in a BBC Radio 4 tribute, she created room for others to be exploratory and brave. Often, the gap between what was possible with new computer-design technology and the limitations of contemporary engineering, manufacturing and material science meant that some of Hadid's practice's work is flawed, less elegant in real life than in its virtual form. Hence it's true that the roofs of many of her large-span structures were over-structured and overpriced. Take Glasgow Transport Museum, for example. In order to create a futuristic-looking form, the architects were forced to produce an expensive but conventional steel roof before covering it up to hide its real nature. Conscious of this mismatch, Hadid argued that a younger generation, working with digital technology, would find solutions. And, over the past decade, thanks to Hadid's work with her partner Patrik Schumacher, some of these new design solutions have started to emerge.
By and large, risk-aversion still holds sway in contemporary architecture. The new measure of good work is to what extent the architect managed to retain control over the build quality of the final product, rather than any other factor. To be formally inventive is seen as crass. Iconic buildings, with expressive forms, are seen as playing to the superficial demands of consumer society. It is in this context that it has become possible to recast Hadid, who was a very open individual with an enthusiasm for democracy and progress, as something of an architectural and political reactionary.
The great thing about the early part of the 20th century, she said in 1996, was 'the tremendous euphoria about new ideas. We need to learn the ability to tolerate each other – that's the whole joy of democracy. If we don't do that, it's a problem.' Little wonder that in contrast to so many talented British and European architects, who have turned their backs on China and development in Asia, Hadid was excited by developments in the East. 'The scale is unreal in Asia', she said. 'In the West, we are scared about a large building; in China they are not scared about a city.'
When Hadid said she was not responsible for the conditions of migrants working on the Qatari World Cup Stadium in Doha, she was not expounding a neoliberal ideology – she was stating a fact. The role of the architect is to produce good work. In this way, and this way alone, the architect serves the public good. Hadid's blunt statement was a polemic against those with a managerial imagination who think you can change the world through planning, building and policy rather than politics.
Hadid's greatest legacy is her work. Her death is a huge loss to architecture. Those who have derided her buildings could learn a lot from her. Her bravery, her genuine ambition for humanity and, above all, her demand for architecture to be taken seriously in public life should provide the measures by which all future RIBA Gold Medal winners are judged.
Penny Lewis is a lecturer at the Scott Sutherland School of Architecture in Aberdeen and a founder of the ae foundation.
Main picture by: Getty Images.
To enquire about republishing spiked's content, a right to reply or to request a correction, please contact the managing editor, Viv Regan.