Bernie Sanders: the best choice for freedom-lovers?
A big-state socialist? Actually, Sanders is pretty libertarian.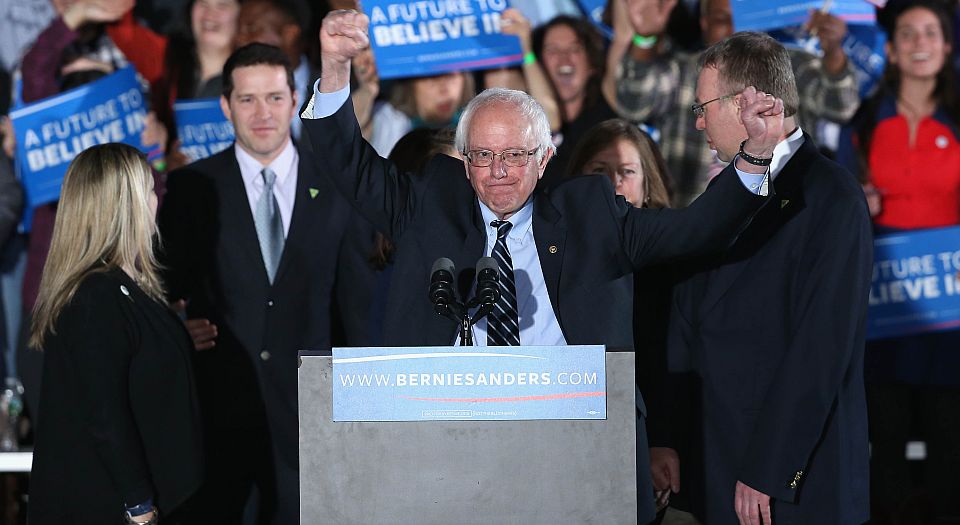 Hillary Clinton's presumed coronation as Democratic nominee in the US presidential race is in crisis. The chaos is beautiful: the Democratic establishment is panicking, and it's all because of a white-haired democratic socialist called Bernie Sanders.
The 74-year old senator from Vermont has led an unusual but impressive campaign, trouncing Clinton in New Hampshire this week by a margin of over 20 per cent, and losing to her in the Iowa caucuses by a nail-bitingly slim 0.3 per cent. One poll puts him just two per cent behind Hillary nationally.
Despite being slammed by some as a big-government lefty, Sanders' track record is more complicated — and arguably more libertarian than has been appreciated. Even libertarian stalwart Ron Paul has come out in support of Sanders' small-government credentials, shortly after his son, Rand, left the Republican race.
Bernie has espoused positions similar to Rand's, even joining with him to oppose government surveillance. Last year, Sanders wrote a blistering criticism of the 'Orwellian' practice of spying on citizens. He voted against the 2001 Patriot Act and its dreadfully named replacement, the Freedom Act, in 2015 — both of which Clinton supported. He is arguably the only candidate left who takes positions that can legitimately be described as libertarian.
He supports freedom of speech. He backs net neutrality and opposes attempts to censor the internet. In 2005, he introduced the Stamp Out Censorship Act, which sought to prohibit the government enforcing 'indecency fines' on non-public media (it failed to pass). Recently, addressing students at Liberty University (a Christian institution whose president has just endorsed Donald Trump), most of whom think very differently to Sanders, he said 'it is vitally important for those of us who hold different views' to engage in debate. Sadly, though, he also made what many look upon as a censorious promise to 'bring climate-[change] deniers to justice'.
On the two issues that most strongly divide the US political scene — abortion and immigration — Sanders has been pretty consistently on the side of less government intervention. On abortion, he wants officialdom to butt out of women's choices. And himself the son of a Polish immigrant, he has made immigration reform a key issue and has championed the idea of nation-blind individual liberty. He wants to weaken the power of deportation programmes and detention centres and implement a path to citizenship for illegal immigrants. He also supports choice in relation to drug use, including the legalisation of marijuana on a state-by-state basis. And he wants criminal-justice reform to end the imprisonment of non-violent drug users.
Even in relation to guns, Sanders takes a quite brave stand in this era in which, as Hillary has shown, demanding gun control has become a key part of being a so-called 'progressive'. While Sanders has been pulled in the direction of gun control recently, his voting record is more considered. He voted against the pro-gun-control Brady Bill, and he insists states must have the right to decide their own gun laws free from federal overreach. Half-baked Washington-imposed restrictions on gun ownership won't stop mass shootings, and Bernie knows that.
As well as not being ban-happy, Bernie isn't bomb-happy, either. In contrast to the hawkish Hillary, he frequently opposes American military arrogance. He applied for conscientious-objector status in the Vietnam War, opposed the Reagan administration's support of the Contras against the post-dictatorship government in Nicaragua in the 1980s, and voted against the 2003 invasion of Iraq. But he isn't a pacifist. He supports arming the Kurds and favours a military coalition of Middle Eastern nations to defeat ISIS. And he supported targeted Western airstrikes in Syria. However, he opposed Clinton's barmy proposal for a US-enforced no-fly zone in Syria, and he is considerably more critical of US militarism than anyone else in the presidential race.
Sanders' right-wing critics write him off as a big-state socialist. But a better label might be 'libertarian socialist'. Yes, he has a vision of centralised government spending funded mainly by tax hikes on big business, but Comrade Bernie also envisages having a private sector with greater employee ownership. He has introduced legislation several times to increase government funding for centres that would provide training and technical support for the promotion of worker ownership and participation. He introduced the Rebuild America Act 2015, proposing an extra $1 trillion investment to renew America's crumbling infrastructure, increasing airport capacity, improving and expanding railways, roads, bridges and broadband connection. He also wants to end crippling student debt and drastically increase loans to fuel small-business innovation. You can't accuse him of thinking small.
In an election battle against any of the authoritarian Republican frontrunners — Donald Trump, Ted Cruz, Marco Rubio — Sanders would be wise to position himself as the candidate with libertarian credentials and some vision. Better a choice between a Republican and Sanders than between a Republican and Hillary, who in comparison with Sanders is illiberal, interventionist and just not very inspiring.
Joe Arthur is a writer and a former spiked intern.
To enquire about republishing spiked's content, a right to reply or to request a correction, please contact the managing editor, Viv Regan.