Zac Goldsmith: the worst possible mayor of London
The posh environmentalist is exactly what London doesn't need.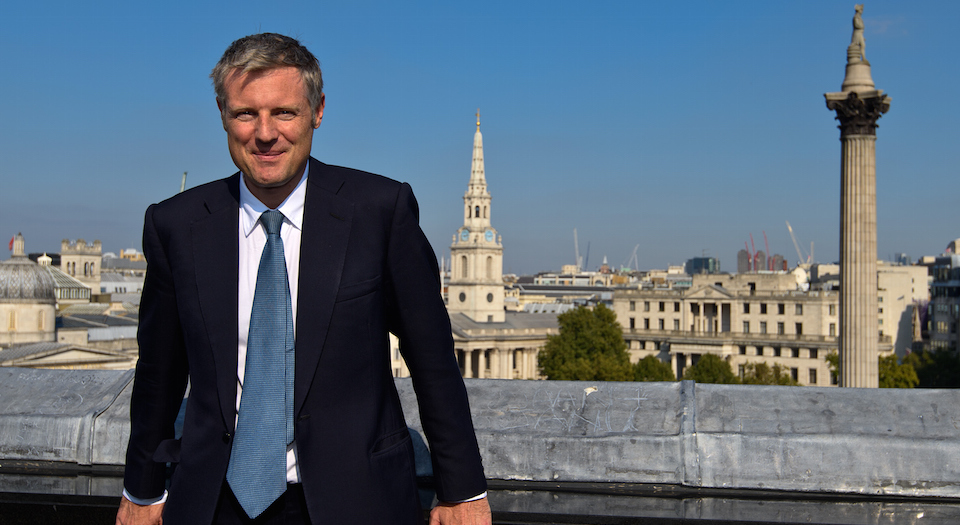 Zac Goldsmith, the Conservative Party's candidate in this year's London mayoral election, has long enjoyed the swooning, doe-eyed attention of the British press.
He's 'young, articulate and the best-looking Tory I've interviewed', according to one Guardian columnist. Another called him 'ravishing', reserving a special mention for his 'bee-stung lips'. And the Conservative Home website, which, in these post-political times, is now the Tories' last remaining grass root, described him as the 'fabulous MP for Richmond Park'. That's right, 'fabulous'. Not 'hard-working' or 'talented' or any of the other bland terms of political praise, but 'fabulous', an adjective so showbiz that it rarely goes anywhere without 'darling'.
What political comment there is, is often equally as pant-wettingly sycophantic, even among his nominal opponents. They might knowingly nod to Goldsmith's posh lineage, from his billionaire parents Sir James and Lady Annabel, to his uncle Edward, who founded the Ecologist magazine, which Goldsmith was to edit between 1998 and 2007. But the toffish background, complete with a stint at Eton, and a few wilderness years playing poker, is used not to damn Goldsmith, but to elevate him above the careerist fray of mainstream politicos. Even the fact that he's unimaginably rich is seen as a boon; it apparently means he'll resist using public office to line his Savile Row pockets. Given the ceaseless praise going Goldsmith's way, it's hardly surprising that Labour-supporting blog Left Foot Forward tells us that Labour candidate, Sadiq Khan, 'should be quaking in [his] boots'. Elsewhere, Green peer Jenny Jones admits that 'he comes across as very green and committed and passionate'. And, in the blue corner, the Telegraph, observing Goldsmith's willingness to criticise his own party, declares that 'Londoners will love an independent politician who doesn't stick to the party line'.
The Telegraph touches on the source of Goldsmith's cross-party appeal – namely, the sense that he's a maverick, that he toes no party line. And there's a grain of truth to this portrait of independence. Goldsmith does say disparaging things about the Tories, which he once claimed he'd have to be 'drugged' to join, and he does dismiss his parliamentary peers' behaviour as 'childish, superficial and rotten'.
But don't be fooled by Goldsmith's self-presentation. He's not really the independent-thinking maverick he presents himself as. No, at heart, he's a reactionary. That's right, beneath the right-on puff and gloss of his impressive PR effort lurks something drearily retrograde: a wind-the-clocks-back, grow-your-own, modern-life-is-a-bit-rubbish merchant. That's his impulse, his political raison d'etre: to still time, to resist the future, to restrain whatever forward momentum society has. 'I want to put "conserve" back into the Conservative Party', he announced in a 2001 piece for the Telegraph. And this is why he's exactly what a vibrant, often vital metropolis like London does not need. It wants someone with a bit of audacity, someone willing to embrace and encourage the dynamism of the capital, not someone who wants to wind it down, rein in its perceived excesses, and, ultimately, keep it just about as it is.
A policy document Goldsmith co-authored for the Tories in 2007 reveals his conservative impetus, especially a section tellingly called 'Redefining progress' in which he approvingly quotes that arch-conservative Edmund Burke: '"The great error of our nature is not to know where to stop, not to be satisfied with any reasonable acquirement; not to compound with our condition; but to lose all we have gained by an insatiable pursuit after more."' Goldsmith may lack the pathos, depth and sense of tradition of Burke, but he shares a similarly low view of his fellow men. Hence in Goldsmith's worldview, the problem is precisely humanity, and 'the great error of our nature', namely our activity, our ceaseless drive to grow and develop. Hence the future appears as a threat, as something to be managed, or better still, warded off.
As he put it in a 2005 interview, 'I believe in the precautionary principle [the idea that if the consequences of an action are unknown, but are judged to have some potential for major negative consequences, then it is better to avoid that action].' It is a belief that Goldsmith has reiterated in practical political contexts, as this objection to the development of nuclear power indicates: 'It's the precautionary principle again. [The prime minister] is taking a huge gamble. The incidence of cancer at Sellafield is 11 times the national average. Security is also an issue: when Greenpeace broke into Sizewell B two years ago it exposed a huge security risk.'
This deep-seated fear of change, this distrust of humanity, of human activity and development, and the possibility that things might not work out as planned, does not mark him out as a maverick or a Tory outsider. Rather, it places him in the miserable mainstream of contemporary politics. This is why every anti-human tendency, every regressive, misanthropic fad, is enthusiastically embraced by Goldsmith. For instance, there's his avowed environmentalism, born as he puts it from an early belief that 'the world was under siege' – from people, presumably. And from his environmentalism, his neo-Malthusian belief that humanity is using up the planet's resources, there follows a host of hairshirted, don't-mess-with-nature positions.
There's his support for the anti-material-development happiness-and-wellbeing agenda, on the grounds that 'ever-increasing material gain can become not a gift but a burden'; there's his opposition to the potential expansion of Heathrow and the 'growth in aviation, [which] cannot be environmentally acceptable'; there's his objection to 'the global food economy, which results in vast amounts of subsidised food being shuttled around the world, and renders each mouthful an ecological nightmare'; and there's his frankly batty conviction that 'our diet is making us ill'. ('A hundred years ago, there were virtually no recorded cases of cancer', said Goldsmith in 2004. 'But now we have the lot, and autism and hyperactive children. We don't know what is in our food any more. There are so many hormones and preservatives.' And the Bollocks Science Award goes to…)
But his loathing of his fellow men, his suspicion that, without, proper management by their aristocratic betters, they do wrong, has best been captured by his full-throated cheerleading of the post-Savile child-abuse crusade. He wasn't a Johnny-come-lately, either; he was to the fore from the start, sowing fear and suspicion about the prevalence of child-sex abuse.
So, in 2014, alongside the much-maligned Tom Watson, Labour's deputy leader, Goldsmith and four other MPs fully endorsed, in an open letter, the now-discredited idea that there was an establishment paedophile ring, involving a 'former cabinet minister'. As he put it in July 2014: '[Organised child abuse] is one of those areas that attracts so many conspiracy theories. Whereas a few years ago the inclination would have been to dismiss them as conspiracy theories, as time goes by, they start to look less like theories… I think [an independent public inquiry is] going to be ugly and unpleasant and destructive, but I think that ultimately it'll be a cathartic and useful exercise for us. Something very bad has happened and it's not the kind of thing that can just be naturally and comfortably swept under the carpet.'
Watson has since been hung out to dry for his involvement in the establishment-paedophile-ring story, in which he, like Goldsmith, implicated the late Leon Brittan. But Goldsmith has not only not been tainted in the same way, he's also neither really apologised nor recanted. Which is hardly a surprise. He believes this stuff. He believes that 'something very bad has happened', because he believes that this is what people, freed of external constraints and left to their own devices, are like: they err, they pursue their errant desires. That's why, like the aristocratic patrician he yearns to be, he loathes modernity, its unleashing of economic, social and political energies. He believes that it necessarily leads to problems, that we'll melt everything into noxious gases. Instead, he wants everything to remain as it is, for all that's solid to remain solid. He's exactly the opposite of what London needs, which is a mayor willing to support London's economic and social life, not throttle it. It's just a shame that that candidate is yet to emerge.
Tim Black is editor of the spiked review.
Picture by: Ben Pruchnie / Getty Images.
To enquire about republishing spiked's content, a right to reply or to request a correction, please contact the managing editor, Viv Regan.