'But you're a white man!': how identity politics crushes debate
George Lawlor on the racialised response to his criticism of consent classes.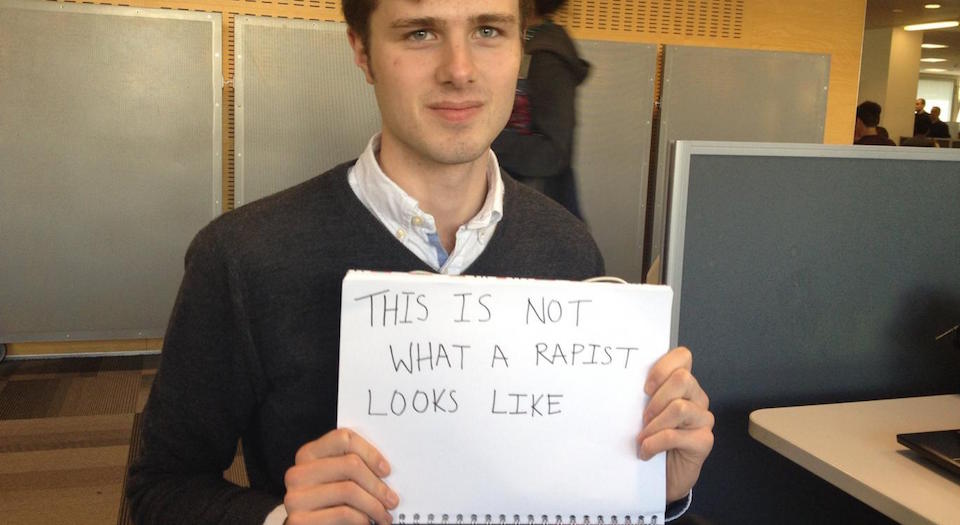 Apparently, I have become a bit of an internet sensation over the past few weeks. 'Why?', I hear you ask. Well, I posted an article online explaining why I was so offended to have been invited to a class about sexual consent at my university. To my surprise, the whole thing exploded and my face was all over the web. My inbox was flooded with interview requests and my newsfeed was filled with argument. As an aspiring writer, I was happy I had sparked discussion. But what really interests me is that my article also exposed the poisonous, reductive nature of the worldview that plagues the modern world: identity politics.
You see, alongside my article, I attached an image of myself holding a sign that read, 'This is not what a rapist looks like'. The social-media reaction to that picture was revealing. In fact, many people chose to not even read my article and instead focused entirely on that image of me with the sign, scoffing, cursing and abusing me for my ignorance. I was called classist, racist and all the other debate-ending names. And, of course, I was portrayed as a pantomime-like villain for all the internet to shame, from Twitter to Tumblr.
The tragedy of all of this isn't necessarily that I was shamed in an almost medieval fashion for having the audacity to defend myself as someone who already understands the meaning of consent – that's a different discussion to be had. No, it's that people so wildly missed the point of the picture.
When they looked at that picture, they didn't see George Lawlor. They didn't see the human being who is scared of spiders, who enjoys the work of BB King, and who only recently discovered that he can't sing. Instead, they saw a white, middle-class, university-educated male just emanating privilege – the face of centuries of tyranny. Yes, I may fall into some of those categories, but the problem was that I wasn't seen as an individual. I was labelled and put into a box, and that repulsive reductivism lies at the root of many of our world's problems.
Yes, I do look like a rapist insofar as I share superficial characteristics with white rapists. This was kindly pointed out by many on the internet who compared me to the notoriously charming and 'ordinary-looking' killer and rapist, Ted Bundy. Though what these commenters demonstrated wasn't empathy, intelligence or, even as many of them seemed to believe, wit. Instead, they showed themselves to be shallow, all too willing to judge individuals not by the content of their character, but by the colour of their skin, the depth of their pockets, the leaning of their sexuality. I'm sure I'm not the only one who finds this worldview repulsive, but it just so happens that it is widely held today.
Many of those who joined the ranks against me would describe themselves as egalitarians, feminists, progressives and all the rest of it. But what they don't realise is that by looking at the world through the tired old lenses of identity, they in fact perpetuate the problems created by racism, sexism, homophobia and other crimes. As Brendan O'Neill has observed, quotas and other solutions to racism or sexism not only penalise those who played no role in historical oppression: they also patronise and coddle those they are intended to benefit.
The politics of identity is a very poisonous way of looking at things, and it really isn't very new or progressive at all. In fact, it is very close to the racism, homophobia and sexism that its proponents claim to oppose. The reductive collectivism of identity politics rests on the same principles as the colonialist idea of the 'white man's burden' – namely, that white people are fundamentally different, biologically and morally, to black people. And, likewise, it's disgustingly similar to the ideology that fuelled the racism of the American South well into the twentieth century. We all need to move forward together, not as men and women, not as white and non-white, not as gay and straight, but as individuals, dropping those labels that only serve to hold us back. Nobody is the same, no matter what boxes they tick. I may be a white male, but I refuse to take any responsibility for the crimes of other white males, or claim credit for the success of people who looked vaguely like me.
There's no doubt that certain demographic categories of people were abused and oppressed throughout history, but the best way to deal with those injustices now is to put an end to the malicious practice of seeing people superficially, in terms of their sex or skin colour. Rather, we need to treat people as individuals with unique talents, fears, beliefs and values. I don't want my children to grow up in a world where they will be wrongly seen as symbols of oppression or victimhood. I want them to grow up in a world where my son can look up to Aung San Suu Kyi, and my daughter can look up to Frederick Douglass, and both can become inspirational individuals, freed of the chains of identity.
George Lawlor is a student and a writer.
To enquire about republishing spiked's content, a right to reply or to request a correction, please contact the managing editor, Viv Regan.