In defence of cheap milk
Dairy farming is a hardnosed business, not a rural idyll.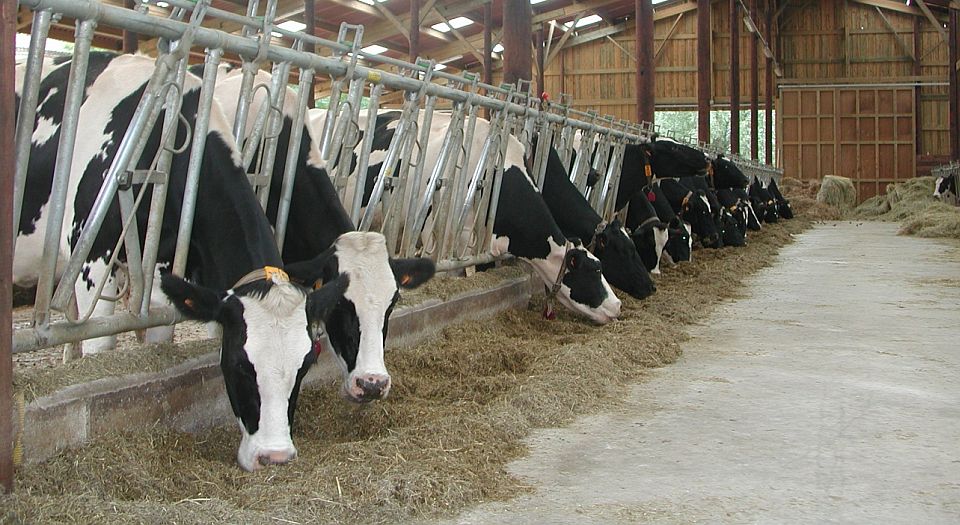 Supermarket chain Morrisons has been getting it in the neck from dairy farmers over the past couple of weeks, with high-profile protests at the falling price of milk. Protesters cleared the shelves of milk at one store and blocked access to Morrisons distribution centres. It's not exactly France, where farmers' protests are legendary for their scale and militancy. But Britain's milk producers have clearly had enough. Anyone with a heart should have sympathy for people whose livelihoods are being threatened by forces beyond their control. But why the obsession with Britain's dairy farmers – and what, if anything, should we do about it?
Morrisons is not alone in being painted as the 'bad guy' in all this. Other chains, like Asda, Lidl and Aldi, have also been criticised for not guaranteeing at least to cover the costs of milk production. Some big stores, like Tesco, Sainsbury's and Marks and Spencer, already have contracts with farmers to buy milk at prices that provide a small profit on every litre. But Morrisons et al buy their milk from big milk-processing companies, like Arla (a farmers' cooperative) and dairy giant Muller, both of which base their prices on the open market – and prices there have been in freefall for the past year or so.
Dairy farmers have been hit by something of a perfect storm. Production is up thanks to good weather. In 2014, Russia banned the import of food from the EU and US in response to Western sanctions, leaving producers in Eastern Europe looking for a new market for their products. Until the sanctions, roughly 25 per cent of EU cheese production went to Russia. Meanwhile, demand from China for powdered milk has fallen. Even New Zealand, which had done very well from producing milk for the Chinese market, is suffering because of the downturn in Chinese consumption. And, in April, the EU's quota system for milk production was scrapped, allowing dairy farmers to produce as much as they liked. The result has been a rise in supply in Western Europe that is outstripping demand, forcing prices down.
What can farmers do? Raising the efficiency of production, through greater economies of scale and employing best practices, can help, but many family farms don't have the capital or the size to do this. Selling their milk as a commodity means they compete, like-for-like, with milk on the international market and have to accept whatever the going rate is for their product. Some are converting their milk to cheese or other dairy products that they can sell at more of a premium – though even this is a limited market. Otherwise, farmers have to 'sweat their capital' more, using their land and buildings for other purposes, like bed-and-breakfast rooms or even taking another job on the side – hardly an easy option given the long hours farmers already work.
The alternative is to find a way of demanding a higher price. This is where the protests come in. Some farmers believe the answer is to get supermarkets to up their prices. But fresh milk is an item that shoppers are very price-sensitive about. Supermarkets already sell big cartons of milk at a loss – £1 for four pints in most stores – to get the punters through the doors. In any event, about half of the nation's milk goes to the processing companies to make cheese, yogurt and other products, and those processors can easily buy on the open market at knock-down prices. Raising the price at a handful of supermarkets would, at best, be a partial solution.
One other option is special pleading. Patrick Holden, a dairy farmer and former head of the organic-food lobby group, the Soil Association, argues that farmers are essential to maintaining the countryside and should receive a premium for doing so: 'These farmers form the backbone of the rural economy. By their very existence, they play a crucial role in maintaining our countryside. They are the stewards of our landscapes, field boundaries and hedgerows, the guardians of the fertility of the soils, the pastures, biodiversity and the ancient green lanes for herding the cattle in to be milked. As each farm disappears, the skills of the stockmen are also lost and will be difficult or impossible to replace. These are all priceless elements of our natural and cultural capital.' But farmers are already paid to maintain the countryside through EU farm payments. Maybe it is time to find another way of doing that while using the land in a more economically sustainable fashion.
The harsh truth is that we should do nothing to inflate the price of milk (other than considering whether imposing sanctions on Russia was such a great idea). While some have considered a return to the old UK Milk Marketing Board, where the government was effectively the buyer of last resort, the truth is that that arrangement ended in 1994 with few tears shed, as Andrew Critchlow notes in the Telegraph. Either farmers themselves start to limit production in order to reduce supply and bring it back into line with demand, which seems unlikely, or they raise the scale of their production voluntarily by consolidating farms. If they don't, the market will probably do the job for them by pushing many of them out of business. The most likely outcome is an industry with fewer farms. That will be a brutal experience for many, yet the result would be, on the whole, more efficient milk production, to the benefit of everyone else.
To put the British situation into perspective, China already has dairy production units of up to 40,000 cows and a joint Chinese/Russian project has started work on a unit with 100,000 cows. The average UK herd size is just 133.
Such an increase in efficiency is something we would welcome in any other industry. We love the fact that every other kind of product has been getting cheaper or better, or both. That makes us better off by allowing us all to spend our wages on other stuff. Farmers use enormous amounts of oil and other petrochemicals. Oil prices have also dropped off a cliff in the past 12 months or so, leading to thousands of workers in the North Sea being laid off. Anybody campaigning to save their jobs? No, didn't think so.
The fact that dairy farmers continually get so much attention is in part to do with a misplaced romanticism about the countryside. Farming is actually a hardnosed business. Cows are milk-producing machines, hooked up to milk-extraction machines every morning. There's little room for sentiment. Yet the way some people talk, you might think that what is being lost is some rural idyll where Daisy and Ermintrude are gently distracted from munching grass in the sunshine by the gambolling of laughing children. In an earlier interview, even Holden recognised that those days are gone, if they ever existed: 'The small mixed family farm that people show children before they go to sleep in order to connect them with the land, and the world, and give them a sense of security to fall asleep to. But in our generation that image has become complete fantasy!'
Realising that a business you have devoted a chunk of your life to is no longer economically viable must be a terrible moment, whether you are a dairy farmer, a shop owner or anything else. But this creative destruction is also the thing that has driven society forward, raising living standards so that very few of us need to work in the fields anymore. Let's take off the rose-tinted glasses about farming and celebrate the benefits of cheap food.
To enquire about republishing spiked's content, a right to reply or to request a correction, please contact the managing editor, Viv Regan.