Yvette Cooper and the rise of the new girls' club
Female politicians who cry sexism are doing more damage than the Old Boys' Club.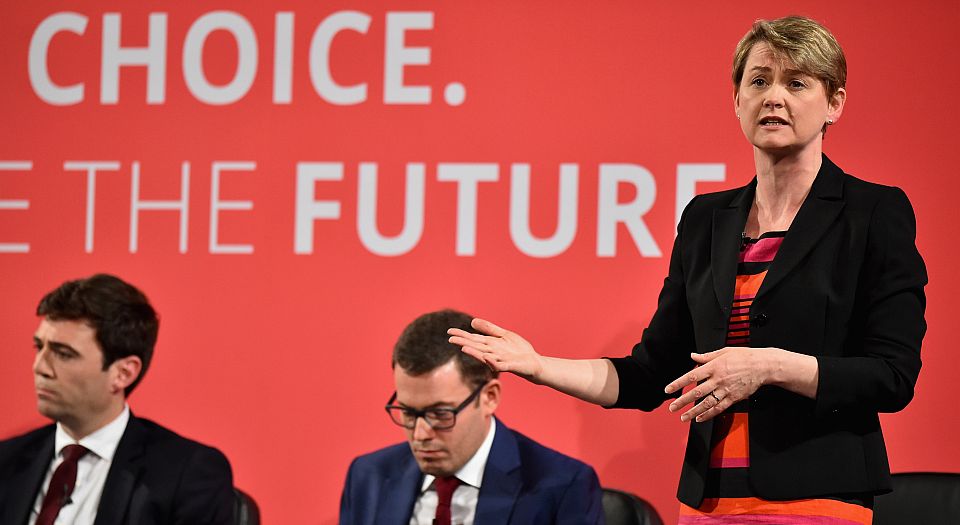 Labour MP and leadership hopeful Yvette Cooper made headlines over the weekend for calling out sexism in the leadership race. After coming third in a recent YouGov poll, behind left-wing favourite Jeremy Corbyn and 'safe bet' Andy Burnham, Cooper was criticised, alongside Blairite candidate Liz Kendall, for not making her own ideas clear enough – she was 'not up to [the] challenge', according to Tony Blair's old flatmate, Lord Falconer. And, rather than meet those criticisms head on, Cooper decided to shift the blame. In an interview with the Guardian, she called the leadership contest 'startlingly retro' and said that she and Kendall were being put under pressure from Burnham to 'bow out and leave it to the boys'.
Throughout the campaign, Cooper has been criticised for failing to spell out what she stands for. Her campaign has touched on child poverty, and she insists that Labour needs to win back the support of working families. But she has spent most of her time arguing that Labour shouldn't move left or right: 'We can't fight and win by remaining a narrow party, we have to reach out.' At their most charitable, commentators have painted her as another safe option.
It doesn't take much to work out that Cooper is trying to give her campaign a feminist edge in order to cover up for her startling lack of substance. And this wasn't the first time. In a recent interview for BBC Radio 4, Cooper repeated the much-touted line that 'David Cameron has a woman problem', before going on to say that she intends to 'shake up the Old Boys' Club in Westminster'. This injection of girl power seems to be going down well among some leftish commentators – according to the Guardian, her calling out of the leadership race's sexism has meant she has 'found her voice and inner steel'.
In recent decades, Labour has been keen to define itself as the progressive party when it comes to women. Under Labour prime minister Tony Blair, 101 female MPs were elected to parliament. And, at the last General Election, Ed Miliband continued to flaunt Labour's support for the girls in the form of a convoy of pink buses. However, Cooper argues that sexism still pervades parliamentary politics. Having spent the entire leadership race arguing for little more than Labour to be nicer to people, now Cooper is turning on the pity politics and asking everyone to be nicer to her.
There's no doubt that there is an Old Boys' Club in Westminster. However, rather than setting out to beat the boys at their own game, female politicians today seem to prefer to cry sexism in order to silence their opponents. During the General Election there was much celebration of the presence of three women in the televised leaders' debates – with SNP leader Nicola Sturgeon, Plaid Cymru leader Leanne Wood and Green leader Natalie Bennett all sharing a platform. This stepped up to absolute exaltation when the three women hugged at the end of one of the debates. Rather than being celebrated for their individual ideas, they were celebrated for bringing a kinder, feminine touch to politics.
But what this moment really proved was that the power of the Old Boys' Club is on the wane. If anything, a new girls-only political clique is doing far more damage to women's status in politics. It extends from feminist groups like the newly formed Women's Equality Party, which insists that women's issues are somehow separate, to trendy 'radical' campaigners like Caroline Criado-Perez and Laura Bates, who insist that campaigning against cat-calling or sexist bank notes will usher in a new era of female empowerment. This New Girls' Club seeks to define women, not in terms of what they think, and how powerful they can be, but by how oppressed they allegedly are. The real sexism in contemporary politics comes from women who play upon victim status in order to gain sympathy-support.
Cooper's feminist-lite soundbites in the leadership race have only really been used to distract us from the fact that she has no solid political ideas of her own. Running a hollow campaign to lead a zombie party, Cooper is crying that the board is rigged purely because she can't win the game. But feminising politics will do nothing to win support or better society. Margaret Thatcher remains our only female prime minister, and she didn't usher in a better era for women, or men. Politics doesn't just need more women; it needs better, stronger and tougher political ideas.
Ella Whelan is staff writer at spiked.
Picture by: Jeff J Mitchell / Staff
To enquire about republishing spiked's content, a right to reply or to request a correction, please contact the managing editor, Viv Regan.