There is no such thing as a child terrorist
We need to draw a line between the actions of adults and children.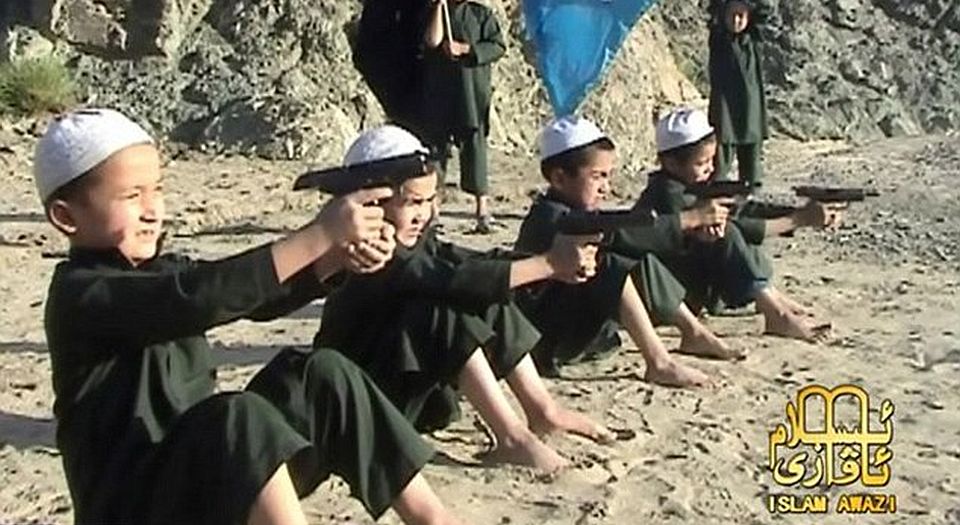 Last week, a 15-year-old British schoolboy pleaded guilty to inciting another to commit an act of terrorism. His crime was to send messages to a teenager in Australia, encouraging him to attack a commemorative parade for Anzac Day in Sydney. The boy will be sentenced on 3 September.
The conversations which led to the boy's conviction were published in the Australian press. The boy had sent messages to 18-year-old Sevdet Besim, telling him to use a machete to behead members of the armed forces at the parade. He also told Besim he should break into someone's house to 'get a taste' for beheading beforehand.
The coverage of the trial was quick to label the boy Britain's youngest Islamist terrorist. He may be the youngest, but he's certainly not the only child to be branded a terrorist by the Western media. In February, an article in Foreign Affairs magazine described 'the rise of the child terrorist', identifying the use of children as a tactic of ISIS and the Pakistani Taliban. In France, following the attack on the satirical magazine Charlie Hebdo in January, an eight-year-old was reported by his school to the police for acts of terrorism – the boy had claimed that the Charlie Hebdo journalists had 'insulted the prophet'. In 2012, the Daily Mail published an article describing children who were shown firing handguns in an al-Qaeda training video as 'five-year-old terrorists'. Today, with the increased deployment of children by psychotic mobs like ISIS, the Western media have become completely comfortable with using the word 'terrorist' to describe the behaviour of kids who are merely caught up in the chaos around them.
The idea that we have seen the 'rise of the child terrorist' is absurd. It is important to restate what should be clear to any civilised society: there is no such thing as a child terrorist. It is a contradiction in terms. The word 'terrorist' implies that a person's actions are deployed in pursuit of a particular political aim. Can we really say that this boy from north-west England, who was still in school, sent these messages in pursuit of a political aim? Can we really say that the five-year-old children in those training videos carried the same convictions as the people who put the guns in their hands? No. These children have been shaped and moulded by the adult worlds around them. None of them has developed the kind of political perspective on life required to form a genuine belief in any ideology. The idea that we are seeing a rise in child terrorism merely demonstrates that the adult world has failed to interpret the peculiar position of these children in the societies they have been brought up in. The so-called rise of the child terrorist is really the reflection of the decline of the Western media's ability to delineate between the actions of children and adults.
It is true to say that the use of the word 'terrorist' in these cases makes a degree of sense, when you consider that many acts of terrorism today are merely expressions of individual nihilism and disillusionment. As has been pointed out before on spiked, the terrorist acts that have affected Western society in recent years have often been divorced from any real political aim. Instead, they have been acts of striking out at a society that these deranged individuals feel estranged from. The use of the word 'terrorist' to describe the actions of a teenager not only demonstrates that the Western media are incapable of distinguishing between children caught up in terrorism and avowedly terrorist adults – it also shows how modern Islamist terrorism has a particularly juvenile and nihilistic character.
However, it's not just those in the media who are happy to call kids terrorists. The UK government's anti-terror framework includes systems capable of branding young children as terrorists, even before they have committed a criminal offence. When our 15-year-old terrorist was 13 years old he was referred to the government's counter-extremism programme, Channel, after he demonstrated sympathies with Osama bin Laden in his classes. Channel, which forms part of the government's Prevent strategy, seeks to 'target vulnerable individuals' who may be drawn into terrorism and to re-educate them away from terrorist sympathies. It is easy to see how a child can come to believe in the significance of a particular ideology if he is effectively told by the government that it is a threat to the foundations of society. Of course, any adult faced with a child demonstrating sympathies with Osama bin Laden should seek to intervene and understand how the child has come to think that way. But shunting them off into a draconian government-mandated re-education programme only compounds the problem.
But what is perhaps most worrying is that our criminalisation of children is by no means restricted to so-called child terrorists. Many other terms have emerged in recent times that apply adult levels of responsibility and judgement to children. Most notably, the recent panic around youth gangs has led many to describe children as 'gangsters' and 'gang leaders'. Much like the use of the term 'terrorist', describing juvenile violence as 'gang violence' imbues these incidents with the same level of malevolence as serious organised crime. Teenage disputes, some of which end in tragedy, become reimagined as organised, tit-for-tat exchanges between serious criminals. These events, while undoubted tragedies for those involved, are often merely the tragic conclusions of juvenile arguments, not of territorial power struggles or 'turf wars', as so many modern commentators would have us believe. Similarly, the media have become comfortable with describing children as 'rapists' and 'murderers'. In 2014, after he killed his teacher, 16-year-old William Cornick was routinely described as 'evil' by the adults around him.
This criminalisation of children has been bolstered by recent developments in the legal system. Since 1997, many of children's legal protections from prosecution have been removed. The New Labour government repealed doli incapax – the presumption that children under the age of 14 are incapable of committing a crime. The Sexual Offences Act 1993 made it possible for a child as young as 10 to be accused of rape. In this vein, new anti-terror legislation makes no distinction between children and adults, meaning that a child can be treated like a bite-size bin Laden for sending texts to another teenager on the other side of the world.
The case of the 15-year-old child terrorist shows that the government's early interventionist approach to terrorist ideas is hopeless. Treating children as if their ideas are a danger to society is hardly the way to usher them away from those ideas. But this case also shows that the criminalisation of children has dangerous consequences. In failing to distinguish between the actions of a child and those of an adult, we fail to appreciate the peculiar dynamics at play in young people's lives. Worse, it shows that adult society is now less willing to take responsibility for young people and their mistakes. It's time to dispel the myth of the child terrorist, and to reestablish a firm line between the actions of adults and children.
Luke Gittos is law editor at spiked, a solicitor practicing criminal law and convenor of the London Legal Salon. His first book, Why Rape Culture is a Dangerous Myth: From Steubenville to Ched Evans, will be published later this year.
Picture by: Getty Images.
To enquire about republishing spiked's content, a right to reply or to request a correction, please contact the managing editor, Viv Regan.