The only way is middle-class feminism…
That seems to be the view of those condemning TOWIE girls.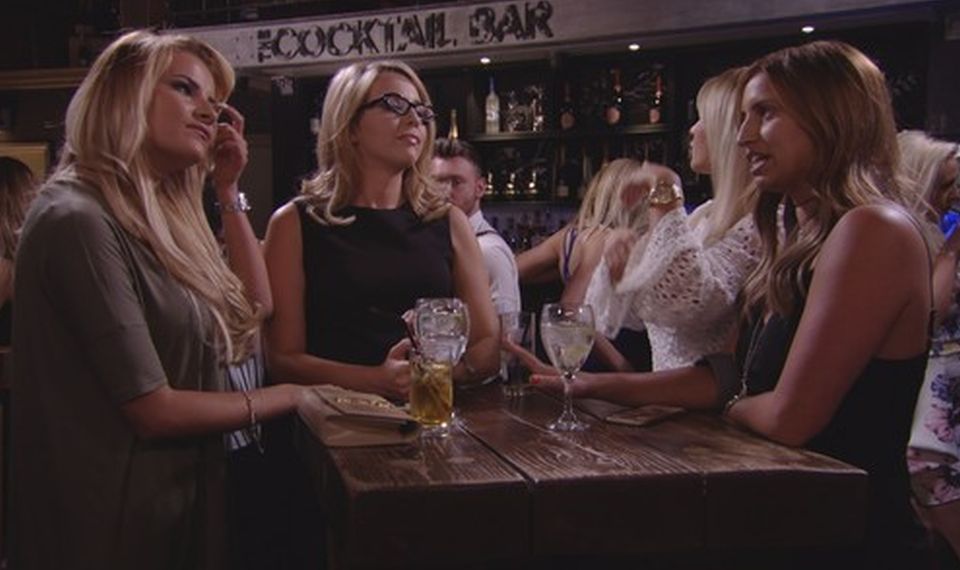 This week, my favourite reality show, ITVBe's The Only Way Is Essex, decided to give feminism a trial run. Dispensing with make-up, but armed with the hashtag #FemEssex, the TOWIE girls spent an episode discussing armpit hair and boy troubles before enjoying an evening of female empowerment. Unsurprisingly, it wasn't long before handbags were sent flying.
Everything had been going well until one of the girls, Georgia Kousoulou, was criticised by another, Ferne McCann, for allowing herself to be treated like a doormat by her boyfriend. However, before she inevitably stormed off, the supposed doormat stood up for herself by denouncing McCann as a hypocrite, 'banging on that you're empowering women, when, actually, you're just slagging them off behind their back'.
Just another storyline cooked up by the producers? Perhaps. But the TOWIE girl-fight also captured something of the nature of contemporary feminist politics, insofar as the feminist's role was to tell another woman how she should deal with men, what she should wear, and how she should behave – in short, how she should live.
It's certainly a sign of the times when a show based on spray tans, club nights and vajazzling (if you don't already know what that is, you're four years too late) feels the need to swap its collagen for an injection of right-on politics. But maybe it shouldn't be a surprise. Contemporary feminism, an inherently middle-class affair, is fixated on going bra- and make-up free, and is disgusted by waxing. No wonder TOWIE, which is no stranger to the hair-and-beauty salon, sticks in the feminists' craw. Contemporary, middle-class feminism is desperate to tell working-class girls like those on TOWIE how they should live.
Of course, the stars of TOWIE are minted and live lives of luxury, from driving Ferraris to owning pet micro pigs. But central to the show is an underlying working-class, earn-it-and-burn-it ethos. Not only do the Essex girls scoff in the pasty face of feminist politics by doing whatever the hell they like in their relationships, their excesses also prove that even their carbon footprint is made wearing high heels.
In a promotional article for her book, A Book for Her, comedian and feminist Bridget Christie posed a telling question: 'What's the point in holding up a mirror to female oppression if we can't even look in it ourselves?' Christie argued that TOWIE girls, with their 'mattress-filled breasts' and fake eyelashes, are blind to the evils of women's oppression. It's the old patronising argument of 'I know best', but with an even more obvious class snobbery underpinning it. 'I assume that most people's default setting is feminist', writes Christie, 'until they do or say something that makes me think otherwise'. It's a worrying message: middle-class Guardianistas like Christie are clearly on the lookout for a bad feminist, or even worse a 'bad woman', in need of a good talking-to.
I've encountered this class bias to contemporary feminism before, when writing about good boobs and bad boobs. But being against the 'wrong sort' of woman is really beginning to define what feminism means today. More than ever, society is being directed by the middle-class fancies of feminism. If you don't fall in line, you're a patriarchy-loving rape apologist in denial. When TOWIE's dolled-up doormat Kousoulou told #FemEssex McCann to butt out of her relationship, I punched the air. If there's one thing that women need to learn, it is how to tell nosey bitches who think they know best where to go. Not all women want a career in journalism, long leg hair and almond milk on tap. Not that what women actually want puts off today's feminists from telling them what they should want. Age-old middle-class anxieties about how to control the oiks are precisely what drive feminists on. There really are women out there who are beside themselves with worry that, on a night out, we ignorant girls are going to take two hours to get ready, before getting plastered, being chatted up by a man, and liking it, too!
Neither TOWIE nor Christie engages with the real problems facing women today: the lack of affordable childcare; the post-child drop in wages; the demonising of pregnant women for drinking a glass of wine. None of these bothers the TOWIE girls. But then why should they be bothered? The whole point of reality shows is that they're hyperreality. They're all about cars, sex and pool parties. It is the feminists who think they ought to educate women who are the real danger to other women, not the TOWIE girls. Real women will wear as much slap and as little skirt as they like. So screw feminism's middle-class niceties – we'll live how we want.
Ella Whelan is staff writer at spiked.
To enquire about republishing spiked's content, a right to reply or to request a correction, please contact the managing editor, Viv Regan.