#NotGuilty, but a victim forever
Rape victims shouldn't be encouraged to dwell on their experiences.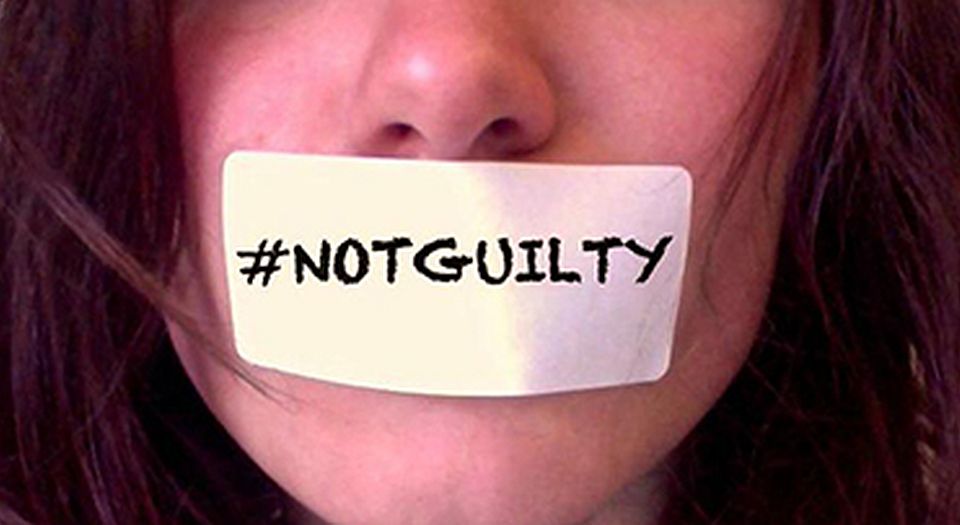 Two weeks ago, Oxford University student Ione Wells wrote an open letter to her sexual attacker, which, after being published in the university's independent newspaper, Cherwell, made it into the broadsheets. The letter was published as part of Cherwell's #NotGuilty campaign and the publicity given to Wells' letter has reportedly 'empowered victims of sexual assault' and encouraged them to speak out.
Wells was attacked when she was walking back to her home in Camden, north London, alone at night. She was thankfully saved by a neighbour and her assailant has since been convicted of sexual assault. In her open letter, Wells was clear in her intent to move on from the event. 'Tomorrow, I have my life back', she wrote. But the surge of media interest since, and the submissions to the #NotGuilty campaign so far, suggest that she will continue to be attached to that horrible event.
There is something very sinister in the treatment of stories like Wells'. Penning a letter to your attacker is one thing, but the desire to publish your private life for the mainstream media, ever keen to publish a rape story, is unnerving. Wells' argument for using her personal account was to encourage other women to feel comfortable with going public about their own experiences. A similar case happened a year ago when Francesca Ebel wrote a piece for the Tab about being raped. She decided to 'break the silence', she said, because there were 'too many faceless victims'.
What lies beneath these campaigns is the idea that rape victims are cowed by a 'victim-blaming' culture. But I find it extremely hard to accept that the victims of rape, or the public more broadly, genuinely think that victims are to blame for being attacked. This is not only because the recent surge in victim worship within popular culture and politics has totally wiped out any stigma surrounding the victim — it's also because our society has progressed to the point where we treat women equally and therefore treat rape as a serious and unacceptable crime. The #NotGuilty campaign suggests that victims walk around tight-lipped, with heads heavy, unable to speak out unless they are coaxed by comforting articles and cushioned by Twitter solidarity. It's just not true that there is a world of faceless victims out there — there is no sea of silent women.
This total disempowerment of women runs parallel with anti-lad-culture crusaders who continue to make insubstantial claims about the degeneracy of young men. In an article published recently in The Times, Ben Machell relayed what took place when he went on a night out with some female university students. Seemingly, he spent the entire night pitying the girls being snogged and spun around the dance floor by supposedly predatory males. He argues that laddish banter is 'particularly pernicious because it draws female students in' and that 'a lot of normal guys in their late teens and early twenties are occasionally moved to act unforgivably towards their female counterparts'. This reactionary idea, that men are driven by their penises and women by their tear ducts, is becoming the orthodoxy — on campus, in particular. It's accepted to the point that Wells' university, Oxford, announced over the weekend that it will introduce compulsory 'anti-misogyny workshops' for all college rugby teams wishing to take part in tournaments.
Being a strong individual, someone who takes control over their own life, is very much underrated today. Wells' piece had a tinge of this sentiment, in her insistence that she would move on and not let the assault define her. But, in essence, she has done the opposite of that. By sacrificing her anonymity in order to 'emphasise that victims are not statistics' she has been turned into yet another symbol of female victimhood.
A progressive society would view the desire to make a heinous crime that was committed against you into a central part of your life as a step backwards for individual freedom. However, it seems that the current cultural trend towards the fetishisation of victimhood, to the point where being raped becomes almost a celebrated part of a woman's identity, has imbued being a 'survivor' with social capital. It is now deemed offensive to suggest that, instead of constantly reliving the robbery of your freedom, you should exercise your agency and power as a free-thinking individual and put such terrible events behind you. Surely this is what being a survivor really means. A culture which encourages young women to express weakness as a form of empowerment is one which has no interest in truly treating women equally.
Ella Whelan is staff writer at spiked.
To enquire about republishing spiked's content, a right to reply or to request a correction, please contact the managing editor, Viv Regan.