Get the cops off Hopkins' Twitterfeed
An MP has disgracefully reported Katie Hopkins for speech crimes.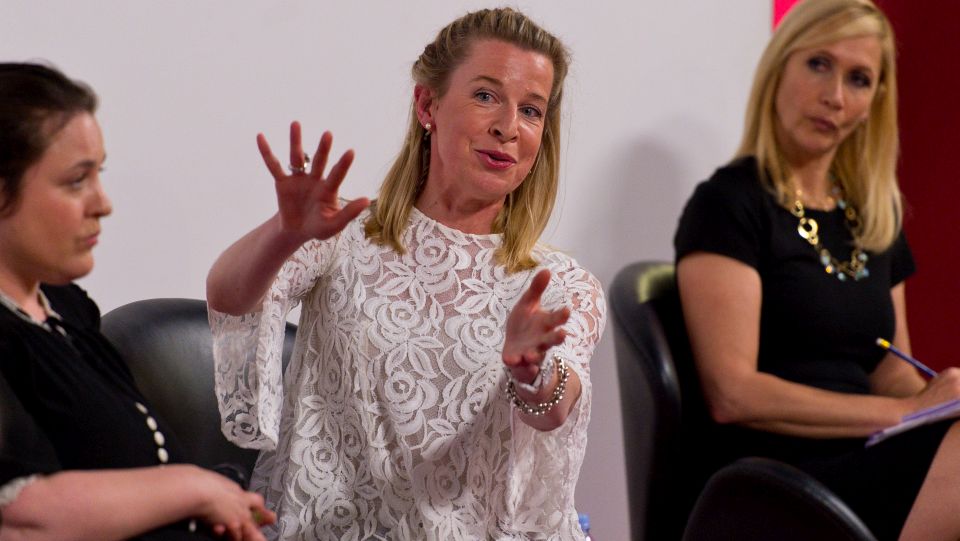 Few people get up liberal noses like Katie Hopkins. The ex-Apprentice contestant turned social-media rent-a-gob manages to piss off just about everybody through prolific and acerbic tweeting. This is usually coupled with stern-faced television appearances, during which she can be seen chastising and ridiculing the latest advocate of some dreamt-up cause (breast-is-best advocacy, fat-friendly employment laws, and so on). Her commitment to a brand of no-nonsense individualism has landed her in various pools of Guardianista hot water, in which she seems to splash around with irreverent glee, upping the un-PC ante with each 140-character outburst.
I'm not Hopkins' biggest fan. I disagree with much of what she says. But there are fans out there. From the 'fatties' (her words) who laud her for calling them out in the course of her own bizarre escapades in weight loss – she piled on three stone on purpose and then lost it again to show how 'easy' it was to lose weight – to a certain demographic of middle-aged UKIP types who genuinely see her as a political fellow traveller, Hopkins has a groundswell of support.
I fall into neither of these two established Hopkins fanclubs. But she is often funny, and reliably quick to puncture much of the pseudo-liberal nonsense we are all supposed to agree with. In an age of stifling intellectual conformity, she – bizarrely – manages to hold her own as a righteous voice of dissent. For instance, she ridiculed the idea that Andreas Lubitz's act of barbaric mass murder in downing Germanwings flight 9525 could be explained away by his diagnosis of depression, and drew sensible attention to the diagnostic expansion of the category of depression over recent years. She is also often quick to defend freedom of speech when faced with hysterical cries to shut her down. She indicated she would flee the country if Ed Miliband became prime minister – a sensible approach, in my opinion. And while her obvious drive to annoy the right people sometimes leads her to very odd and shrill conclusions, she is regularly on the right side of the latest trendy argument. She is the heretic shouting down the orthodoxy, with her very own army of rotund unbelievers.
Now, in an all-too-familiar sequence of events, she has been reported to the police for inciting racial hatred. In a move which plays out so often today, in which people are encouraged to reach for the law the instant that even the suggestion of personal offence rears its head, Labour MP for Rochdale Simon Danczuk has raised a complaint about Hopkins with the Greater Manchester Police. So now, as the police cast their eyes over Hopkins' Twitter timeline, checking for illegal expressions of opinion, and the people of Rochdale continue about their business completely oblivious to the apparent 'incitement', it is time for Hopkins' army to man the barricades. And, if it's a choice between chubby, conservative Hopkins fans and the pompous mob of censorious Laborites who so often seek to silence her, I know which side I'm on.
So what's it all about? Danczuk had tweeted a photograph of himself posing in front of the Pakistani flag, which had been hoisted in Rochdale specifically for Danczuk's photo shoot. In the kind of desperate, irony-clad publicity stunt more suited to an episode of satirical comedy The Thick Of It than real political life, the flag was promptly taken down again after half an hour. Danczuk tweeted the photo with a caption that read 'Pakistani flag raising in Rochdale today. Lovely occasion.' He even posed with two bewildered-looking Pakistani men. Hopkins responded with: 'Raising a Pakistani flag in Rochdale is not helping community cohesion, it's inflammatory. You and your party disgust me.'
While deploying colourful language, Hopkins did draw attention to something important. Danczuk's cynical photo job was designed to educate the supposedly oafish working-class dupes of Rochdale and elsewhere, who still dare think that the recent child-sex scandal in Rochdale was a problem within the Pakistani community. There has been a liberal dismissal of this position, a complete reluctance to even entertain the possibility that the child-sex ring that operated in Rochdale, and was repeatedly ignored by the authorities, was made up entirely of Pakistani Muslim men who justified their behaviour on the basis of a degraded view of the young girls they abused. A view, I should add, that the perpetrators themselves justified by reference to their religion. This view has become unsayable in today's conformist climate. Danczuk's staged photo-op was meant to be a message to the shadowy mob out there in the world of real people, the people who are sceptical about the benefits of multiculturalism – a system that, because it promotes and celebrates people's differences rather than their commonality, has actually done more to promote racist tension and segregation than it has to combat them. But rather than discuss or defend multiculturalism, Danczuk's photo-op was a way of avoiding and squashing debate, a carefully managed 'fuck you' to anyone who might disagree with him.
Now, when Hopkins calls him out on his phoney flag stunt, he responds by reporting her to the police. This is not just a cowardly retreat from an argument, it ties into a wider trend. Today, the default response among too many to a conflicting opinion is to attempt to shut it down. Today, with the help of the state, certain opinions are forcefully silenced on a regular basis, dismissed as 'illegitimate' or 'illegal'. You don't have to like Hopkins, or her particular brand of liberal baiting, to see that using the law to shut her down sets a terrifying precedent for freedom of expression. The fact that this is being attempted by a parliamentary representative shows the contempt that certain members of our elected bodies have for our most hallowed freedoms.
So, here is my rallying call: grateful fatties, Kippers, and all those middle-aged men who see Hopkins as a more 'phwoar' version of Jeremy Clarkson – don't allow the thought police to claim another scalp. Rise up against the trend towards blind authoritarian censorship, and defend your Twitter-based heretic and her right to make furious stabs at the consensus. In an age of groupthink and Orwellian attempts at mass education, we are in the bizarre, self-inflicted position of needing the likes of Hopkins to stir things up.
Luke Gittos is law editor at spiked, a solicitor practising criminal law and convenor of the London Legal Salon.
Picture by: Getty Images.
To enquire about republishing spiked's content, a right to reply or to request a correction, please contact the managing editor, Viv Regan.