'Without artistic freedom, we are not a civilised people'
Peter Gelb of the Met in NYC on why he staged The Death of Klinghoffer.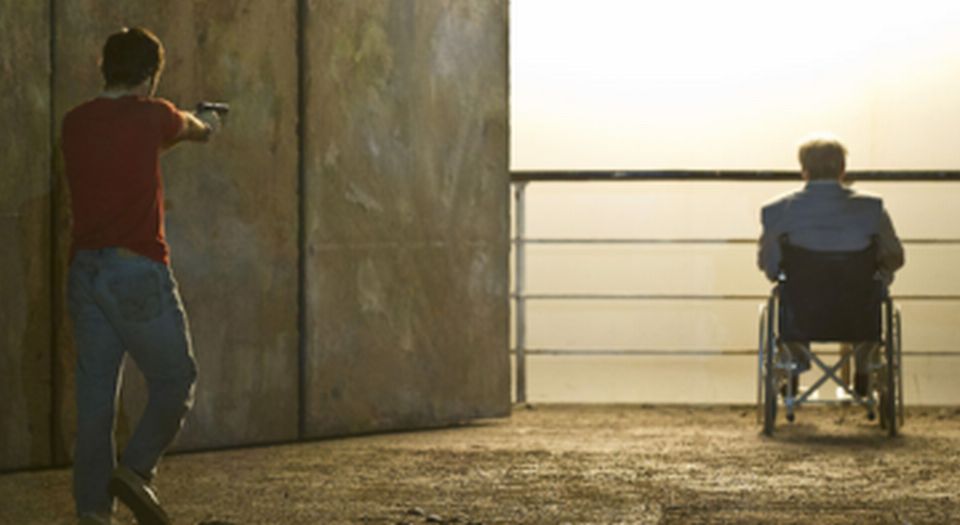 'I've been compared to Adolf Hitler. I have received numerous death threats.' Who knew running an opera house could prove so hairy? Most of us, when we think of the opera, imagine well-spoken women in well-cut finery and men in black tie watching baritones through binoculars. But Peter Gelb, head of possibly the world's most prestigious opera house — the Metropolitan Opera in New York City — has had a somewhat different experience in recent months. He's been on the receiving end of the kind of flak and slurs you'd expect to see in the underbelly of the internet rather in the rarefied world of high art, encountering, he tells me, critics who have behaved 'somewhat irrationally', one of whom even suggested the Met should be 'burnt to the ground'. Gelb's crime? He dared to stage John Adams' opera, The Death of Klinghoffer.
In the opera world, nothing gets pulses racing and spittle flying as much as The Death of Klinghoffer. First staged in 1991, it is based on the true story of the 1985 hijacking by four members of the Palestine Liberation Front of the Italian cruise ship, the Achille Lauro. During the hijacking, a disabled 69-year-old American Jew called Leon Klinghoffer, who was on the cruise with his wife to celebrate their thirty-sixth wedding anniversary, was shot in the chest and the forehead before his body and wheelchair were dumped overboard. He was singled out by the militants because he was Jewish. A mere six years later, the minimalist American composer John Adams, who frequently writes operas based on major news events, had finished The Death of Klinghoffer and it received its first airings in Brussels and New York. Every time it's been produced since, it's been attended by controversy, stalked by scandal, railed against by those who claim it is anti-Jewish or too sympathetic to the Palestinians, and the Met's production, which is a co-production with the English National Opera, is no different.
At the premiere on 20 October, hundreds of protesters gathered outside the Met waving placards demanding 'CANCEL RACIST OPERA'. Some symbolically sat in wheelchairs and shouted at arriving audience members to 'find your conscience!'. All seemed convinced that the opera is a Jew-baiting piece of pseudo-art, one holding up a sign that said: 'The pro-terrorist bias begins with the title: it should be called "The Murder of Klinghoffer".' Gelb has strong words for those hollering once more about Klinghoffer being anti-Semitic.
'Clearly it's not anti-Semitic. Anybody who has seen the opera, who is rational, would know that it is not anti-Semitic.' So why does that chilling accusation remain so firmly attached to it? Because 'most of the people who claim it's anti-Semitic have never seen it'. Or, he says, they've seen 'one small portion of the text which has anti-Semitic words — which are the words of the terrorists, who should be spouting anti-Semitic words because they are terrorists who want to terrorise the Jews'. In short, it is the opera's depiction of the terrorists' own anti-Semitism, which Gelb says exposes the foulness of their 'cowardly murder', that has made some people think the opera itself is anti-Semitic. Which is like saying Mississippi Burning is racist because it depicts the KKK saying rotten things about black people.
What about the charge that, okay, Klinghoffer might not be anti-Semitic but it does have a pro-Palestinian bent? Some observers have slammed the Met for staging an opera whose libretto is 'morally incoherent' and has a clear 'pro-Palestinian bias'. Former NY mayor Rudy Giuliani attended one of the big Met-bashing protests and said Klinghoffer could stoke terrorism. 'The [opera's] romanticising of terrorism only makes a greater threat', he said. This takes media-effects theory — the idea that cultural images can warp minds and make us do twisted things — to another, pretty surreal level. It's bad (and unproven) enough when moral crusaders insist blood-spattered horror films must be censored because they could encourage impressionable teens to do some blood-spilling of their own; but the idea that a complex, three-hour opera mainly watched by, well, the kind of people who watch complex, three-hour operas could inflame Palestinian attacks on Israel or Jews just seems unhinged.
Gelb agrees. 'I don't think this opera is on the terrorists' radar', he says, with a laugh. As to the claim that the opera glorifies Palestinian violence, he says it's way more complicated than that. 'I don't believe it's pro-Palestinian. I believe it expresses the motives… you understand why the Palestinians have a grudge. And you understand why terrorism can be born out of that. So it provides a motive for their actions. But that doesn't make it a glorification of terrorism; that's an explanation of terrorism.'
One of the scathing media pieces about the Met's production says the audience has to wait until the moment Klinghoffer is shot at 'point-blank range, making the audience jump as the gun rings out' — I can attest that this scene is indeed disturbing — to see that 'the hijackers are the bad guys despite their backstory'. But the idea that it's somehow wrong for art to explore bad people's backstories, to illuminate and, yes, maybe even sympathise with their many and complex motivations, is very odd, and could logically be used to slam everything from productions of Richard III to dramatisations of the life and crimes of Myra Hindley. Gelb insists that far from being Palestinian-loving propaganda, Klinghoffer is 'a work of art that makes you think'.
But that's the problem today, he says: too many people seem less keen to think than to feel, particularly to feel offended. He finds the new culture of offence-taking 'disturbing'. 'It's very unfortunate. It's not humanistic. It's not good for humanity, for people to be so blindly offended without knowing what they're being offended by, without having the intellectual curiosity to seek answers and to see what is going on.' He says one of the big problems artists and others face today is that there are 'people who have this sense of moral righteousness' and who want to close down art or ideas they find difficult or outrageous. 'Sadly I think it's impossible to convince them. They're not willing to be convinced. This is a fundamental problem of the world we live in today. It's a real human dilemma that is becoming more pronounced.'
He laments a lack of intellectual curiosity. 'I was brought up as a Jew in New York to be seeking answers to questions and to have intellectual curiosity about the troubles of the world', he says. So he finds it unsettling that, 14 years into the twenty-first century, there are many people whose 'minds [are] so indoctrinated' that they're unwilling to explore, far less tolerate, anything that seems alien or challenging. 'I've tried to convince people who are fundamentally opposed to the opera, and I've got nowhere.'
In pushing ahead with Klinghoffer despite the Hitler epithets and one-time mayors accusing him of fanning terror, Gelb sees himself as taking a stand, not just for this opera in his own institution, but for artistic freedom more broadly. Ours is an era in which offended cliques can wield much power and get art and literature they don't like shut down. From a UK theatre's dropping of the play Bezhti following angry protests by Sikhs, to Random House's decision in 2008 not to publish an American novel about Muhammad's relationship with his 14-year-old wife, to the London Barbican's withdrawal last month of the racism-exploring piece of performance art Exhibit B after self-styled representatives of Britain's black community kicked up a storm, increasingly certain individuals' feelings are being allowed to trump artistic freedom.
Some left-leaning observers have depicted the protests against Klinghoffer at the Met as evidence of the intolerance of what they darkly describe as a powerful 'Israel Lobby'. But across the modern West, all sorts of special-interest groups, from self-elected Muslim reps to permanently shocked feminists, now imagine that their self-esteem, their imaginary right not to be offended, is more important than the right of artists to depict whatever they like and writers to say what they think. (Indeed, as evidenced by the mob-won closure of an Israeli musical at the Edinburgh Festival and the removal of the Jewish Film Festival from a London theatre this year, often it's the anti-Israel lobby that seeks to suppress art it finds 'inappropriate'.) And in such a climate, Gelb see himself as holding the fort, not just for John Adams, but for art itself.
'We're fighting for the existence of art', he says. 'I think that artistic freedom is a fundamental and inalienable right that should exist in any democracy. Otherwise we will be as guilty as those cultures that do not allow democracy and freedom of thought. Without artistic freedom, we are not a civilised people.' He says he went ahead with Klinghoffer in the face of the fury because 'the alternative is unthinkable for me': 'If we were to have cancelled Klinghoffer… I would have been accused, and the Met would have been accused, of an act of great artistic cowardice. And it would have been very bad for other cultural institutions. Since the Met is the largest cultural institution in the United States, if it had cancelled the performances of Klinghoffer, I think it would have sent a very dangerous message about the inability of artistic institutions in democratic societies to be able to have the freedom to present valid works of art.'
They're stirring words, and I hope they ring in the ears of the bosses of the Barbican and others who in recent years have thrown out work that threatened to upset professional upset-feelers. And yet I can't help wondering how full-on is Gelb's commitment to standing up for art despite what wannabe censors might say about it. For while he did indeed stick with his plans to allow the opera-goers of NYC to see Klinghoffer, he caved in to the demand that it shouldn't be broadcast outside of New York, especially in Europe.
In June, he had a series of meetings with campaigners concerned about Klinghoffer, including the censorious Anti-Defamation League (ADL). They aired their worry that if the Met went ahead with plans to broadcast the opera in cinemas around the world, something it has done consistently under Gelb's leadership, then it 'might be used to fan global anti-Semitism'. Apparently it is one thing for Klinghoffer to be shown on stage in NYC, but to be flashed on cinema screens in Paris, Kiev, Moscow? That, apparently, would be dangerous. Gelb relented and agreed to call off the cinema showings. How can he claim to defend artistic freedom, I ask, when he has already implicitly bought into the idea that art in certain situations can have a dangerous impact on people and society?
'I felt that by making this gesture I would satisfy [the campaigners] and at the same time preserve the most important artistic event, which is the presentation of the opera on the stage', he says. 'The ADL did respect the deal that I made with them, and they have stayed out of the fray, and have not condemned the Met. To that extent, it worked, but it didn't have much of an impact on others who felt it shouldn't be presented at all.' Isn't there a strain of elitism here? The suggestion seems to be that it's okay for the erudite opera-lovers of Manhattan to watch Klinghoffer, but not for the possibly ill-educated wanderer into a Vue cinema in Peckham to see it. 'It's unfortunate if it is interpreted that way', he says. 'That certainly was not the intention.'
He seems surprised that his 'gesture' of agreeing, uniquely, to block the cinema showing of this opera didn't have the desired effect of quelling the protests at the Met itself. 'It was something that I thought would calm the waters… But obviously it didn't calm the waters.' But I'm not surprised. Because often it is cultural institutions' cautiousness which actually gives a green light to offence-takers to push for more concessions to their sensitivities. Indeed, one group keen for Klinghoffer to be squished — the Committee for Accuracy in Middle East Reporting in America — was openly heartened by the cinema cancellation. It said it was 'pleased by the cancellation of the broadcast of this defamatory opera' following a 'deluge of protests', and said the cancellation proved that the 'prestigious Met stage is no place for [this] work'. The offence-takers smelt blood in Gelb's June decision.
'I certainly would have rather have it seen everywhere, of course. But given the circumstances, I had to offer something to the opposition', he says. There's a lesson here, which is that often it is the reluctance of cultural leaders to completely stand their ground that effectively issues an invitation to offence-takers to keep pushing for more censure of that which riles them. It is liberal society's loss of faith in itself and its freedoms which nurtures illiberal lobbyists for less controversial art and literature. Indeed, these modern-day warriors against offensiveness are really parasitical on the nervousness of the guardians of artistic expression themselves, whose apologeticness inflames future fury against any art that agitates. The cultural climate, and the cultural elite, gives these people a licence to take offence, and to imagine that their feelings of offence carry more weight than art itself. As Gelb tells me, people have a right to protest against anything they want. But their expectation that things should be halted or hushed just because they don't like them, that the world and its images and music and debates should be reshaped in accordance with their personal emotions, should be treated for what it is: a blot on modern society, far more disturbing than any opera could ever be.
Brendan O'Neill is editor of spiked. Last week he spoke in New York City about hate speech and free speech, as part of Free Speech Now!'s first stateside event: listen to a podcast here. He will be speaking at the debate 'Taming the messenger: the new threat to press freedom' on 5 November in Washington, DC, as part of Free Speech Now!'s US event series. Book your free tickets here.
To enquire about republishing spiked's content, a right to reply or to request a correction, please contact the managing editor, Viv Regan.