L'affaire Hollande: privacy on trial
We must support press freedom and defend privacy.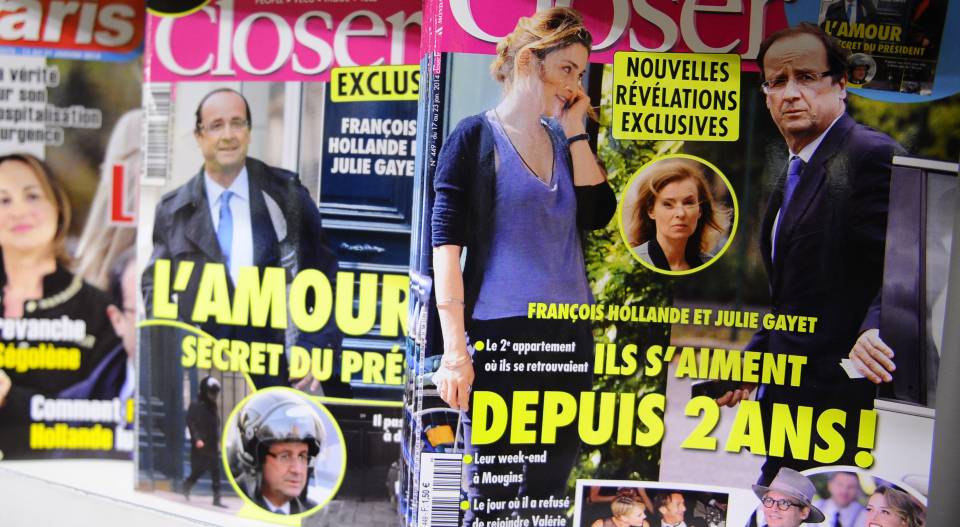 Should French celebrity-gossip mag Closer have been free to publish the story-cum-comedy-photomontage of the affair between the unmarried French president, Francoise Hollande, and the actress Julie Gayet? Without doubt, yes. The freedom of the press to not only speak truth to power, but to mock, scorn and be thoroughly scurrilous towards it, too, is something anyone with a smidgen of the freedom-loving impulse ought to support. And the fact that stories such as Closer's may sometimes never reach the public because of France's stringent privacy laws, especially if the publishers can't afford the inevitable fine, is as flagrant a violation of the principle of free speech as Britain's own equally shameful libel laws.
Yet there is a vital distinction to be made here between being unstinting in defence of press freedom, and being critical of its use. That is, you can support a free press without approving of everything done in its name. And that includes publishing pictures of a portly president scooting over for a spot of 'how's your papa' over a croissant platter.
As mentioned in virtually every British and American response to Hollande's travails of the heart, French culture has historically been rather respectful towards the privacy of public figures. We may now know that the former French president, Francois Mitterand, had a second family alongside the one everyone knew about; we may now know that another former president, Jacques Chirac, was famed among the political and administrative elite for his 15-minute-plus-shower catch-ups with an interminable sequence of women; and we may now suspect that ex-president Valéry Giscard d'Estaing enjoyed a bit of rough-and-tumble at the Élysée Palace with soft-focus adult filmstar, Sylvia Kristel. But at the time, none of this leaked out; none of it mattered, either.
The reasons are far from unfathomably French, as some seem to suggest. Rather, the private life of public figures, even those in the highest public office, was seen as exactly that: private. This wasn't just because of the formal, legal compulsion in France to respect a citizen's privacy. It was because privacy was also valued culturally and informally. A public figure, especially the leader of the Republic, was to be judged on his public deeds, not his private affairs, be they les liaisons dangereuses or banal bunk-ups. This isn't to suggest the private sphere was disregarded as unimportant. Quite the opposite, in fact. It is to suggest that the privacy of the private sphere – a space where an individual is free to be intimate with another, to experiment, to express doubt, even to wrestle with his conscience, without being subject to public judgement – was considered to be of massive importance. In this sense, the freedom of the private sphere is a vital precondition for being in public. Privacy is to public life what drafts are to the finished novel: it is the space where we work things out.
What is so striking, therefore, about the American and British response to Hollande's moped trysts is just how little valued or even understood privacy is today. That French political journalists have historically tended to shy away from politicians' private lives is seen as a mark of their cowardice – they're 'eunuchs', according to one commentator. That the French public have likewise tended to dismiss the revelations of Hollande's sexy shenanigans as both intrusive and unimportant, according to several subsequent polls, is presented as a curious national trait. The idea that the distinction between public and private might still be deemed important on grounds of principle rather than national prejudice seems to be an anathema to overseas commentators.
Yes, the spill-all, 'fess-up culture prevalent in the Anglophone world, where 'transparency' is a virtue rather than a neutral noun, has made inroads into France in recent years – especially during ex-president Nicolas Sarkozy's Hello-covered tenure. But the residual value attributed to privacy in France is still something worth upholding.
Or at least it ought to be. But instead American and British commentators are actually praising France for effectively catching up with 'how you're meant to do things'. Privacy itself is treated as a problem, not a principle. With the fall from grace of one-time president-in-waiting Dominique Strauss-Kahn, for an alleged sexual assault in a New York hotel, cited as a crucial turning point in the French approach to the private affairs of public figures, the current pursuit of Hollande is seen as a sign that things are changing for the better, that men in power can no longer get away with it. In the words of an Atlantic pundit: '[C]heating on your wife or partner, with such intensity and frequency is seen – even in France – as sexist and the sign of a patriarchal society, and of inequality and disrespect.'
Despite the praise, the privacy-bashers contend that French political culture still has a lot to learn. So according to a New Statesman columnist, the French need to recognise that the office of president allows no room for private carrying on: 'It is as if virtually the whole country is in denial. Politics would be far better served if… France were to redefine the role and status of the presidency itself.' Redefined, presumably, as entirely public, out-in-the-open, transparent. In the Guardian, the appeal to privacy itself is deemed sinister: 'In reality, privacy and secrecy cohabit in the same dark corner. It's no surprise that French presidents tend to come up soiled once they're retired. Secrecy stains.'
'Secrecy stains.' It is a sentiment that runs through the British and American response to Hollande's troubles. An appeal to privacy is presented as the last refuge of the scoundrel, the recourse of someone with something to hide, the closed door behind which terrible things could happen. Everyone must be out in the open, fully visible and confessed, goes the illiberal cry. And it's this rush to fully erase any distinction between private and public, to demand public figures are answerable for entirely non-criminal private behaviour, that needs to be resisted. As spiked's Mick Hume once wrote, we do all have something to hide: it's known as our private life. To demand politicians be fully on display at all times, to feel unable to say and do things they're uncertain about, which could be mistakes, won't eradicate corruption; it will merely entrench conformism. There's more at stake here than just Hollande's 'happiness'.
Tim Black is deputy editor at spiked.
To enquire about republishing spiked's content, a right to reply or to request a correction, please contact the managing editor, Viv Regan.