You can't beat anti-Semitism with 'diversity' training
The DEI ideology is fuelling the explosion of Jew-hatred in elite US universities.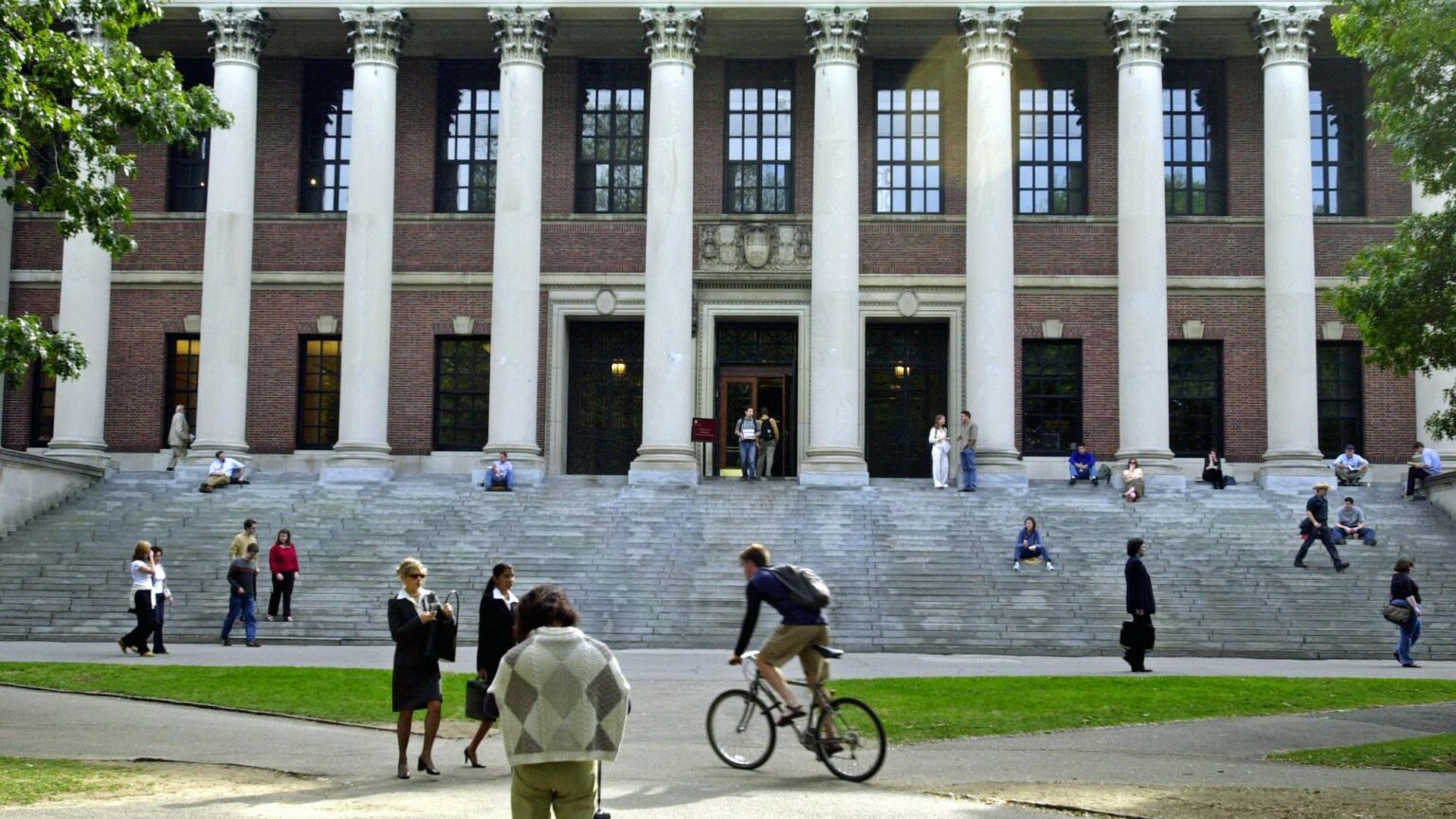 Embattled Harvard University president Claudine Gay thinks she has a solution to the spike in anti-Semitism on her campus: expand the university's diversity, equity and inclusion (DEI) programme. In announcing her education and training plan, 'Combating Anti-Semitism', earlier this month, Gay said that Harvard will 'build on the initial steps taken' by its DEI office 'to more fully integrate anti-Semitism into the work of that office'.
Alumni have accused Gay of failing to respond robustly. In an impassioned post on X, Wall Street investor and Harvard alumnus Bill Ackman wrote that he had 'lost confidence that you and the university will do what is required'.
Gay's first reactions to the 7 October massacre, and the pro-Hamas sentiment on campus that emerged shortly after, revealed an indifference to the plight of Israelis and Jewish students. Her first statement failed to condemn Hamas. Nor did she distance Harvard from a letter written by the university's Undergraduate Palestine Solidarity Committee and co-signed by 33 other campus organisations, which held 'the Israeli regime entirely responsible' for the 7 October attack. A strong backlash led Gay to make further statements a few days later that did denounce Hamas's terrorism and the students' letter, but those sounded more grudging than sincere.
Gay was quick to couple her criticisms of Hamas with a defence of the pro-Palestine protesters, saying Harvard 'embraces a commitment to free expression'. In truth, this 'commitment' is non-existent: the Foundation for Individual Rights and Expression (FIRE) gave Harvard its worst possible rating for free speech this year, scoring it 0.00 out of 100. On plenty of contentious issues in recent years, such as the death of George Floyd, Gay and other Harvard leaders have been outspoken and forthright, but when it came to Hamas's pogrom, they have felt the need to couch their response in 'both sides' drivel.
Actions speak louder than words, and the university's first initiative was telling. It was not to support Jewish students. Instead, the university set up a task force in late October to 'support students experiencing doxxing, harassment and online security issues following [a] backlash against students allegedly affiliated with a statement that held Israel "entirely responsible" for violence in the Israel-Hamas conflict'. It is no wonder that Jewish students and alumni question Gay's commitment to opposing anti-Semitism.
More DEI, as Gay proposes, will not cure what ails Harvard. The ideology behind DEI treats people as monolithic embodiments of their racial, sexual and other identities, rather than as individuals. It is also not 'inclusive'. As Harvard's Office of Equity, Diversity, Inclusion and Belonging (OEDIB) mission statement says: 'We actively seek and welcome people of colour, women, persons with disabilities, people who identify as LGBTQIA, and those who are at the intersections of these identities… to join us.' There is no room for many Asians, whites and Jews, who are viewed with suspicion if not outright hostility by DEI advocates.
DEI ideology fuels animosity towards Jews specifically. A foundational principle of DEI is to oppose 'whiteness', and, in its schematic racial hierarchy, Jews are viewed as hyper-white. While DEI simplistically asserts that under-representation of any given racial group is de facto evidence of discrimination, it also finds the over-representation of Jews (who are roughly two per cent of the US population) in certain areas of American society to be problematic. Further, the DEI worldview considers Israel to be a 'genocidal', 'settler colonialist' state and thus an 'oppressor'. Jews in the US are then lumped in with Israel. As we saw after 7 October, being labelled an 'oppressor' by DEI effectively dehumanises people – it can lead to justifying or celebrating the most barbaric acts of terrorism against the supposed 'oppressors', including babies and grandmothers.
The army of DEI administrators who now oversee American campuses are the purveyors of this ideology. One study found that DEI staff 'express anti-Israel attitudes that are so out of proportion and imbalanced as to constitute anti-Semitism'. When Stanford University was accused of ignoring anti-Semitic incidents, its DEI committee dismissed the allegations, stating that because 'Jews, unlike other minority group[s], possess privilege and power, Jews and victims of Jew-hatred do not merit or necessitate the attention of the DEI committee'.
Even before the eruption of anti-Semitism following the 7 October attack, there were indications that Harvard was not a hospitable place for Jewish students. A recent report found that Harvard had more incidents of anti-Semitism than any other US university in 2021-2022. An undergrad's senior thesis on anti-Jewish activity at Harvard found that about two-thirds of Jewish students had experienced anti-Semitism on campus.
It's telling that Gay says anti-Semitism needs to be 'more fully integrated' with DEI at Harvard. She's effectively admitting that anti-Semitism has not really been a concern of DEI up to now. The reality is that the DEI office has not just ignored anti-Semitism. It has also been instrumental in promoting anti-Semitic speech and activities on campus – not least through its support for organisations such as the Palestine Solidarity Committee, which accuses Zionists of being 'racists' and 'white supremacists', and the Boycott, Divestment and Sanctions (BDS) campaign, which seeks to make Israel a pariah state.
It's not surprising that Gay reached for greater emphasis on DEI in her response, as she's been a keen promoter of that ideology during her career. Indeed, Gay, a black woman, might be considered Harvard's first DEI hire for president. As David Randall of the National Association of Scholars pointed out last year, her academic CV is the thinnest of any president in recent memory (she has published only 11 articles and has never written a book – Lawrence Summers, one of Harvard's former presidents, produced more in a single year).
In her prior role as Harvard's dean of the Faculty of Arts and Sciences, Gay was described as 'the enforcer-in-chief of wokist orthodoxy at Harvard'. In 2019, she backed a mob of students and faculty seeking to oust law professor Ronald Sullivan for joining the legal defence team of Harvey Weinstein, and decided not to renew Sullivan's contract. In another illiberal cancellation, Gay led a committee that suspended economist Roland Fryer for two years without pay following trumped-up charges of sexual harassment (according to the New York Post, an investigation found that he had flirted with a graduate student, and a woman he fired found his language annoying). Critics have long suspected that Gay singled out Fryer for harsh punishment because his research findings undermined the Black Lives Matter narrative, showing that black Americans are not disproportionately subjected to police brutality.
Gay's response to anti-Semitism is an attempt to provide an administrative solution to an academic and cultural problem. Boosting the army of administrators, and smothering controversial topics in bureaucratic task forces and committees, has become a standard move by university presidents to defuse conflicts. Gay's doubling-down on DEI puts students and faculty in the back seat, and gives pride of place to the DEI administrators. Her plan for combating anti-Semitism also includes asking students to turn to the DEI office's anonymous-bias-reporting hotline. Greater use of this Stasi-like snitch system, which has already poisoned campus culture, will only empower the DEI police, not students.
What starts today at Harvard, arguably the US's most iconic university, is likely to turn up tomorrow at other universities. It may be that revamping DEI to include opposing anti-Semitism will become the new strategy adopted by the education establishment. It was notable that, at a recent congressional hearing, a Democratic Party witness said DEI 'can be enhanced, and the people I work with have adapted and are protecting Jews now'.
But Jewish students and others shouldn't fall for this bureaucratic manoeuvre. It's a trap. When it comes to DEI's victimhood olympics, Jews will always be considered more privileged and hence less worthy. It would be demeaning for Jewish students to have to play the DEI victim game and beg for protection from these parasitic ideologues.
The DEI bureaucracy has fostered a hostile environment for Jews on campus. Expecting these bureaucrats to fight anti-Semitism is ludicrous. The explosion of woke anti-Semitism on campus has exposed the need to shut down university DEI programmes, not expand them. Establishing common human values at universities – a precondition for the shared search for truth, the university's true mission – will require eradicating DEI tribalism.
Sean Collins is a writer based in New York. Visit his blog, The American Situation.
To enquire about republishing spiked's content, a right to reply or to request a correction, please contact the managing editor, Viv Regan.