The memory-holed massacre
One month on, the Hamas atrocities of 7 October are already being denied, obfuscated and forgotten.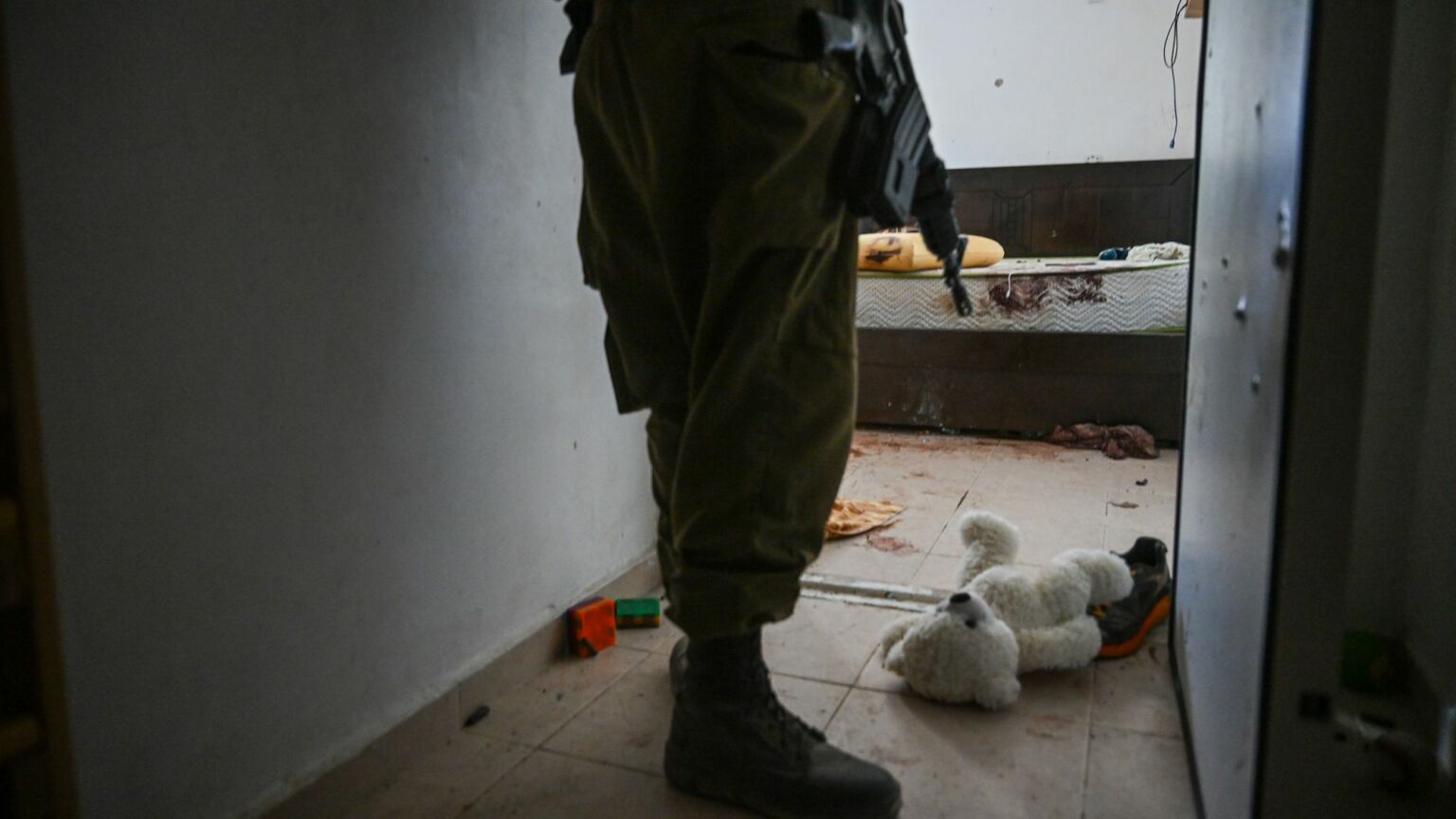 This vile pogrom in southern Israel was the deadliest day for Jews since the Holocaust. A month on, the horror has yet to subside. Funerals continue to be held daily in the Kfar Aza kibbutz, as bodies are still being identified from their remains. At least 52 people were massacred in this small community of just 400 residents. A further 20 or more from the kibbutz are missing – presumed to be among the 240 hostages taken from Israel and held captive by Hamas in Gaza's underground tunnels.
But while 7 October remains raw in Israel, here in the UK the atrocities are already starting to fade from view. Turn on the television, open up a newspaper or scroll through social media and you will see endless condemnation and vilification – not of Hamas and its barbarism, but of Israel and its attempts to defend itself. Certainly, the tragic plight of innocent Gazan civilians deserves the world's attention. But a month on from 7 October, so much of the coverage and commentary now skips over the pogrom entirely. You could be forgiven for forgetting why this conflict even started. You might even have the impression that Israel is attacking Gaza because… well, that's just what evil old Israel does. What we are witnessing right now is the memory-holing of the 7 October massacre.
This memory-holing takes many forms. Some Hamas spokespeople and their useful idiots continue to actively deny the atrocities. Moussa Abu Marzouk, a senior Hamas figure, told the BBC this week that 'women, children and civilians were exempt' from the 7 October violence, even though civilians were Hamas's primary targets. Then there are the legions of online cranks, Islamists and anti-Semites who say the worst of 7 October, from the butchering of babies to the rapes of young women, did not actually happen – despite the vast documentary evidence of these crimes, most of it filmed by Hamas terrorists themselves. It's a kind of 'Holocaust denial in real time', as journalist Bari Weiss has described it.
Then there are those who seek to violently erase the memory of the attacks. In New York and London, posters of Israeli hostages have been defaced and torn down. One man scrawled the word 'coloniser' over the faces of kidnapped children. So intense is these people's loathing of Israel, so unhinged is their anti-Semitism, that they cannot bear to be confronted with Jewish suffering, even that endured by children. What happened on 7 October must be forgotten and suppressed, it seems, so that these activists might once again feel at home on the 'right side of history'.
Others try to reframe the slaughter as a righteous act of resistance. 7 October was 'a day of celebration for supporters of democracy and human-rights worldwide', according to one pseudo-radical journalist. It has been celebrated as a blow for 'decolonisation' by academics the world over. Before the bodies were even cold, a joint statement was issued by 31 social-justice campaign groups at Harvard University, insisting that Israel's 'apartheid regime' be held 'entirely responsible' for the unfolding violence. In other words, forget Hamas's decision to wage a genocidal campaign against Israel's Jews – Israel is the aggressor here. Massacres like that on 7 October apparently cannot be allowed to intrude on this simplistic identitarian worldview, of colonised against coloniser. And so the grotesque anti-Semitic savagery of Hamas is, at best, excused. At worst, it is rebranded and transformed into a progressive struggle for justice.
Finally, there are those who were unmoved by 7 October, but have leapt at the chance to condemn Israel's response. Artists for Palestine UK, a group including Tilda Swinton, Steve Coogan and Maxine Peake, has produced an open letter denouncing Western governments for supporting Israel. It makes no mention of Hamas, 7 October or the deaths of 1,400 Israelis. The likes of Swinton or Coogan are far from alone. Centrist dads, woke celebs and leftish politicians are all keen to lecture Israel to lay down its weapons. To render itself defenceless against its tormentors. To surrender its civilian hostages to the enemy. To give free rein to Hamas's genocidal hostility.
We must not let Hamas's evil be forgotten, obfuscated or downplayed. The forces of irrationalism and racism that drove this pogrom are arguably even more potent today than they were just one month ago. If we memory-hole this massacre, then we are in serious danger of greenlighting the next one. Those who have excused or denied this evil ought to be ashamed.
Fraser Myers is deputy editor at spiked and host of the spiked podcast. Follow him on Twitter: @FraserMyers.
To enquire about republishing spiked's content, a right to reply or to request a correction, please contact the managing editor, Viv Regan.