Daniel Shaver and the forgotten victims of police shootings
Police violence in America is a class issue, not a racial issue. But BLM has warped the debate.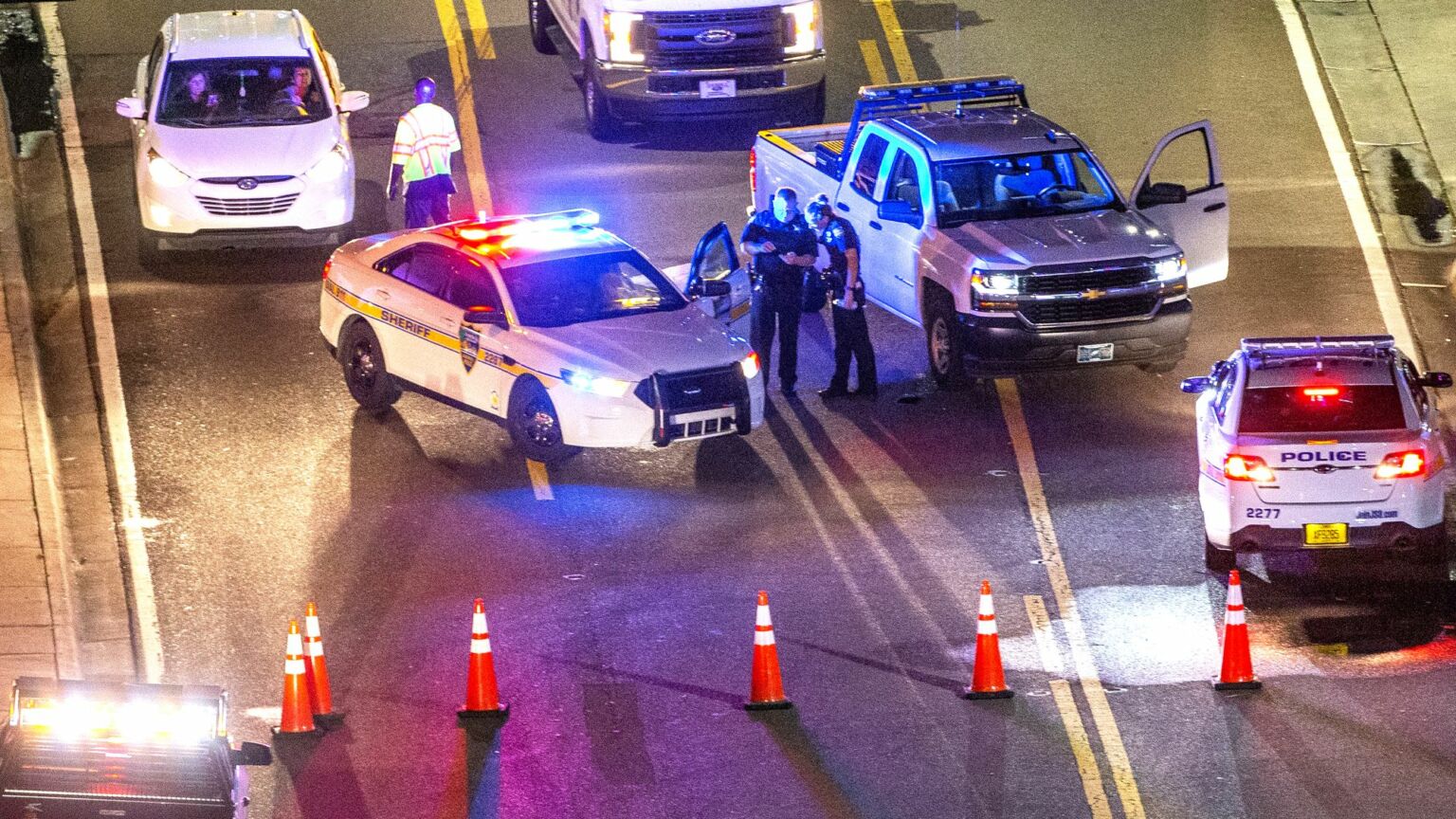 So, Daniel Shaver's family finally got some peace of mind.
As too few Americans currently know, Daniel Shaver was the victim of one of the more egregious police shootings to recently take place in the United States. In January 2016, Shaver was killed in Mesa, Arizona by police officer Philip Brailsford, who was responding to a call about a disturbance involving a potentially armed man in a hotel room. During what became a 10-minute-long encounter between Shaver and a small team of officers, the 26-year-old was ordered in sequence to lie flat on the floor, cross his legs, push himself 'up to a kneeling position', 'keep his hands up in the air' (rather than folded behind his back) and finally to 'crawl' on his stomach toward police. When Shaver moved a hand toward his waistband in response to one of these orders, Brailsford opened fire with his AR-15 rifle, striking Shaver five times and killing him.
As it turned out, the only potential weapon on Shaver's person was a non-lethal pellet pistol, which he sometimes used to deal with invasive birds in his job as a pest-control specialist. Despite this, the officer who shot him faced few serious penalties: Brailsford was indicted for second-degree murder, but was found not guilty in 2017 after a quick trial process. While he was initially fired from the Mesa Police Department, he was later – and rather amazingly – re-hired in order to allow him to apply for his full police pension. Brailsford successfully applied for 'medical retirement' for PTSD in 2018, and will receive an annual sinecure of $31,000.
Following a settlement in November last year, all core members of the Shaver family will now receive some financial compensation for their loss. The Arizona Republic newspaper announced that: 'Mesa [city] has reached an $8million settlement with the widow of Daniel Shaver, the unarmed man shot in a hotel hallway.' This followed a different and much smaller ($1.5million) payout to Shaver's parents, Norma and Grady, which took place in 2021.
The settlements are a mixed blessing. They are large enough to probably guarantee the future of Shaver's children. However, one of the first pre-conditions for the $8million payout was the dismissal 'with prejudice' of all claims by Shaver widow Laney Sweet against the city of Mesa and any other potential defendants in the case. Daniel Shaver, it now seems certain, will never receive what most people would call justice.
Shaver matters because his case is an illustration of what police violence against US citizens most often actually looks like – and this fact has been intentionally hidden, to a remarkable extent, for partisan reasons. Simply put, you have probably never heard of Daniel Shaver because he is white. For much of the past decade, the Black Lives Matter movement has argued that near-Holocaust levels of American police violence are inflicted very specifically on young black men.
As I have pointed out before on spiked, prominent BLM activist Cherno Biko claimed in 2015 – on primetime Fox News – that an innocent and presumably unarmed black citizen is 'murdered' by US police about once per day. Elsewhere, attorney Benjamin Crump has penned an entire book, with the provocative title of Open Season, arguing that police violence and white-vigilante violence against black Americans is so endemic as to constitute a sort of 'legalised genocide'. Many Americans often take these claims at face value. According to the heterodox but respected Skeptic Research Center, the typical American liberal-leftist believes that 1,000 to 10,000 unarmed black men are fatally shot by police every year, and that 60 per cent of all police-shooting victims are African-American.
In reality, all of this is nonsense. American police do a good job overall, but they arguably do shoot and kill too many people – about 1,000 in a typical year. But what the hard empirical data reveal is a fairly evenly dispersed pattern of police violence against young male citizens of all races. If we simply proceed year-by-year through the Washington Post database of police shootings, we see there were 994 fatal police shootings in 2015, 958 such shootings in 2016, 980 in 2017, 991 in 2018, 997 in 2019 and 1,019 in 2020.
Across these six years, there were 5,939 victims of police shootings, of which 1,441 were black, around 24 per cent. In no fully recorded recent year did black Americans make up even 30 per cent of those shot and killed by police. It should also be noted that hardly any of these awful situations involve unarmed innocents: the total number of unarmed black people fatally shot by police in 2022 was seven.
Now, given that American blacks constitute only about 14 per cent of the total US population, we remain over-represented, at 24 per cent, in police-shooting statistics. But this is not the point Black Lives Matter actually makes. Nor is it what many people believe. Rather, they hold that thousands of unarmed people are being murdered by cops annually, and that 60 or so per cent of them are black. Every variation on this argument is unambiguously false.
More importantly, 'racism' is not the primary reason for black over-representation among police-shooting deaths in the US. The American black population is far younger and more urban than the white population. And, partly as a result, it has a crime rate about 2.5 times the rate of the white population – a rate which can be calculated simply from the tables provided in any annual Bureau of Justice Statistics (BJS) crime report. A simple adjustment for this discrepancy in rates of crime and therefore engagement with the police almost entirely eliminates the racial gap in rates of police shooting. As Harvard's Roland Fryer has pointed out, running an analysis which adjusts for suspect and police-encounter characteristics actually reveals that white detainees are around 23.5 per cent more likely to be shot by police than are similar African-Americans.
Not only are most large racial groups represented heavily among police-shooting victims, there is also – as Daniel Shaver's story indicates – no shortage of tear-jerking tales involving white victims of police violence. In addition to Daniel Shaver, it might be worth 'saying the name' of Tony Timpa. He died in 2016 after being restrained in a prone position for nearly 14 minutes by Dallas officers, with a knee on his upper back, despite screaming 'You're gonna kill me!'. Or how about Dillon Taylor, who was fatally shot in 2014 by a black officer while reaching for a suspicious 'object' that turned out to be his mobile phone? Or Duncan Lemp, who was shot dead in 2020 while very likely asleep during a no-knock home raid?
All of these situations almost perfectly mirror black-victim cases which became internationally famous. There is a zero per cent chance that this lack of coverage is a coincidence. As I showed in my 2020 book, Taboo, while roughly 25 per cent of the victims of police shootings are black, these cases consistently receive 80-90 per cent of the media coverage. Similar cases, involving victims of other races, are generally ignored.
During 2020, a Google search for the phrase, 'well-known police shooting', turned up discussions of two Hispanic-victim killings, three white killings and 36 black killings. I also found a lot of the coverage of white victims of police violence to be shockingly negative. For instance, a widely read 2016 story on Dylan Noble – a Californian traffic criminal fatally shot by police with a shotgun – was headlined: 'Dylan Noble, fatally shot by Fresno Police, was drunk and had traces of cocaine in his body, autopsy shows.' This may have been true enough, but an equivalent national-newspaper piece on George Floyd is difficult to imagine. In the Floyd case, in fact, the New York Times opted for: 'We know how George Floyd died. It wasn't from drugs.' This was followed by a subheading stating that, 'The idea that drugs played a role is just a new version of an old racist myth'.
This approach impedes any genuine attempt to address the problem of police shootings. There are very few current 'racial issues' that are not largely or entirely class issues. Police violence – to the limited extent this is a major national problem – is an issue affecting a diverse range of working-class men, and should should be approached as such. The worst imaginable way to approach it would be to racialise the issue and tell poor whites and Hispanics that they cannot imagine fearing the police.
This second path, sadly, is the one the US media and political elites have taken. And given the rising levels of crime and the deterioration of race relations in the US, it is clearly not working.
To enquire about republishing spiked's content, a right to reply or to request a correction, please contact the managing editor, Viv Regan.