The battle for the truth about the 7 October pogrom
Why are so many people in denial about Hamas's atrocities?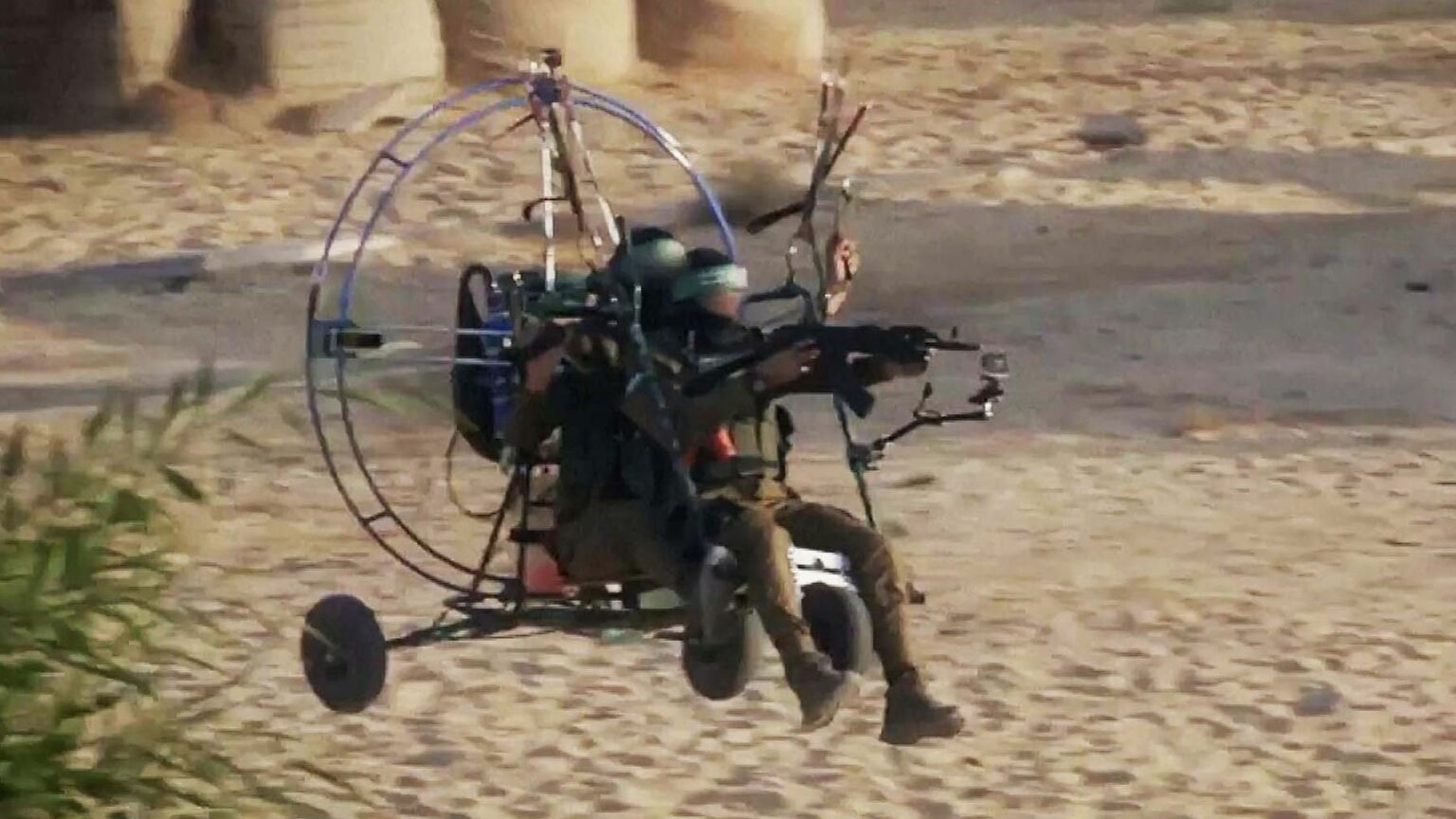 I recently had a perplexing encounter with some American exchange students at a brasserie in Brussels. They had just come from a pro-Palestine protest, and none of them could understand my support for Israel. When I asked them how they could attend such a protest after the atrocities of 7 October, one of them countered with: 'How do you know that 7 October even happened?'
It soon became clear that these students believed the 7 October pogrom had probably been made up by the Israeli government. Somehow, they had come to the conclusion that pro-Hamas propaganda on social media was more likely to be credible than the reports in the mainstream Western press. Regardless of how many of Hamas's atrocities I pointed to, they assumed I was simply a patsy for Israeli propaganda.
These students are by no means the only ones to have become 7 October denialists. Pink Floyd's Roger Waters, known for his fierce opposition to Israel, outlined the key elements of this narrative when he appeared on a podcast a few weeks ago. He claimed that Israel's account of the 7 October pogrom was 'very fishy' and that Israel had 'made up stories' about violence being committed against young children.
Most anti-Israel conspiracy theories do acknowledge that something occurred on 7 October, but they assert that the death toll was far lower than the one claimed by Israel. According to this narrative, Hamas only targeted soldiers, not civilians, and its operatives did not commit atrocities like rapes and beheadings. The Israelis are instead held responsible for the deaths of their own civilians. The pogrom, it is claimed, was either exaggerated, encouraged or orchestrated by Israel in order to justify invading Gaza and killing innocent Palestinians. This narrative was and continues to be widely echoed on social media. As one post on X, summarising a video shared more than 44,000 times, puts it:
'A new picture is emerging from the atrocities of 7 October… [which] suggests that Hamas's primary mission that day was to take hostages, and that most of the victims died because the IDF "went Hannibal" on everyone. Whether it was intended this way or not, the result is that the Israeli regime acquired the "justification" it needed to commit genocide against the remaining Palestinians in Gaza and the West Bank.'
Similarly, Farhan Siddiqi, imam of the Dar Al-Hijrah Mosque in Washington, DC, has attempted to relieve Hamas of any responsibility for the atrocities committed on 7 October. In one video, he can be seen telling his congregation: 'I'm shown video clips, and then I'm also told that they're beheading babies. I'm also told that they're raping women… And when I go and I investigate these specific reports, I find out that they're all lies.'
This talk of 'Israeli lies' is often coupled with the assertion that the only 'real' massacres are those committed by Israel. An article titled 'Israel lied. What was not told about the 7 October attack' declares that the Israelis 'lied and committed massacres in Gaza under Western support'.
The denialist narrative relies on more than conspiracy theories and on attacking the Israeli version of events. A prevailing sense of 'hyperreality' in the Western world has allowed it to resonate widely.
Hyperreality – a term associated with the work of French philosopher Jean Baudrillard – refers to a kind of cultural confusion that emerges when people have difficulty distinguishing reality from a simulation of reality. In such conditions, it becomes difficult to achieve a consensus on the truth about world-changing events like 7 October. As a result, we now live in a world where directly contrasting versions of events run in parallel with one another.
In 1991, Baudrillard published a series of essays titled The Gulf War Did Not Take Place. His argument was not that the first Gulf War literally did not happen, but rather that what actually occurred on the ground bore little relationship to the spectacle of it that was presented in the media.
A vulgarised version of Baudrillard's theory has been adopted by a variety of commentators. Following the November 2015 Islamist terror attacks in Paris, Hamid Dabashi, a professor of Iranian studies at Columbia University, wrote a commentary for Al-Jazeera titled, 'The Paris attacks did not take place'.
Dabashi complained that the Western media was too focussed on the victims of the Paris terror attacks. Their suffering, according to Dabashi, had to be seen in a global context. He believed that the pain inflicted on the Middle East by the West was far more relevant and real than the deaths of 130 people in Paris. The principal objective of this thesis is to shift the focus away from an atrocity and toward whatever supposed injustices drove the terrorists to inflict pain on their victims.
Dabashi has adopted the same apologetic approach to 7 October. 'Before 7 October, there was 6 October, and before that was a succession of dates and facts in a murderous colonial project of domination and dispossession', he wrote in Middle East Eye. Dabashi goes on to say that 'while the Israeli government and its Zionist propagandists wish to fetishise 7 October, we are here to de-fetishise and historicise it'. This is a clear attempt to divest the attack of any significance and meaning. It serves to further dehumanise the victims of this massacre.
How can we combat this denialist narrative? There is little doubt that it has gained traction in the West, particularly among the young. Some supporters of Israel urge the Israeli government to release the footage of the horrible crimes committed on 7 October. They believe that the only way to discredit Hamas's lies is to expose these gruesome videos.
Harrison Faulkner, a journalist who was invited by the Israeli consulate in Toronto to a private screening of the footage, has argued that this film must be shown to the public. 'Releasing the footage in its entirety is what Israel must do if they are to have any success in winning the long fight against Hamas and Islamic fundamentalism', he said.
No doubt Faulkner has a point. However, seeing images and footage of the events may not be enough. How people respond to what they see on screen is mediated through their pre-existing sensibilities, views and ideals.
After all, in the immediate aftermath of the pogrom, Hamas itself went to great lengths to boast about its evil deeds. Most of the footage of 7 October, of young women being humiliated or of civilians being shot dead, came from Hamas's own men. They made no attempt to hide their barbaric behaviour. Yet those horrible images that have circulated on the web did not cause upset among those who were predisposed to see Israel as the incarnation of evil. Numerous viewers even reacted by celebrating what they saw.
After my conversation with the American students in the brasserie, I found myself wondering how these educated young people could be so indifferent to the victims of the 7 October pogrom. And I began to understand how and why so many bystanders pretended that they did not see the atrocities committed against their Jewish neighbours in the past.
All this brings to mind the reaction of sections of the British labour movement to reports of the 1929 massacres of Jews in Hebron and other parts of what was then the colonial Mandatory Palestine. When British officials relayed news of 'acts of unspeakable savagery', Beatrice Webb, the grand dame of the socialist Fabian Society, responded with studied indifference. 'I can't understand why the Jews make such a fuss over a few dozen of their people killed in Palestine', she said. 'As many are killed every week in London in traffic accidents, and no one pays any attention.'
Today, far too many people have responded to 7 October in a similar way. Our first priority to counter this apathy is to ensure that a truthful account of 7 October gains commanding influence. The stories of those who fell victim to the pogrom of 7 October – no matter how distressing and painful – must be told.
This alone will not be enough to discredit the cynical lies perpetuated by those wishing to deny or downplay the 7 October massacre. But it is an important place to start.
Frank Furedi is the executive director of the think-tank, MCC-Brussels.
To enquire about republishing spiked's content, a right to reply or to request a correction, please contact the managing editor, Viv Regan.