Could the war in Gaza sink Joe Biden?
Democrats are tearing themselves apart over the Israel-Hamas conflict.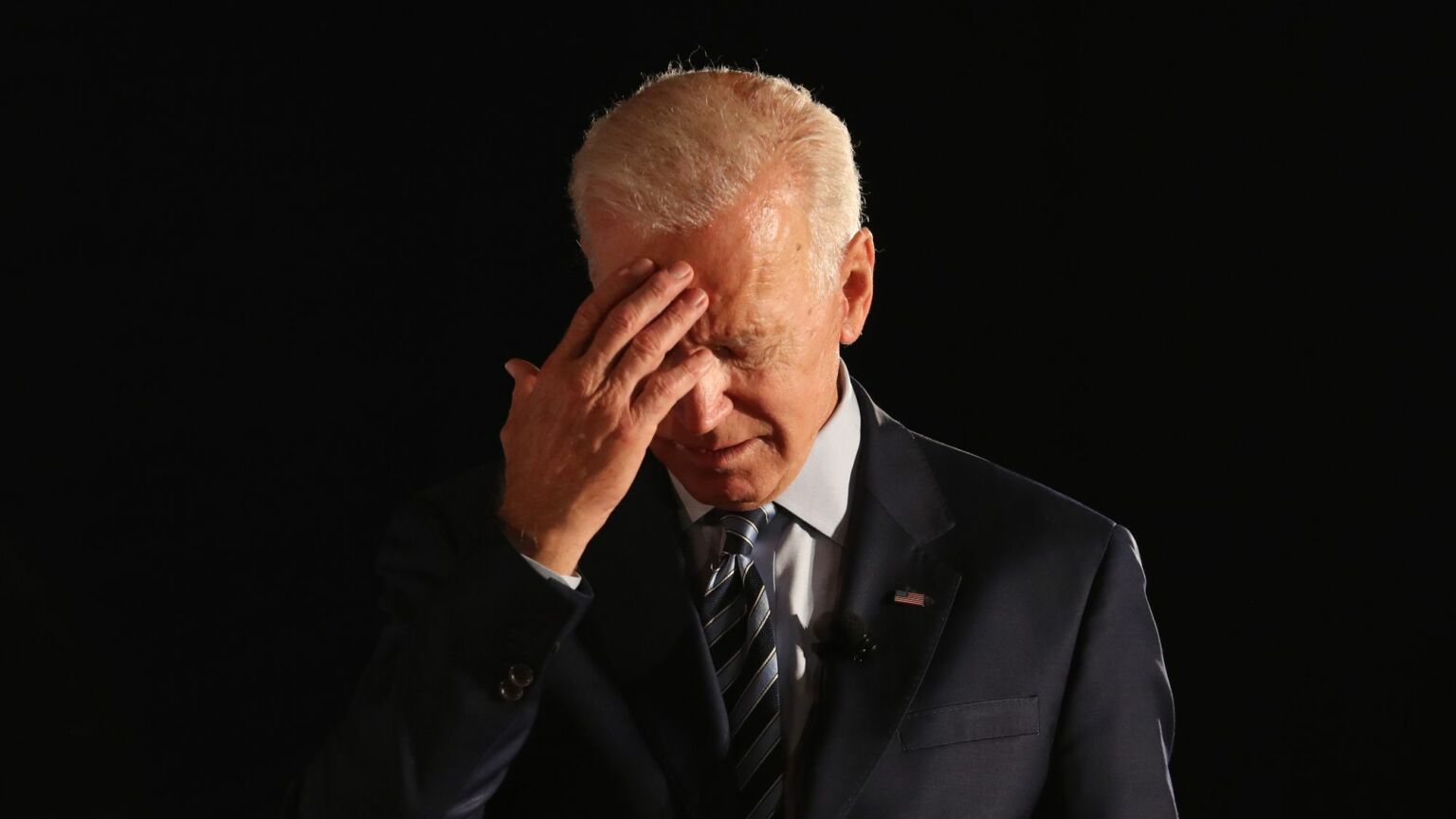 American politics is often said to follow James Carville's notion that 'it's the economy, stupid'. And the economy could well still determine the winner of the 2024 presidential election. Yet in a sharply divided country that is being asked to choose between two awful candidates and two increasingly noxious parties, the current crisis in the Middle East could prove pivotal instead.
The war in Gaza might normally be expected to provide a boost for a sitting president. But Joe Biden is so widely perceived as mentally unfit and ineffective that his poll ratings have not improved with his performance during the Middle East crisis (just as they didn't during the Ukraine crisis). Even as he seeks a middle ground between supporting Israel's military actions and the ceasefire demanded by his 'progressive' anti-Israel allies, he seems to be pleasing very few. Polling suggests that two in three Americans oppose his handling of the crisis.
Biden's problems run deep. He is the leader of a party that is both in power and providing the primary source of dissent. Virtually all the Congressional opposition to Israel comes from the Democrats' left flank, whose influence extends far into the bureaucracies of the state, from Congressional staff to White House officials. Of the 20 representatives who voted against the recent motion to condemn anti-Semitism on college campuses, 19 were Democrats. Democratic voters are similarly inclined, with one in five claiming to side more with Hamas than Israel – this is more than twice as many who claim to side with Hamas among Republican or Independent voters.
There is also a generational aspect to the rise in anti-Israel views. Sympathy for Israel tends to be far higher among conservative and older voters, who remember the Holocaust, at least from their parents' telling, and usually embrace the Judeo-Christian tradition. Contrast their attitudes with those of younger people, who are notably ignorant about history. Little wonder perhaps that voters under 34 are far more likely to support Palestinians and even Hamas over Israel than older voters.
Remarkably, it's under a Democratic president, not some imagined white nationalist right-winger, that Jewish people in America feel threatened in ways not seen since the 1930s. Jews are finding colleges and public space in places like New York uniquely hostile. In schools, 'anti-white' identity politics has now been extended to justify the murder of Jews. Radicalised teachers, whose unions often take Hamas's side in the conflict, are working to get even primary-school students to join in protests against Jewish businesses.
This disturbing appeasement of Hamas shows how intersectional ideology allows for alliances that are more than a little contradictory. For example, take the gay and trans activists making excuses for Hamas. With its Islamist fundamentalist worldview, this terrorist organisation seems an odd match for supporters of postmodern gender politics. And non-profits like the Tides Foundation, which supports assorted 'progressive' causes, appear to have been bankrolling anti-Israel groups attempting to block US military shipments to Israel. There's also evidence that ostensibly Jewish, vehemently anti-Israel groups, like Jewish Voice for Peace, are funded not only by the 'Democratic dark money' of the Tides Foundation but also by the heirs of the old, historical Judeophobic WASP establishment, like the Rockefellers – a family with history that includes close ties with the Nazis and strong support for early 20th-century eugenics research.
Perhaps even more disturbing for liberals, particularly Jews, has been the prominent role played by African Americans in all this. Although many black leaders still back Israel, the vast majority of the votes in the House of Representatives against Israel were cast by African Americans. And, beyond Congress, numerous black activists and intellectuals, including woke icon Ta-Nehisi Coates, have rallied to the anti-Israel side.
The effect of this anti-Israel sentiment among young people and minorities on next year's election remains uncertain. Muslims, who tend to support Palestinian demands, make up barely one per cent of the US population, half Jewish people's share. Yet a left-wing surge by anti-Israel candidates like Cornel West, an independent, could make a difference in heavily Arab areas like greater Detroit. Indeed, Michigan's 200,000 Muslim voters could prove a critical wildcard, something Rashida Tlaib, a Democratic representative for Michigan and the first Palestinian-American woman in Congress, is clearly aware of. 'I want [Biden] to know as a Palestinian American and also someone of Muslim faith, I'm not going to forget this', she said of Biden's refusal to call for a ceasefire.
A shift too far in Hamas's direction could also threaten Biden, however. Still two-thirds of Americans, finds a Rasmussen poll, oppose calls for a ceasefire. Furthermore, Biden suffers in the eyes of those supportive of Israel from associations with his former boss, Barack Obama. Obama sees little difference between Hamas's actions and those of Israel, and seems to consider anti-Semitism a historical artefact. He suffered testy relations with Israel and many Jewish groups in large part because of his appeasement policy towards Iran, a policy eagerly adopted by Biden's foreign-policy team. Even now, after the Hamas raid and attacks on US bases, the Biden administration has avoided reimposing sanctions on Iran, Hamas's chief regional backer.
Despite clear evidence that Iran's mullahs are prime supporters of terrorism, Biden seems reluctant to give up his odd Iranian fantasy and has started to backtrack on his early, instinctive support for Israel. If many Democrats, notably young leftists, recoil from his backing of Israel, conciliatory moves towards Iran and Hamas could alienate many more generally pro-Israel independent and moderate Democratic voters. These represent far larger segments of the electorate than the far-left activists do, notes analyst Ruy Teixeira.
A potential Democratic civil war is now in the offing. Biden's attempts to placate his left by pushing for a slowdown in Israel's response are unlikely to please either side. This is clear from escalating confrontations between pro-Palestine demonstrators and centrist Democrats like Hillary Clinton. Indeed, some prominent Democrats, both on Capitol Hill and in Michigan, have belatedly turned on Tlaib, Congress's leading anti-Israel cheerleader.
And then there is the uncomfortable issue of campaign finances. As William Domhoff pointed out in his 1972 book, Fat Cats and Democrats, wealthy Jews have been major financiers of the Democrats since the New Deal. And many of Biden's largest funders are of Jewish descent. It may not be 'all about the Benjamins', as anti-Israel Democrat Ilhan Omar once said, but money remains 'the mother's milk' of politics.
Will there be any effects on the Republican side? The emergence of foreign-policy issues has worked to the benefit of former South Carolina governor and UN representative Nikki Haley, and to the detriment of Florida's Ron DeSantis, whose desire to woo often isolationist-oriented Trump diehards has left him with little of note to say on the conflict. But then Donald Trump himself still looms large, sadly, and his only positive may be his total unpredictability.
Americans should certainly fear another unhinged Trump presidency. But given the Hamas sympathies on display from rather too many Democrats, the alternative could also prove deeply problematic.
Joel Kotkin is a spiked columnist, the presidential fellow in urban futures at Chapman University and executive director of the Urban Reform Institute. His latest book, The Coming of Neo-Feudalism, is out now. Follow him on Twitter: @joelkotkin
To enquire about republishing spiked's content, a right to reply or to request a correction, please contact the managing editor, Viv Regan.