Queers for Palestine? More like Turkeys for Christmas…
This rainbow coalition of Hamas-lovers and TERF-haters is bound to end in tears.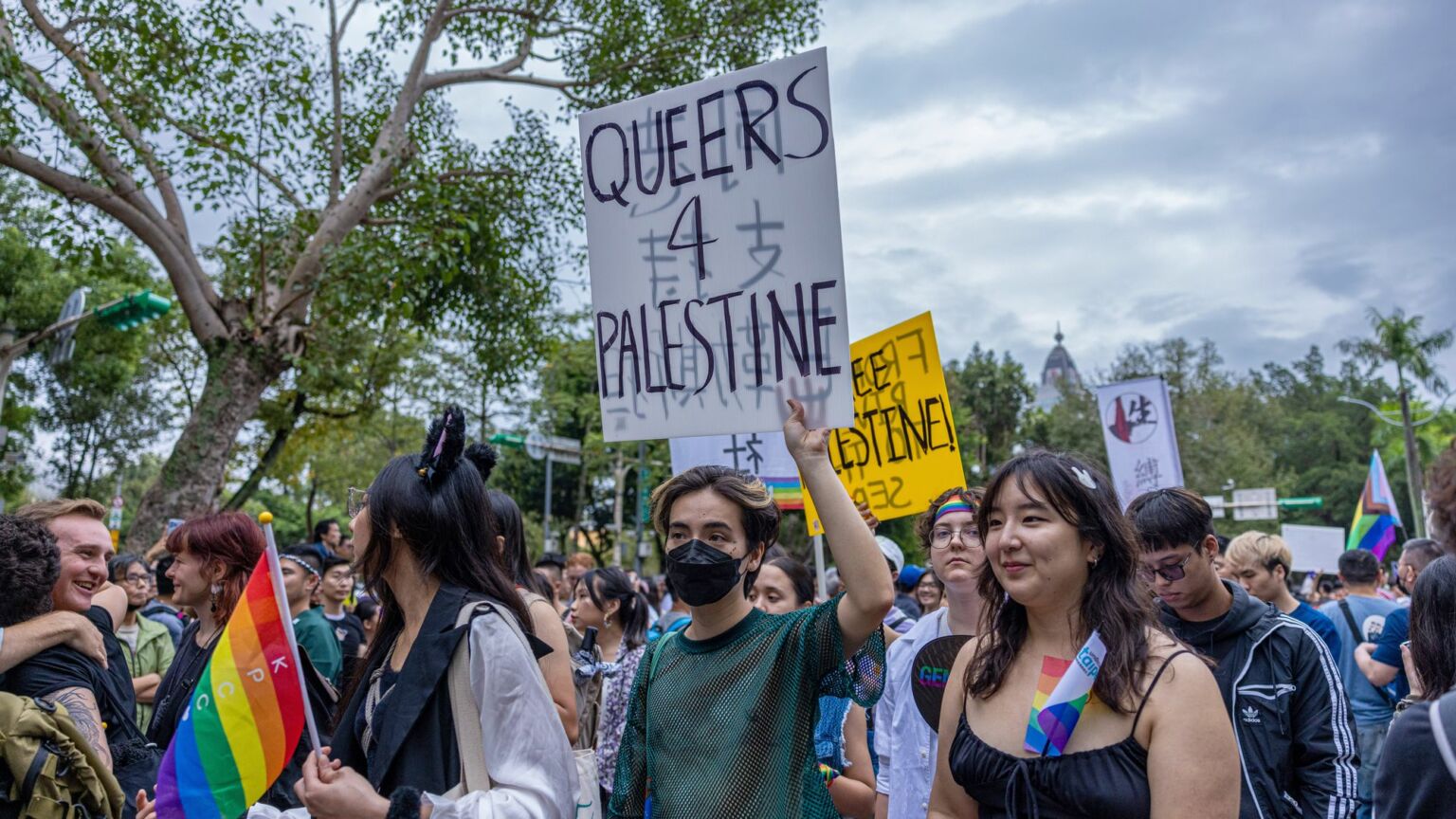 Aren't rainbow coalitions wonderful? I'm old enough to remember the Reverend Jesse Jackson's version in 1984, which in 1996 merged with PUSH (People United to Save Humanity) to become Rainbow-PUSH. Although, Rainbow-PUSH probably isn't the best moniker to use if you want people to take your movement seriously, especially when it sounds like the latest addition to the My Little Pony stable.
In his speech at the 1984 Democratic National Convention, the reverend called for – deep breath – Arab-Americans, Jewish-Americans, Afro-Americans, Native Americans, Asian-Americans, young people, disabled veterans, small farmers, lesbians and gays to join together for social change and political reform. After he failed to nab the Democratic nomination, Jackson sought to widen his base to include working mothers, the unemployed, unions and those generally hurt by the Reagan administration's policies. What could go wrong?
Exactly what an impoverished farmer in Oklahoma had in common with a gay fashion designer in Studio 54 is a mystery to me. Still, the dream lives on. Today, we're constantly told that if all the people in the world who aren't straight, white, cis men banded together, all the corruption and evil on the planet would be seen off in one fell swoop. Women, people of colour, gays and disabled people could return humanity to a state of prelapsarian paradise.
I've never bought this. In any alliance, there will be jostling for pole position and the eventual dominance of the strongest. Inevitably, minority groups will soon discover that they often have less in common with each other than they do with the dreaded straight, white, cis men. This is as true in the personal arena as the political. For instance, in the US, African-Americans are more likely to oppose same-sex marriage than any other group.
It turns out that minority groups can't just be locked together like variously coloured Lego because – guess what? – they are as human and imperfect as straight, white, cis men. But still, the idiots of the left persist in believing that individual grievances can be corralled into something resembling a coherent political movement. They avert their eyes with all the distaste of a Victorian miss glimpsing her first uncovered piano leg whenever minority-ethnic groups have a ding-dong among themselves. Recall the recent example in Peckham, when an Asian shopkeeper got physical with a black woman he accused of shoplifting. As Kenan Malik reported in the Guardian back in September: 'Many local black residents were outraged not just that a black woman should be assaulted but also that Asians should own shops in a predominantly African-Caribbean area.'
Of course, people getting into violent confrontations is never a good thing. But I don't find it at all dismaying that ethnic minorities are as equally disposed to resent each other as they are whitey – it just means we're all only human, with our covetousness, our bias and our laziness of thought in common. Whitey finds ways to hate his equally pallid compatriots every day of the week – just look at Northern Ireland or football punch-ups.
Sometimes, there is a sensible reason why groups might ally. In 1969, a Black Panther named Bobby Lee went into a Chicago slum neighbourhood of white Southern incomers known as 'Hillbilly Harlem' to persuade the residents to join with the Panthers to fight poverty and police misconduct. It didn't get very far politically, but many friendships were formed between the two apparently opposed groups. This made sense, as social class, far more than sex or race, determines how good a life someone will have.
It's hard to imagine a more different alliance than Queers for Palestine. Didn't the LQBTQ+ 'community' already have enough internecine squabbles, between those who believe that women can't have penises and those who are insane? Now there's another split, between the sensible gay people who find Hamas vile for imprisoning and killing their kind, and those silly 'queers' who… well, what do they believe? Do they think the facts about Hamas hating homosexuals are Israeli propaganda? Or is this something odder – some performative masochism, perhaps?
One of the most voluble Queers for Palestine is Owen Jones, who last month tried to blame Hamas's homophobia on laws dating back to the British Empire. But even this strange bedfellow pales in comparison with Judith Butler, who famously said: 'Understanding Hamas and Hezbollah as social movements that are progressive, that are on the left, that are part of a global left, is extremely important.' I still can't read that line without thinking that she said it as a dare of some kind, because no other explanation makes sense.
Such useful idiots practise what I call Commie Colonialism. They remake what they see as the wretched of the earth in their own image. They seem to believe that even if Hamas does enjoy murdering gays, this is down to just a few crossed wires somewhere, and is nothing that a nice sit down and chat over a flat white can't put right.
There's also an element of our old mate, magical thinking, involved here. For instance, there's an astonishing TikTok video in which a young Englishwoman surmises how she might be treated if Hamas terrorists were to kidnap her: 'They would probably comfort me, make sure I had medical attention, make sure I was doing okay.' This is an extraordinary example of the Special Me-ism which we find all over the left when it allies itself with tyrants. Other women / gays may get murdered, but the big bad terrorists would see my spirit shining through and let me go – with a round of applause! No doubt Owen Jones secretly believes that if Hamas threw him off of a roof, he would probably be able to fly.
Tellingly, there's a massive crossover between TERF-haters and Hamas-lovers. The law firm that victimised lesbian barrister Allison Bailey for her gender-critical views has refused to condemn one of its barristers who appeared to express support for the pogroms of 7 October. Amusingly, the woke's support for all things Islamic is often not reciprocated. There's a highly entertaining clip on X, filmed at a pro-Palestine demo, of an Antifa type who starts berating another man for holding a sign that says 'Children cannot consent to puberty blockers'. A young Muslim girl comes up to see what's going on and the black-clad boy says indignantly: 'He's trying to tell children they're not allowed to be trans!' 'Yeah – they're not!', the girl exclaims. 'You're wearing nail varnish! Respect our religion!'
The question of why some weird people seek alliances with those who despise them is a complex one, and probably better suited to a psychologist than a hack like myself. Maybe you Queers for Palestine really are brave young people prepared to take your chances and argue your case – or maybe you're just cowards, who believe that if you are craven enough to the big bad men, you'll be spared. Maybe you won't need those Western-won freedoms, after all. Maybe you, as women, as homosexuals, as atheists, will flourish under the illiberal regime you're currently cheerleading for. On the other hand, maybe they'll come for the Jews first, and if that works, then they'll come for you. Oh yes, they will come for you, fool – and then who will be left to defend you?
Julie Burchill is a spiked columnist. Her book, Welcome To The Woke Trials: How #Identity Killed Progressive Politics, is published by Academica Press.
To enquire about republishing spiked's content, a right to reply or to request a correction, please contact the managing editor, Viv Regan.