'Aboriginal people do not want to be permanent victims'
Jacinta Nampijinpa Price on why an 'Indigenous Voice to Parliament' would tear Australia apart.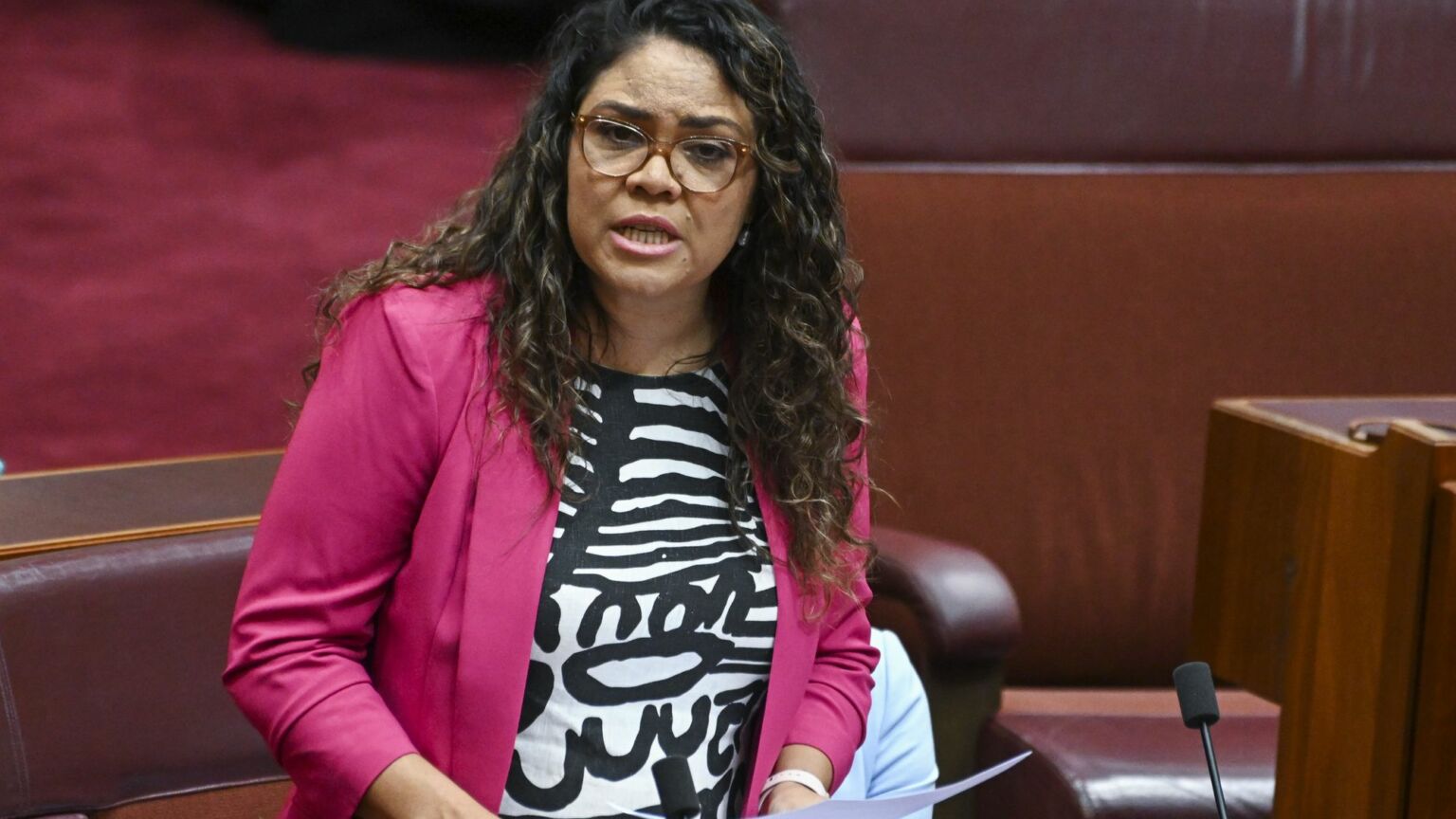 Identity politics is dividing Australia. On 14 October, Australians will be asked to vote on a proposed indigenous 'Voice to Parliament'. This dubious political experiment would give Aboriginal Australians their own special body to represent their community. Its supporters may present it as an attempt to better the lives of one of Australia's most marginalised groups. But, in reality, the Voice would entrench an insidious form of racial identity politics within the Australian constitution and dilute the principle of one person, one vote.
Jacinta Nampijinpa Price, shadow minister for indigenous Australians and senator for the Northern Territory, joined Brendan O'Neill on the latest episode of The Brendan O'Neill Show to discuss why she wants Australians to vote No later this month. What follows is an edited extract from their conversation. Listen to the full thing here.
Brendan O'Neill: What exactly are Australians being asked to vote on in the Voice referendum?
Jacinta Nampijinpa Price: We're being asked to make an amendment to our constitution that will create an entirely new governing body known as the Aboriginal and Torres Strait Islander Voice, often just called the Voice. This body will 'make representations' to parliament on all matters relating to indigenous people, with the aim of giving them greater recognition. The problem, however, is that we have been offered no concrete outline as to what the exact makeup and function of this new body will be. And, as a result, it will be left to parliament alone to determine these details after the referendum has wrapped up.
We're effectively being asked to give parliament a blank cheque to create a vague, unknown and potentially quite powerful new governing body. This is an incredibly dangerous proposition, not least because the Voice will only represent Aboriginal people at the exclusion of all others. As the daughter of an Aboriginal mother and a white Australian father, this entire concept immediately struck me as being identity politics writ large.
It's not just being pushed by the state, either. Elites and celebrities are staunchly behind the Yes vote, and five of Australia's largest corporations are putting big money behind the campaign. What all these groups share, despite their obvious differences, is a complete and utter disconnect from the day-to-day lives of rural, indigenous Australians. These communities live out of sight and out of mind. Many rural indigenous people do not speak English as a first language and most have very little education. This elite concern for them is inherently paternalistic and only ends up being divisive.
My Warlpiri family belonged to these marginalised, remote communities. I know the role that Aboriginal culture plays in their lives and I know how that culture can sometimes be detrimental. The so-called Aboriginal industry, for example, has grown into a billion-dollar enterprise over recent decades – and corporations have grown largely at the expense of those marginalised communities they purport to aid. And so, when the government asks why efforts to alleviate the misery of indigenous populations have failed, we already know the answer. It's because they have been exploited to enrich the Aboriginal industry.
Maintaining the abject misery of these marginalised communities is profitable for the elites. And they know, deep down, that integration and flourishing will end that misery for good. That is why, through this referendum, those same elites want to constitutionally enshrine a special form of separatism into the Australian constitution. And that is something I simply cannot support.
O'Neill: You've talked a lot in the past about the politics of guilt. How big a role does it play in elite support for the Voice?
Price: I have railed against guilt politics for years, because it treats Aboriginal communities as permanent victims of history. When white Australians tell me that they feel guilty for how my race was treated, they're effectively telling me that I'm a victim without agency. They're implying that I can't progress without empowerment from a white Australian. This patronising guilt politics provides no way to move forward and resolve issues that impact everyone.
Campaigners for the Voice have been exploiting the emotions and goodwill of guilt-ridden Australians. A lot of people considering voting Yes do genuinely want to see improvements for the marginalised, but this proposal is the wrong way to go about it. You don't support constitutional changes because you feel guilty. You should support reform only if the proposal can be shown to improve people's lives. All voting Yes will do is institutionalise identity politics and undermine equality, democracy and fairness.
Guilt politics has also been incredibly stifling for Australians. As I'm travelling across the country, I'm finding that it has created a culture where everybody is afraid to speak. I quite often meet people who are worried that they'll be called racist for expressing their very sensible opinions on the Voice. The people I talk to are relieved to find that they can breathe and still have a proper, respectful conversation.
Australians don't want to get bogged down with the name-calling, mudslinging and bad faith that comes with the politics of guilt. They know, and I know, that this is no way to behave in a democratic country.
Jacinta Nampijinpa Price was talking to Brendan O'Neill on The Brendan O'Neill Show. Listen to their full conversation here:
To enquire about republishing spiked's content, a right to reply or to request a correction, please contact the managing editor, Viv Regan.