Why tensions are mounting between Poland and Ukraine
While the two nations stand united against Russian aggression, cracks are beginning to show.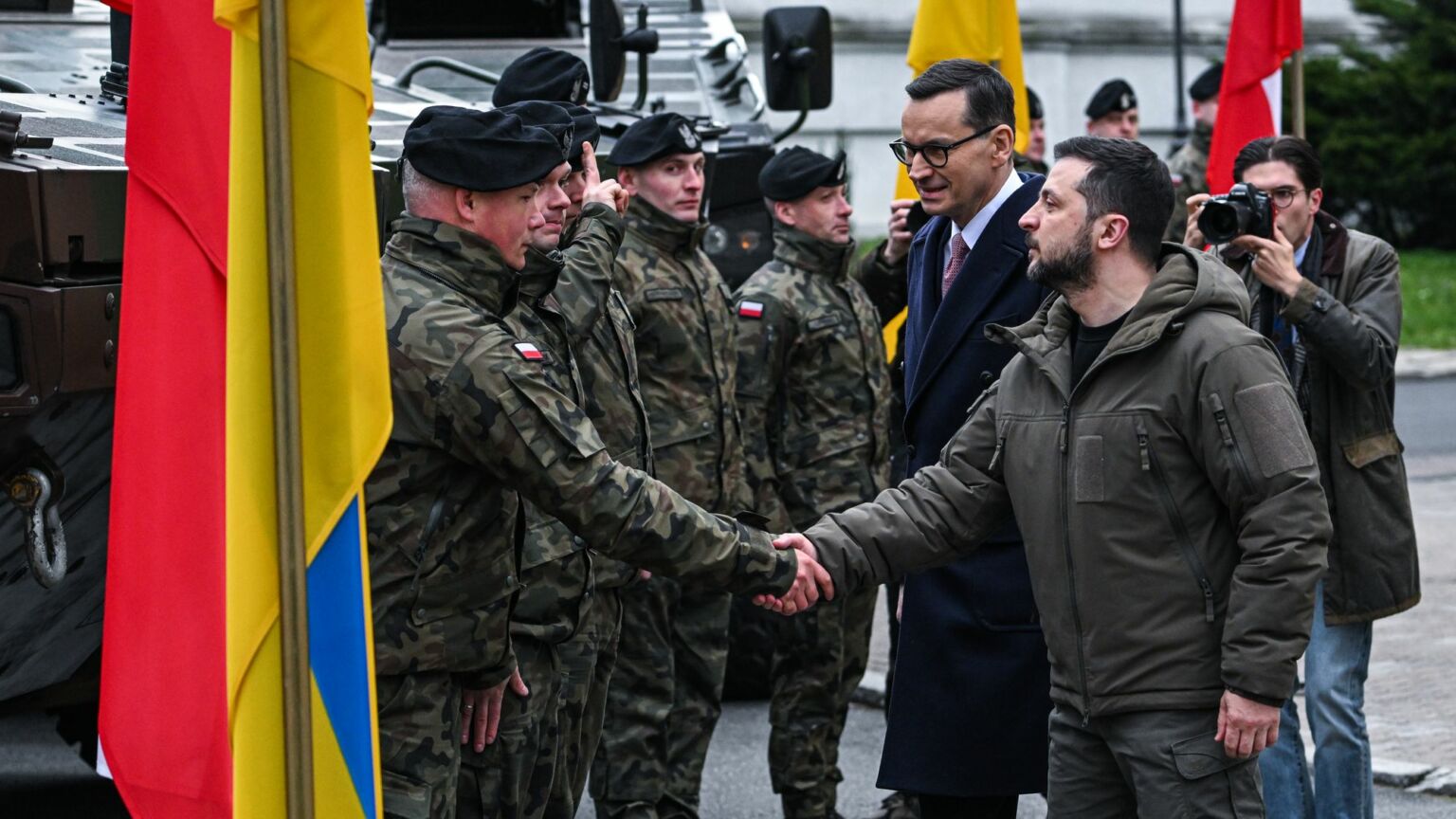 Tensions between Poland and Ukraine over Ukrainian grain exports have now reached fever pitch. Given that Poland has been one of Ukraine's strongest allies since Russia launched its invasion last year, the dispute may initially seem hard to comprehend.
The immediate cause of the row is that there is now a glut of Ukrainian grain in central and eastern Europe. As the Black Sea is blockaded by Russia, grain that would have been shipped to Africa and the Middle East has instead ended up in the EU. This has destabilised agricultural markets in Poland, putting extraordinary downward pressure on local prices and causing outrage among Polish farmers.
Poland this week appeared to throw down the gauntlet, with prime minister Mateusz Morawiecki announcing that he would no longer send weapons to Ukraine. These widely reported remarks have been taken out of context somewhat. They actually reflect the status quo rather than a u-turn in policy. Poland has already sent so many weapons to Ukraine that it has very few left for its own army. During his speech, Morawiecki also reiterated his commitment to allowing Poland to be used as the main transport hub and repair centre for weapons destined for Ukraine. Polish president Andrzej Duda has since clarified that all existing weapons contracts will be honoured. Nevertheless, Morawiecki's speech undoubtedly reveals that tensions are boiling over.
In fact, these tensions go back further than the row over grain. Ukraine and Poland, like most eastern European neighbour countries, have a complex and often dark shared history. At various stages over the past several hundred years, large parts of western Ukraine have been ruled by Poles. These rulers showed varying and not always tolerant attitudes to native Ukrainians. For Poles, especially painful were the massacres of Polish minority groups in Volhynia and Eastern Galicia, carried out by forces loyal to Ukrainian nationalist Stepan Bandera during the Second World War.
Such history has not been completely forgotten in the wake of Russia's invasion. Occasional protests from the Polish side have been raised whenever Ukraine has commemorated Bandera, who remains a national hero. Ukrainians, for their part, have chafed slightly at the undertones of paternalism towards Ukraine in some Polish commentary. But, on the whole, a groundswell of mutual feeling has mostly pushed these gripes to one side. Poland has taken in millions of Ukrainian refugees and Polish people have displayed a spontaneous solidarity with ordinary Ukrainians – a solidarity that has been greatly appreciated in Ukraine.
Above all, Poland and Ukraine are united by genuine shared national interests in the face of the Russian invasion. Vladimir Putin's revanchist actions and neo-imperial designs are also a threat to Poland, not just to Ukraine – a fact that Russian propaganda rarely fails to mention. This is why, since the invasion, Poland has embarked on an enormous military armament programme. Polish generosity to Ukraine reflects not just solidarity, but also existential concerns.
Yet, for all that they overlap, the national interests of Poland and Ukraine are not identical. For Poland, its territorial defence and its agricultural sector are two separate issues – especially when Ukraine is threatening the livelihoods of Polish farmers. For Ukraine, in desperate need of the economic boost that grain exports provide, agriculture and defence are much more firmly interlinked. Without grain exports, Ukraine remains entirely reliant on the charity of other states.
Tensions have been ratcheted up further by three other issues. The first is the looming Polish elections, where the incumbent Law and Justice (PiS) party is facing tough competition. The rural vote is crucial to its re-election chances. PiS is losing ground in the polls to the right-wing Konfederacja (Confederation) party, which has started to question Poland's 'unconditional support' for Ukraine and has linked this to the cost of living.
The second cause is Ukraine's own blunders. At times, President Zelensky seems unaware of how important farming is to Poland and PiS, and has gone as far as implying that Polish concerns about agriculture play into the hands of Moscow. Plus, the spectacle of globetrotting Zelensky making ever greater demands for military aid has started to grate for some as the war drags on.
The third is the internal politics of the European Union. Initially, the EU had brought in the ban on Ukrainian grain. But now it has left Poland and others in the lurch by refusing to extend it for any longer. EU leaders are quite happy with this, as they were never comfortable enforcing the ban against Ukraine, although they have no other solutions to the problem. They are also quite happy for eastern European countries to appear as troublemakers.
All of this means that the grain issue is likely to rumble on and perhaps even escalate further. While it does not yet imperil Western support for Ukraine's defence of its sovereignty, it does remind us that the tensions in Europe and the West have not been washed away by 'unity' in the face of the war.
The longer the war continues, the more these tensions will come to the surface. Whether Western politicians possess the necessary statecraft to navigate these differences could determine not just the immediate success of Ukraine, but also the future of Europe.
Jacob Reynolds is a writer based in London and Brussels.
To enquire about republishing spiked's content, a right to reply or to request a correction, please contact the managing editor, Viv Regan.