How Poland and Ukraine overcame a dark history
The two nations now stand united against Russian aggression, but things could have been very different.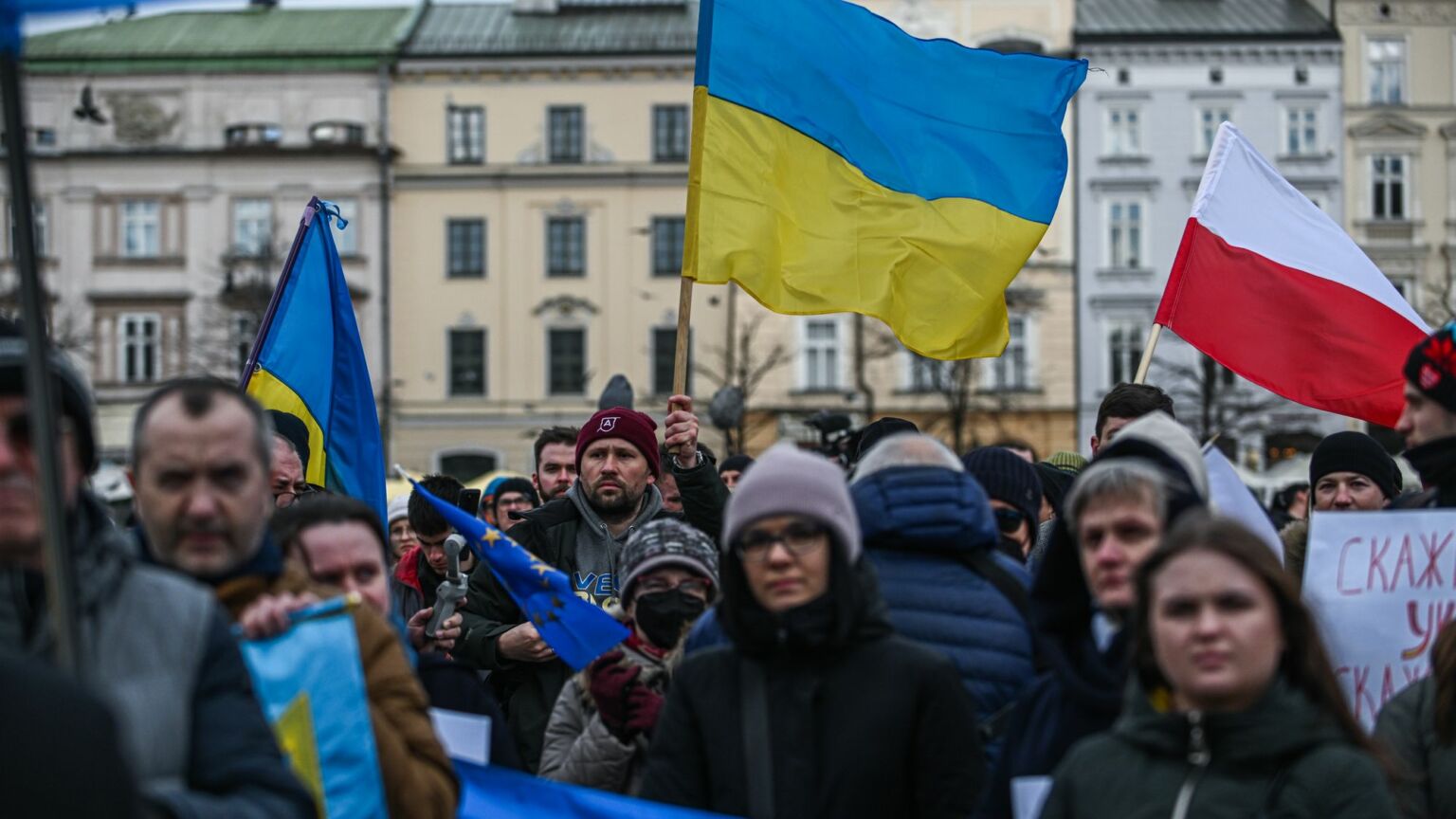 While reporting in the eastern Polish town of Rzeszow earlier this year, journalist Samuel McIlhagga observed a curious sight: 'A Polish man in black uniform screamed down the microphone about the "Banderite Ukrainian fascist threat", as bemused international aid workers lounged about drinking beer.' Alongside around 200 other Poles, the man was commemorating the 1943 massacre of Poles in Volhynia and Eastern Galicia, two regions formerly belonging to Poland, by the militias of Ukrainian nationalist Stepan Bandera.
Any protest against Ukraine might seem unusual in Poland, not least as Poland today is one of Ukraine's most enthusiastic backers. But there is a dark history that had to be overcome in order to get here.
In total, somewhere between 50,000 and 100,000 Poles were murdered by Ukrainian nationalists in 1943. Volhynia and Eastern Galicia had been ethnically mixed, composed of Poles, Ukrainians, Jews, Germans and Czechs, among others. Both territories had previously been part of the Polish-Lithuanian Commonwealth prior to its 18th-century partition between Prussia and Russia, and had been incorporated into the Second Polish Republic after the First World War. Violence between the Polish state and the Ukrainians, each with their own national aspirations, escalated with the outbreak of the Second World War, culminating in the massacres of 1943. After the war, by which point the Polish population of Volhynia and Eastern Galicia had largely been killed or had fled, the two regions were incorporated into the Ukrainian Soviet Socialist Republic. Today, they form the Western region of Ukraine. For its part, under the Soviets, the Polish state deported Ukrainians en masse in the late 1940s.
Yet despite this history of violence and ethnic cleansing, relations between Poland and Ukraine are anything but hostile today. Following Russia's invasion, Poland has backed Ukraine to the hilt. By April this year, it had sent around $1.6 billion worth of arms. According to some reports, Warsaw has supplied over 200 tanks, which would make it Ukraine's second-largest supplier of weapons. Poland has also transferred anti-tank missiles, mortars, ammunition and drones. Absent from all of this is any serious talk of Poland one day reclaiming Volhynia and Eastern Galicia.
None of this was inevitable. The collapse of Communism in Eastern Europe risked reigniting a whole plethora of historical grievances, which Stalinism had largely kept frozen for over 40 years. This is what happened in south-eastern Europe, after the collapse of Yugoslavia descended into the ethnic violence of the 1990s. North-eastern Europe's post-Communist transition, however, was mostly peaceful – at least until Russia's invasion of Ukraine in 2014 and again in 2022.
Post-Communist Poland made no effort to revive historical claims, whether on Volhynia and Eastern Galicia or on Lithuania's southern capital, Vilnius. (Vilnius, then known as Wilno, was historically part of the Second Polish Republic.) Indeed, Polish post-Communist policy was geared specifically towards rejecting revanchism.
Poland joined NATO in 1999 and then, five years later, joined the EU. Its integration into the Western security architecture may have shaped its approach to its neighbours. But the roots of Polish solidarity with Ukraine, and Poland's decision not to press revisionist claims, go back further. They can be traced back to postwar Polish émigrés in the West, as well as to intellectuals within Communist Poland itself. As US historian Timothy Snyder argues in his 2004 book, The Reconstruction of Nations, Poland's acceptance of its Soviet-era borders evolved into a core part of Poland's post-Cold War foreign policy.
Following the Communist takeover of Poland during the Second World War, it became almost an article of faith among émigré Poles that a future Poland must also have its borders restored to those of the interwar Second Polish Republic. Those territories, after all, had been annexed by the Soviet Union and incorporated into its constituent republics: Lithuania, Belarus and Ukraine. Indeed, the Polish government in exile maintained, right up to 1989, that Poland should renegotiate its borders in the east.
In the postwar era, however, two intellectuals challenged this consensus: Jerzy Giedroyc and Juliusz Mieroszewski. As Giedroyc saw it, Poland's émigré community were stuck in the past: they hoped for a future liberated Poland to be a reconstitution of the interwar republic, both in terms of territory and institutions. Instead, Giedroyc urged the acceptance of Poland's present-day eastern frontier, arguing it would have to be the eastern border of any future sovereign Poland.
This border, drawn by Hitler and Stalin's 1939 Molotov-Ribbentrop Pact, was a source of fierce resentment to many Polish émigrés. However, as Snyder notes: 'Giedroyc's innovation was to see these territories not as Polish lands lost to the Soviet Union, but as contested territories that could now serve nations comparable to the Polish nation.'
In the 1970s, Mieroszewski, a close collaborator of Giedroyc, built on these ideas. He argued that Poland actually stood to gain from these new borders being maintained. Lithuania, Belarus and Ukraine, he argued, should not be thought of as usurpers of Polish territory. Rather, they should be viewed as buttressing the security of a future independent Poland.
Mieroszewski saw the Soviet Union and its hold over Eastern Europe as temporary. He argued that in the event of the Soviet Union's collapse, Poland should accept an independent Lithuania, Belarus and Ukraine, within their current borders. This would then neuter the prospect of any competition with Russia over these territories. At the same time, accepting the current borders would limit potential hostility between Poland and Lithuanians, Belarusians and Ukrainians. Poland's future security, therefore, relied on these three nations emerging as independent states.
Mieroszewski's position was heretical among many Polish émigrés. However, this view started to gain currency among dissidents within Poland itself. In 1976, the Polish Independence Compact, an opposition group, published a programme with a similar assessment of Poland's eastern borders. And in 1977, the Workers' Defence Committee, precursor to the Solidarity movement, published an open letter on reconciliation with Ukraine in one of its information bulletins.
Anti-Communist dissidents coalesced into Poland's Solidarity trade-union movement, which by 1981 had 10million members. After a crackdown on the Solidarity movement by the Polish government that year, there was a growing sense that Poles needed to find allies among their eastern neighbours. That led to growing contact between dissident groups across borders. According to Snyder: 'The consensus in Poland not only opposed revanchism but also supported independence for its eastern neighbours. A new political idea articulated in the 1970s had become a new political tradition by the 1980s.'
When Communism fell and Solidarity gained power in 1990, Mieroszewski's views had become widely accepted. It was agreed that Poland should not seek to change its eastern borders and that Poland had a positive interest in supporting the independence and integrity of Lithuania, Belarus and Ukraine. This was not without its difficulties. Lithuania declared independence before the end of the USSR in March 1990. This triggered revanchist claims from the Polish diaspora in Lithuania. The Polish state, however, was careful not to endorse these claims.
In October 1990, Poland signed a state-to-state declaration with Ukrainian foreign minister Anatoliy Zlenko, which included a pledge of non-aggression and the acceptance of existing borders on both sides. This prepared the ground for Ukraine's emergence as an independent state in 1991. Poland was the first state to recognise the independent Ukraine. At the time, this drew condemnation from both the US and the Soviet Union.
Snyder argues that Poland played a role in facilitating Ukrainian statehood. 'Had Polish policy been hostile to Ukraine, some West Ukrainian activists would have been distracted from the civic project of nation-building', he writes. With Poland not seeking any revisions to the border, the main obstacle to Ukraine's national independence lay to the east.
This created the conditions for the friendly Polish-Ukrainian relations we see today. Had Poland not taken this route, it is unlikely that Poland would be pressing serious revisionist claims today – it is, after all, an integrated member of NATO and the EU. But if questions over the eastern border had remained part of Polish politics, it is easy to imagine Poland having much less sympathy for Ukraine and thus providing much less military support.
For putting the question of the eastern border to bed, we can thank, at least in part, Giedroyc and Mieroszewski. Without them, Poland and Ukraine might not be so close today. And the war in Ukraine might look very different.
To enquire about republishing spiked's content, a right to reply or to request a correction, please contact the managing editor, Viv Regan.