Don't blame climate change for the flooding in Libya
Libya's warring, kleptocratic elites have allowed critical infrastructure to crumble.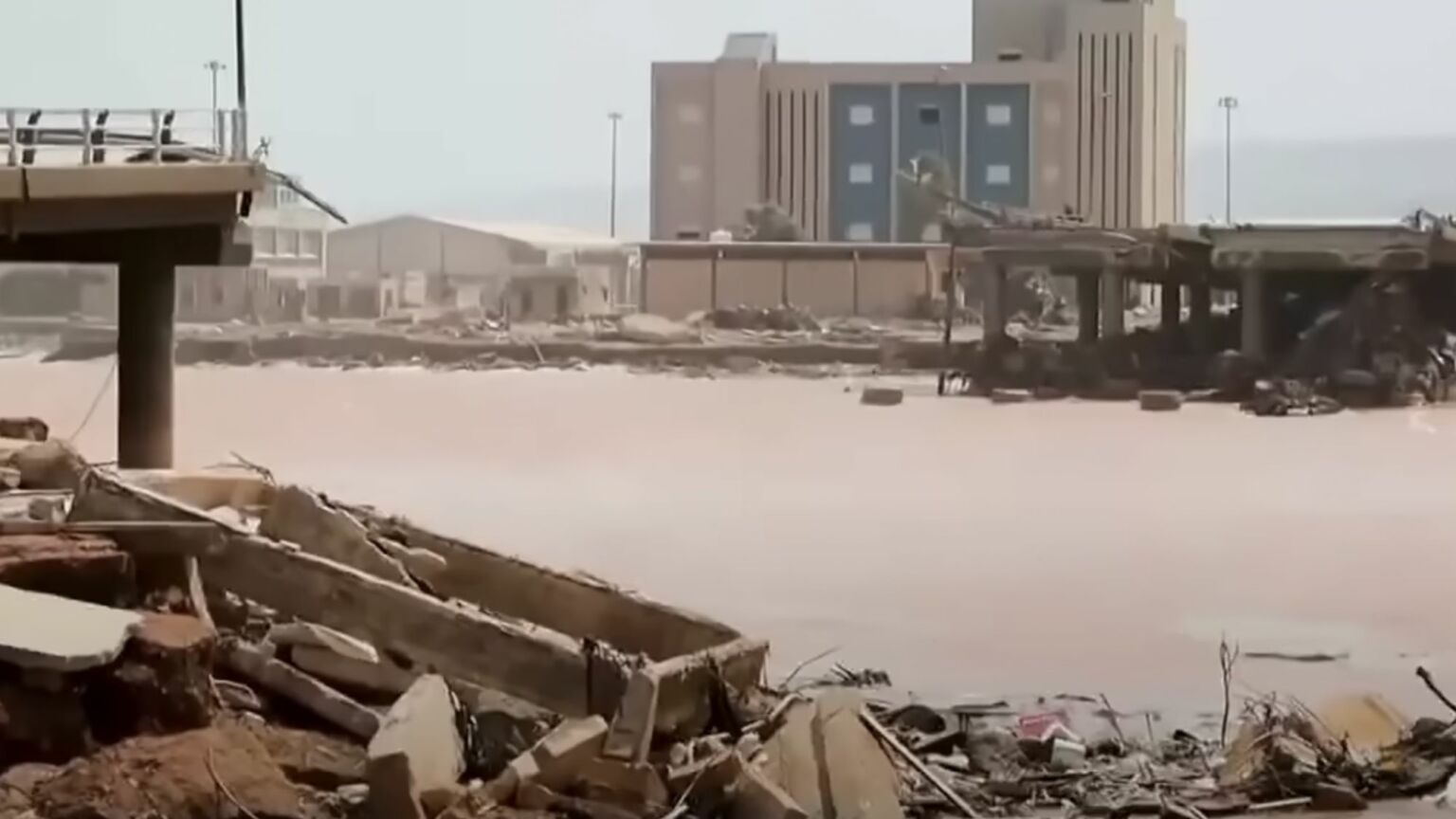 Storm Daniel hit Libya last week. It caused catastrophic flooding in the port city of Derna, in eastern Libya, after two nearby dams broke. Over 10,000 people are known to have lost their lives so far. But that total is expected to rise significantly in the coming days and weeks.
All too predictably, Derna's tragedy is now being politically exploited. First, there are the climate activists outside Libya who claim that the floods offer yet more proof of the damage humanity is supposedly doing to the planet. And, second, there are those within Libya who are using it to advance their side in the conflict between the competing western and eastern political factions. So, we've seen those supportive of the Government of National Unity in Tripoli, in western Libya, eagerly blaming the Derna disaster on their political rivals based around the House of Representatives and the Libyan National Army in the east.
Both narratives are deeply misleading.
In reality, the only weapon we have against natural disasters – especially in poorer countries – is social, economic and industrial development. This type of development can only really occur under the protection of stable, democratically accountable institutions. This is why Libya is particularly at risk to the type of disaster we've just witnessed. Libyan society is now less free, less stable, less prosperous and its institutions less accountable, than at any point since the end of the Second World War.
The dams that broke outside Derna had been left to decay for decades. Some reports indicate that they had been due for maintenance since 1986. The Gaddafi regime allowed oil-rich Libya to slowly decay while its members syphoned off the nation's wealth for themselves. Their successors have managed to outdo the Gaddafis by looting Libya wholesale – at least when they are not blowing it to pieces, in a battle for total control.
The 2011 revolution that toppled Colonel Gaddafi, Libya's longtime dictator, gave many – me included – the vain hope that his demise would usher in an era of prosperity and peace for the beleaguered people of Libya. Instead, the murder, torture, theft and depravity of the Gaddafi regime has been utterly eclipsed by that of the gangsters and religious ideologues who have dominated the country ever since. They have stolen wealth in proportions that far outweigh Gaddafi's worst excesses.
Libya is now a blood-soaked failed state. Political elites and their militia partners have spent years fighting each other for control of the Central Bank of Libya and key oil fields in the east, while infrastructure that was crumbling in 2011 has either been destroyed or left to collapse.
Libya's disintegration has been aided and abetted by a plethora of international organisations, diplomats and pundits. They have spent the past decade and more explaining away the crimes of some militias and warlords, while selectively drawing attention to those of others. The decision about whom to flatter and whom to condemn has been driven by political expediency. Since diplomatic, academic and journalistic work in Libya depends on access to the country, the public narrative has been captured by politically attached Libyans inside and outside who provide that access.
Take the mass graves of Tarhuna, a town south-east of Tripoli. When the first reports emerged of systematic mass murder in Tarhuna in 2020, it seemed that one side – General Haftar's Libyan National Army – could be blamed exclusively for the atrocity, since it had allied a year earlier with the Kaniyat militias who held Tarhuna. This suited the public narrative dictated by political elites allied with the Government of National Accord in Tripoli. When it emerged that the programme of murder dated back to the Kaniyat's prior allegiance with the Tripoli regime itself, interest tapered off. The eventual UN report on crimes that should have implicated Libyan figures from all sides refrained from naming individuals.
Today, foreign commentary about the collapse of the Derna dams has proved equally as misleading, with much of it focussing on competing claims of whether there was a viable evacuation plan, adequate meteorological forecasts or other aspects of how the event could have been handled in ideal circumstances.
Such talk is ludicrous to anyone who has even a passing acquaintance with the state of modern Libya. The reality is that the death toll in Derna is the result of decades of neglect, theft and war. Flippant assertions by Libya-focussed pundits that the disaster could have been foreseen or prevented by better technocratic planning are politically motivated fiction. They are meant to focus attention on the many failings of the eastern political factions. And in doing so, they divert attention from the failings of the Libyan political elite and its militia allies dispersed across the entire country, not to mention their backers in the UK, US, EU, UAE, Qatar and Turkey.
Storm Daniel was a rare natural event, but it is Libya's blood-drenched kleptocracy that ultimately left its victims defenceless.
Alaa al-Ameri is the pen name of a British-Libyan writer.
To enquire about republishing spiked's content, a right to reply or to request a correction, please contact the managing editor, Viv Regan.