The truth behind war crimes in Libya
The mass graves discovered in Tarhuna are a sad testament to a nation torn apart by Western intervention and civil war.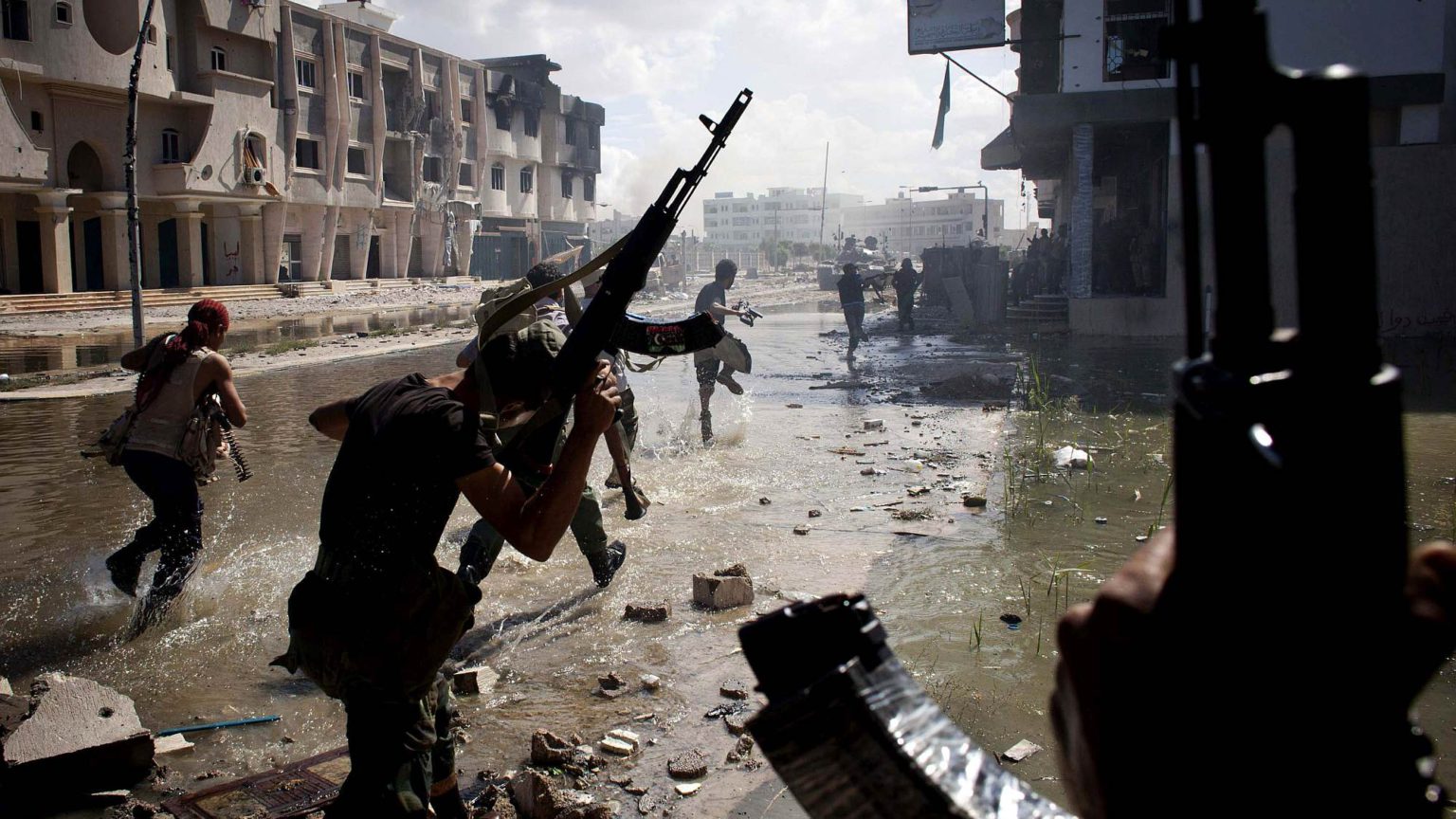 While the withdrawal of General Khalifa Haftar's forces from the town of Tarhuna, some 60 kilometres south of Tripoli, unleashed a wave of burning, looting and kidnapping on the town's residents by Turkish-backed militias loyal to the Government of National Accord, evidence of past war crimes carried out by a group affiliated with Haftar, the 'Kaniyat' militia, has also been found. The eight mass graves, containing badly decomposed bodies, have horrified local and international observers, leading to calls for an international investigation.
Senior Libya researcher at Human Rights Watch, Hanah Saleh, called on the internationally recognised government in Tripoli to invite neutral international forensic experts to investigate the mass graves. Doing so would help answer questions of how and when they were killed; whether they were prisoners of war captured during the 15-month long offensive on Tripoli; or whether they were civilian victims of the repressive grip that the Kaniyat have held over Tarhuna for over six years. A preliminary list, made public by Libyan government officials, suggests the majority were civilian victims of the Kaniyat, with many members of the Na'a'jah tribe, the Kaniyat's one-time rivals in Tarhuna. Irrespective of anything else happening in Libya presently, an investigation into the crimes of the Kaniyat is long overdue.
The rise of the Kaniyat in Tarhuna rarely made headlines internationally, or even in Libya, largely because the long-term fighting between the group and its rivals did not affect anyone outside of the region. Understanding Tarhuna's past conflicts, the Kaniyat's ever-shifting alliances, and the crimes the group committed leading up to its recent alliance with Haftar's forces, will be crucial to holding all parties accountable. The victims of the Kaniyat's crimes deserve nothing less.
While it would be convenient for Haftar's critics to claim that all of the Kaniyat's crimes occurred under his watch, the reality is that the Western-backed Government of National Accord and its predecessors contributed to the Kaniyat's ascension. In fact, the rise of the Kaniyat in Tarhuna can be traced to a single event: the kidnapping of the commander of Tarhuna's Awfiya battalion, Abu Ajayla Al-Hibshi, on 3 June 2012. The importance of the kidnapping cannot be understated.
The Awfiya battalion, under Al-Hibshi's leadership, was alone responsible for securing the region of Tarhuna in the aftermath of Libya's civil war in 2011. Until his abduction, very little violence took place. But afterwards, the Awfiya descended on to south Tripoli and stormed its airport, holding it for several hours. Meanwhile, armed groups from Tripoli prepared to hit back against the Awfiya. I happened to be just ahead of an enormous convoy of these armed groups that very day as they made their way out of Tripoli towards the airport, watching from my rear-view mirror as angry demonstrators supporting the Awifya tried to intercept them near the south Tripoli Yarmouk barracks. After minor clashes around Tripoli's International airport, and tense negotiations between the leaders of Libya's National Transitional Council and representatives of Tarhuna's military council, the Awfiya agreed to withdraw and return to Tarhuna, while the authorities promised to investigate Al-Hibshi's abduction.
This investigation was never to be completed. But the circumstances of Al-Hibshi's disappearance offer some clues as to what happened. Al-Hibshi was on his way to a meeting with the then minister of interior, Fawzi Abdulaal, a former Misrata military council representative, when he was kidnapped in the south Tripoli suburb of Qasr Ben Gshir. The region of Qasr Ben Gshir at the time was under the control of militia commander Salah Al-Marghani, who was strongly affiliated with Tripoli's Salafist militias. Noman Benotman, the president of the London-based Quilliam Foundation and a well-known commentator on Libya's affairs, claims that a memo from Libya's Ministry of Justice named the Supreme Security Council (which included the aforementioned Salafist militias), the al-Qaeda-affiliated Libyan Islamic Fighting Group, the city of Misrata and former National Transitional Council chairman Mustafa Abduljalil as prime suspects in his disappearance, suggesting a link between them.
According to Al-Hibshi's grandson, who I met with in Benghazi in January, Al-Hibshi is very much alive and presently being held in the city of Misrata. It would be unfair to hold anyone responsible for his abduction until a full investigation is complete, but the fact that his disappearance left an exploitable leadership void in Tarhuna is indisputable.
His deputy and replacement, Abdulbasit Buna'amah, who was also a representative of the National Transitional Council, and who, unlike Al-Hibshi, had no military background, did not last long. In early November 2012, forces under his command killed Ali Khalifa Abduraheem 'Al-Kani' and his companion Kamal Ammar, both of whom belonged to a small Salafist militia under the command of the Libyan Islamic Fighting Group and Afghanistan mujahideen veteran Abdualeem Al-Sa'adi.
Ali Al-Kani was one of six brothers, all of whom had a reputation in Tarhuna for being 'hard men'. Immediately after his death, his brothers, and other members of the large and powerful Marghani tribe, set out on a path for revenge. They began by killing everyone they presumed was responsible for their brother's death, including Buna'amah. But that wasn't enough.
On 14 November 2012, the Kani brothers invaded the home of Saleh Saqr Mohamed in the village of Al-Khadra, just a few kilometres east of the centre of Tarhuna, abducting two of his sons, and then murdering one. Ten days later, the Kani brothers would kill another of Waseem's brothers, Ismael, setting off a low-intensity tribal war with the Na'a'jah tribe that would take years to settle.
The Kani brothers' ruthlessness quickly caught the attention of figures outside of Tarhuna. Two in particular — both suspected of involvement or links to Al-Hibshi's disappearance — would reach out to arm and equip them against their rivals in Tarhuna. One was militia leader Salah Al-Marghani, and the other was their slain sibling's patron Abdualeem Al-Sa'adi, who had just been elected to Libya's first post-2011 legislature, the General National Congress. Their ability to do so hinged at first on Al-Marghani's ties to the Salafist Rada and Nawasi militias, who already had access to a large cache of arms and ammunition, but later and more importantly on Al-Sa'adi's ties to his Libyan Islamic Fighting Group comrade Khaled Al-Shareef, who had been appointed deputy minister of defence in Libyan prime minister Ali Zidan's government.
The Kani brothers, known as 'the Kaniyat', benefited enormously from the support of Al-Marghani and Al-Sa'adi. But while the latter were driven by ideology, the Kani brothers were merely callous, calculating opportunists. For Tarhuna residents, this was obvious from the beginning — the Kani brothers, like most of Tarhuna's residents, were opposed to the uprising against Colonel Gaddafi in 2011, and yet they had no qualms about joining arms with their pro-uprising Islamist patrons, al-Marghani and al-Sa'adi.
Until the summer of 2014, when a war for control of Tripoli took place between rival militias from Misrata and Zintan, the clashes between the Kaniyat and their main rivals, the Na'a'jah tribe, were intensifying. On the morning of 24 May 2014, I caught a glimpse of these clashes as I drove through Tarhuna, wondering out loud why there were tanks moving about on the outskirts of town. With the eruption of civil war, and Libyan Islamic Fighting Group's Khaled Al-Shareef holding on to his position as deputy minister of defence in Tripoli's usurper Salvation Government, it would not take long for the Kaniyat to establish dominance over Tarhuna.
More clashes erupted between the Kaniyat and the Na'a'jah in November 2014, but by this time the Kaniyat had grown too powerful. Tribal leaders had to intervene to prevent a total extermination of the Na'a'jah — it is noteworthy that at least 24 of the 123 bodies recently identified in Tarhuna's mass graves belong to this tribe. The defeat of the Na'a'jah in turn gave Kaniyat a monopoly of force in Tarhuna, and a free reign to kill and abduct as they pleased. And the brothers did so mercilessly. One of the Kaniyat's most heinous crimes, on 23 March 2015, was the massacre of the family of Abu Ajayla Al-Hibshi, widely known to have had a close relationship with Haftar.
Until a full investigation of the Kaniyat's crimes is undertaken, it will be difficult to determine how many abductions and extrajudicial killings took place in the years that the Salvation Government was in control. But one thing is certain: the arrival of the Government of National Accord in Tripoli on 31 March 2016 did little to deter them. In fact, its prime minister, Faiez Sarraj, even visited Tarhuna in November of that year to lay the foundation stone of an international airport there, inadvertently affirming the Kaniyat's legitimacy.
Barely four months after that, the Kaniyat murdered eight members of a family in a single day, part of a wider campaign to liquidate dissenters in the region. It would be unfair to heap all of the blame on Sarraj's government, which at the time had little control over many of the state's critical organs. However, in mid-2017, after about a year of tensions and intermittent clashes in Libya's capital, militias loyal to Sarraj's government were finally able to drive the Salvation Government — including Khaled Al-Shareef — out of Tripoli, at which time they stopped briefly in Tarhuna before making their way to back to Misrata.
Still, no efforts were made to check the Kaniyat. In an attack on the Souk al-Khamis cement plant on 29 July 2017, the Kaniyat killed four men and abducted several others. The attack on the cement factory provided the Kaniyat with a new revenue stream, taxing every single purchase of cement coming out of the factory.
The money the Kaniyat made from the cement racket was a pittance compared to the hundreds of millions pilfered from the Central Bank through credit fraud, most of which was linked to Tripoli militia leaders. By this time, fraudsters exploiting the gap between the official exchange rate and the black-market rate had driven the price of the Libyan dinar to less than a fourth of its official price, wiping out liquidity in all of Libya's banks.
Late in August 2018, the Kaniyat — aided by the internationally sanctioned Misrata militia leader, Salah Badi — attacked the capital, briefly reaching the Salaheddin intersection just a few kilometres from the city's centre. They were supported by a large group of politicians from the city of Misrata, including future interior minister Fathi Bashagha, who issued a statement sharply criticising Sarraj's government for its many failures, including its noncompliance with the terms of the 2015 Libyan Political Agreement.
Although the attack failed, pressure from Misrata's factions rattled Sarraj into a cabinet reshuffle early in October 2018, naming Fathi Bashagha as his interior minister. Bashagha visited Tarhuna a month later, discussing a wide range of economic and political issues with leaders there and reaffirming the legitimacy of the Kaniyat, just as his predecessors had. This inevitably emboldened the Kaniyat, who, on hearing that Salah Al-Marghani had returned to the Tripoli suburb of Qasr Ben Gshir, invaded his home, injured him and killed his wife.
No condemnation would be issued by Sarraj's government, which may not have wanted to provoke another attack on Tripoli, especially as the Kaniyat, like many other militias, remained frustrated by the Tripoli militia cartel's control over state institutions. This is almost certainly the reason the Kaniyat declared their support for Haftar in April 2019.
Not even a common goal, or an all-out war, for that matter, diluted the Kaniyat's penchant for extrajudicial killings. For example, during the course of the year-long assault on Tripoli, the Kaniyat assassinated fellow Libyan army comrades Khaled Abu Amead and Masoud Al-Dhawi, and separately abducted and killed three women, one of whom was pregnant.
Irrespective of any of the Kaniyat's old patrons and supporters, the fact that they retreated to eastern Libya after fighting alongside Haftar's forces for over a year places the burden of delivering it to justice on the leadership of the Libyan National Army.
Meanwhile, however monstrous the mass graves found in Tarhuna are, they should not distract from the crimes currently being committed against Tarhuna's still-living residents. Graveyards are being defiled and lit ablaze, homes and shopping centres have likewise been looted and destroyed, citizens are being abducted, vehicles are being stolen at gunpoint door-to-door, and even electrical wires and equipment are being stripped and shipped out of the region in vast quantities. Failure to hold the perpetrators of these crimes accountable, as was the case with the Kaniyat, will only serve to embolden and encourage them further.
Assem Mihirig is a former revolutionary hip-hop artist, known in Libya as 'Ibn Thabit'.
Picture by: Getty.
To enquire about republishing spiked's content, a right to reply or to request a correction, please contact the managing editor, Viv Regan.