Why Remoaners are still going after Eddie Dempsey
They can barely disguise their disdain for working-class Leave supporters.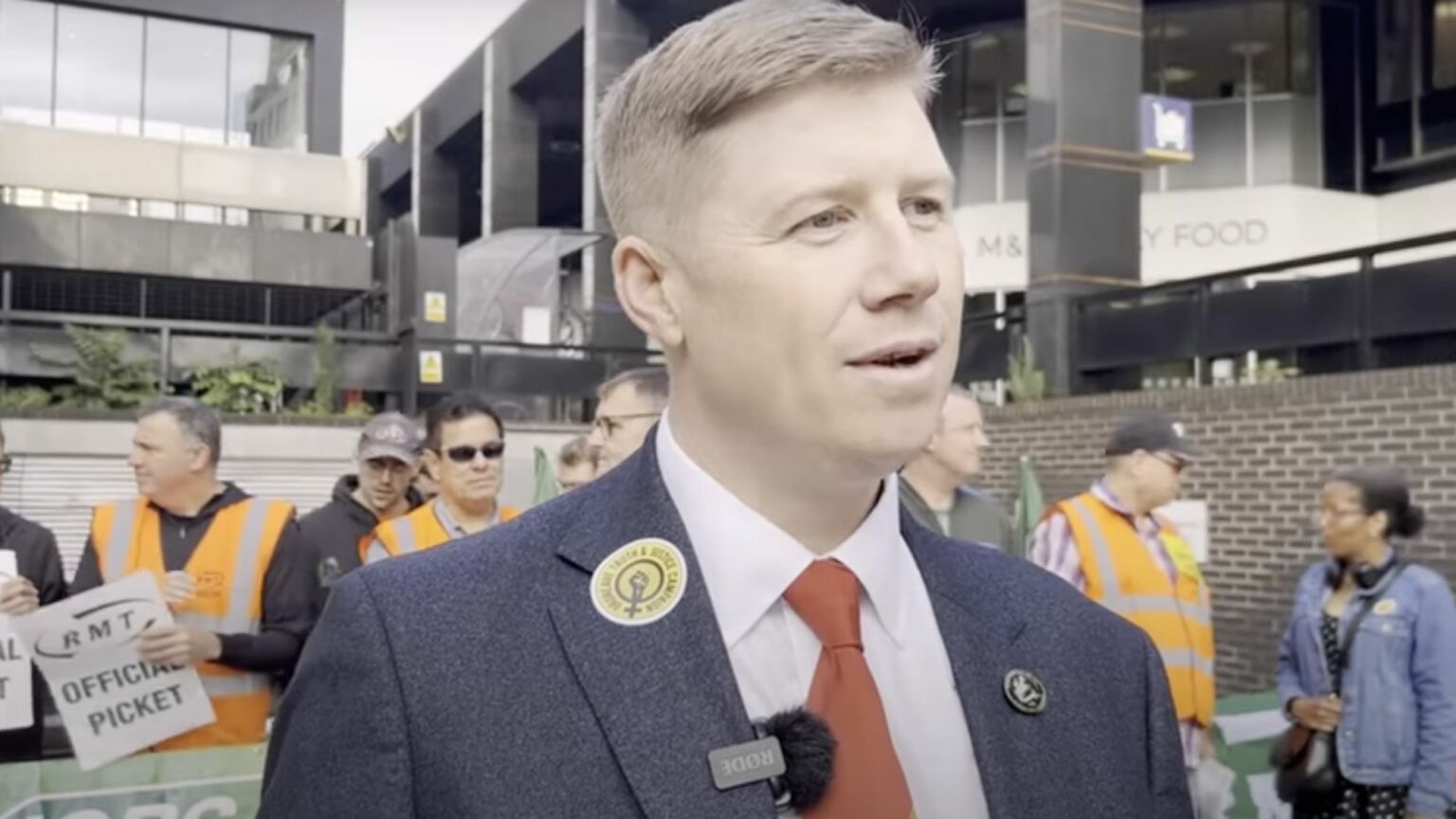 It seems middle-class Remoaners are going after Eddie Dempsey again, after self-styled pro-EU activist Femi Oluwole released an attack video against him last week.
There are several reasons for this obsession with Dempsey. He is the senior assistant secretary-general of the Brexit-supporting National Union of Rail, Maritime and Transport Workers (RMT). He comes from a working-class background. And, like his union, he himself is a fervent backer of Brexit. He is everything bourgeois liberals and lefties hate.
Back in 2019, left-wing Remainers thought they had evidence showing that Dempsey was far right and racist – exactly what they desperately imagine all working-class Brexit supporters to be. It was a clip of Dempsey speaking at a left-wing, pro-Brexit event a few months earlier. In it he says that the people who turn up for demos organised by far-right activist Tommy Robinson are united by 'their hatred of the liberal left'. He then says, 'And they are right to hate them'. This liberal left has 'captured the Labour Party', he continues, and it talks to working-class people as if they are 'the scum of the earth'.
Dempsey was issuing a warning about how the liberal left's treatment of the working class, and its attempt to overturn Brexit, was fuelling the threat posed by the far right. It was not an endorsement of Tommy Robinson. But that didn't stop middle-class Remainers and other parts of the liberal-left tribe circulating the video online, while claiming that it showed Dempsey to be a racist and a fascist.
Last year, the clip re-surfaced again, with public-school boy Femi Oluwole leading the charge this time. Now, one year on, Femi is making the same insinuations, based largely on the same speech, just a little more subtly – seemingly because of the threat of legal action (Oluwole's new video claims that Dempsey tried to sue him).
To understand why this is happening, it is useful to go back to 2019 and look at the context in which Dempsey made his speech.
It was a politically tumultuous year. Remainers were especially emboldened during the early months of 2019. We were nearly three years into Brexit and then PM Theresa May was making a hash of it. She didn't have a majority in Westminster and couldn't get her Brexit deal through parliament. Pro-EU MPs and liberal-left campaigners genuinely thought they could capitalise on May's weakness and overturn the result of the 2016 EU referendum. Such is the blind and raw entitlement of the bourgeois liberal.
During that year, the behaviour of achingly middle-class, pro-EU activists like Oluwole was especially ridiculous. They behaved like spoiled children, angry that they hadn't got their own way. They organised anti-Brexit rallies to which they brought picnic baskets containing bottles of fizz to consume in Parliament Square.
The 'Waitrose revolution', as some dubbed this overwhelmingly elite affair, proved a big hit with the Remain-favouring media. Prominent activists like Oluwole were given lots of space on radio and TV shows and became professional public Remoaners. If nothing else, it showed that opposing the democratic wishes of large swathes of working-class Britain was a good career move for the untalented children of the middle classes.
At the same time as the likes of Oluwole were making a media splash by attacking Brexit, far-right activist Tommy Robinson started exploiting the working-class reaction against this. In this respect, Oluwole and Robinson were not so far apart. Both were taking advantage of Westminster's inability to put the democratic will of the nation before their own interests.
Some of us realised the danger posed by this and called it out. Eddie Dempsey was one of those people. I have met him. I don't always agree with Eddie on everything, but he was right about the damage bourgeois liberals were doing to the country. Their hatred of the working class and their attempts to reverse the Brexit vote were tearing at the social fabric, and opening up a space for the likes of Robinson to flourish.
Eddie, myself and other working-class people could see the far right organising. Activists like Robinson highlighted the vile and bigoted anti-working class rhetoric coming from bourgeois Remainers in order to make inroads into working-class communities. Many of these communities had been betrayed over and over again by the political class since the days of de-industrialisation. They had no political representation, with the Labour Party long since having become just another party for bourgeois liberals. Yet anyone who pointed this out was called a racist or a fascist. The likes of Owen Jones and 'literal communist' Ash Sarkar went after Eddie in particular.
Some of the fervour of those Brexit years has died down now. But it seems that there are plenty who still refuse to get over 2016, and to forgive Dempsey for telling them the truth. Hence Oluwole has gone for Dempsey again, because he explained why far-right grifters might be able to appeal to working-class people treated like scum by Remoaners.
They still don't get it. They look at Eddie Dempsey and hear his accent and his support for Brexit and they hate him for it. It's a hatred born of their own class prejudice, entitlement and over-inflated sense of self-worth.
Of course, they dress it up as something virtuous, by implying that Eddie is a racist. That is the way of identity politics. It allows its bourgeois promoters to demonise opponents as supposed fascists who must never be listened to. Who must be boycotted, silenced and cancelled. Those of us who are attempting to build a politics around class solidarity are now among their main targets.
Dr Lisa McKenzie is a working-class academic.
To enquire about republishing spiked's content, a right to reply or to request a correction, please contact the managing editor, Viv Regan.