Gary Lineker: patron saint of the over-privileged
Now his luxury beliefs have earned him a standing ovation in M&S.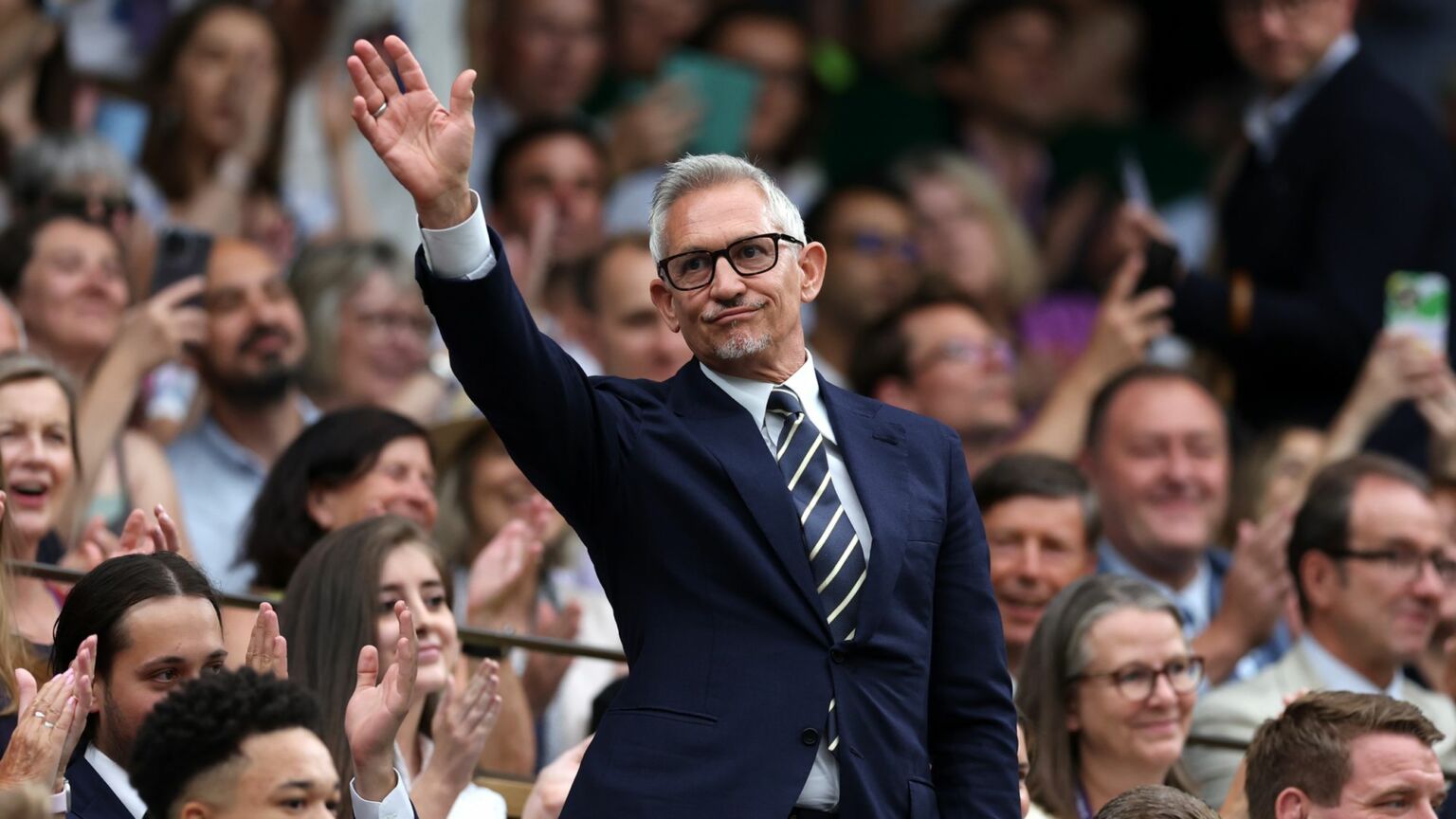 When we look back at our age of lunacy, our era of hysterical magical thinking, who will symbolise it best? Might it be the moob-baring Michelin Man of modern music, Sam Smith? In one breath, the nonbinary singer sulks: 'I hate reading!' And in the next, when insisting on being referred to as 'they / them', he scolds: 'We're changing a language here!' Or might it be Meghan Markle, Duchess Doubtfire, who claimed to have been told by a South African actor that 'When you married into [the British royal family], we rejoiced in the streets the same we did when Mandela was freed from prison'? Though both of these preposterous figures deserve an honourable mention, my vote goes to the BBC's Gary Lineker.
The Gandhi of goals has now become such a living legend in the humanitarian Olympics that he recently – and reluctantly, I'd wager, being such an exceptionally modest man – revealed to the Telegraph that he once received a standing ovation in an M&S (Barnes branch). Apparently, this was during his brief suspension from his life-saving work as a BBC football pundit, after he tweeted that Britain's immigration policies resembled the crimes of Nazi Germany.
Speaking to the Telegraph last week, Lineker said: 'I recall walking to M&S two or three days in, and I got a standing ovation… Oh, it was really cringe… I didn't know what to do. I just thought, "Please stop''.'
I can't help thinking that shoppers might not have reacted in quite the same way in an Aldi or a Lidl. After all, Lineker's luxury beliefs are out of the price range of the peasants who tend to see issues like sovereignty and borders differently to Saint Gaz.
Still, this isn't the first time Lineker has boasted about his own moral spotlessness. Apparently, the great crisp-flogger is so lacking in original sin that, as a schoolboy, he miraculously became non-white. In a podcast interview last year, he said: 'Without being good at sport, life would have been very different for me… I think I would have been bullied at school. I was kind of marginally that way anyway because I was this tiny geeky kid, with darkish skin and I had pretty much racist abuse.' With this statement – so insulting to actual victims of racism – he established his specialness, long before the miracle in M&S.
At the risk of cheeking my betters, I'd opine that the tweet that got Gary suspended was verging on the hysterical. It is absurd to claim that actions taken to stop illegal immigration to the UK are in some way equivalent to 'Germany in the 1930s'. Yes, it's our old friend 'Everyone I don't like is literally Hitler', last used this offensively back in 2019, when Times columnist India Knight wrote of the pain of living in post-Brexit Britain as someone who was born in Belgium. 'I now have a letter from the Home Office that I carry about on my phone, in case I need to show it to someone, like a Jew in late 1930s Berlin', she said.
Nevertheless, Lineker bears his crown of thorns bravely, never repenting. Earlier this month, the Mail on Sunday compiled the 'Woke List 2023', which featured him alongside other snooty buffoons, such as tax lawyer Jolyon Maugham and ex-NatWest CEO Dame Alison Rose. Taking exception to the list, Lineker told the Telegraph: 'I would ask you, what is "woke"? Is it a bad thing? Is it just referring to people who have some kind of social conscience? I don't necessarily find being called woke an insult.'
It's become a common trope now for wokeness to be equated with decency. As comedian Kathy Burke has put it: 'If you're not racist, you're woke. If you're not homophobic, oh, you're woke… Being woke is a very decent thing; it's about being a decent human being.'
But such a reading of woke is either silly or sinister. Take the trans debate. Is it really decent to tell uppity women to surrender everything they've earned, from their private spaces to their place on sporting podiums? Is it decent for burly transvestites to threaten non-compliant women with rape? Is it decent that gender-critical philosopher Kathleen Stock needs police protection? According to such logic, the witch trials were simply a free and frank exchange of views.
Woke isn't about decency or having a social conscience. Woke is what lets over-privileged people present themselves as victims – whether that's students from wealthy backgrounds identifying as queer or a multimillionaire like Lineker seemingly identifying as BAME. Particularly among the showbiz contingent, the audacity of the woke is almost admirable, such as when the very wealthy Steve Coogan claimed taxpayer-funded furlough grants for the gardener and housekeeper at his £4million mansion, a year after starring in a film called Greed.
We also learn in that Telegraph interview that Gary is hoping to write a memoir soon. We can only hope that he doesn't stint on praise for himself, as must be tempting for such a paragon of virtue.
Luckily, his amour-propre seems in fine fettle. When recalling the media mobbing he received the morning after he called the government Nazis, he chuckles: '[The paparazzi] all started running after me with cameras. There was one younger guy… he's chasing me and I'm sprinting away from him. He yells, "Gary, you're quicker than us!". I shout back, "You're half my age!".' Lineker might just be the next James Bond, so boundless are his talents.
A standing ovation in M&S is the least Lineker deserves. Let's make it being carried shoulder-high in Sainsbury's next time, or even better, a mass offering of the Remainer first-born in Waitrose. Let's see that this giant among men is raised right up there where he belongs, first among equals like Sam Smith and Meghan Markle. After all, in Lineker's own self-image at least, he is the only thing here on Nazi island that's standing in the way of barbarism.
Julie Burchill is a spiked columnist. Her book, Welcome To The Woke Trials: How #Identity Killed Progressive Politics, is published by Academica Press.
To enquire about republishing spiked's content, a right to reply or to request a correction, please contact the managing editor, Viv Regan.