The woke erasure of Tracy Chapman
The success of 'Fast Car' is being memory-holed to fit an identitarian narrative.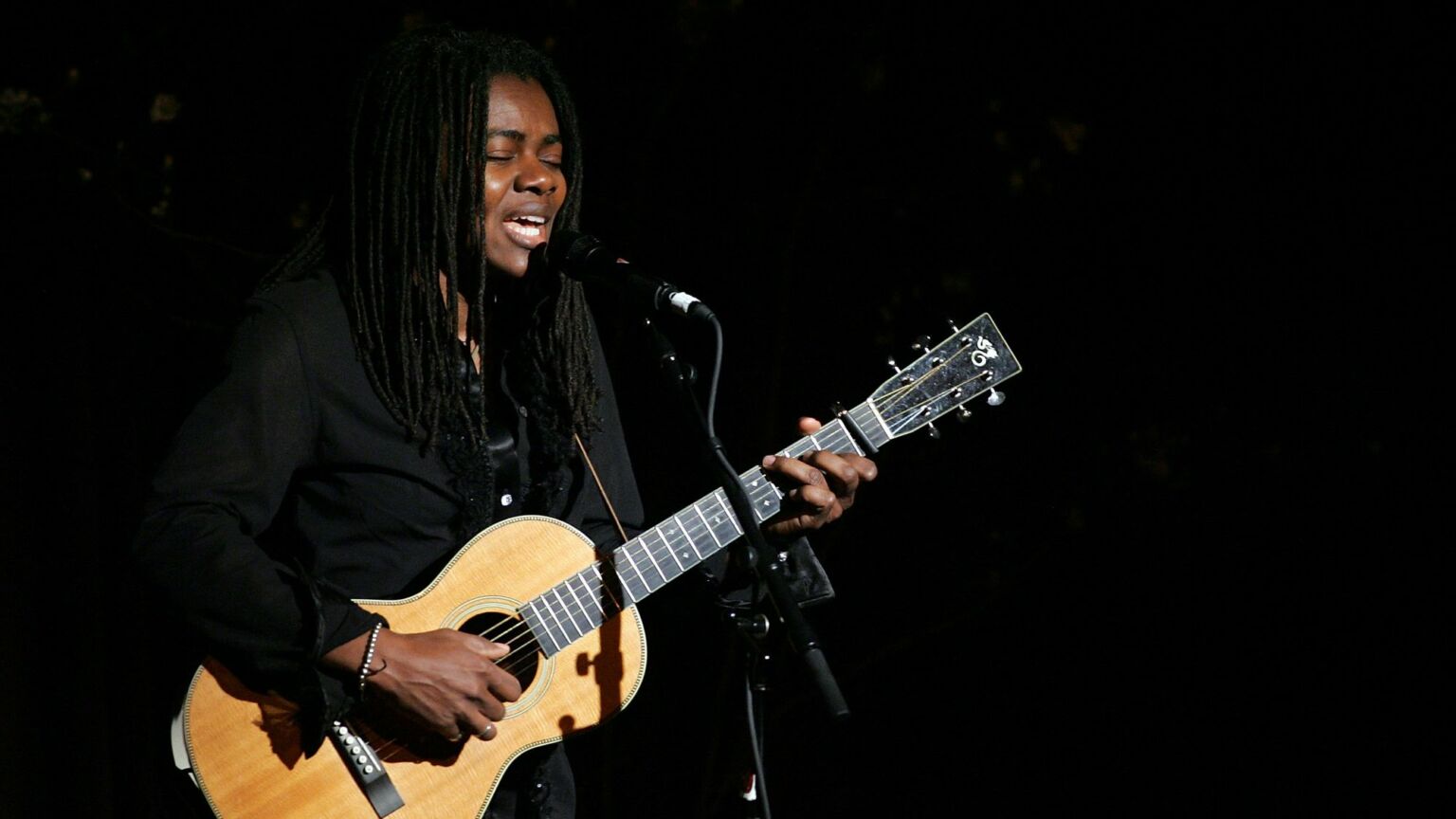 The year 1988 feels like a very long time ago to anyone who remembers it, and ancient history to anyone who doesn't. I turned 20 halfway through it. So I'm afraid whatever travails and traumas I was undergoing have now been blotted out by the middle-aged person's rose-tinted remembrance of being young. The grass was greener then, my memory tells me, unreliably.
One recollection that I can confirm with the aid of historical evidence is that 'Fast Car' by Tracy Chapman was everywhere. I heard it in seedy gay bars, at civil-service leaving dos, at family barbecues. It is one of those songs that announces itself instantly as a classic for the ages. But unlike most songs in that category, it is beguiling in a subtle way. The acoustic guitar riff is simplicity itself, with just a few repeated, easily imitated notes.
And there is so much going on under the bonnet. The vocal is unshowy, almost hesitant. It holds back for most of the duration, so the thrill when it soars, just a bit, is a punch to the gut (the good kind). The lyrics are heartbreaking. They recall a thwarted attempt to make something out of a messy family life and a failed relationship. It ends with the realisation that things are just going to go on as they are until death. Yes, there is – maybe – a route out to something better, but Chapman probably isn't going to take it.
It was a multi-platinum international mega-smash hit. Most of those – 'Dancing Queen', 'Bohemian Rhapsody', 'Rolling in the Deep', etc – become so ubiquitous that you forget how much you once loved them. They lose their lustre by repetition and become rather irritating. Something that used to be beautiful picks up naff connotations, becomes a mere jingle, an 'Autoglass Repair, Autoglass Replace'. But 'Fast Car' has always kept its fascination and its dignity, no matter how many times it's been played.
A recent cover of the song by country singer Luke Combs has returned 'Fast Car' to public attention. It has spent the past three weeks at the top of the Billboard Country Airplay Chart in the US, and has reached No2 in the Billboard Hot 100. The new version adds some distinctive and haunting country twangs. Charmingly, it doesn't change the female sex of the lyrics (so Combs is still working 'in the market as a checkout girl').
Sadly, in the Great Age of Stupid that we live in, somebody had to say something daft about the cover, to make it all about race and sexuality. Step forward Emily Yahr of the Washington Post. In a tweet announcing her article, she wrote: 'As Luke Combs's hit cover of Tracy Chapman's "Fast Car" dominates the country charts, it's bringing up some complicated emotions in fans and singers who know that Chapman, as a queer black woman, would have an almost zero chance at that achievement herself.'
There is so much wrong in this tweet. For one thing, the fact that the original version is very clearly not a country song, and that Chapman is not a country artist, seems to have passed Yahr by entirely.
The article itself is even worse. Yahr tries – hard – to equate Luke Combs's cover, which Chapman has wholeheartedly endorsed, with the genuine grievances of those black rock'n'roll artists in the 1950s who never achieved the same recognition as the white singers who covered or ripped off their songs.
The article is on an even stickier wicket when it comes to Chapman's sexuality. It tells us that Chapman 'does not discuss her personal life'. Nevertheless, Yahr feels perfectly entitled to do so based on hearsay. She is also blasé about pigeonholing Chapman with the ridiculous word 'queer'.
Worse still, the thrust of the Washington Post article more or less erases Chapman's huge success in the 1980s, implying that being a black lesbian thwarted her ambitions. Back in the real world, Chapman was nominated for several Grammy Awards, including Record of the Year and Song of the Year for 'Fast Car' (Bobby McFerrin's 'Don't Worry, Be Happy' beat her to those, somewhat incredibly). She won Best Female Pop Vocal Performance and Best New Artist.
Yahr's article speaks to a broader phenomenon. It is yet another example of how fairly recent lesbian and gay history is being rewritten. Everything is being remoulded to fit the 'LGBT+' movement's Year Zero worldview.
Singer Sam Smith has made similarly ridiculous claims about being a pioneering gay voice in pop music, seemingly unaware of the careers of those little-known, shunned artists Elton John, Freddie Mercury and George Michael.
Outside the sphere of pop music, trans activists are now being given the credit for leading the gay-rights movement. Think of the oft-repeated claim that 'a black trans woman threw the first brick at the Stonewall riot' in New York in 1969. In truth, the drag artist in question, by his own account, didn't actually arrive at the Stonewall Inn until several hours later. Similarly, Dublin Pride recently photoshopped the slogan 'trans rights are human rights' on to a placard in a photograph of a gay-rights protest in 1983 – a feat worthy of Stalin.
It is profoundly weird that people who claim to be standing up for gays and lesbians are actually the ones erasing the history and achievements of homosexual people.
But then again, memory is unreliable. Perhaps I'm wrong. Maybe the Before Times, pre-the Great Awokening, didn't actually happen. Did we dream them? Am I misremembering? Or was there a time when people weren't such colossal ideological idiots?
Gareth Roberts is a screenwriter and novelist, best known for his work on Doctor Who.
To enquire about republishing spiked's content, a right to reply or to request a correction, please contact the managing editor, Viv Regan.