Ursula von der Leyen is failing upwards – again
Now the useless EU president is being tipped for a plum job at NATO.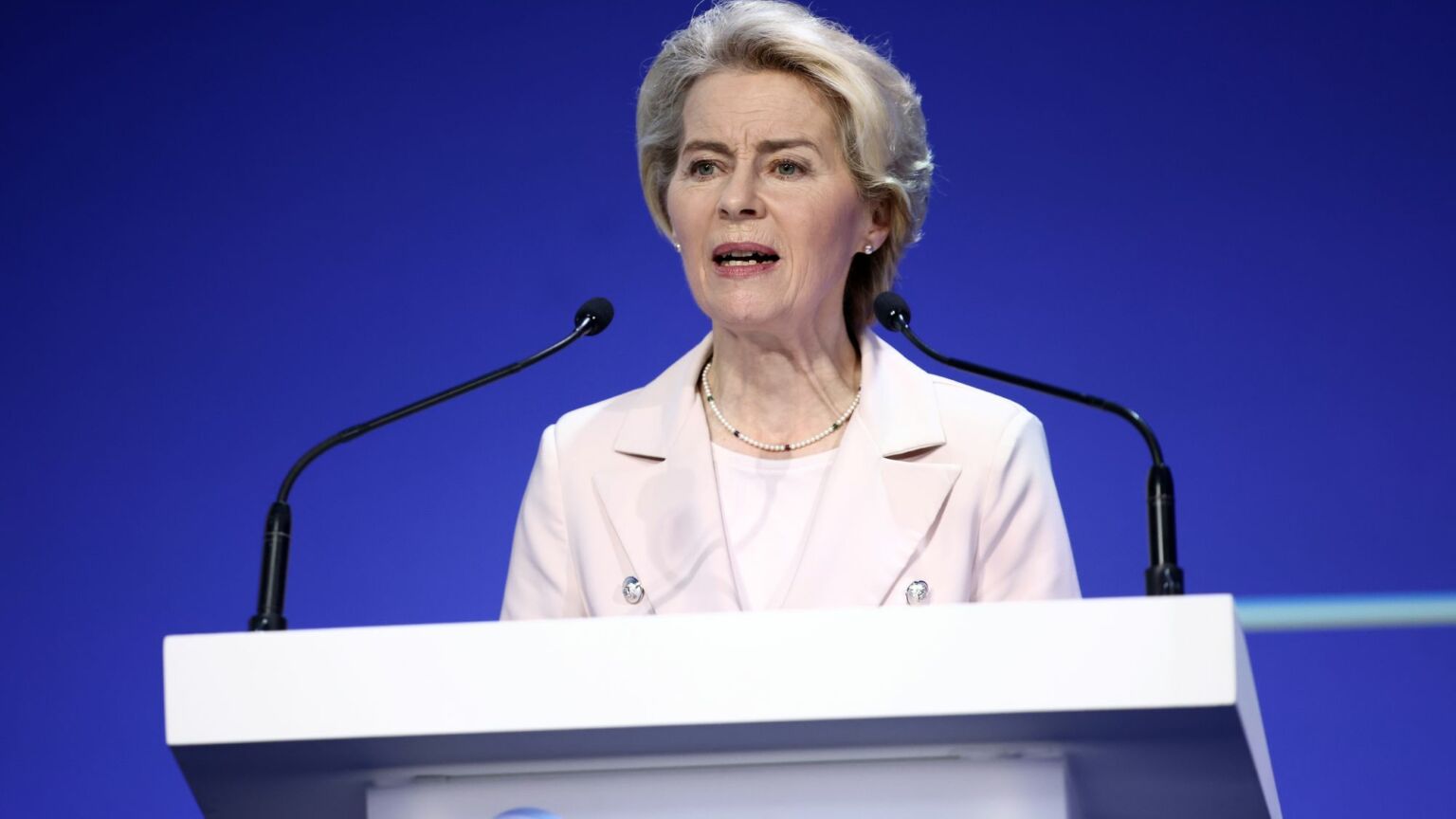 The political career of Ursula von der Leyen, president of the European Commission, has been defined by bungling and incompetence. She is deeply unpopular with voters, distrusted by colleagues and has regularly been mired in scandals. And yet, somehow, she manages to keep rising up the ranks of international politics.
Now von der Leyen has been tipped for another plum job on the global stage. According to reports in the Telegraph this week, US president Joe Biden is pushing for her to be named as secretary-general of NATO. He thinks she is best placed to replace Jens Stoltenberg when he steps down in 2024.
This ought to set off alarm bells. Whatever one thinks of NATO, there could hardly be a worse candidate to lead it than von der Leyen – especially right now, while war wages in Ukraine and NATO faces one of its most serious challenges in its 73-year existence.
Just look at her time leading the EU. She was parachuted into the role in 2019, unelected, over the heads of European citizens. She was a singularly unimpressive candidate. In fact, some argue that this was why she was selected. 'When EU leaders picked von der Leyen… they deliberately eschewed candidates with greater experience, charisma or cunning', according to a Bloomberg report. The European Council apparently wanted a Commission leader that it could easily push around. In the end, despite being the only candidate, she managed to persuade a majority of just nine MEPs to back her in the job.
MEPs were right to be sceptical. Her incompetence became all too clear when she faced her first major challenge as president – the Covid pandemic in 2020 and 2021. While von der Leyen boasted of taking 'personal charge' of the EU's vaccination programme, the rollout was infamously slow, lagging behind the rest of the world. At the time, fellow commissioners, civil servants and other officials were openly venting their distress with her leadership.
Von der Leyen does, however, have some experience in defence matters. Before she was appointed to the EU's top job, she served as defence minister in Angela Merkel's government. Surely this is a plus for a role at NATO?
On the contrary. Arguably, her tenure as defence minister was her biggest failure of all. On her watch, the German army and its equipment were seriously degraded. Soldiers had to use mobile phones to communicate due to a lack of encrypted equipment. The army's standard-issue assault rifles couldn't shoot straight in high temperatures. And most infamously of all, soldiers were at one point forced to conduct military exercises with broomsticks instead of guns.
Throughout her time as defence minister, von der Leyen spent vast amounts of taxpayers' money on external consultants. She was accused of nepotism in her awarding of contracts. Conveniently, all of the evidence from her mobile phone had been deleted before she could be properly investigated for all this.
Strikingly, none of these failures, none of these scandals, has ever slowed her meteoric rise. Von der Leyen has become part of an untouchable, international aristocracy. She is shielded from democratic scrutiny and political accountability, even as she bungles every new brief she is given.
This is what happens when the public gets frozen out of politics, when key appointments are made via backroom deals and horsetrading. You end up with the worst possible candidates, at the worst possible time. You end up with Ursula von der Leyen – a politician who has only ever failed upwards.
Fraser Myers is deputy editor at spiked and host of the spiked podcast. Follow him on Twitter: @FraserMyers
To enquire about republishing spiked's content, a right to reply or to request a correction, please contact the managing editor, Viv Regan.