Ursula von der Leyen: how to fail upwards
Nobody should be surprised that she has bungled this crisis. Why on earth was she even chosen to lead the EU?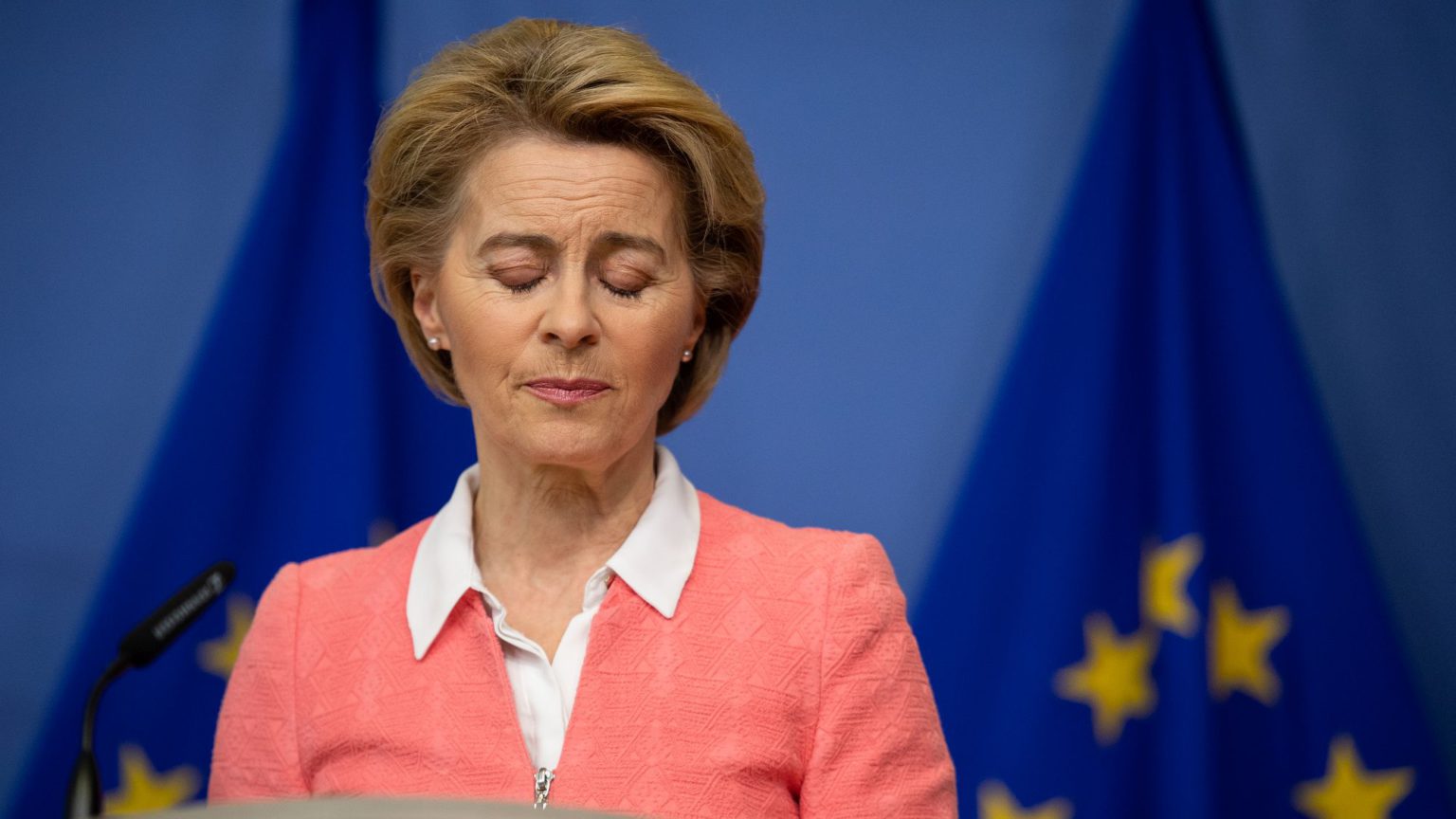 Should we be surprised about Ursula von der Leyen's troubles as president of the EU Commission? Six months into her job, her management skills have come under fire. There are reports of chaos and disarray, as the EU faces its biggest crisis yet.
According to a report by Bloomberg, officials have been asking whether they 'had the wrong person running the show'. Politico similarly reports that her management had prompted new political crises as well as distress among commissioners and senior civil servants.
But here is the question: what was the European Council thinking when it appointed her? Only months before von der Leyen was presented to the public, polling declared her to be the most unpopular politician in Angela Merkel's cabinet. Her name was linked to countless scandals – including an ongoing allegation of cronyism during her tenure as defence minister. Clearly there was nothing either democratic or meritocratic in handing her the top EU job.
The best explanation commentators have come up with is that her nomination was a compromise in a fragile and jealous EU structure. Many at the time were keen not to have too dominant a figure in Brussels. 'When EU leaders picked von der Leyen last year, they deliberately eschewed candidates with greater experience, charisma or cunning', according to Bloomberg. Tellingly, even Angela Merkel appeared less than enthused with the choice. 'I did not resist', she said in the press conference following the nomination.
In reality, it was von der Leyen's upper-class instincts and background which endeared her to the EU. She had what the Germans call 'the right smell' (Stallgeruch), or the right pedigree. She is the daughter of Ernst Albrecht, powerful CDU politician and one of Germany's first pan-European civil servants.
From the beginning, her image has been at the core of her success. Von der Leyen has pushed an image of herself as a woman and mother of seven children. Without this, her speedy rise to fame wouldn't have been possible. In early interviews, she claimed she had experienced sexism during her doctor's training while she was pregnant. This went down exceedingly well with influential female journalists who began queuing up to interview her. Little did it matter that one of her few early critics, the author Antje Schmelcher, couldn't find anyone in her former profession able or willing to confirm the claim of misogynist bullying.
Nevertheless, this proto-feminist line most certainly also helped her gain the job as president of the European Commission. Rather than criticising her scandalous and undemocratic appointment (which spiked at the time described as akin to a coronation), many chose to celebrate her as 'the first woman to lead the EU'. Perhaps she would not have won the support of MEPs without her feminine 'charm offensive', as the FT described it. Being 'the first woman' has been an ongoing theme in von der Leyen's career. She was also Germany's first female defence minister.
She has a real instinct for middle-class concerns and fears, and has displayed an incredible haughtiness towards everybody else. In her job as family minister, she campaigned for more nursery places – a good thing, certainly. Yet her constant talk of 'poor children born on the dark side of life', with a 'high potential for aggressiveness, social disruption or learning difficulties', seemingly waiting for her to rescue them, got up people's noses. She also never understood why ubiquitous photos of her own upper-class family (always pictured without their nanny) failed to enthuse the public. Her popularity plummeted further when she campaigned for stronger controls on the internet in the name of child protection. She was given the nickname Zensursula (Censorship Ursula).
The most worrying thing about von der Leyen, however, is her tendency to bend the truth. One example of this came when she left the family ministry. She claimed that birth rates had risen as a consequence of her family policies. In the end, it was revealed that her statistics were flawed and the German birthrate had actually declined.
Von der Leyen's most serious scandal erupted after it was revealed that she had spent a great deal of taxpayers' money on external consultants and advisers (more than any other minister before her). When a parliamentary inquiry was set up to investigate whether nepotism was involved in the awarding of the consultancy contracts, it turned out that von der Leyen's mobile-phone data had conveniently been deleted. No one was surprised when she went on record as saying she had known nothing of this. Yet somehow she managed to escape the kind of monstering from the press that most other politicians would get.
For those of us who have no illusions about the EU, von der Leyen's apparent incompetence should not come as a surprise. The electorate, after all, was never asked whether they trusted her. But now the EU is facing bigger problems than ever – including the German constitutional court's recent ruling, about which von der Leyen also had nothing to say, except that European law always takes precedence.
With or without von der Leyen, the EU is in disarray, unable meaningfully to shape Europe's future. It is time to start a serious discussion about what this implies.
Sabine Beppler-Spahl's Brexit – Demokratischer Aufbruch in Großbritannien is out now.
To enquire about republishing spiked's content, a right to reply or to request a correction, please contact the managing editor, Viv Regan.