The working-class revolt against Net Zero
Danish truckers are the latest workers to rise up against eco-authoritarianism.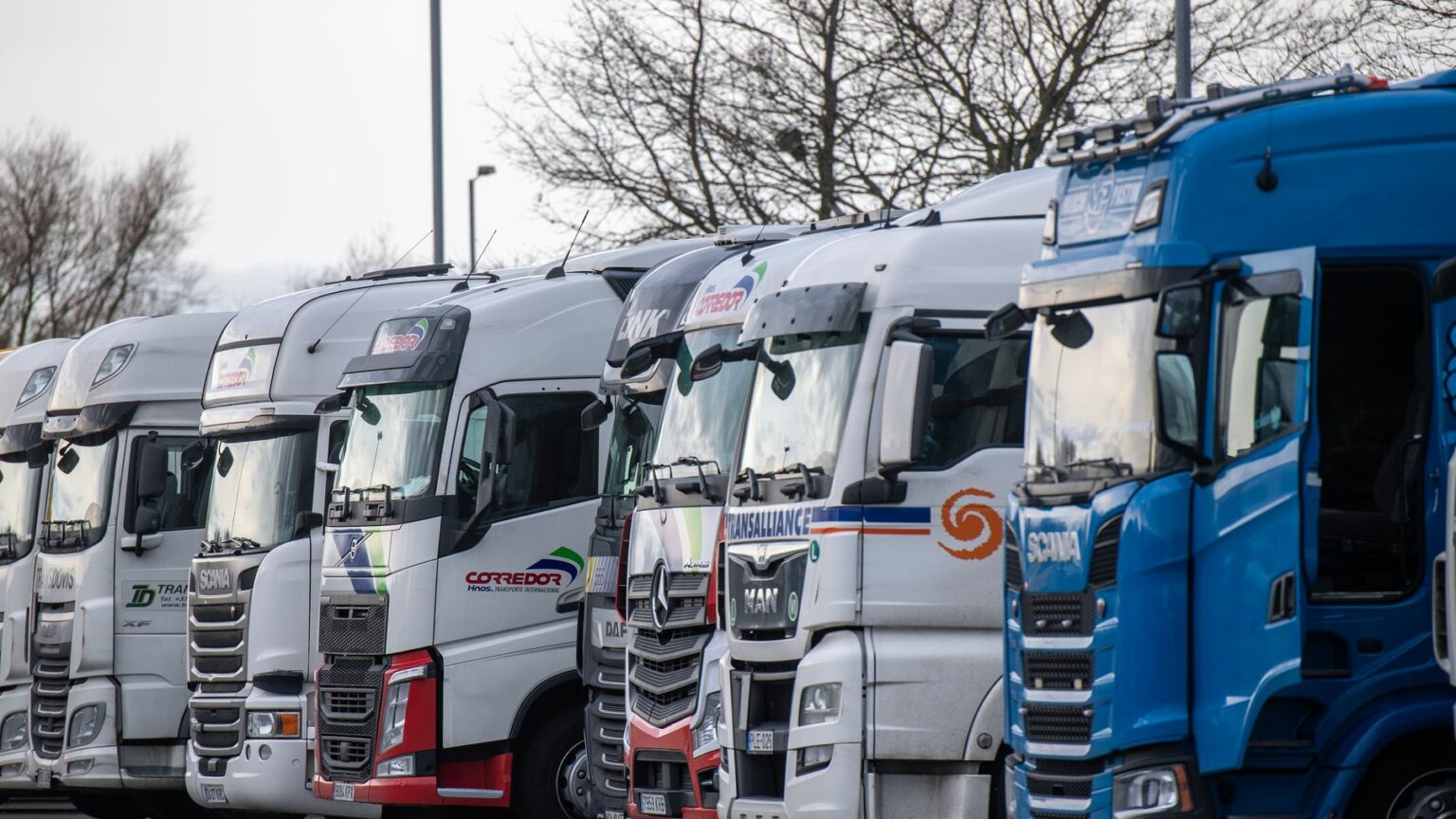 Two kinds of road-blocking are taking place in Europe right now. In the first, the sons and daughters of privilege, people with names like Edred and Tilly, are holding up traffic to put pressure on governments to speed up Net Zero. If we don't cut carbon emissions drastically, they say in their cut-glass tones, our poor planet will be consumed in a heat death of rotten mankind's own making.
In the second, working people – farmers, truckers, cab drivers – are clogging the streets to put pressure on governments to slow down Net Zero. Or better still, scrap it altogether. If we don't cut out the Net Zero nonsense, say these people who make and deliver things for the Edreds and Tillys of the world, farms will close, jobs will be lost and economic precarity will intensify.
Whose side should you take? It's a no-brainer. This is a clash between the luxury doom-mongering of an upper-middle class more concerned with its own self-importance than with the self-sufficiency of society, and the common sense of working people who understand that farming, food production, energy creation and transportation are essential to the survival of our species. Between an elite driven mad by visions of a climate-change apocalypse and ordinary people who still inhabit the reality-based world. Between Net Zero fanatics who want to wind back modernity and Net Zero sceptics who think modernity works pretty well, thank you.
It's the latter road-blockers – the people using their HGVs, tractors and taxis to send a stern message to our eco-elites – that we should be cheering. Their revolt against Net Zero represents a daring populist strike against the delusions and complacency of the 21st-century establishment.
Danish truckers are the latest workers to join the rebellion against green authoritarianism. Yesterday, they caused 'road havoc' in Denmark. They parked their huge hauliers side by side on key roads. Sections of the border with Germany were affected, as were the M11 and M16 around Copenhagen. Roads towards the ferry docks at Helsingor – 'one of the most important ports in Denmark' – were also briefly clogged by angry truckers.
Their beef? The government's plan to introduce a 'truck tax' in 2025. As part of its devotion to the cult of Net Zero, the Danish ruling class wants to slash carbon emissions by 70 per cent before 2030. And one way it intends to do that is by imposing a punitive mileage-based eco-tax on the drivers of diesel trucks, in the hope that the financial pressure will become so unbearable that they'll switch to electric trucks instead.
The ingratitude is staggering. Truckers are the lifeblood of a modern society. They transport the fuel, food and other goods that are essential to everyday life. They drive alone, for hours, in all weathers, to keep society well stocked. And how do the elites in Copenhagen repay these people who, without fuss or fanfare, bring them everything they need? By slapping them with a new kind of sin tax – the sin in this case being to drive a vehicle that the eco-minded consider to be 'dirty' and 'polluting'.
No wonder the truckers are angry. Others are, too. Dutch farmers have been in a state of revolt for a couple of years now. They're raging against their government's plans to cut nitrogen emissions by half before 2030, which would entail farmers getting rid of vast numbers of their livestock and possibly lead to the closure of 3,000 farms.
The nitrogen-slashing policy was drawn up under pressure from the eco-oligarchs in the EU, who are heaping pressure on all member states to hurry toward that secular heaven of Net Zero. In Ireland, too, farmers are simmering over government plans to cut 'farm emissions' by up to 30 per cent in order that Ireland might achieve its 'climate goals'. They're worried that 58,000 farm jobs could be lost to the elites' slavish devotion to the Net Zero ideology.
Elsewhere, cab drivers and hauliers in England have blocked roads over the introduction of 'clean air' taxes on anyone who drives an allegedly dirty vehicle. Some Londoners have taken direct action against the ugly bollards erected in Low Traffic Neighbourhoods to discourage driving, and against the cameras that are being installed to monitor the movements of 'high-pollution' vehicles.
And let's not forget that the great gilets jaunes revolt in France of 2018 to 2020 started out as an uprising against a hike in fuel tax that was introduced as part of the government's plan to 'reduce greenhouse-gas emissions'. Yet another Net Zero assault on working people's pockets. The French knew very well that this eco-punishment was an act of Jupiterian overreach by Emmanuel Macron. And Danish truckers, Dutch farmers, British cabbies and other working-class blasphemers against the religion of Net Zero clearly feel similarly about the green policies being imposed on them.
These uprisings throw into sharp relief the elitism of the climate-change ideology. They expose the class element in the green tyranny. It is increasingly clear that where the pursuit of Net Zero might benefit the elites, providing them with a sense of moral mission as they tackle the fantasy apocalypse of their own fever dreams, it is incredibly destructive for working-class communities. Our rulers' fretful turn against industrial society threatens to decimate jobs in 'dirty' industries and further raise the cost of energy and driving, leaving the hard-up even harder up.
It's even more serious than a class war, though. The brewing tension between the elite and the people over carbon-cutting feels existential. It speaks to a modern establishment so infused with post-industrial prejudice, so indoctrinated by the religion of Net Zero, so corrupted by moral relativism, that it cannot even see how important production, farming, food are to everyday life. The cavalier assaults on farms, trucks and cars speak to an elite that has fully taken leave of the realm of reason.
The final twist in this tale is that the European left is on the side of the posh road-blockers, not the working-class ones. The left sings the praises of Extinction Rebellion's plummy disruptors of traffic, while either ignoring the revolting farmers and truckers or denouncing them as eco-sinners and dangerous populists. That's another thing we should thank the rebels for – they've driven a truck through the modern left's pretence that it gives a damn about working people.
Brendan O'Neill is spiked's chief political writer and host of the spiked podcast, The Brendan O'Neill Show. Subscribe to the podcast here. And find Brendan on Instagram: @burntoakboy
To enquire about republishing spiked's content, a right to reply or to request a correction, please contact the managing editor, Viv Regan.