Alastair Campbell's post-truth Remoanerism
The warmongering former spin doctor is still talking rubbish about Brexit.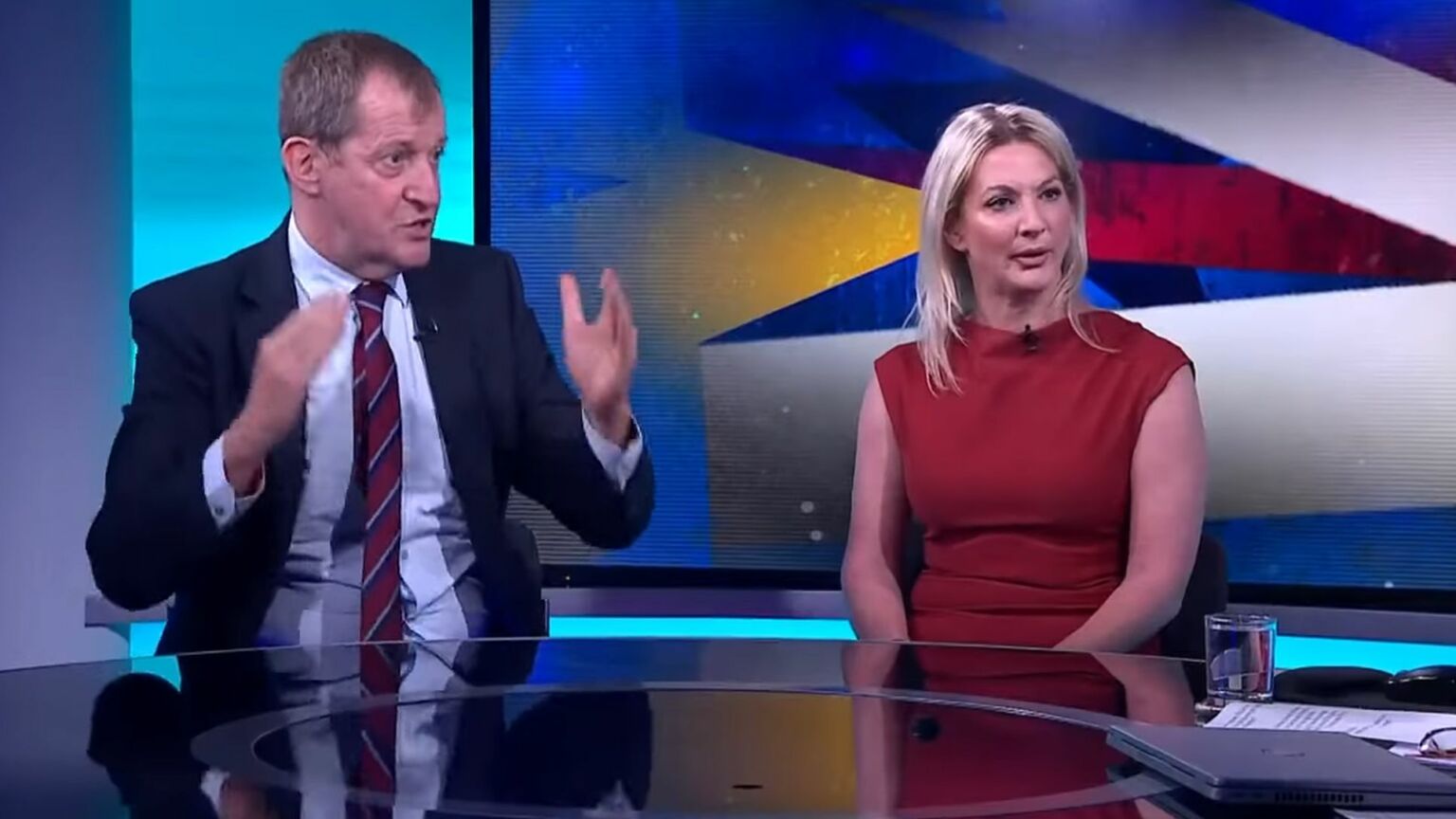 There is surely not a sane person in Britain who wants to hear more from Alastair Campbell. And yet, almost two decades after he resigned as Tony Blair's director of communications, the 'king of spin' is now popping up everywhere to opine on the state of the nation.
Wherever you encounter Campbell, his thesis is the same. The UK has been destroyed by Brexit, he says, and everyone associated with Brexit is a liar. You can watch him bashing Brexiteer 'liars' on Newsnight, or on Politics Live, or on Sky (this time alongside his daughter for some unexplained reason). You can read the same in the Guardian, or you can buy his new anti-Brexit book, But What Can I Do?.
You can also hear him raging about Brexit on practically all of the podcasts aimed at the UK's centrist-dad demographic. Emily Maitlis's The News Agents, Ed Miliband's Reasons to Be Cheerful, Jon Snow's Snowcast and Ayesha Hazarika's The Power Test have all had him on for soft-soap interviews. And if all of that weren't enough, there is Campbell's very own twice-weekly podcast, The Rest Is Politics, co-hosted with ex-Tory wet and former colonial governor Rory Stewart. Campbell is now practically inescapable.
At least on last week's Newsnight Campbell's blustering was met with a bit of pushback. During his set-to with former Brexit Party MEP Alex Phillips, he ended up having something of a meltdown. He slammed his hands on the desk, jabbed his fingers and denounced 'all of your lies about taking back control', and all of the 'rubbish' Brexiteers talk about 'sovereignty' and the economy. At one point, he even turned his ire on presenter Victoria Derbyshire: 'You bring these people on, you never challenge them. You let them talk utter rubbish about Brexit.' (He later apologised to Derbyshire, but not to Phillips.)
The obvious problem with Campbell blaming Brexit on 'lies' and 'rubbish' is that he is himself hardly known for his deference to the truth. The word 'spin doctor' was practically invented for him. It is just not credible for a man whose 'dodgy dossier' helped to take the UK to war with Iraq under false pretences to now be clutching his pearls about political spin. Essentially, Campbell expects us to believe that lying in politics began with the Brexit campaign in 2016, and then exploded in 2019 with the rise of Boris Johnson. In his new book, Campbell says of Margaret Thatcher, John Major and Tony Blair that, 'Whether Tory or Labour, none were liars. Johnson was, and is. Fact.'
Yet in that Newsnight debate Campbell trotted out some weapons-grade untruths of his own. For instance, he made the outlandish claim that 'We've already lost four per cent of the economy' thanks to Brexit. This now-common Remainer canard takes a projection from the UK's Office for Budget Responsibility (OBR) and treats it as a fait accompli. It is not a 'fact', but a prediction for what might happen over the course of the next 10 years – and it comes from a body whose economic projections are notoriously unreliable, even in the short term. He then insisted we've 'lost £40 billion of public services' thanks to Brexit, even though public spending has increased considerably since both the Leave vote and the official EU exit day in 2020. He even managed to blame Brexit for inflation, despite many EU countries suffering from far more acute cost-of-living pressures than us.
Perhaps most egregious was Campbell's claim that the EU never 'imposed' laws on Britain when we were members. He argued that because every law from Brussels had to be passed by the UK parliament, UK sovereignty and democracy were never compromised. While it is true that EU 'directives' had to be interpreted by our parliament, they were still mandatory to implement. EU 'regulations', meanwhile, had to be applied in their entirety and automatically. What's more, EU law always had supremacy over UK law. For Campbell to claim that the UK was fully sovereign when we were EU members stretches credibility to say the least, even by his standards.
Despite all this, Campbell is continually invited back on to our televisions to, as he might put it, 'talk utter rubbish about Brexit'. The boorish, bullshitting king of spin is trying to reinvent himself as a crusader for truth and kindness – and our Remoaner media are lapping it up. The double standards are extraordinary. Opposing Brexit, it seems, is enough to wipe away all other sins.
Alastair Campbell's bizarre second act makes one thing abundantly clear: that, all too often, it is those who despair the loudest about our descent into 'post-truth' politics who are themselves the most cavalier about the truth.
To enquire about republishing spiked's content, a right to reply or to request a correction, please contact the managing editor, Viv Regan.