Will we ever be a republic?
The monarchy is weaker than it looks. But it is blessed with dreadful opponents.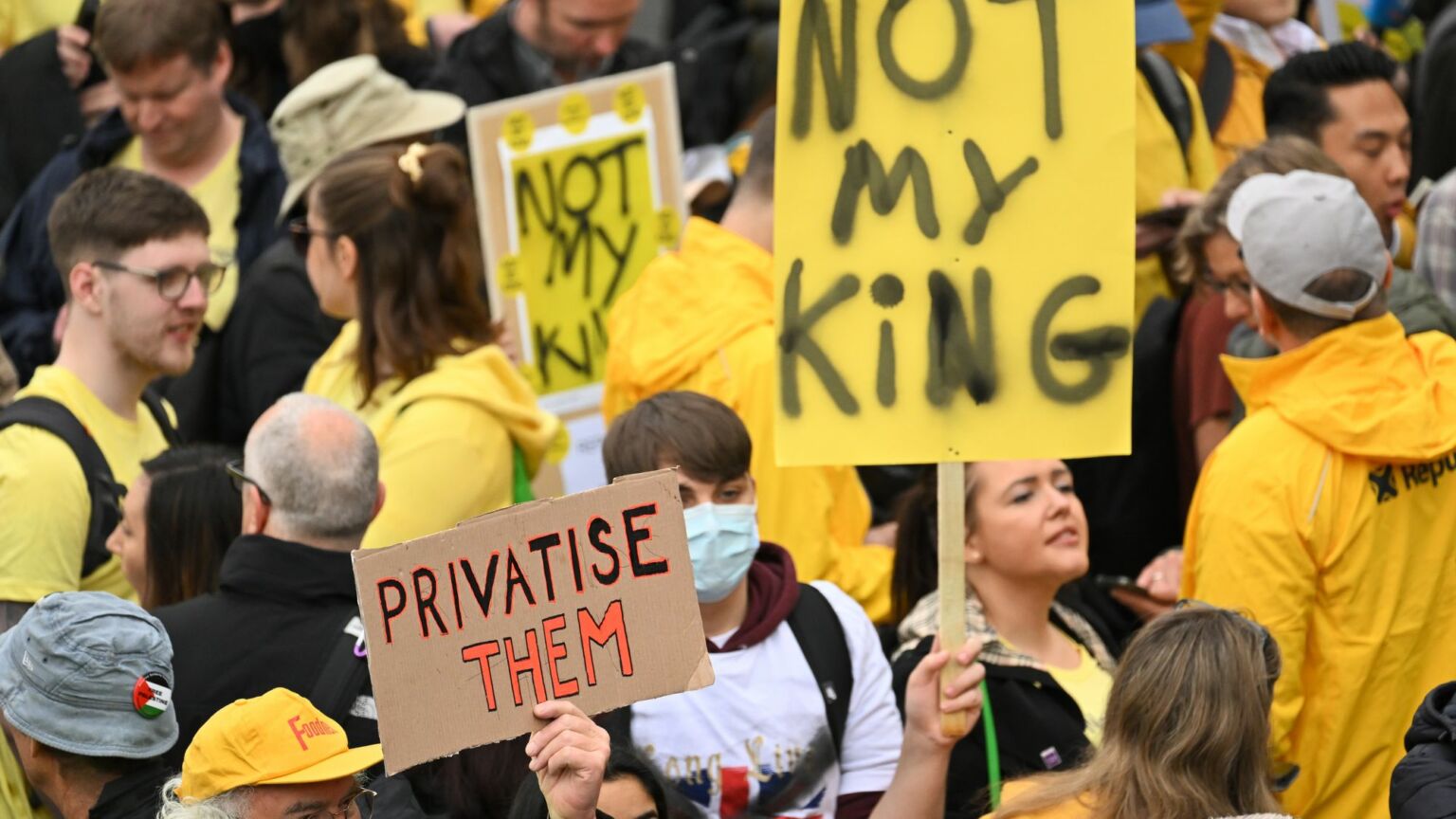 There's something a little damp about the atmosphere around King Charles's coronation. And I don't just mean the weather forecast. Today, the United Kingdom marks a historic, ancient ritual, replete in national, religious and constitutional symbolism. But none of that seems to weigh heavy on the occasion in the way that it surely should. The prospect of Charles's coronation becoming embossed on Brits' memories forever, in the same way Queen Elizabeth II's coronation was back in 1953 (when it became one of the first mass televisual events in British history), seems pretty fanciful as the festivities get underway in London today.
I may be made to eat those words later, after the Gold State Coach ploughs through the Westminster drizzle and a nation falls in love with the magic of monarchy all over again. Still, few could say that, following the death of Elizabeth II, the monarchy is not a diminished institution. The rise in popularity enjoyed by both the monarchy and Charles following the queen's death has now receded. He will clearly struggle to command the respect and popularity of his mother. When news broke last week that we lowly subjects would be asked to swear allegiance to the king during the ceremony – a ridiculous idea the palace is now trying to blame on the Archbishop of Canterbury – it only underlined how much more distant from us he feels. Public affection for the monarchy has for so long been bound up with affection for the late queen – and even so, it was already declining before her death. Some 62 per cent of Brits – according to the latest polls – support the institution. That's down from 75 per cent a decade ago.
The monarchy is increasingly under attack – and increasingly unwilling to defend itself. Alongside the usual criticisms about expense, secrecy and tax loopholes, the royals have recently been hit hard by the culture war, labelled closet racists who are stained by the crimes of colonialism. Prince Harry and Meghan Markle may have been swiftly cut out, following their spurious allegations of racist mistreatment. But since 'Megxit', the issue of race has become a running sore. Last year, the palace threw Lady Susan Hussey under the bus, after the late queen's lady-in-waiting was accused of committing a racial 'microaggression' by allegedly asking a black British woman, decked out in Afrocentric gear, where she was 'really' from. Charles has also given his thumbs up to an investigation into his family's historical links to the slave trade, even though said links are hardly a state secret.
What's more, the royals' recent efforts at 'modernising' the monarchy – which the republicans among us might say is a contradiction in terms – seem almost designed to eat away at the institution. Charles's desire for a 'slimmed down' monarchy, with fewer working royals, is at once politically essential – so as to avoid accusations of bloat and extravagance – and quite literally diminishing, shrinking the royals' footprint in public life. The younger Windsors' preoccupation with mental-health campaigning and soul-baring, which reportedly irked the queen, shows a willingness to trade public emoting for royal mystique. This surely grates against Walter Bagehot's dictum, that 'We must not let in daylight upon magic' – that monarchy is nothing without its air of mystery. (The exiled Prince Harry, with his tell-all memoir, hasn't so much let in daylight upon magic, as he has flung open the bedroom curtains, nude from the waist down.)
spiked is a proudly republican publication. So you might think we'd be cheered by the chinks appearing in the monarchy's armour. But the truth is that as shaky as the House of Windsor is in many ways, it is also blessed with dreadful opponents – with leading republicans who seem hell bent on making all of us who want rid of the royals look bad. They will be out in force in London today. The Republic campaign group is organising a #NotMyKing protest. That strangely narcissistic slogan says a lot about what republicanism, a once proud tradition for democracy and equality, has become: namely, a way for the metropolitan middle classes to signal their superiority to hoi polloi. Meanwhile, the Guardian has produced a 'Cost of the crown' series, about the royals' wealth and finances, to coincide with the coronation – as if the fact that those jewel-encrusted Windsors are filthy rich was some great revelation, likely to spark an uprising if it ever got out.
These bourgeois republicans are worse than useless. Not least because, while they clearly don't like the monarchy, they don't much like the public, either. If Britain were to become a republic one day – and I hope one day it will – it should surely spring out of a new movement for democracy and popular sovereignty. And yet many leading republicans have spent the past few years trying to trash the people's will, as expressed through the Brexit vote. It's no coincidence that the Guardian's Polly Toynbee and the Mirror's Kevin Maguire – two of the most reliably anti-monarchist voices in the mainstream media – are both unreconciled Remainers. (In a recent column, Toynbee even accused the royal family of being partly responsible for Brexit, because all that pomp and ceremony apparently incites in us feeble-minded plebs 'the state of mind that misled half the country to believe Britain could rule the waves again'.)
Joining these older, centrist republicans are a younger generation of identitarians. The Times recently caught up with a few members of No More Royals, a new student-led anti-monarchy group. As you'd imagine, they are straight out of central casting. Campaign leader Riz Possnett, a 19-year-old Oxford student who identifies as 'non-binary', calls No More Royals the 'more radical, critical and controversial wing of the anti-monarchy movement in Britain'. More accurately, it appears to be republicanism's answer to Extinction Rebellion – a group of impeccably privileged arts students who seem more interested in political exhibitionism than persuading people. During one of the group's recent stunts, Possnett and her other half climbed into the king's bed during a tour at Windsor Castle, and took photos of themselves kissing while reading from Prince Harry's Spare. A protest even more cringe than the carrot-topped prince himself.
Perhaps the most telling thing about contemporary republicanism is its preoccupation with the youth. No discussion of the fate of the monarchy is now complete without greying commentators invoking Generation Z as a kind of anti-royal stage army, soon to sweep the Windsors from their gilded perch. It's hard to do justice to how pathetic this line of thinking is. Why make a convincing case for an elected head of state when you can just play the demographic waiting game? It reminds me of that stage of post-Brexit hysteria when elite Remainers began fantasising out loud about holding a second referendum, once a sufficient number of pensioners had died. Such arguments not only betray a complete lack of principle, they also overstate just how firm young people's opposition to the monarchy is. According to a recent poll, while more 18- to 24-year-olds want to abolish the monarchy than keep it, the largest chunk of them are undecided on the issue.
I'm starting to think the biggest obstacle to Britain becoming a republic is republicans themselves. The movement has become mired in prole-bashing and identity politics. These middle-class activists seem to loathe those below them just as much as they do those above them. And their po-faced protests at the coronation today will only confirm the stereotype in the minds of many that we anti-monarchists are just puritans, repulsed by people having a good time. For all the challenges facing the royals today, the republican movement is not really one of them. Indeed, leading republicans themselves seem almost resigned to just waiting things out, hoping the institution will collapse under the weight of scandal and youthful disinterest, rather than make the case for deepening democracy and putting popular sovereignty at the heart of political life.
Those of us who genuinely want this drizzly coronation to be the last need to put the public back into republicanism.
Tom Slater is editor of spiked. Follow him on Twitter: @Tom_Slater_
To enquire about republishing spiked's content, a right to reply or to request a correction, please contact the managing editor, Viv Regan.