The cynicism of Labour's 'tough on crime' posturing
The supposedly 'forensic' Keir Starmer is peddling some highly questionable stats.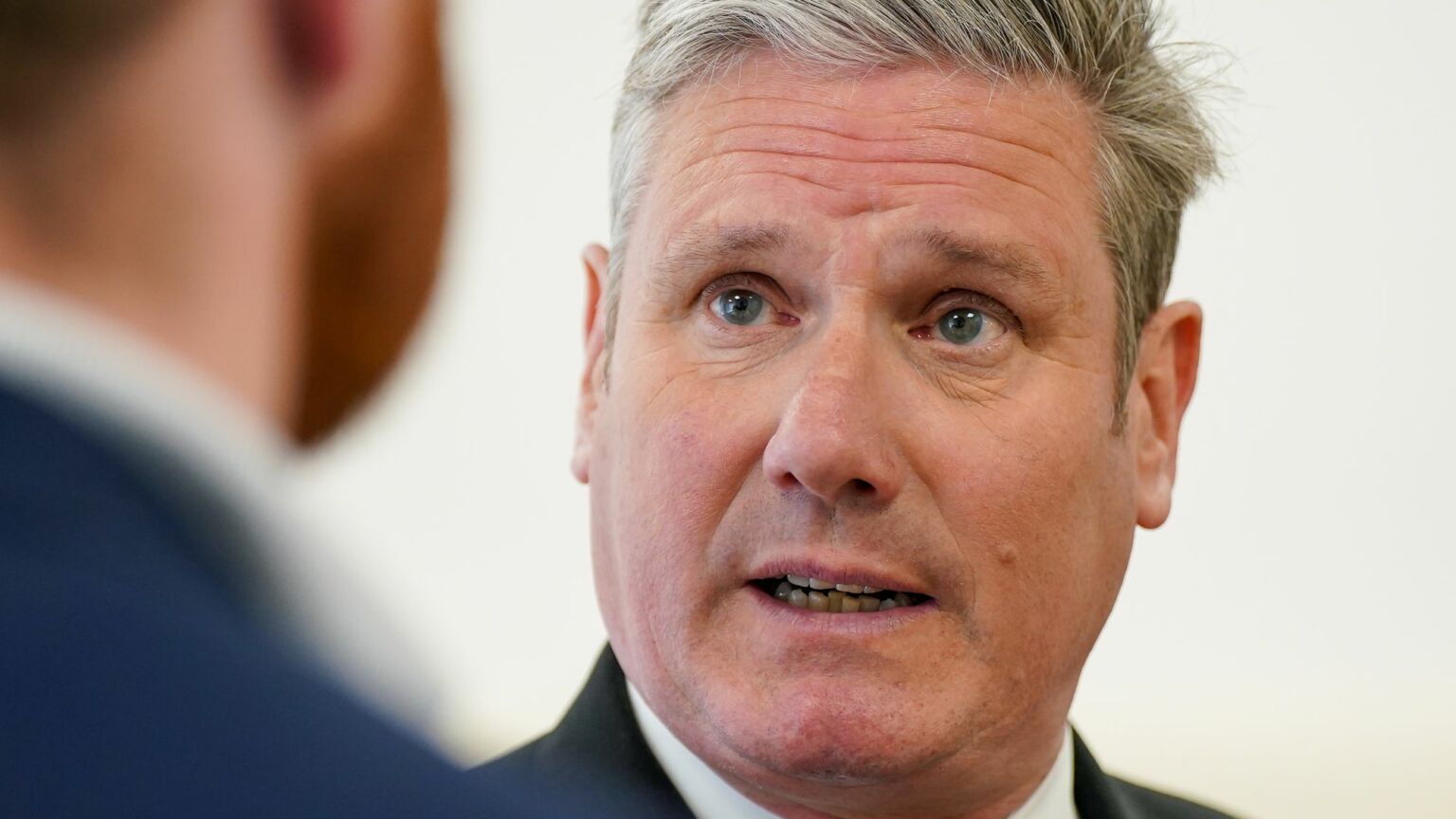 Labour and the Tories are currently engaged in an unedifying competition over who can appear toughest on crime.
Earlier this month, Labour released a series of attack ads which claimed that UK prime minister Rishi Sunak is happy to allow people convicted of gun possession, theft and child sex abuse to walk free. And now Starmer has doubled down on these claims. At last week's Prime Minister's Questions, he said that the Conservatives have failed to deliver sufficiently tough sentences for serious crimes.
Starmer pointed to the recent case of a convicted people smuggler, who threw boiling water over a prison officer. The smuggler received a suspended custodial sentence, meaning he would not spend time in custody for the assault. Starmer then cited a letter signed by ex-justice secretary Dominic Raab, which asked judges to factor in prison overcrowding when passing sentences.
Sunak responded by calling Starmer 'Sir Softy'. He alleged that Starmer, during his time as director of public prosecutions (DPP), supported reforms that have paved the way for looser, more lenient sentencing. Sunak also rejected Starmer's claims that the Tories were too lax on crime by pointing to the Police, Crime, Sentencing and Courts Act 2022. Prior to this, those convicted of violent or sexual offences would serve only half their sentence in custody, before serving the remainder on licence in the community. But now, under the Tories' Policing Act, they have to serve at least two-thirds of their sentence in custody.
This row is cynical and dispiriting. After all, we've seen the same tired party-political posturing over law and order far too many times before. For instance, appearing 'tough on crime' was New Labour's tactic to win over Tory voters in the 1997 General Election. As prime minister, Tony Blair then attempted to position Labour as the party of 'law and order', introducing thousands of new criminal offences and reams of new powers to deal with anti-social behaviour. Starmer seems to be offering little more than a rehash of Blair's 'tough on crime' shtick. It seems that barely a week goes by without him boasting of prosecuting thousands of serious criminals during his time as DPP.
Starmer has always been praised as a 'forensic' politician. Yet he seems to have no problem pumping out questionable statistics and even misinformation when it comes to criminal justice. During PMQs, for instance, Starmer chucked out that all too familiar stat that only 'one in 100 rapists' ends up in court. Starmer ignored the fact that if the cases do not come to court, then we can't prove that these 99 others are rapists. He also forgot to mention that of cases that do come to court, the conviction rate for rape has actually increased under the Tories, from 58 per cent in 2016-17 to 68 per cent in 2022-23. As I have argued before on spiked, the statistics around the conviction rate for rape are often mistunderstood or are exploited by campaigners to make bad-faith arguments. For a lawyer like Starmer to use the 'one in 100' figure to score party-political points is desperate stuff.
Starmer also falsely presented our overcrowded prisons as a Tory problem. In actual fact, it was Blair's Labour government that oversaw the massive expansion of the prison population. Prisoner numbers in England and Wales passed 80,000 in December 2006, and they have been gradually trending downwards since 2012. The Tories' sentencing reforms will no doubt reverse that trend, because they will keep people in prison for longer. Nevertheless, it is wrong to suggest that our expanding prison population is a new problem, let alone one created by the Tories.
Starmer also suggested that Tory underfunding has led to a huge backlog of court cases, leading to unacceptable delays. The backlog of cases is real enough. But the reasons for it are far more complex than a simple case of underfunding. It was vastly exacerbated, for instance, during the Covid lockdowns.
This reheated debate over toughness on crime makes for a depressing spectacle. We need our politicians to start taking the issue of criminal justice much more seriously. Merely making sentences longer, or more punitive, is not a solution to the vast array of problems confronting our justice system.
Moreover, the public is not, as some politicians seem to believe, a baying mob desperate for more punitive sentencing. Indeed, Sentencing Council research suggests that while 'around 70 per cent of the public think sentencing in general is too lenient… this perception tends to lessen noticeably when the public are presented with actual scenarios and sentences.'
Our politicians need to start treating the public like adults. We need a serious, grown-up conversation about what the criminal-justice system should be doing and why – not just endless proposals for new criminal laws or ever-longer sentences. This re-run of old political battles is doing no one any good.
Luke Gittos is a spiked columnist and author. His most recent book is Human Rights – Illusory Freedom: Why We Should Repeal the Human Rights Act, which is published by Zero Books. Order it here.
To enquire about republishing spiked's content, a right to reply or to request a correction, please contact the managing editor, Viv Regan.