The outrageous hypocrisy of those Labour attack ads
Labour councils turned a blind eye to grooming gangs. The party is in no position to lecture others on tackling child abuse.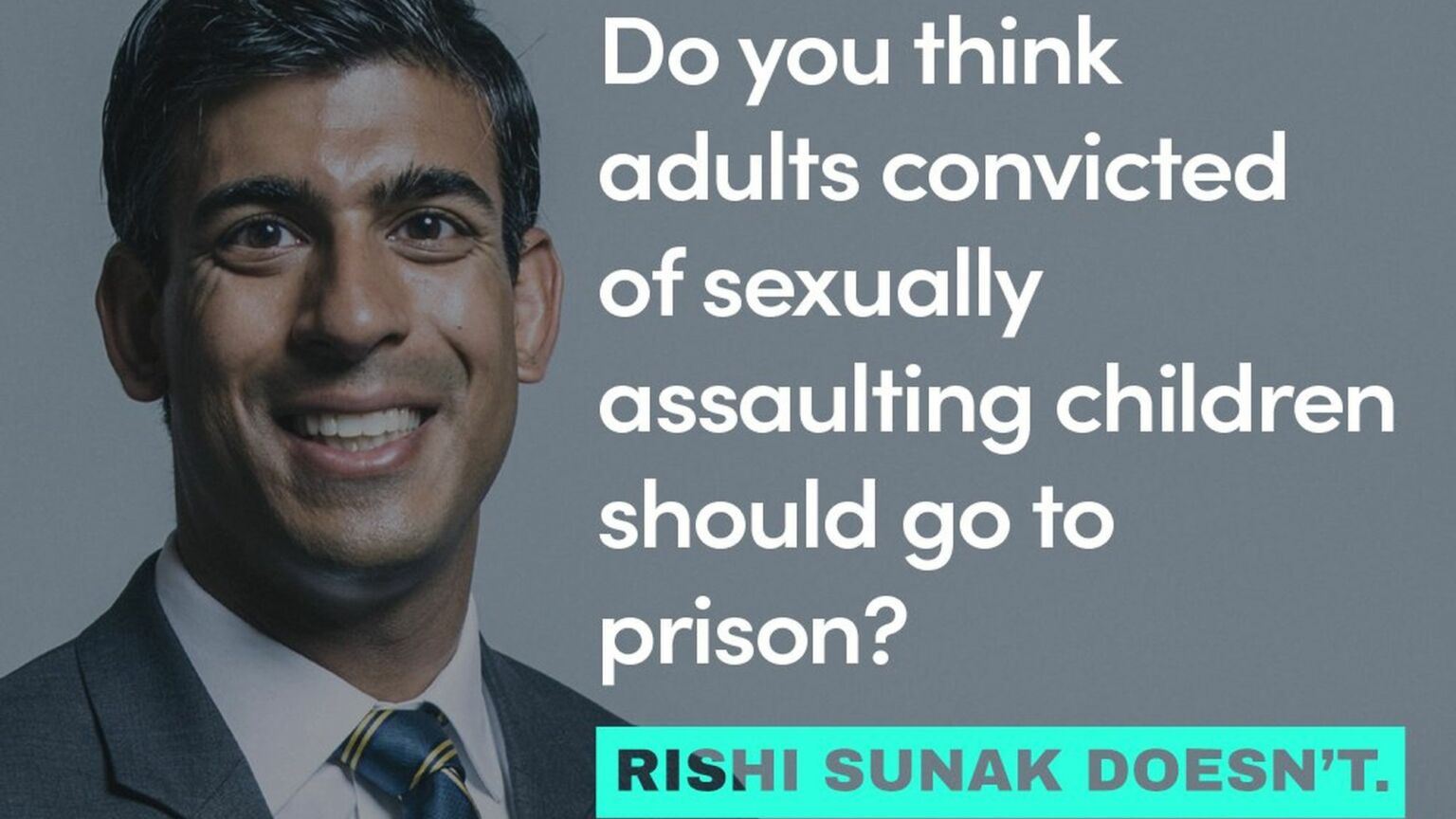 Labour is keen to park its tanks on the traditional Tory lawn of law and order. But is this a wise political strategy?
Over the past few days, Labour has released a series of controversial attack adverts against UK prime minister Rishi Sunak. Most notably, one advert claims that the Conservative leader doesn't think adults convicted of sexually assaulting children should go to prison. Other ads accuse Sunak of believing that possession of a gun with harmful intent should not warrant a prison sentence. Another suggests that Sunak wants thieves to go unpunished. All are designed to suggest that Sunak is soft on crime and that Labour is the true party of law and order.
Understandably, the backlash to the ads has been fierce. Labour's suggestion that Sunak is indifferent to child sexual assault is not only distasteful and unfair – it is breathtakingly hypocritical, too.
Take the decades-long grooming-gangs scandal, for instance. Public institutions, including local authorities, consistently turned a blind eye to the rape and torture of thousands of children. Many Labour-run councils played a key role in keeping this industrial-scale abuse, carried out predominantly by Pakistani-Muslim men, under wraps. Meanwhile, the few voices in Labour who were courageous enough to speak out against this, such as Labour MP for Rotherham Sarah Champion, have been ostracised by colleagues and accused of making 'dog whistles' to racists.
Among the most egregious failures of the past few decades was the premature closure of Greater Manchester Police's Operation Augusta. The operation was launched in 2004 following the death of 15-year-old Victoria Agoglia. The teenager, who lived in care, died from a drug overdose, shortly after she had told the authorities she had been raped by an older man and injected with heroin.
An independent review of Operation Augusta, published in January 2020, concluded that scores of child-sex-abuse cases in Manchester had not been addressed by either the police or the local authority. According to the report, police and other public officials were fearful that a robust investigation would undermine social cohesion in the city. The ethnic profile of the suspects was said to be a key reason for this sensitivity.
After Agoglia's death, Augusta subsequently identified at least 57 victims – mainly school-age white girls, many of whom were in the care of Manchester City Council – and some 97 potential suspects across the Greater Manchester region. However, in the end, just seven men were warned, charged or convicted. As the independent report makes clear, senior officers at Greater Manchester Police deprived the investigation of resources, before permanently closing it down with the support of the Labour-controlled council.
Last year, another independent review into historic child-sexual exploitation in Greater Manchester was published, this time focussed on Oldham. One especially shocking finding was that Shabir Ahmed, who led a child sex ring in nearby Rochdale, had actually been employed as a welfare-rights officer at the Labour-run Oldham Council. Concerns were raised about Ahmed, but they were ignored. And Greater Manchester Police failed to inform his employers of his arrest for child sexual assault. Convicted in 2012, Ahmed is currently serving a 22-year prison sentence for numerous counts of rape.
After analysing a sample of 10 complex cases, the independent reviewers also concluded that the quality of casework at Oldham Council for at-risk children was 'generally poor'. And in many cases, the local authority failed to 'appropriately initiate multi-agency child-protection procedures'.
Labour should tread carefully when it comes to challenging the Tories on crime – especially on violence and abuse against children. Labour-run councils have been implicated in severe institutional failures over grooming gangs – especially in the north-west of England. These child sexual abusers were responsible for untold misery and suffering, targeting some of the most vulnerable members of our society. And in many cases, they have been allowed to get away with it.
If Labour wants to be taken seriously on child protection, it should apologise for its role in the grooming-gangs scandal. I won't be holding my breath.
Rakib Ehsan is the author of the forthcoming book, Beyond Grievance, which is available to pre-order on Amazon.
Picture by: The Labour Party.
To enquire about republishing spiked's content, a right to reply or to request a correction, please contact the managing editor, Viv Regan.