Globetrotting green elites are a threat to democracy
A new superclass of eco-globalists is making life miserable for the rest of us.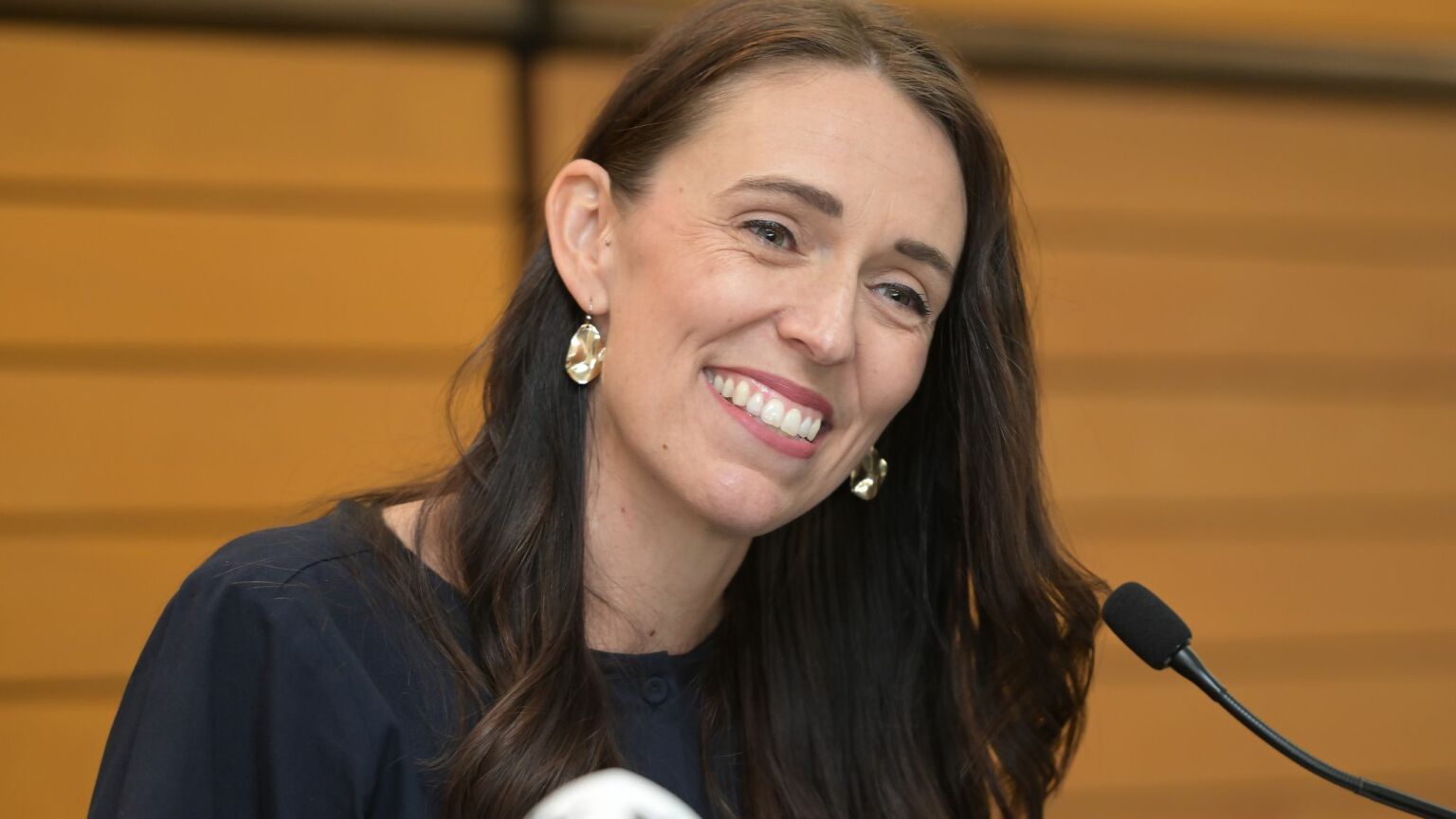 Jacinda Ardern has been sworn into the highest political caste. She takes her place alongside the likes of John Kerry and Mark Carney as a member of the globe-trotting eco-elite. She's been admitted to that inner circle of eco-globalists who spend their days wringing their hands over the climate apocalypse and wagging their fingers at the polluting throng.
No sooner had she bid a tearful farewell to the New Zealand parliament this week – four months after officially resigning as prime minister – than it was announced she would be joining the board of the Earthshot Prize, Prince William's global green crusade. Anyone who thought Ardern's ducking-out of NZ's top job would give us a break from her smiley authoritarianism is in for a rude awakening. It's not just the good people of New Zealand who will now have to endure the paternalist Ardern style, that oppressive hectoring always delivered with a toothy beam and caring liberal head-tilt – it's all of us.
Ardern will bring 'a rich infusion of new thinking to our mission', said Prince William yesterday. She might not have had 'enough in the tank' to keep leading New Zealand, but it seems she's got enough to strut the world with the other climate crusaders.
And what exactly is William's 'mission'? It's to encourage 'sustainability'. To reward the eco-virtuous of the world who have devoted themselves to such things as 'the restoration and protection of nature', 'air cleanliness' and 'waste-free living'. The Earthshot Prize was founded by Will and Sir David Attenborough – he of '[humans] are a plague on the Earth' fame – and every year it gives a million quid to five people or organisations who are endeavouring to achieve one or more of the above. Expect more speeches from Earthshot's St Jacinda about the 'climate catastrophe' and the global belt-tightening that will be required to deal with it.
The world is overrun with former politicians, bankers and bureaucrats who have been elevated to the level of oceangoing climate saviours, zealots devoted to protecting Gaia's honour from the pox of industry and growth. Kerry is the best known. He was secretary of state under Obama and is now America's special climate envoy. It's a positively imperial position. His borderline religious conviction that he must save the planet from the grubby grip of modernity has emboldened him to lecture the nations of the world about their filthy industrial habits. Witness his haughty decree that he would examine the likely impact of a new coalmine being built in the UK and then deliver his verdict on whether it's the right thing to do. Or his imperious proposal to Australia that it 'phase down' coalmining. It's neocolonialism behind a Greenpeace sticker.
Then there's Carney, former governor of the Bank of England and now the UN's special envoy on climate action and finance. And Inger Andersen, a one-time high-up at the World Bank, now executive director of the UN Environment Programme. And now Ardern has joined their number, thrown her lot in with the eco-globalist caste. Earthshot will no doubt be a piddling first step on her journey to greater global clout. There's already a petition to make her the next UN secretary-general. God help us.
Eco-globalism is not just a retirement home for old politicians and bankers. It isn't just a cushy job for influential folk who've passed their sell-by date. No, the new green nobility has real power. And they know it. Glimpse the religious fervour in the comments Kerry made at Davos in January, where he said 'it's pretty extraordinary that we select group of human beings… are able to sit in a room and come together and actually talk about saving the planet'. It's 'almost extra-terrestrial to think about', he said. Saviour complex much?
This wasn't just Kerry being weird. His assumption that he enjoys the most extraordinary power a human being can enjoy – the power to save the world – echoes the views of another climate crusader: Al Gore. Gore once talked about what a 'privilege' it was to be one of a 'relatively small group of people [who] could control the destiny of all generations to come'. This is the god delusion of the superclass of eco-aristocrats. They really do see themselves as the enlightened ones who must rescue humanity from itself, save Earth from the hubris of our species. Their delusions of borderline divinity, of having a deity-like responsibility to save every human being from the consequences of the sins of industry, should chill us all.
It is supremely anti-democratic. When a class of people can position themselves as the representatives not of mere nations or of trifling ideologies but of the planet itself, of every person alive today and every person yet to be born, then they become tyrants. They can breezily dispense with the norms of democracy as they set about the rather more important existential task of rescuing this celestial body from humanity's fumes. Nationhood, an electorate's wishes, people's need and desire for jobs and abundant energy and greater wealth – none of that matters to the 'select group of people' whose mission is nothing less than thwarting Armageddon. Hence Kerry and Co feel they can arrogantly instruct nations to ditch fossil fuels and embrace the religion of Net Zero. In the new feudalism, nations are the commoners, the green superclass the lords.
The authoritarian impulse of eco-hysteria is becoming clearer by the day. This is why they're so keen to replace that flat, tired phrase 'climate change' with the more shrill 'climate emergency'. Because in an emergency, special powers are often required to ensure that the greater good of existential security is taking precedence over the lesser good of people's freedom and desires. Ardern knows the game: she declared a 'climate emergency' in New Zealand in December 2020.
Ardernist authoritarianism lends itself beautifully – or terrifyingly – to the mission of the eco-globalists. This is a leader who enforced one of the most ruthless lockdowns of the Covid era, even preventing New Zealand's own citizens from returning home at certain points in the pandemic. And this is a leader who recently called for a global crackdown on 'dangerous' ideas, including climate-change scepticism. Ardern has all the necessary qualities to be an eco-globalist, to become one of that select few who believe they control the destiny of every generation to come – authoritarianism disguised as social concern, an outsized sense of moral virtue, a saviour complex, and a tyrannical disregard for dissenting speech.
There's one more quality: hypocrisy. We need 'waste-free living', says William's Earthshot crusade. A bit rich coming from a literal future king whose family's air miles in recent years would be enough to get them to the Moon and back and then complete three loops of the Earth's equator. John Kerry has his own private jet and once flew it to Martha's Vineyard for Obama's 60th birthday bash. And Ardern once took a flight that cost NZ taxpayers tens of thousands of dollars because she wanted to 'minimise time away from her infant daughter'. These are the people telling the rest of us to drive less, fly less, farm less, eat less meat, use less coal, use less gas and generally be less of a pest to poor Mother Earth. The gall. Peasants' revolt, anyone?
Brendan O'Neill is spiked's chief political writer and host of the spiked podcast, The Brendan O'Neill Show. Subscribe to the podcast here. And find Brendan on Instagram: @burntoakboy
To enquire about republishing spiked's content, a right to reply or to request a correction, please contact the managing editor, Viv Regan.