The Democrats are taking parents for fools
Parents are still being kept in the dark about schools' indoctrination of their children.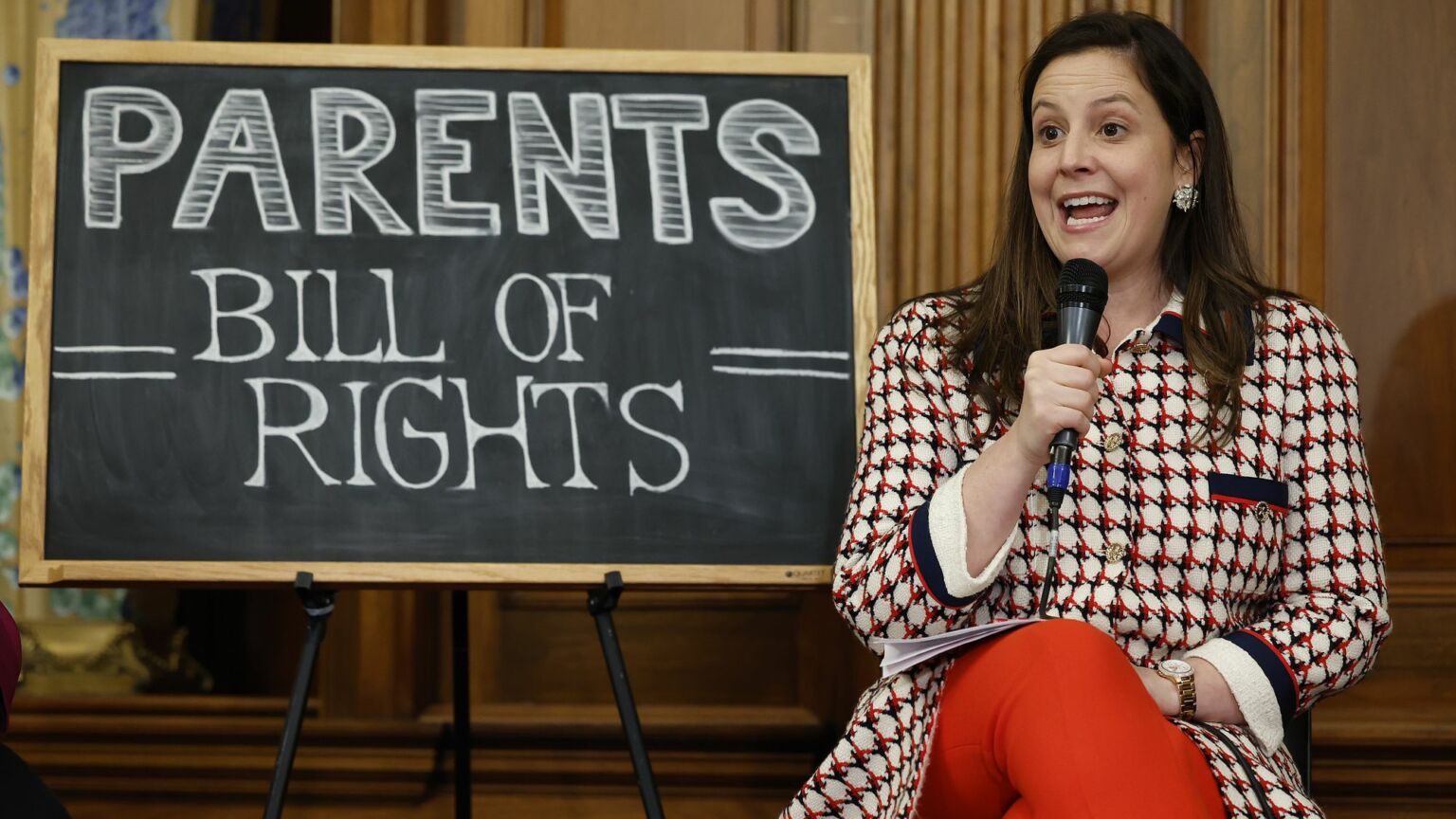 Who could possibly be against informing parents of what goes on inside their children's schools? The answer is, unfortunately, many teachers, administrators and school boards across the US – and even the Democratic Party.
Last Friday, Republicans in the House of Representatives passed the Parents Bill of Rights Act. Meanwhile, Democrats were unanimously opposed to the bill. Now, the legislation is unlikely to advance in the Democratic-majority Senate.
The Parents Bill of Rights would require schools to make their curricula and library catalogues publicly available. It would make schools obtain parents' consent before allowing a minor to adopt a different gender, or a preferred name or pronouns at school. Teachers would have to inform parents if transgender students are joining the athletics teams or using the toilets and changing rooms of the opposite gender. The bill also states that educators 'should never seek to use law enforcement to criminalise the lawfully expressed concerns of parents about their children's education'. This is a nod to the National School Boards Association's infamous demand for a crackdown on parent protesters, whom the association accused of carrying out 'domestic terrorism' back in 2021.
Years ago, such a bill would not have been necessary. It was commonly agreed that parents should have a right to speak at school-board meetings, to meet with their children's teachers and to be kept informed of disciplinary and academic issues. In the past, there was no push by teachers to introduce radical race or gender ideology in the classroom. Educators didn't share sexually explicit materials, organise performances by drag queens or work with kids to change their gender behind their parents' backs.
Today, parents are too often kept in the dark about what is happening in classrooms. They are denied the ability to opt their kids out of lessons that are highly politicised or inconsistent with their moral values. And if they dare ask questions, such parents are stonewalled by school officials.
Thanks to this poor treatment, parental rights have become a partisan issue, which the Republicans have taken full advantage of. An important marker for the parents' rights movement came in 2021, when Virginia governor Glenn Youngkin won his election on a 'parents matter' campaign over Democrat Terry McAuliffe. McAuliffe's now-infamous line – 'I don't think parents should be telling schools what they should teach' – summed up his party's disdain for the role of parents in education.
Since then, the parents' movement has grown significantly. One group, Moms for Liberty, now claims 200 chapters across the US. Despite the disappointing prospects for the Parents Bill of Rights in the Senate, the movement has had many legislative victories. In 2023, proposals for parental-rights legislation have been made in at least 32 states. One such piece of legislation was the Parental Rights in Education Act (smeared in the media as the 'Don't Say Gay' law), which Florida governor Ron DeSantis signed into law last year. This act requires schools to notify parents if a child has changed gender and it prohibits instruction about sexual orientation and gender identity before third grade (when children are typically nine years old).
The idea of providing parents with transparency should be uncontroversial. Gripped by partisanship on the issue, however, Democrats have adopted a stance that blindly opposes whatever Republicans say. For instance, House minority leader Hakeem Jeffries claimed that the Parents Bill of Rights Act is all about 'jamming the extreme MAGA-Republican ideology down the throats of the children and the parents of the United States of America'. Similarly, Democrat Alexandria Ocasio-Cortez deemed the bill fascist. During a House debate on the bill, she stated: 'When we talk about progressive values, I can say what my progressive value is, and that is freedom over fascism.' Such absurd name-calling is unlikely to persuade many concerned parents.
Another common Democratic objection is that the Parents Bill of Rights would enable the censorship of books in public schools. Democratic representative Jim McGovern complained: 'Here we have a bill that makes it easier to censor ideas and ban books, that makes it easier for one racist or homophobic person to dictate to an entire class, an entire school, what kids can and can't read.'
This sentiment was echoed by fellow Democrat Jamie Raskin. 'It's about book-banning, of course', said Raskin from the House floor. Raskin raised the threat of widespread bans, claiming that right-wingers are targeting books like Margaret Atwood's The Handmaid's Tale and George Orwell's Nineteen Eighty-Four.
In truth, the bill says nothing about 'banning' books. It would simply let parents know what books are being taught or are available in school libraries.
It is true that parents have raised concerns about the contents of certain books. But there is no concerted effort to remove classics like The Handmaid's Tale or Nineteen Eighty-Four. As the American Library Association notes, the vast majority of parents' complaints are directed at books dealing with identity politics, trans issues and critical race theory – ideas which are now routinely taught as if they are objective facts. Some of them contain sexually explicit content, such as Maia Kobabe's Gender Queer, which are not appropriate for younger schoolkids.
This spectre of a book-banning spree is purely a smokescreen. It's an attempt to allow ideologically driven teachers and administrators to carry on with woke indoctrination without any parental oversight. It also reveals that the Democrats have a very low opinion of parents – they don't trust parents to be able to handle having more information on curricula and school policies. Democrats paint parents as a mob of Nazis ready to set off a bonfire of books. If they treated parents in good faith, Democrats would welcome the transparency and would defend the merits of their curricula and policies. Instead, they back the teachers and officials who shut parents out.
By taking such a hard line against openness and accountability, the Democrats are setting themselves up for failure. Parents want to know what is going on in schools. A recent poll, for example, found that the majority of Americans believe that schools should not keep information surrounding a child's gender identity from parents.
It is unfortunate that the issue of parental rights has come to this point. Education should be a non-partisan issue. Parents and educators should work together as partners, and schools should recognise that parents have the primary responsibility for educating their children. Sadly, too many schools have now lost the trust of parents. And they will have to be more transparent if they are to restore that trust.
To enquire about republishing spiked's content, a right to reply or to request a correction, please contact the managing editor, Viv Regan.