The myth of the 'Don't Say Gay' bill
Why are mainstream US media falsely claiming that Florida has banned talk of sexuality in the classroom?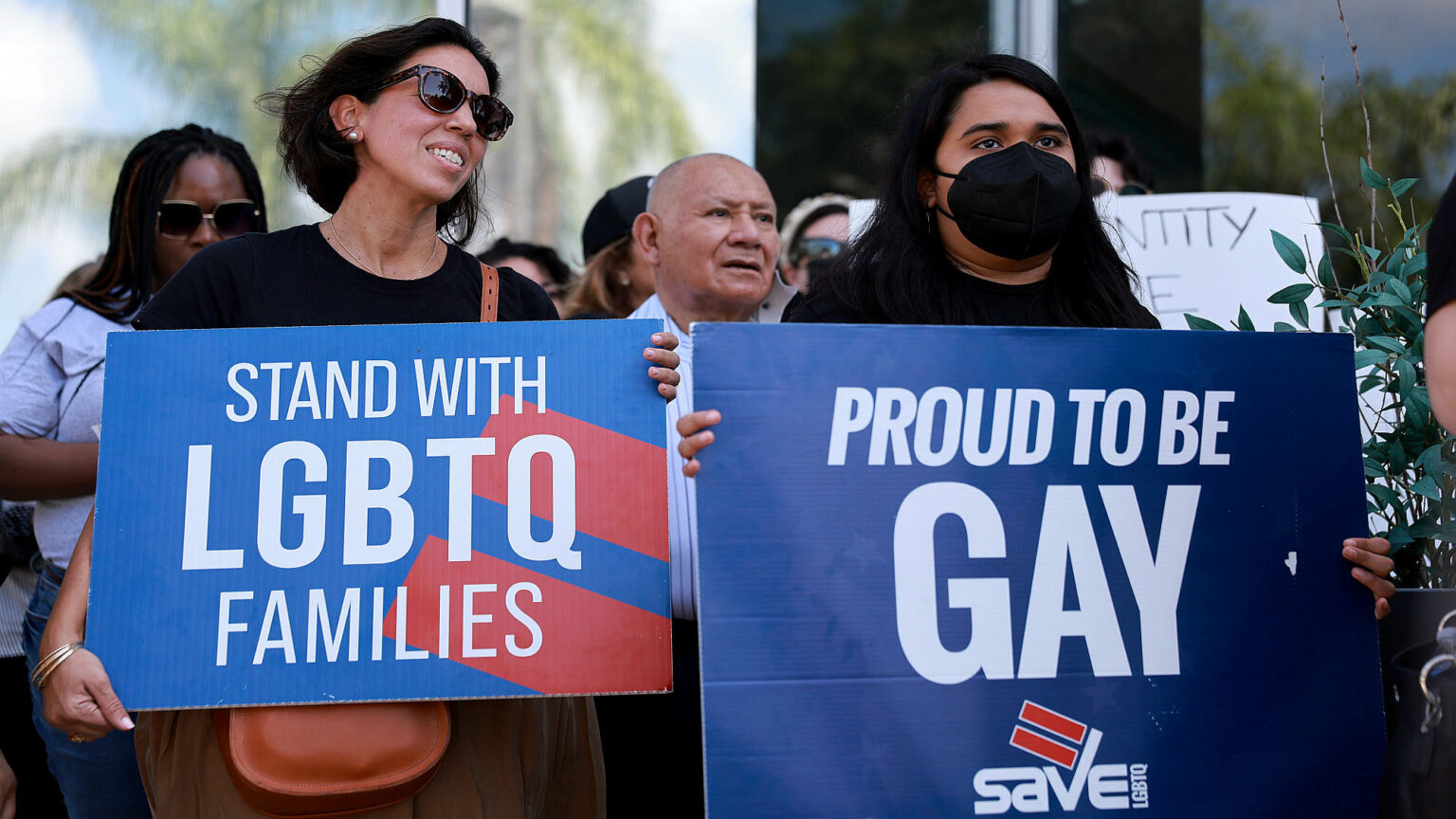 The very same conservative Nazis who recently tried to bring back Jim Crow segregation are now making it illegal just to say the word 'gay'.
Or, at least, that's what the US mainstream media are saying. Only a month or three after President Joe Biden made straight-faced and dutifully reported claims that Republican politicians were planning to usher in 'Jim Eagle' voting restrictions harsher than Jim Crow (apparently by requiring black people and students to show a $10 plastic ID to vote), sombre national coverage now focuses on a piece of Florida legislation invariably described as the 'Don't Say Gay' bill. Five days ago, Time magazine ran the simple headline: 'Florida passed the Don't Say Gay bill – here's what it means.'
ABC News, not to be bested, went with 'DeSantis-backed "Don't Say Gay" bill sparks outrage'. The New York Times published a widely circulated op-ed from a self-identified LGBT teenager, headlined 'Florida's "Don't Say Gay" bill will hurt teens like me'. The general thrust of this coverage is that harsh legislation backed by Florida governor Ron DeSantis will virtually ban discussions of homosexuality or sexuality itself within the pre-college classroom. NYT teen author Will Larkins noted in his sometimes moving piece that he had recently been abused for his sexual orientation at a rowdy high-school party, and argued that 'had the proposed law been in effect last year', a sympathetic teacher 'could have put herself in jeopardy by being there for me'. In response, multiple celebrities took to social-media platforms to post viral messages consisting simply of the word 'gay' repeated over and over. Luke Skywalker's archetypal example of the genre can be found here.
As usual, the quite major problem with this narrative is that it is totally false. If this even needs to be said, the Florida legislation in question – CS/CS/HB 1557, or the Parental Rights in Education Act – obviously does not prevent teachers from mentioning the word 'gay', or even from giving high-school kids advice on bullying or relationships. Most of the bill actually has nothing to do with LGBT issues at all: it is a fairly standard-looking piece of legislation focused on parental-notification procedures and parental access to school records. The controversial section of text in the bill is a single paragraph – and even this is narrowly written:
'Classroom instruction by school personnel or third parties on sexual orientation or gender identity may not occur in kindergarten through grade three or in a manner that is not age-appropriate or developmentally appropriate for students in accordance with state standards.'
In other words, actual instruction – which generally refers to teaching organised lessons, as opposed to general moral advice, and other aspects of education – about sexual orientation or gender theory is banned in Florida classrooms until the end of the third grade. For context, American third graders are generally seven to eight years old – in other words, they're little kids.
After that tender age, instruction about sexual orientation and gender-ID can take place. The only requirement is that it be 'age appropriate'. Parents who feel that a particular lesson or course isn't appropriate can complain to their school district and eventually to a court. This standard – no formal teaching about transgenderism or human sexual tastes to six-year-olds – strikes me as unlikely to offend many people, if presented honestly. As my own unabashedly unscientific but widely shared social-media poll shows, 91.8 per cent of 3,256 respondents believe that American states should 'be able to prohibit teacher-led instruction about sex, sexual orientation, and gender theory for kids under age eight', while just 8.2 per cent do not.
Several recurring themes strike me about the 'Don't Say Gay' situation. First, to a rather remarkable degree, centre-left mainstream media outlets in the US, and Europe, often act as virtual stenographers for left-bloc political parties. Partisan terms like 'Jim Eagle' and 'Don't Say Gay' are regularly used by allegedly neutral news organisations to describe pending legislation. A simple internet search for 'Don't Say Gay bill' turns up hundreds of thousands of results, and major headlines from CNN, NPR and the UK Independent on just the first page of results – as well as all of those already noted above.
To be sure, right-leaning news outlets do some of the same thing ('Bidenflation', anyone?), and the trend is negative on all sides. But it is far more common on the political left due to the sheer weight of numbers – only about seven per cent of national media journalists in the US identify as conservatives – and today's high prevalence of dubious partisan information is actually affecting people's level of knowledge about current events.
For instance, following primetime claims by Black Lives Matter that hundreds of wholly innocent black men are 'murdered' by police every year, a major study by the Skeptic Research Center found that the average 'very liberal' Yank believes that between 1,000 and 10,000-plus unarmed black men are killed annually by police.
Another – completely different – study, which I discussed once on spiked, discovered that 80 per cent of blacks and 60 per cent of educated white liberals believe that more black men are killed annually by cops than die in auto wrecks. In reality, there are fewer than 20,000 US murders in total in a typical year, with all black victims combined accounting for perhaps half of these.
There are 35,000 to 50,000 car-wreck fatalities in a typical year. In contrast, the total number of unarmed black people actually shot by police last year in the US was 18.
Similarly, a sizable pool of American taxpayers recently told a consulting firm that they believed nine per cent of all US residents to have already died from Covid-19.
Given the staggering inaccuracy of widespread beliefs about policing and other topics, one has to wonder how many well-meaning individuals truly believe that it is now illegal to mention homosexuality in the great state of Florida. Any number above zero, of course, obviously represents far too many.
The prevalence of bullshit in the West is a broad, general problem. A more issue-specific, but equally troubling, aspect of the 'Don't Say Gay' debate is the growing focus of woke activists on teaching ideologies such as contemporary gender theory to young kids. Of course, 'They're targeting the children!!!' is an old fearmongering claim on both right and left, used in the past to target everyone from kinksters to religious fundamentalists to the Freemasons. However, in this case, there is more than a bit of truth to the ancient canard: the ideological Freemasons truly are poisoning the intellectual wells that young citizens drink from.
Popular teaching tools like the 'Gender-Bread Man' – sorry, 'Gender-Bread Person' – and 'Gender Unicorn' do seem to be targeted specifically at kids, mirroring popular cartoons in appearance and conveying bits of folksy wisdom like 'expression is how you present gender through your actions!'. At least a few activists go well beyond such tame stuff: progressive educators in my home state of Kentucky planned until recently to host a 'Sexy Sex-Ed Summer Camp' for children and teens, featuring panels on 'Sex with ME: Self-Pleasure (July 6)', 'Sexy Trans Sex Ed (July 27)', 'The Three Ps: Pee, Poop and Pleasure (August 5)', and 'Sex on Drugs (August 10)'. This sort of stuff takes place within a broader educational environment where two of the more popular curricular supplements are currently provided by the 1619 Project, which argues that almost everything that makes the United States unique evolved out of historical slavery, and by the Marxist-inspired Zinn Education Project.
Enough, I say! My frank take is that all religions have historically sought to indoctrinate young children, because they are more likely than adults to believe nonsense. However, government-run schools in the US and UK have traditionally prevented 'education' of this sort, and must continue to do so: we don't allow religious homilies from Young Earth Creationists in the classroom, and we should follow the same policy regarding the missionary new faith of today. At the very least, as Florida is doing, let kids wait until the age of reason before they have to engage in it.
Wilfred Reilly is a spiked columnist and the author of Taboo: 10 Facts You Can't Talk About, published by Regnery. Follow him on Twitter: @wil_da_beast630
No paywall. No subscriptions.
spiked is free for all.
Donate today to keep us fighting.
Donate online
Picture by: Getty Images.
To enquire about republishing spiked's content, a right to reply or to request a correction, please contact the managing editor, Viv Regan.