How Sturgeon was undone by gender ideology
The 'trans rapists in prisons' row dealt a fatal blow to her authority.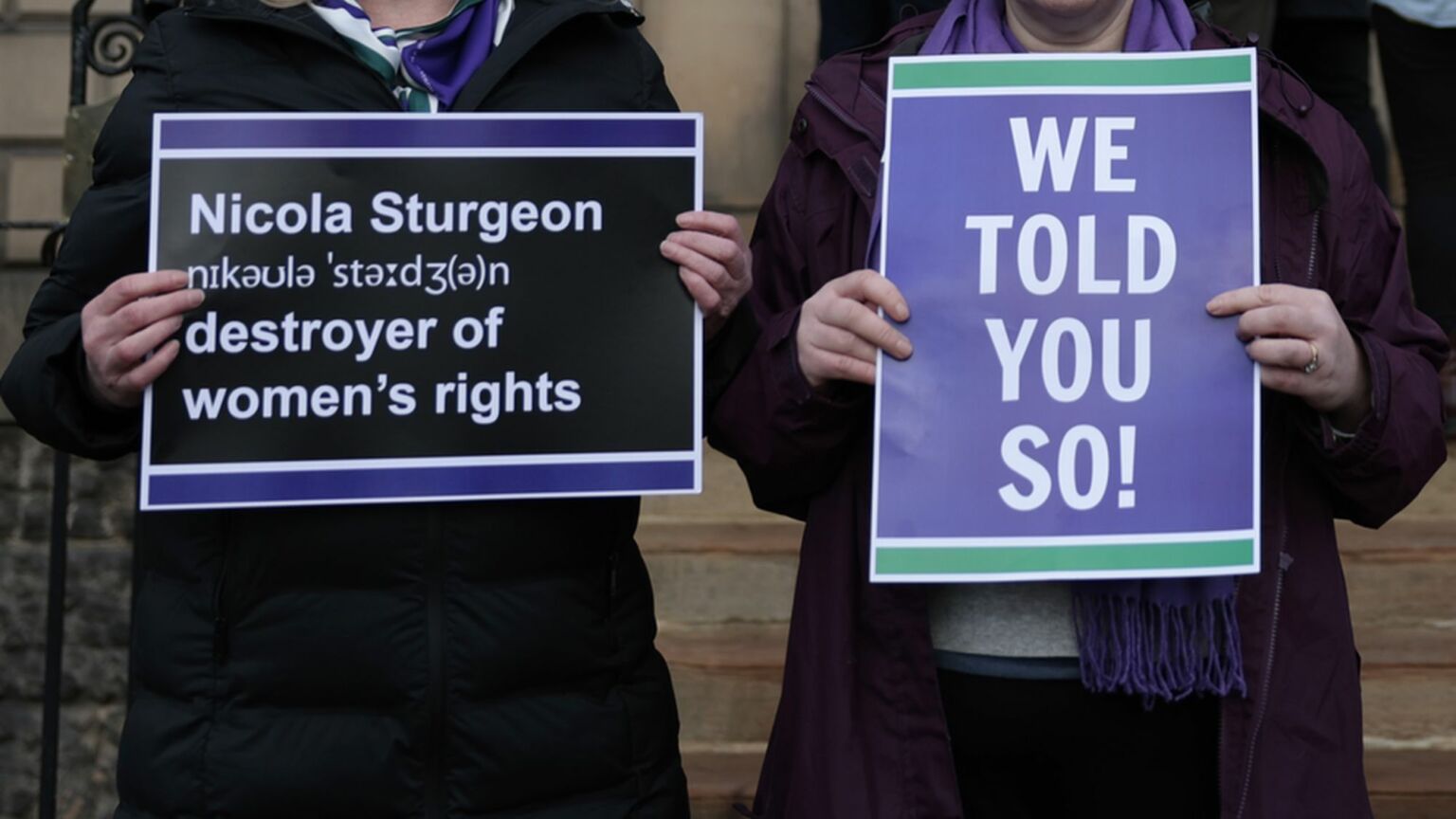 Everyone knows that politicians are, as the Scots might put it, sleekit (that is, oily) wee bastards. And the slipperiness of outgoing first minister Nicola Sturgeon was exposed for all to see last month, when she attempted to slide around the most basic of questions on live television – namely, on whether a convicted double-rapist was male or female. For the first time in her eight-year premiership, Sturgeon looked visibly rattled. And so, it seems, began her inevitable downfall.
Naturally, during her self-pitying resignation speech yesterday, Sturgeon denied that the difficulties she has been having since the UK government blocked her flagship Gender Recognition Reform (Scotland) Bill had prompted her to resign. But why should anyone take her words at face value? After all, this is a politician who claimed to be a 'feminist to her fingertips', even while pushing policies that would have made the word 'woman' meaningless.
Ever since the photographs of convicted sexual predator Adam Graham (aka Isla Bryson) went viral last month, prompting an almighty row over whether male 'transgender' rapists should be sent to women's prisons, Sturgeon had struggled to regain control of the narrative.
In fact, Sturgeon's gender-reforms had been causing alarm to much of the public even before the trans-rapist scandals. A month before it was announced that Adam Graham was to serve his time in a women's prison, polls clearly showed the reforms to be wildly unpopular. A YouGov survey carried out on behalf of The Times found 60 per cent of respondents disagreed with the proposal to allow people to self-declare their own gender without a medical diagnosis of gender dysphoria. Sixty-six per cent were also opposed to the lowering of the age limit to obtain a gender-recognition certificate, from 18 to 16.
Yet when voices within Sturgeon's own party warned that the gender-reform bill was flawed, she dismissed their concerns as 'not valid'. Indeed, as disquiet about gender self-identification grew in volume, Sturgeon doubled down. Rather than reflecting or listening, the first minister smeared the bill's opponents as 'transphobic… misogynist, often homophobic, possibly some of them racist as well'.
Fellow politicians, experts (including the United Nations special rapporteur on violence against women and girls) and ordinary concerned citizens tried everything to make themselves heard. Some gave evidence to Holyrood during its scrutiny of the bill. Others protested. One campaigner, Elaine Miller, memorably flashed a massive hairy pubic wig in the Scottish parliament, while shouting: 'If you will not be decent, then I will be indecent.'
The gender bill was not the only example of trans zealotry running amok in Sturgeon's Scotland. Draconian hate-crime laws introduced in April 2021 threaten to put a gag in the mouths of every Scot, by outlawing speech and opinions that could be interpreted as 'hateful' to transgender people (among other minority groups). Even before the Hate Crime Act was passed, Scotland's speech police still managed to ensnare feminist campaigner Marion Millar, who was charged with making allegedly 'homophobic and transphobic' posts on social media. One tweet singled out by police showed a photo of a ribbon in the Suffragette colours. Prosecutors tried to claim this resembled a noose and could therefore be considered threatening. For this, she faced the possibility of spending two years in prison, before the charges were eventually dropped just ahead of her court hearing.
Arguably, the public expects a degree of disingenuousness from all politicians. But in her rigid adherence to gender ideology, Sturgeon displayed an abject indifference to the public mood and to basic decency. As campaign group For Women Scotland has observed, she ended up 'prioritising dangerous rapists over exceptionally vulnerable women'. Her position became untenable.
Yet even as Scotland reels from the shock of the first politician to become a casualty of gender self-identification, the Welsh devolved government is sprinting toward exactly the same precipice. Last week, following the unveiling of the barmy 'LGBTQ+ Action Plan for Wales', Conservative MS Laura Anne Jones told the Senedd that there were 'clear risks' from gender self-identification. For this, she was shot down by Hannah Blythyn, deputy minister for social partnership, who told her: 'Your words have a dangerous impact, Laura Anne Jones. It harms people, the words that you say, the discrimination that comes out of your mouth.' The same dismissal of people's concerns that brought down Nicola Sturgeon is on full display in Mark Drakeford's Wales.
Over in Westminster, UK prime minister Rishi Sunak has gained the support of feminists who might never have considered voting Tory before, thanks to his willingness to say the bare minimum. His opportunistic acknowledgement that women are 'adult human females' is all that it has taken.
As for the UK Labour Party, Keir Starmer is still squeamish on the 'woman question'. Undoubtedly some progress has been made since 2021, when frontbencher David Lammy famously accused concerned feminists of being 'dinosaurs' who were 'hoarding rights'. Lammy even claimed that gender self-identification had 'never, ever come up on the doorstep'. Tell that to the SNP.
Starmer has clearly been chastened by the Scottish experience, leading him to say 16 is 'too young' to change gender last month. But his vacillation over the years has not only cost his party the support of many feminists – it has also marked him out as a traitor in the eyes of trans-rights activists. Indeed, last night, at a vigil in London to remember a murdered transgender teenager, the apparently mourning crowd of trans activists chanted 'fuck Keir Starmer'.
This is because transgenderism is an 'all or nothing' ideology. Just as you can't be 'a little bit pregnant', you can't only support the right of some men to call themselves women. Either male monsters like Adam Graham are women because they say they are, or you end up having to concede that people's claims about their gender identity don't actually change reality.
Ultimately, the downfall of Sturgeon should be seen as a cautionary tale for politicians everywhere. There has seldom been a more eloquent demonstration of the adage 'go woke, go broke'. The British people are waking up to what is happening in the name of 'trans rights', and they are rightly angry. But it seems that many of their political representatives on the left are still sleeping on the job.
Jo Bartosch is a journalist campaigning for the rights of women and girls.
To enquire about republishing spiked's content, a right to reply or to request a correction, please contact the managing editor, Viv Regan.