Knowsley: the price of silence
The elite's evasiveness over Britain's broken asylum system is a recipe for unrest.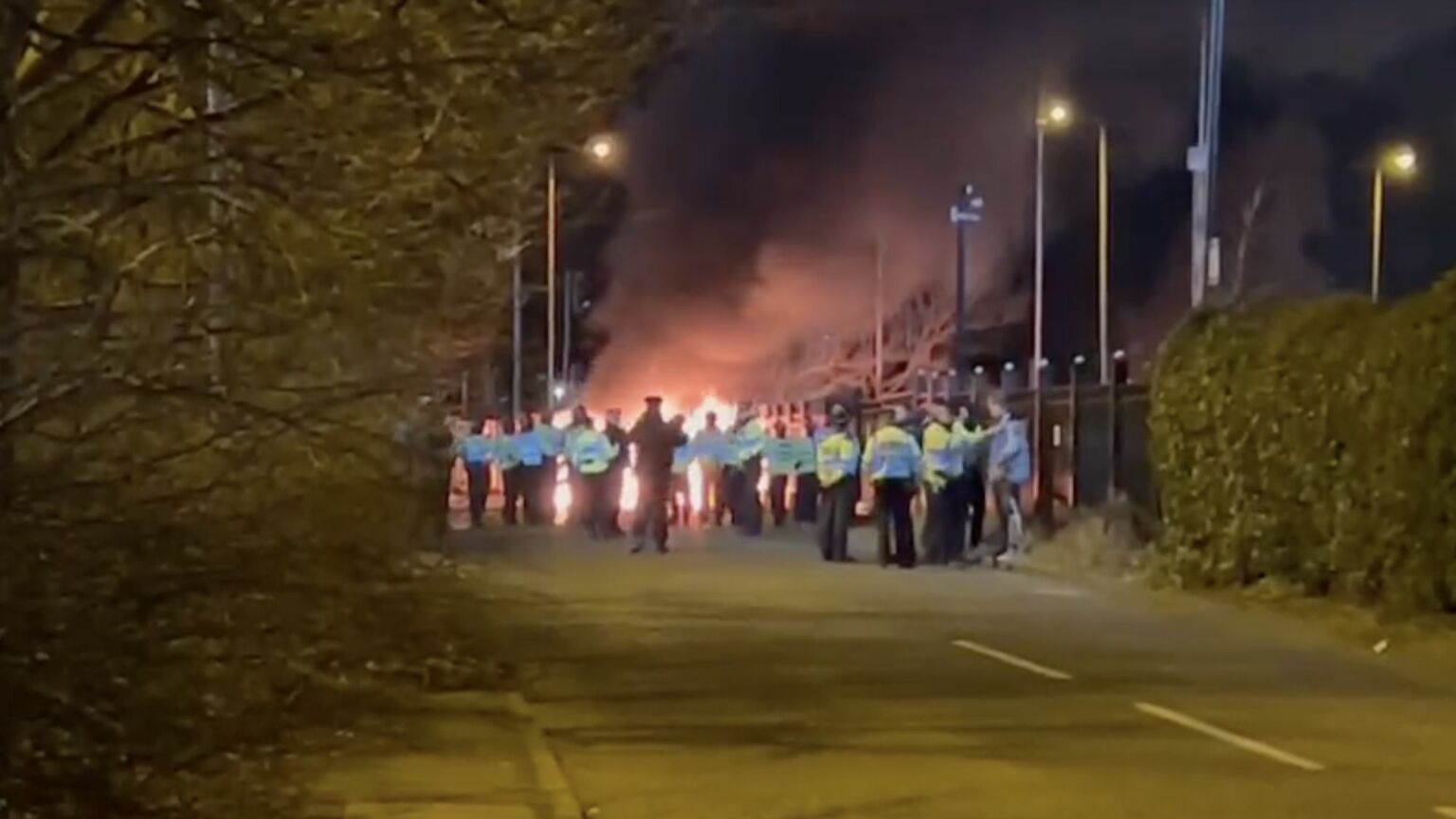 Are we allowed to talk about the tensions in Knowsley? In the wake of Friday evening's violent unrest in Merseyside, the UK liberal establishment's response has been one of denial and deflection. The question of what might have led a reported 400 people to protest outside a hotel housing asylum seekers is one we are not supposed to raise.
To try to understand the Knowsley disorder is not to excuse or condone it. What reportedly began as a 'peaceful protest', drawing 'mostly women and children', according to police and other witnesses, turned violent when a group of masked thugs arrived later in the evening. They were tooled up with hammers and armed with fireworks. Missiles were thrown at police and a police van was smashed and set alight. Fifteen people, aged between 13 and 54, have since been arrested on suspicion of violent disorder. A 19-year-old has been charged with disorderly conduct and assault for beating up an emergency worker. These were undoubtedly ugly, violent scenes that terrified innocent people living in the hotel.
But there is remarkably little curiosity about what might have sparked these confrontations. The clear cause of the tensions was a video, widely circulated on social media, that allegedly shows a 25-year-old asylum seeker propositioning a local 15-year-old girl. The video went viral on messaging app Telegram and was also reported about in the Liverpool Echo.
You wouldn't know this from reading the BBC's coverage of the Knowsley unrest. In its lengthy write-up of the rioting, there is no mention of the video or the schoolgirl at all. Other broadcasters, like ITV and Sky, have blamed the protests on 'misinformation' and 'hearsay', as does a widely circulated Twitter thread.
Meanwhile, home secretary Suella Braverman has been condemned merely for alluding to the video. 'The alleged behaviour of some asylum seekers is never an excuse for violence and intimidation', she said at the weekend, causing Twitter to erupt in fury. Anyone who so much as gestured to the pre-existing tensions was accused of giving succour to the far right and of whipping up hatred against migrants.
In the Twitterati's telling, there were no pre-existing tensions in Knowsley. Or if there were, they didn't arise organically. The protests and subsequent riots were said to be the products of nefarious right-wing outsiders. They were supposedly sparked by a powerful online network of far-right agitators – a threat, commentators claim, that the Tory government is determined to ignore. Others have blamed the Tories more directly, pointing to their alleged demonisation of refugees – and Braverman's infamous description of migrants crossing the English Channel in small boats as an 'invasion'.
This is deflection, pure and simple. It is highly unlikely that working-class Merseyside residents are hanging off the Tory home secretary's every word. It is true that the video of the schoolgirl has been promoted by several known far-right figures. Patriotic Alternative, a national far-right party, has also distributed leaflets in Knowsley drawing attention to the fact that migrants are being housed in the Suites Hotel. But, according to Hope Not Hate, the protest itself at the weekend was not organised or even officially promoted by any far-right group. Even those arrested for violent disorder, the people you'd most expect to be known outside agitators, were mostly local to the area. Widely shared chattering-class claims about a 'huge mobilisation of far-right protesters' are themselves misinformation – designed to dismiss the idea that these tensions could have ever arisen organically.
Even putting the schoolgirl incident to one side, it's as if we're expected to believe that problems with Britain's asylum system are simply an invention of the Daily Mail or Tommy Robinson. In reality, the system is not fit for purpose. It is in the interests of locals and asylum seekers alike to have an honest and open conversation about what's going wrong and how to fix it.
The number of asylum seekers being housed in hotels has jumped 10-fold since the start of the pandemic: from around 2,500 people in March 2020 to over 37,000 in September 2022. Research last year found that almost one in four asylum seekers in the UK was housed in one of only 10 local authorities – the majority of which are among the most deprived areas in the country. Knowsley is the third most deprived local authority in England. Dumping most of the nation's asylum seekers in deprived, under-resourced communities seems like an obvious recipe for social instability. What's more, these are mostly young men, unable to work or enter education, perhaps with limited English. We often don't know much about their backgrounds (security checks are notoriously lax), and there seems to be no desire to integrate them into our society. Bad things are bound to happen. And when they do, or at least appear to, should we be so surprised if locals express anger and concern?
Ignoring or trying to silence residents' concerns will only inflame matters further. When the political mainstream ignores tensions like those in Knowsley, they don't simply disappear. They can erupt in uglier forms. They can prompt people to turn away from the mainstream – towards anyone who will say something about what people are actually experiencing in their communities. Open discussion can defuse tensions. Elite evasiveness inflames them.
The impulse to deny and deflect from the causes of the Knowsley unrest seems all but guaranteed to backfire.
Fraser Myers is deputy editor at spiked and host of the spiked podcast. Follow him on Twitter: @FraserMyers
Picture by: Twitter / Care4Calais .
To enquire about republishing spiked's content, a right to reply or to request a correction, please contact the managing editor, Viv Regan.