Women are on the march against gender ideology
Glasgow's Let Women Speak rally was a demonstration of defiance against the Scottish establishment.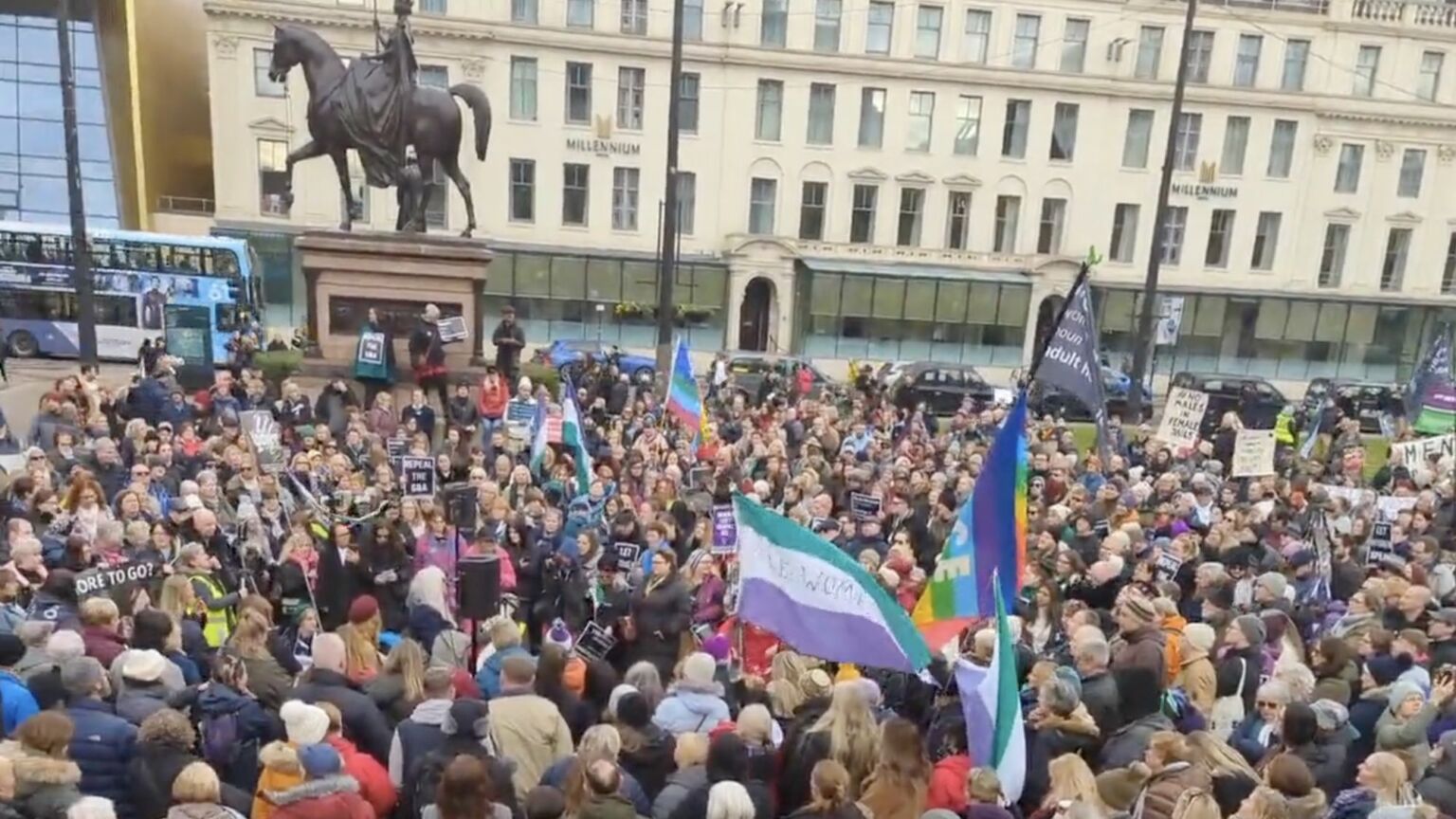 Kellie-Jay Keen's 'Let Women Speak' tour takes the Ronseal approach to activism – it does exactly what it says on the tin. Keen, founder of the campaign group Standing for Women (SfW), travels the world organising rallies where she hands a microphone to women whose lives have been scarred by transgenderism.
On Sunday, Keen drew together a crowd of several hundred people in Glasgow – a city where most people don't buy into the luxury belief that a laddie can become a lassie just because he says so. As has now come to be expected, a smaller crowd of transgender activists gathered in opposition, this time under the banner of Cabaret Against the Hate Speech (CATHS). The CATHS counter-protesters were made up of teenagers, some conspicuously sweaty older men and a handful of furries (men who identify as anthropomorphised cartoon animals). They were led in an underwhelming conga line by a ropey drag queen, who warbled hits from gay clubs of yesteryear.
Women's sex-based rights have been firmly on the political agenda in Scotland ever since first minister Nicola Sturgeon tried to push through the Gender Recognition Reform (Scotland) Bill, a law that would allow for gender self-identification. After the law was blocked by the UK government last month, news emerged that at least two dangerous men would be allowed to serve their sentences in women's prisons in Scotland. The tattooed face of double rapist Adam Graham (aka Isla Bryson) and the snarl of stalker Andrew Burns (aka Tiffany Scott) have exposed voters to the ugly reality of the Scottish government's mad mission to let people identify into the sex of their choosing.
The women who spoke at the Glasgow rally are not just a wee a bit miffed about this – they are burning with righteous rage. This anger has made them effective and eloquent mouthpieces for an emerging women's movement – a worldwide campaign against men who treat female bodies as fetish-wear. Representative of every sector of society, Standing for Women supporters are not moaning about 'manspreading' or penning articles in Gender Studies journals, they are demanding the rights back that the trans lobby has taken from them.
One of those who spoke on Sunday was a former prisoner, a woman who was fed up with having her status as an ex-con used to discredit her experience. At five feet tall and just six stone, she recalled being left in what should have been a single-sex space with a man she described as having 'hands like shovels and feet like coffins'. He was apparently allowed to be there because he identified as a woman.
Another speaker, who was diagnosed with autism 20 years ago, railed against the growing use of puberty blockers on gender-confused children, many of whom are believed to be autistic. These blockers, she pointed out, are the same drugs that are 'used to castrate sex offenders'.
These testimonies were powerful and personal. The event gave a public platform to the kind of women who would never be invited to share their experiences with legislators in Holyrood.
Meanwhile, getting someone from the counter-protest to explain what their demonstration was really about was like looking for teats on a non-binary bull. Eventually, a man dressed in a green cape told me that he was 'there for his trans friends' and that those protesting against gender self-ID had 'probably never met a trans person'. A shiny-eyed university student then told me earnestly that she didn't know whether rapist Adam Graham was male or female, because she hadn't met him, but his identity ought to be respected in any case.
Both believed that Keen and her supporters were bigoted, but neither had any answers about how to protect women prisoners from sex offenders with 'lady feelings'. It was hard to escape the impression that these were well-intentioned young people looking for a worthy counter-cultural cause. Inadvertently, they had somehow found themselves dancing on the side of both the establishment and of convicted sex offenders.
For years, women who have insisted on talking about their rights, and who have warned about the dangers posed by transgenderism, have been vilified. Nicola Sturgeon, when trying to push her trans bill through Holyrood, dismissed women's concerns about gender self-identification as 'not valid'.
Across the wider UK, the right to assemble and to freely express gender-critical views has been routinely under attack. Indeed, the day before the Let Women Speak event in Glasgow, a woman was allegedly physically assaulted at a women's conference at UCL in London by a trans activist. And Keen herself is awaiting an interview by Sussex Police, having been accused of a 'hate crime' for holding a Let Women Speak demo in Brighton. Stating that 'women are adult human females' or that 'lesbians don't have penises' is a daring act in modern-day Britain.
The Glasgow event was expected to be tense. Police Scotland announced that a drone would be used to monitor the crowd. The prospect of a crowd of largely middle-aged women fighting off furries and drag queens drew the press to Glasgow, too. But the conflict didn't happen. The counter-demo was far smaller than trans activists had hoped. The carnival of confused youths dancing for rapists' rights had already lost.
The legion of women, angry at the selling out of their rights, has only just begun to march. Now the Scottish government needs to catch on or be trampled.
Jo Bartosch is a journalist campaigning for the rights of women and girls.
Picture by: Twitter / theneonrequiem .
To enquire about republishing spiked's content, a right to reply or to request a correction, please contact the managing editor, Viv Regan.