Our political police are a menace to free speech
The British police are now the armed wing of gender ideology.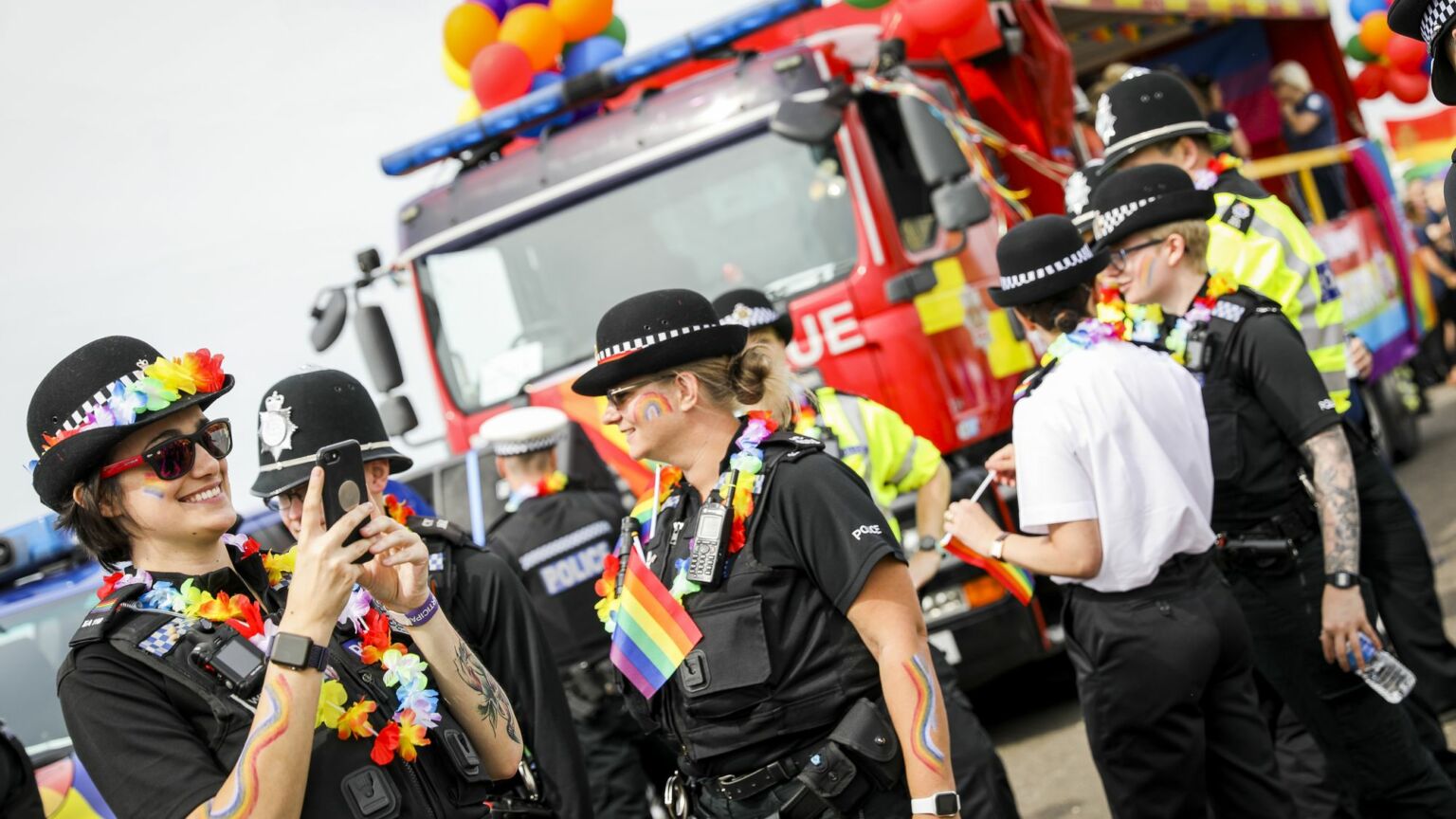 In a liberal democracy like Britain, where all are supposed to be equal before the law, the police are expected to be politically impartial. Yet, time and again, the police show themselves to be taking sides in the culture war.
You can see this most clearly in the ubiquity of the rainbow Pride symbol. It now appears on police uniforms, buildings and even squad cars. Many individual officers no doubt see these symbols as innocuous – as simply a means of showing support for LGBT equality. But the rainbow symbol is not neutral. To gender-critical feminists, for instance, it represents an ideology that undermines women's rights, child safeguarding and the concept of biological sex. The rainbow badge is a statement of political affiliation.
This matters. The public sector is meant to serve all British citizens equally, including those who disagree with the ideology symbolised by the Pride flag. When police fly the Pride flag, gender-critical Brits may well fear that they will not be treated fairly.
And they have good reason to fear this. In January, women's rights campaigner Jennifer Swayne was arrested by Gwent Police for putting up stickers reading 'No men in women's prisons'. South Wales Police removed lesbian campaigners from Pride Cymru in August for carrying banners stating 'Lesbians don't like penises'. A month earlier, Hampshire Police arrested army veteran Darren Brady after he shared a meme mocking the Progress Pride flag. And last month, Sussex Police threatened to charge women's rights campaigner Kellie-Jay Keen with a hate-crime offence for expressing gender-critical views. These incidents form part of a growing trend. The police, while proudly touting their rainbow flags, are criminalising those who don't support the ideology they represent.
All of this has a profound effect on freedom of expression. When access to just treatment by law enforcement appears to depend on holding the 'correct' views, there is a chilling effect on speech. If we genuinely want to address the issues raised by the gender-identity debate, then people on both sides must be able to speak freely, without fearing interference from the police.
The public is losing patience with the police's partisanship. In Wales, many parents are unhappy at the Welsh government's new Relationship and Sex Education (RSE) curriculum, introduced in September and now mandatory for all primary-school children. Parents fear that the curriculum has become too focused on gender identity and are calling for greater transparency in what is being taught. Last month, parents protested outside the headquarters of BBC Wales in Cardiff for what they see as its lack of coverage of these issues.
Officers from South Wales Police were in attendance and some of them were wearing Pride symbols. Footage shows an officer, whose colleague is wearing a rainbow badge, being confronted by a protester. 'Is [a rainbow badge] politically neutral?', the protester asks. 'You've got a protest here and [an officer] is wearing something supporting what these guys are protesting against', he says. The officer replies: 'According to the police… according to our bosses, it is.' Later, the same officer attempts to negotiate a compromise, by asking his colleague to remove the badge for the duration of the protest. But the officer refuses.
What this incident, like so many others, reveals is just how ingrained the Pride ideology has become. At every level of the force, including among the upper ranks, officers are either unaware of or indifferent to the political messages they are sending. This political policing should alarm us all.
Carrie Clark is a research officer for the Free Speech Union. Join the Free Speech Union here.
To enquire about republishing spiked's content, a right to reply or to request a correction, please contact the managing editor, Viv Regan.