How Partygate brought down Boris
This seemingly silly scandal exposed the ineptitude of the Tory Party.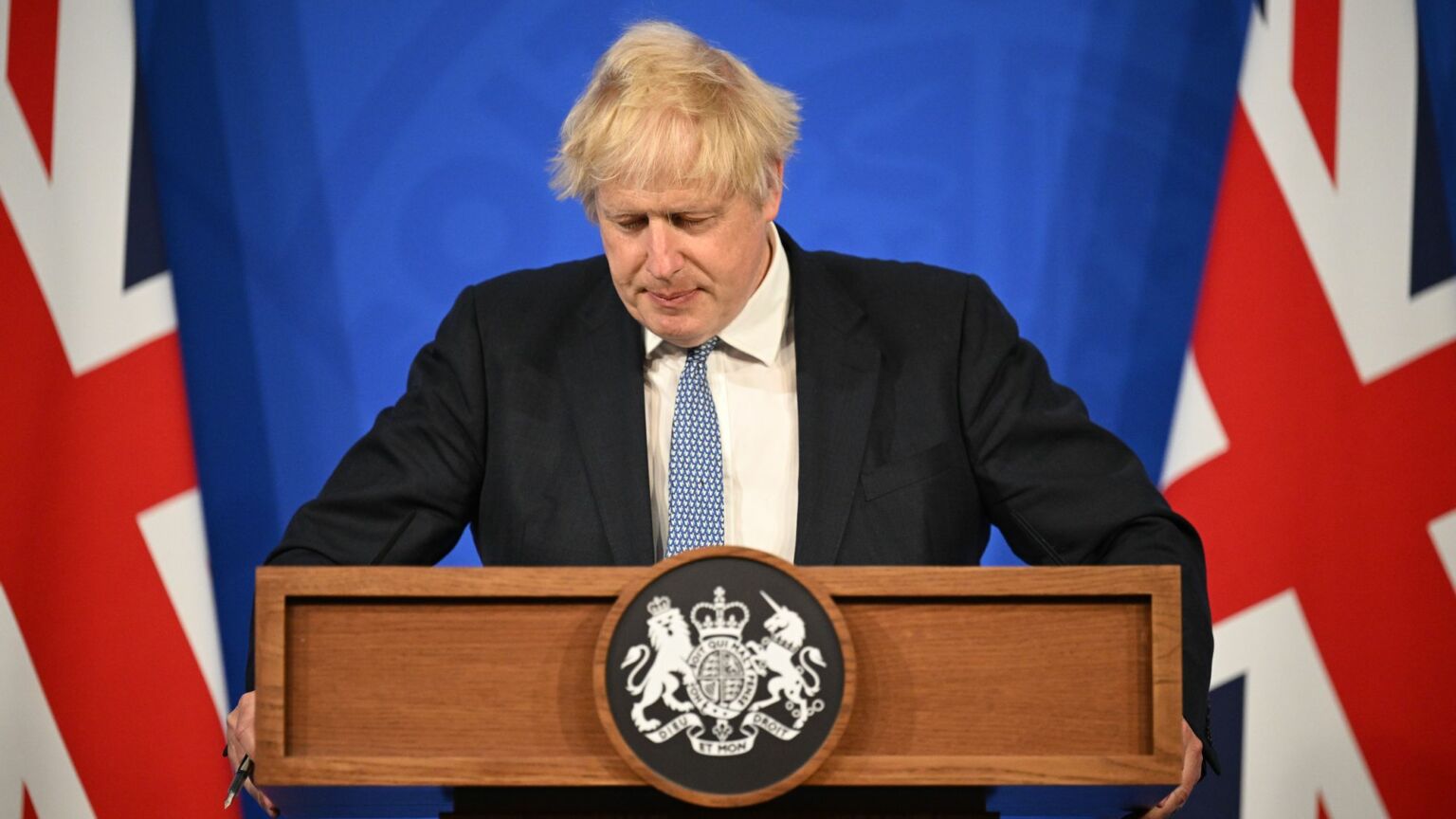 Happy Partygate Day, everyone. What might you be doing to celebrate the first anniversary of the scandal that transformed Britain's party politics?
Perhaps a themed gathering (obviously don't call it a party) with a 'suitcase of booze' in one corner of the room and a broken child's swing in another might be in order? Or maybe a recreation of that video of Allegra Stratton giggling about an alleged Downing Street get-together that 'wasn't socially distanced'. After all, it was the broadcast of that footage on ITV News' tea-time bulletin on 7 December last year that properly kicked off the whole furore.
'This is being recorded', Ms Stratton noted, during the offending clip. She was meant to be undergoing a dress rehearsal for her impending role as Downing Street anchor-woman at the daily televised briefings. They were going to be the big thing in the New Year. Naturally, they never happened.
Until the scandal of lockdown partying by Boris Johnson and his circle erupted, being Keir Starmer was no fun at all. Up to then, the Labour leader had been through false dawns where his party drew level in the polls with the Tories. But it always fell back again.
The old saying that oppositions don't win elections, it is governments that lose them, was proving little comfort. There was plenty going wrong in Whitehall and yet nothing seemed capable of pushing Labour into a commanding lead.
Attempts to whip up outrage about Boris Johnson's sloppy approach to matters of propriety had little impact. 'Wallpapergate' – the scandal surrounding fundraising for the refurbishment of the Downing Street flat – was a case in point. Johnson simply sailed through it and on to a strong set of local-election results, and that outrageous Hartlepool by-election victory over Labour in May 2021.
Then, in July, there was 'Ping-gate' – a short-lived attempt by Johnson to exempt himself from Covid-isolation measures that were wrecking the social and working arrangements of everybody else. For once, Johnson listened to cautious advice and backed off from that just in time.
Patersongate then followed in November 2021. This was Johnson's attempt to rewrite the entire book on parliamentary standards just to get his Brexiteer comrade Owen Paterson off the hook of a damning sleaze report. Even the blond bombshell himself admitted soon after that this was tantamount to driving the car into a ditch on a clear day. But still the polls failed to shift decisively against him, although Labour did move to level-pegging.
No, it took television footage of a gaggle of Downing Street staffers giggling about the flouting of the lockdown rules to turn voters against Johnson. Everyone else was expected to obey those rules. And millions had dutifully followed them to the letter. The broadcast of that footage was the moment Johnson's long history of exempting himself and his entourage from social norms became a front-rank political issue.
Suddenly, many people found themselves reflecting on the privations they had suffered during the pandemic, including heart-rending cases of people unable to visit dying relatives or not permitted to hug family members at funerals – with the queen at her husband's funeral being a case in point. They responded with stone-cold fury.
A man they had previously seen as breaking rules on their behalf – for example during the prorogation row of autumn 2019 – was now unveiled as having broken them for his own convenience and pleasure.
The Politico poll-of-polls series records that, within a fortnight of the Partygate story breaking, Labour was six points clear. Labour's lead rose to nine points by the middle of January. Johnson's personal ratings also took a dive, as more and more stories about boozy dos poured into the press and rose to the top of TV news bulletins.
In truth, the affair had merely landed the Tories with normal midterm polls for a governing party. But Tory MPs enjoyed a 'transactional' deal with Johnson. They had come to expect him to deliver permanent leads to compensate them for the cringe-factor they felt about his clownish ways or their ideological hostility towards the Brexit policy he had embodied.
The wider anti-Brexit establishment, including the broadcast media, finally had an effective stick with which to beat the hitherto all-conquering Johnson.
From the Labour Party's point of view, things could hardly have gone better. Rather than decisively moving against Johnson or taking a clear collective decision to keep him in post and tough the scandal out, Tory MPs went into headless-chicken mode. Some led the attacks on him, others defended him and many more fed rumours about the number of letters of no confidence going into Sir Graham Brady.
The initial Sue Gray report into Partygate almost brought him down at the end of January. Things were especially tough shortly afterwards when his adviser Munira Mirza walked out of Downing Street. She objected primarily to Johnson's jibe that Jimmy Savile had not been prosecuted during Starmer's time as director of public prosecutions. A couple of hours after her departure, Johnson's golden-boy chancellor, a chap by the name of Rishi Sunak, told journalists, 'I wouldn't have said it', when asked about the smear on Starmer.
Then along came an 'event' that for a while saved Johnson's neck. Vladimir Putin invaded Ukraine and Johnson, alone among European leaders, knew what needed to be done. Indeed, in the weeks leading up to the invasion he had funnelled weapons to the Ukrainians. And after the invasion, he led a clear-sighted Western condemnation of the thug in the Kremlin and coordinated more support for Kyiv.
Still, Partygate rumbled on, leading numerous further TV news bulletins. And Starmer kept punching the bruise. Throughout the spring and early summer, Labour was six or seven points up in the polls. But following Johnson's narrowly won confidence vote, called by his own MPs in early June, the average gap began to widen again, though never to more than 10 points. Then came the announcement on 7 July of his impending resignation after a new mutiny against him by Tory MPs.
The thing that brought him down in the end – what historians will term the proximate cause – was Johnson's handling of yet another scandal, 'Pinchergate'. Downing Street was less than wholly honest about what Johnson had known about deputy chief whip Chris Pincher's predilection for making drunken passes at young men. And it was slow to remove the whip from the scandal-hit MP when new allegations emerged.
As one hitherto loyal Johnsonite MP said to me at the time: 'It's the final straw. Going into the newsagents in my constituency and seeing yet another Tory sleaze scandal on the front pages with yet more revelations of Downing Street not being truthful has caused something to snap. I'm done.'
So it turns out is the Conservative Party. Under Liz Truss, Labour's lead topped out at 30 points. Under Sunak it has settled at just above 20 points. Starmer is clearly far more comfortable facing Rishi Rich than he ever was when up against the giant personality of Johnson.
Without the nation having undergone such an emotive experience as Covid, hard on the heels of the bitter struggle for Brexit, Johnson might well have got away with his merry slapdashery. But that is no excuse. Ultimately, he is the one who so rapidly burned through the vast stocks of political capital that came with his landslide 2019 General Election win.
As the Eton College teacher Martin Hammond once noted: 'Boris… honestly believes that it is churlish of us not to regard him as an exception, one who should be free of the network of obligation which binds everyone else.'
Some 40 years later, the churls finally got their man.
Patrick O'Flynn is a former MEP.
To enquire about republishing spiked's content, a right to reply or to request a correction, please contact the managing editor, Viv Regan.