A crusade too far in Qatar
The smart set is only prepared to defend some football fans' self-expression.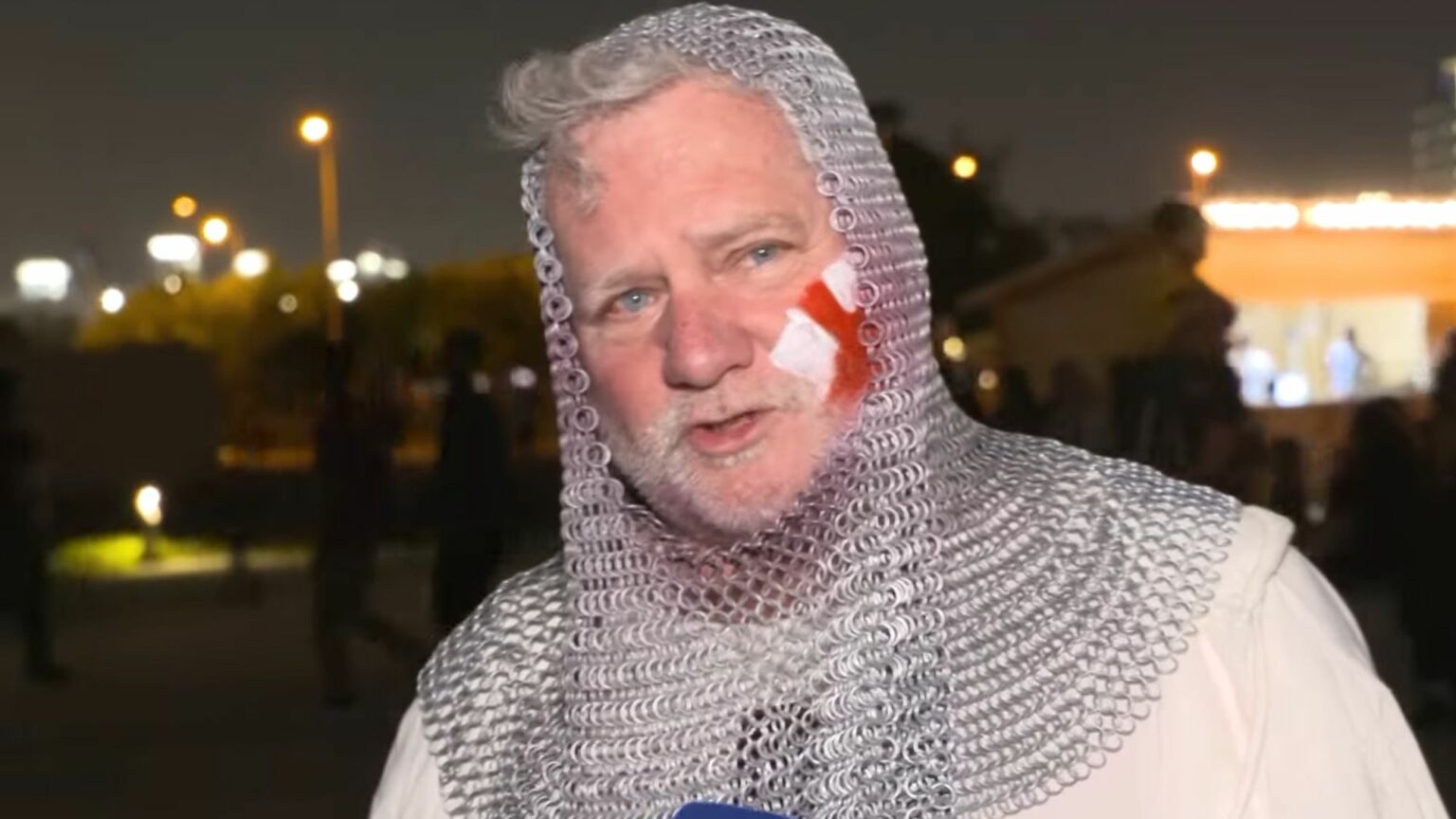 Last month, UK foreign secretary James Cleverly advised LGBT fans travelling to the Qatar World Cup to be 'respectful of the host nation', given its rather intolerant approach to gay rights. Tone down the camp, was essentially the message.
Politicians and pundits responded with fury. 'Outrageous' and 'shockingly tone deaf', was the assessment of Labour's Lucy Powell. Cleverly's comments 'diminish our entire society', said Layla Moran of the Lib Dems. Even No10 said that fans should not have to 'compromise who they are'.
Yet it seems our political and cultural elites are less keen on other forms of fan self-expression in Qatar.
On Monday, fans dressed as England's patron saint, St George, turned up to watch England vs Iran, only to be denied entry by stadium security. It turns out that donning Knights Templar-style crusading outfits – complete with tunics, shields, swords and chainmail – is deemed offensive in Qatar. The historical crusaders took land and holy sites previously under Islamic control during the 11th, 12th and 13th centuries.
The very same people who were slamming Cleverly for telling LGBT fans to dress down out of 'respect' for the host nation suddenly changed their tune when it came to dressing up as St George. 'Fans should familiarise themselves with local customs', said a spokesman for Kick It Out, the leading football anti-racism organisation.
Others went further, almost siding with the Qataris. 'What did they expect to happen?', asked Joe, despairing of the fancy-dress knights. It is 'an incredibly insensitive thing to do', said Lad Bible. 'Frankly', it intoned, 'if you are going to turn up to a World Cup game dressed like this then you should at least be aware of the historical context'. Which is a rather more earnest response from Lad Bible than one might have expected.
'I think it's naivety rather than anything intentional', said Ashley Brown of the Football Supporters Association, striking a relatively generous tone. 'They're dressing as St George, the patron saint, but perhaps they don't really understand the implication of what they're wearing.' Not exactly the most forceful defence of supporters there, from the Football Supporters Association.
Once again, the Qatar World Cup is exposing the hypocrisy of the right-on set. Five minutes ago, these people were condemning Cleverly for telling LGBT fans to be respectful of the host nation. You be you, they countered. Now that some England fans have dressed up as St George, they've performed a spectacular volte-face. Many have gone further than Cleverly, by condemning rather than just warning fans.
It's madness. One minute, Qatar is an ultraconservative hellhole whose laws should be ignored. The next it is a proud statelet whose history and customs must be respected. It seems that our elites support fans' self-expression, but only if it's woke.
Laurie Wastell is an intern at spiked.
Picture by: YouTube / TalkTV.
To enquire about republishing spiked's content, a right to reply or to request a correction, please contact the managing editor, Viv Regan.