Why is Eventbrite banning gender-critical women?
Now Big Tech is stopping women from organising women's rights meetings.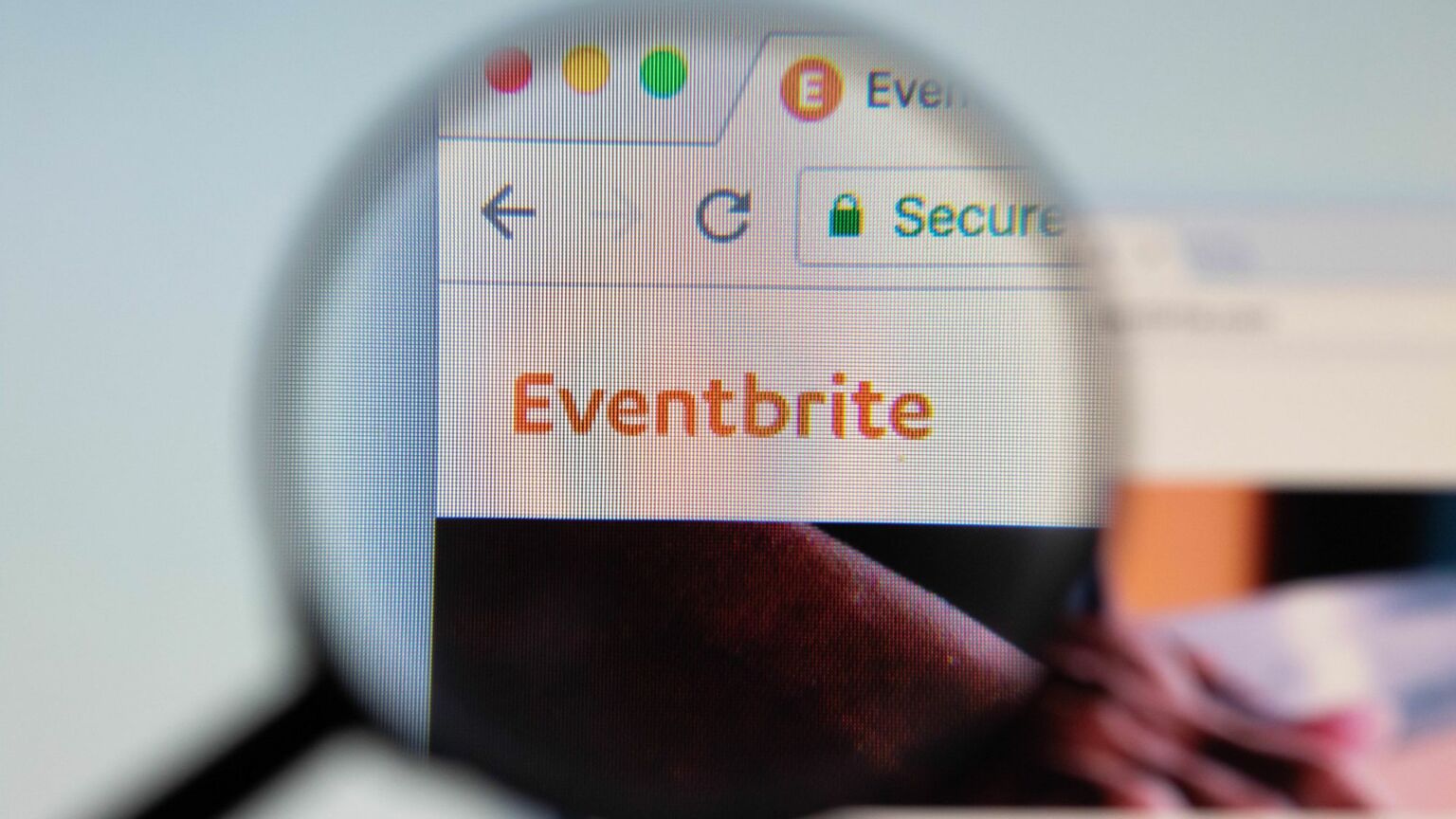 Last month, I organised a launch party for a book I co-edited with Al Peters, titled Transpositions: A Personal Journey Into Gender Criticism. It is a collection of narratives from those who decided to speak up in the sex-vs-gender debate. We feel it is important to have a physical artefect to keep a historical record of the reactions to our current moment, which I believe represents an unprecedented and rapid slide into authoritarianism.
I organised an event for December and sold tickets via the US ticketing service Eventbrite. At the end of October, I was surprised to receive a terse email from Eventbrite to say my event had been summarily pulled from the site for breaching its 'community guidelines'. These guidelines prohibit promotion of 'hateful or dangerous' events that 'discriminate' or encourage violence.
Neither the event nor my book is 'hateful' and 'dangerous' by any rational definition of those words. All I have done is offend against the quasi-religious belief that any man may self-declare he is a woman. Any objection to this claim is usually dealt with as immediately and as savagely as any religious fundamentalist deals with apostasy.
I immediately objected. One of Eventbrite's lawyers 'reached out' to me via Zoom on 3 November. I was initially reassured that she took this seriously, offering a promise to consult with UK lawyers and carry out a review. Last Friday, a very short email informed my solicitors that the event would not be reinstated.
This did not come as an enormous shock, as by then Eventbrite had pulled two other UK events on the same grounds. One was organised by Woman's Place UK to promote a book written by Karen Ingala Smith about the importance of single-sex spaces for women. The other was a screening of a documentary, entitled Adult Human Female, organised by a Nottingham-based feminist group.
Eventbrite's decision to deny its services to gender-critical women represents something extremely serious, with ramifications for us all. Our parliament and courts determine our laws, not foreign multinationals, which have no democratic mandate or accountability. And fundamental to UK law is Article 10 of the European Convention on Human Rights – that is, the right to freedom of expression, which grants enhanced protection to political speech – and the prohibition on discrimination under the Equality Act 2010.
Providers of goods and services are not allowed to refuse provision on the basis that an individual has a protected characteristic. It is irksome to use the language of 'belief' to describe what is actually a fact – that biological sex is fixed at conception, immutable thereafter, and has particular consequences throughout life. But I can only claim the protection of the Equality Act for my 'gender-critical belief', which was confirmed as a legally protected belief thanks to Maya Forstater's employment-tribunal appeal in June 2021.
I appreciate many firms are not yet up to speed on the Equality Act. On 25 October, the Scottish Event Campus Limited learned the hard and expensive way that it wasn't permitted to discriminate against the Billy Graham Evangelistic Association (BGEA) for being Christians. The Glasgow venue was due to host American Christian evangelist Franklin Graham in 2020, but scrapped the event under pressure from the local council. The court awarded BGEA damages of just over £97,000.
Looming over the sovereign will of parliament and the decisions of our courts remains the spectre of Big Tech. Social-media platforms, search engines, payment processors and now even event-ticketing platforms have taken it upon themselves to tell us what we can and cannot say.
It seems we are in the eye of a toxic storm. Prohibitions on so-called hate speech have become the norm in most European countries. The UK government and the EU are pushing social-media firms to take tighter control over 'problematic' speech online, under threat of severe regulatory restriction. Meanwhile, the term 'hate' has become unmoored from any rational definition. It now seems to mean 'saying something I don't like'. Saying that sex is real and it matters appears to have become one of the most hateful and disgusting things anyone can assert. Why, I do not know.
Lech Wałęsa said, in A Way of Hope in 1987, that without freedom of speech 'human life becomes meaningless; and, once the truth of this hit me, it became part of my whole way of thinking'. Over the centuries of human history, there has been a constant push and pull between those who wish to speak and those who wish to silence. We are currently in a time when the silencers are in the ascendant. A fragile minority refuses to accept that 'feeling offended' is an inevitable and important part of life. And so it is trying to suppress the speech, thoughts, and actions of everyone else. This has alarming implications not just for individuals who are denied goods, services or employment, but also for innovation and prosperity for all.
The burning question is to what extent we will continue to accept being held hostage by an unreasonable and unreasoning minority. This is a particularly urgent question when it involves foreign multinationals, which operate virtual monopolies and seek to compel us to act according to their rules and codes. If this is to be our reality, we need to take steps now to protect ourselves. We have already seen the impact of PayPal's decision to summarily withdraw financial services from the Free Speech Union and others. Happily, this decision was later reversed, but it revealed just how much power these companies have over us.
I met with my legal team on Monday this week. I believe I have a strong case. My solicitors will now send a letter before action to Eventbrite and will allow 28 days for a response. This attempt by Big Tech to silence women is wrong and I hope you will join me to fight it.
Sarah Phillimore is a barrister and member of Fair Cop. You can donate to her crowdfunder here.
Picture by Marco Verch, published under a creative-commons licence.
To enquire about republishing spiked's content, a right to reply or to request a correction, please contact the managing editor, Viv Regan.