The demonisation of Volodymyr Zelensky
The conspiracy theories swirling around him are getting out of control.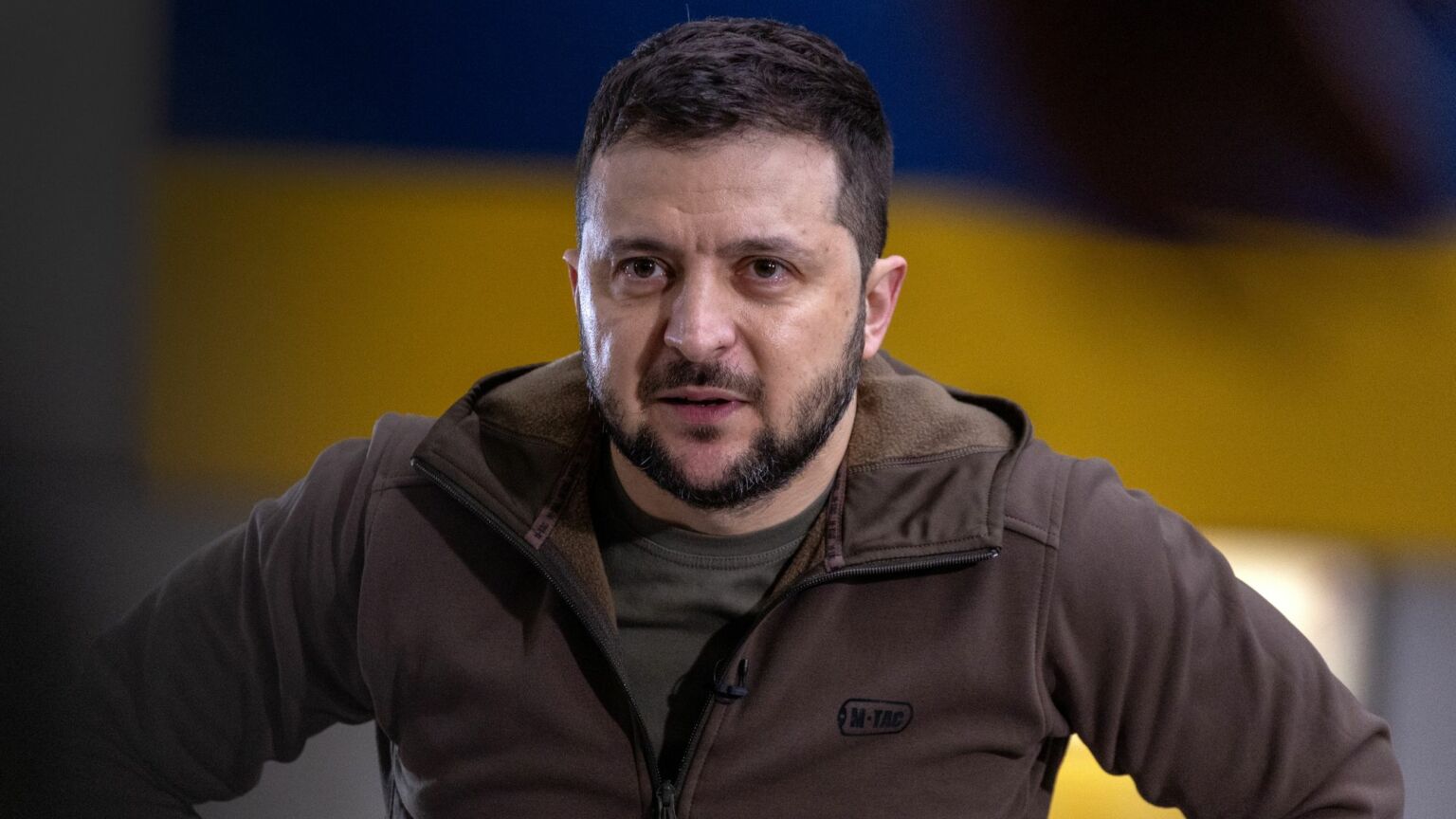 In the immediate aftermath of Russia's invasion of Ukraine, the US offered Ukrainian president Volodymyr Zelensky the chance to evacuate. But Zelensky declined. 'The fight is here', he said. 'I need ammunition, not a ride.'
Zelensky's defiant statement set the tone for his remarkable leadership over these past nine months. In the face of Russian aggression, he has stood as tall as he expects his people to. He has rallied Ukrainians in their hour of need. He has given voice to their desire for national freedom. 'The most terrible steel', he said on Ukrainian independence day this August, 'is not within missiles, aircrafts and tanks but in shackles'.
Yet for those in the West wanting Ukraine to give in to Russian aggression, to surrender territory and sovereignty to an invading force, to accept the 'shackles', Zelensky's leadership appears as a problem. And so those peddling this 'anti-war' line have taken to demonising him, often in an absurd fashion. They have presented his determination to resist foreign aggression as 'escalationary'. They have repackaged his defiance as a provocation to Russia.
Their reaction to Zelensky's response to the missile strike in Poland last Tuesday is a case in point. Zelensky swiftly attributed the strike to Russia, calling it an attack on NATO's 'collective security' and urging Ukraine's international allies to 'act'. Despite the US, NATO and Poland – not to mention Russia itself – then claiming that the missile was likely fired from Ukraine by mistake, Zelensky doubled down on his original claim. 'I have no doubt that it was not our missile', he said, before adding the largely unreported caveat: 'If it was the use of our air defence, then I want that evidence.'
This was potentially a misstep on Zelensky's part, but an eminently understandable one. Russia has been subjecting Ukraine's civilian infrastructure to a devastating missile and drone barrage for weeks, depriving millions of electricity and water. Zelensky's response was that of a leader whose nation is under sustained aerial bombardment. The words of a leader under immense pressure, and trying to rally international help for a battered populace.
But for too many on the Western 'anti-war' left and right, Zelensky's statement was much more sinister than that. They took it as further evidence of what they think they have always known about Zelensky – that he is a mendacious, corrupt and desperate charlatan. And that he is all too happy to lead Western nations into World War 3.
'If we needed more proof that Kyiv is trying to embroil the US and NATO in direct, possibly nuclear war, with Russia, it's these reckless, false claims by [Zelensky]', said one leftist. Another claimed that 'Ukraine officials have been lobbying for World War 3 since February'. Meanwhile, one prominent right-winger was less diplomatic, calling Zelensky 'a piece of shit', who is 'robbing the American people and attempting to start World War 3'.
Not that they needed Zelensky's recent comments to come to that conclusion. After all, they have been desperately demonising the Ukrainian president, almost from the very moment he emerged as the international face of the Ukrainian resistance.
Conspiracy theories now abound about Zelensky. On the fringes of the web, he is painted as little more than a puppet of oligarch Igor Kolomoisky – Kolomoisky's TV channel, 1+1, broadcast Servant of the People, a comedy starring Zelensky as an unlikely Ukrainian president. There is a particular focus among Zelensky's critics on a range of offshore companies created by Zelensky and his associates from 2012 onwards, the year he entered into a relationship with Kolomoisky. The implication being that Zelensky is in fact part of some vast money-laundering operation. Follow the money, etc.
What tends to be ignored is the extent to which relations between Zelensky and the scandal-hit Kolomoisky have soured in recent years. Indeed, Zelensky's government has since issued legislation against Kolomoisky, in an attempt to stop him from re-acquiring nationalised assets that were taken from him by Zelensky's predecessor, Petro Poroshenko. But such trifling details don't seem to matter. They have certainly done nothing to dent the determination to tarnish Zelensky.
Others have tried to suggest that the whole war in Ukraine is little more than a cash-making exercise for Zelensky and his supposedly shadowy backers. The US pumps in dollars in aid to Ukraine, Zelensky syphons some of it off, and invests and launders it, according to some of the more lurid conspiracy theories. This week, some have even tried to suggest that Zelensky invested billions of dollars of aid in the cryptocurrency tech scam, FTX, which FTX then ferried over to US Democrats in donations.
Others, of course, just seem content to see Zelensky as some sort of warmongering salesman for the Western military industrial complex. An agent of the forever wars.
This is the war in Ukraine through the looking glass. These smears and conspiracy theories invert reality. The leader of the nation trying to repel an invasion appears as the warmonger. The man whose people are enduring day after day of missile strikes is treated as the aggressor.
Of course, Western 'anti-war' types want to delegitimise not just Zelensky, but also the Ukrainian resistance itself. They want to strip the Ukrainian resistance of its political content and its moral meaning. They want to pretend it is some corrupt sham, rather than a popular, courageous defence of nationhood. They want to undermine support for Ukraine by demonising its leader.
No doubt the beatification of Zelensky by some Western leaders can be borderline creepy, at times. Some act as if He is now walking among us. Many desperate politicians long to be seen with Zelensky in the hope that some of his divine lustre rubs off on them. That short video this week of British PM Rishi Sunak and his Canadian counterpart Justin Trudeau ostentatiously FaceTiming Zelensky is a case in point.
But however cringeworthy some of the hero worship of Zelensky can be, it is still preferable to the shabby attempts to demonise him. For this conspiratorial, cynical drivel serves no other purpose than to erode support for the cause of Ukraine.
Zelensky is not a saint. But nor is he a sinner. He is a leader who has risen to the occasion – who has rallied his fellow citizens to put their lives on the line to protect their homeland. The idea that he has done so at the bidding of an oligarch or NATO or FTX is ridiculous. Those peddling such theories just want to undermine the cause that Zelensky represents – the cause of Ukraine's freedom.
Tim Black is a spiked columnist.
To enquire about republishing spiked's content, a right to reply or to request a correction, please contact the managing editor, Viv Regan.