Who are you calling an election denier?
The Democrats do not have the moral high ground when it comes to respecting the will of the people.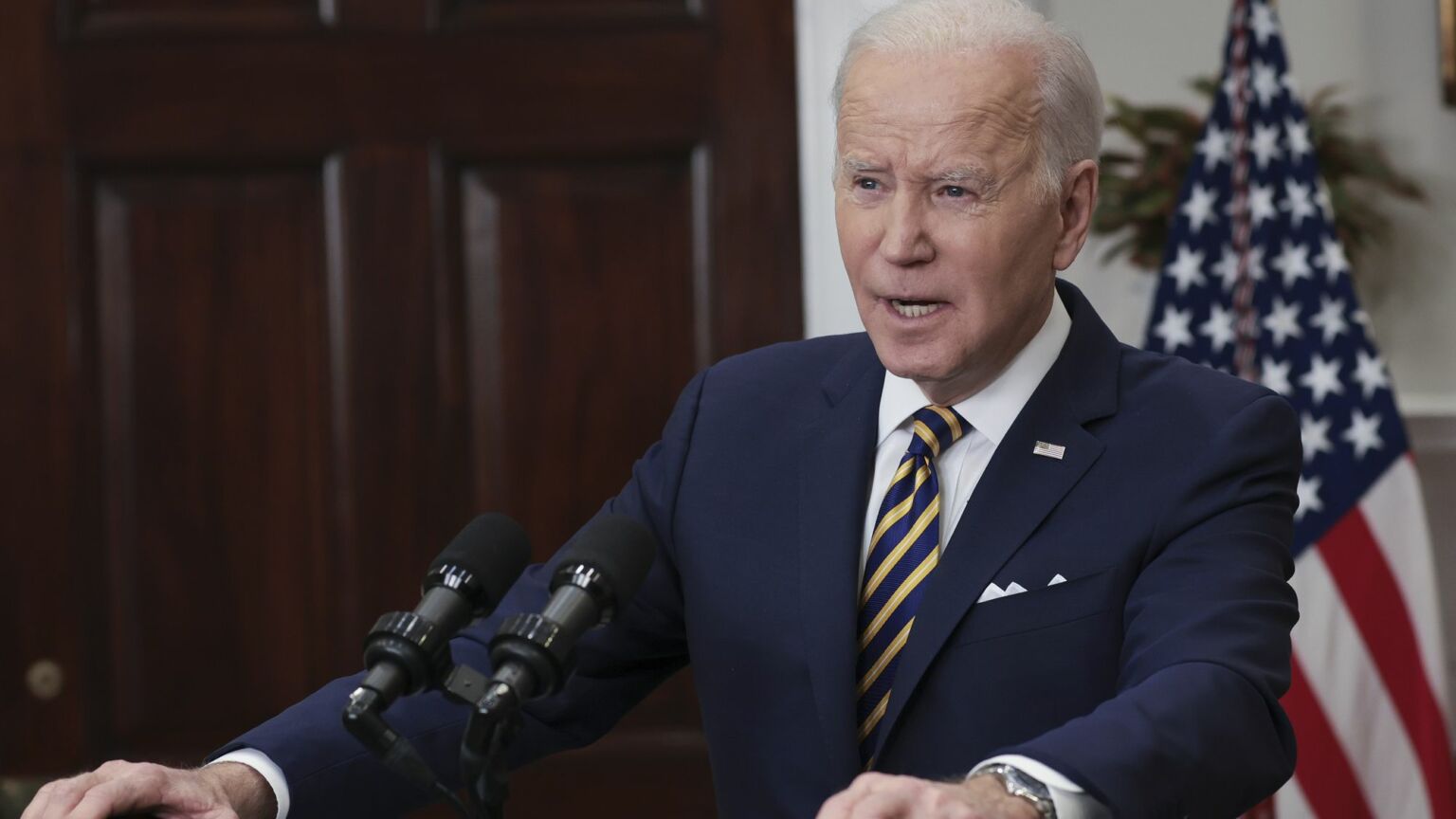 America – and the world – just dodged a bullet, if the Democrats are to be believed.
In the run-up to the Midterms this week, the elections were being portrayed as potentially cataclysmic. 'In our bones, we know democracy is at risk', said President Joe Biden in a speech last week in Washington, DC.
Michael Beschloss, Biden's favourite historian, went even further. What is 'at stake tonight and this week', he told MSNBC, is 'whether we will be a democracy in the future, whether our children will be arrested and conceivably killed'.
Such was the threat apparently posed by the Republicans, under the 'semi-fascist' leadership of Donald Trump, that Beschloss said he couldn't be sure that historians 50 years hence would even be 'allowed to write in this country' – if 'free publishing houses and a free press' would even still exist.
In the end, what was talked up as a Republican 'red wave' turned out to be more of a trickle, a leak, a puddle – pick your own damp, disappointed metaphor. Gains in the House were much more modest than expected and, at the time of writing, control of the Senate remains on a knife edge.
And so American citizens and fans of human civilisation everywhere can apparently breathe a sigh of relief. So relieved was Biden that the barbarians had not managed to storm the gates, he declared Tuesday a 'good day' for democracy. He now seems to see the electoral success of his party as bound up with the fate of the American experiment itself.
Biden is no stranger to absurd political hyperbole. In 2012, the then vice-president told an audience in North Carolina that if Republican Mitt Romney succeeded in taking the White House he would 'put y'all back in chains'.
But at least that was a gaffe, or so it was claimed at the time. Biden's fear-mongering about Trumpist Republicans, on the other hand, has been tightly scripted, completely intentional, and gradually dialling up for months.
Remember that bizarre speech in Philadelphia in September – where he portrayed the 'MAGA Republicans' as a proto-fascist threat to democracy, all while in front of a somewhat misjudged blood-red Nuremberg-esque backdrop?
The logic, such as it is, goes something like this: because Donald Trump and his acolytes refused to accept the 2020 presidential election result, pushing batshit conspiracy theories about Venezuelan voting machines swinging it for Biden, Republicans – particularly the 'MAGA' variety – now pose a potentially fatal threat to democracy.
From this perspective, Trump's attempt to steal re-election was not a cockamamie plan that failed, but a serious brush with fascism. Meanwhile, the 'January 6' storming of the Capitol by a few thousand of Trump's more harebrained supporters has been recast in the elite imagination as an 'armed insurrection', rather than what it was – a bizarre, unhinged and at times carnivalesque riot that got seriously out of hand.
The purported threat to democracy coloured much of the coverage of the Midterms. There was constant talk of the 300 'election deniers' – those Republican candidates who either believe Trump's nonsense about a stolen election or are just pretending to for perceived political gain – competing across various races. Biden also warned darkly in his speech last week of the prospects for 'voter intimidation or political violence' at the polls.
That all came to nought, of course, and so-called election deniers were humbled in various key states.
All of this shouldn't have come as much of a surprise. For all the fear and loathing in American politics at the moment, the US is not teetering on the brink of a neo-Nazi takeover.
Plus, despite their intense anger with the Biden administration, voters are clearly put off by some of the more conspiratorial Republican candidates. It turns out that demanding someone's vote while casting doubt on the whole voting process isn't always a winning formula.
But the mixed results were not so much a vindication of the Democrats' electoral strategy as they were a rejection of the competing versions of the politics of fear being offered up by the Democratic elites and the Trumpist fringe alike.
Both of which were effectively saying, 'vote for us or democracy gets it'. In the end, it was inflation and abortion rights, the bread-and-butter issues in this campaign, that came first and second respectively in exit polls about voters' top concerns.
None of this is to say that American democracy is in good shape, however. A big chunk of Americans are still concerned about the future of democracy, albeit for wildly different reasons, depending on their partisan bent. And the Democrats bear far more of the blame for this than their pious rhetoric about defending democracy would have us believe.
While an alarming 61 per cent of Republican voters believe that Biden didn't win the 2020 election legitimately, a whopping 72 per cent of Democratic voters believe that Trump didn't win the 2016 election legitimately, because of those dastardly Russians.
For all their condemnation of Trump and his outriders for the 'Stop the Steal' circus in 2020, Democratic elites continue to spout the now debunked conspiracy theory that Russian operatives and dodgy memes were wot won it for Trump in 2016.
Interestingly, though, it seems that Putin only interferes in elections that don't go to plan for the Democrats. Biden began stoking fears of Russian meddling in the Midterms more than a year ago, but we've heard nothing about it since the better-than-expected results for the Democrats started to roll in.
Beyond all the Russia guff, leading Democrats have also taken to casting doubt on election results by invoking the spectre of racism. Stacey Abrams, candidate for governor in Georgia and a rising Democratic Party star, never really conceded her 2018 loss to Republican Brian Kemp. She was saying her election was 'stolen' long before Trump was saying that about his. She has even taken to saying that she flat-out 'won' it.
Abrams has unconvincingly blamed 'racist' voter-suppression efforts on the part of Kemp for her 2018 loss, while admitting she can't 'empirically' prove any of this. Last year, she even branded a new Georgia voting law – which brought in additional ID requirements for absentee ballots, among other measures – as 'racist' and 'a redux of Jim Crow in a suit and tie'.
She lost to Kemp again this week by a much wider margin, following record-breaking turnout in early voting – something the voting law actually expanded and made easier. So much for voter suppression. And for all of Abrams' claims about Kemp keeping black people away from the polls, one of the things that reportedly did it for her campaign was the relatively low enthusiasm for her among black men.
While Trump has rightly been taken to task for spreading doubt in the electoral process, the same charge can easily be laid at the door of leading Democrats – not least for this kind of wild overreaction to voter-ID laws in Republican states.
Small-d democrats can disagree in good faith about the merits or downsides of things like voter-ID, conditions on absentee ballots and the partisan considerations that may or may not drive these bills. What they clearly aren't, however, is Jim Crow 2.0, as Abrams and credulous media outlets have insisted.
Joe Biden went so far as to imply that new red-state voting laws were even worse than the dark days of racial segregation. He memorably said they made 'Jim Crow look like Jim Eagle', whatever that was supposed to mean.
When calling the electoral process into question doesn't do it, Democrats can always fall back on calling the electorate into question. Rather than smear dissenting voters as a 'basket of deplorables', as Hillary Clinton famously did in 2016, the more euphemistic way Democrats do this now is by saying poor, easily led voters have been duped by 'misinformation'.
Last week, when the polls weren't looking good for Abrams, she decided to get her excuses in early. 'Unfortunately, this year black men have been a very targeted population for misinformation', she told an interviewer, effectively labelling black men as too dim to take part in the democratic process.
There used to be a name for people who said that kind of thing.
Anyway, it's worth noting that 'misinformation' now seems to mean 'things that are electorally damaging to the Democrats'. That's certainly how it panned out in the 2020 election, where the security services reportedly leant on social-media firms to censor the New York Post's Hunter Biden laptop exposé, falsely believing it to be of Russian origin – an outrageous interference in a US election that Democrats seem strangely unbothered by.
All of this makes Joe Biden's pious words about democracy more than a little hard to swallow. Again, Donald Trump and his outriders should – and have been – held to account for their thankfully botched attempt to overturn the 2020 election. But if we're talking about election deniers, they are hardly confined to the Trumpist Republican Party.
With the Democrats, the sowing of doubt in the electoral process and the conspiracy theories about 'stolen' elections may appear more refined, more high-status, the sort of blather that would pass the Martha's Vineyard dinner-party test without anyone spitting out their Chablis – but that doesn't make them any less damaging for public trust in democracy.
Arguably, all of this is more damaging – because much of the establishment, from the American security services to the corporate media, supports this 'respectable' brand of election denial.
Democrats do not have the moral high ground here, even if they are still looking down on everyone else.
Tom Slater is editor of spiked. Follow him on Twitter: @Tom_Slater_
To enquire about republishing spiked's content, a right to reply or to request a correction, please contact the managing editor, Viv Regan.