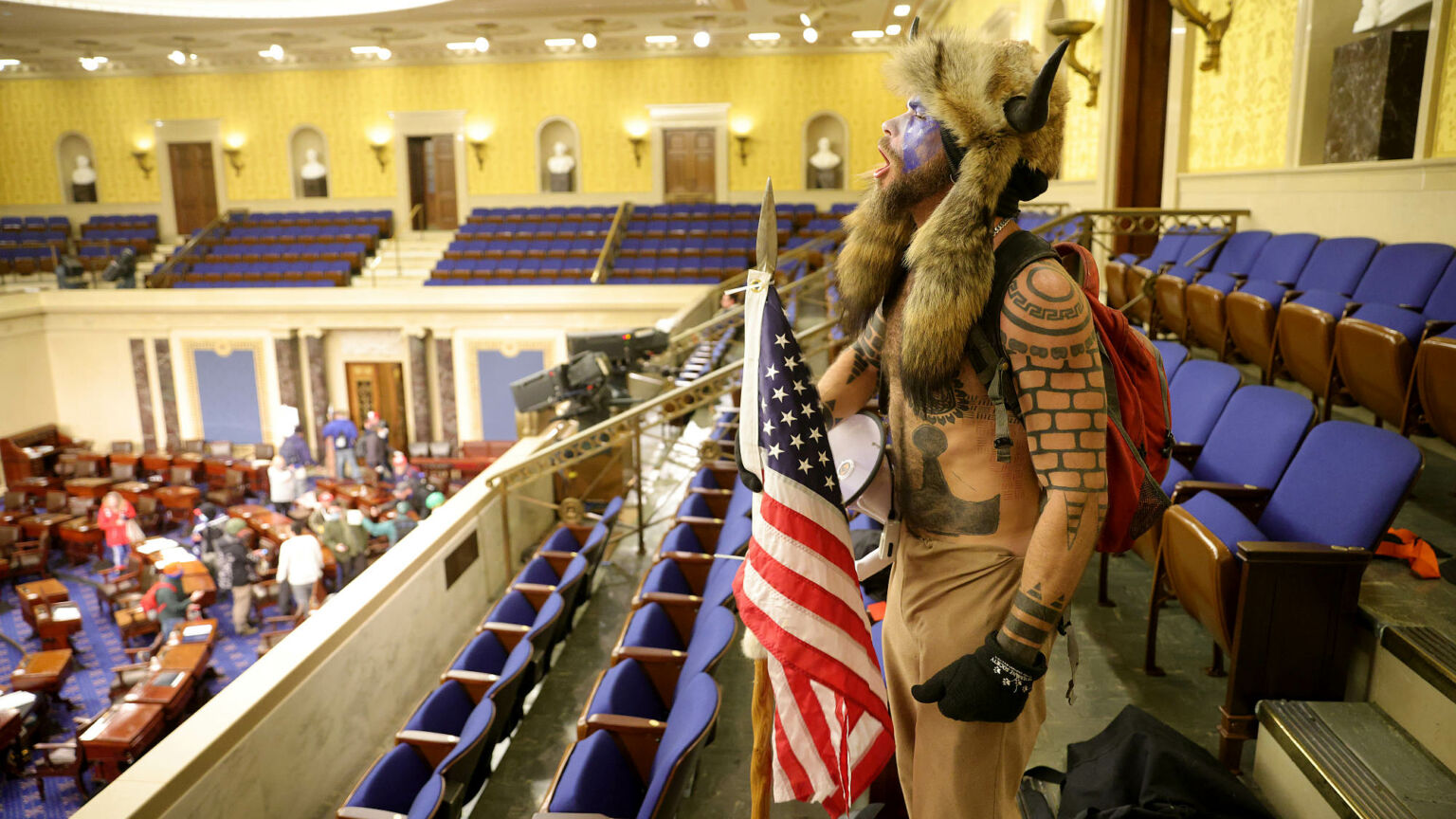 The Capitol riot was not an attempted coup
The 'January 6' hearings are a partisan attempt to bolster a floundering Joe Biden.
The 'January 6' hearings have been a literal made-for-TV affair, including one prime-time session produced by famous former television boss James Goldston. They have dominated US mainstream media coverage during mass shooting-free weekdays for the past few weeks.
As is usual during the current American political moment, many national media and social-media takes on the hearings have verged on the apocalyptic. Following revelations by former White House aide Cassidy Hutchinson that the former president wanted to accompany his (at that point mostly peaceful) followers to the Capitol building, and that some people in the pro-Trump crowd may have possessed personal firearms, anti-gun activist David Hogg described the events of 6 January, 2021, as an 'armed insurrection'. The Hoggster went on to say that there is 'an overwhelming amount of evidence' that Trump planned to 'overthrow the government'.
Former GOP congressman Joe Walsh went even further, declaring after one hearing that: 'It was proven today that Donald Trump intended to lead an armed insurrection. He… wanted to take the Capitol, and he wanted to go to the Capitol with them to be installed again as king.' Intense stuff, and Walsh and Hogg were not alone. Hashtags and slogans ranging from the simple #CassidyHutchinson to 'We almost lost our country' flashed around Twitter and Facebook – sometimes trending – for days.
Did we Americans almost lose our country? Well, no. At this point, it seems worth re-capping what 'January 6' actually was – a big, embarrassing and moderately bloody riot. Only four people died at the Capitol that day and all were Trump supporters: unarmed female rioter Ashli Babbitt was shot by a Capitol cop; two rally participants were felled by heart failure; and one rioter died following an accidental drug overdose. Any higher cited death totals generally include the heroic officer Brian Sicknick – lost to a stroke on 7 January 2021 after fighting off rioters the day earlier – and law-enforcement officers who responded to the Capitol that day and committed suicide in the days and months afterward. One distinguished Capitol officer frequently described as a 'January 6' casualty, Billy Evans, was in fact killed by a devout Nation of Islam follower several months later.
All told, the actual 'January 6' riot was broken by law enforcement in two-to-three hours, after which the results of the 2020 election were formally certified. Without getting into a game of 'ours is bigger than yours', it is worth comparing 'January 6' with the bloody Black Lives Matter / Antifa riots (Minneapolis, Kenosha, Seattle / CHAZ, Atlanta, Chicago, Portland's 120 days of rage… etc) which ravaged the US for most of 2020. These killed perhaps 30 people, and caused at least $2 billion in recorded damages.
So, what about this latest wave of post-hearing takes on the riot: was it a 'Donald Trump coup attempt'? Well, again, no. Coups are almost invariably military in nature: the term by definition generally refers to the use of national or personal military forces by a defeated leader attempting to regain or retain power.
Even if we accept that a rabble of ageing civilian yahoos in buffalo head-dresses and Uncle Sam costumes could theoretically launch a coup, a very minimum requirement for it to qualify as a coup would be awareness of the alleged plot on the part of its leader. And, to date, literally no evidence has been presented that Trump knew beforehand of a planned riot.
What about an 'armed insurrection' that 'almost took the country?' Again, not quite. In fact, one of the most remarkable things about the violence at the Capitol, was how low-tech it all was in a country as well-armed as modern America. The argument that the rioters were heavily 'armed' seems to come from Hutchinson's claim that some weapons, whether legal or illegal, had been spotted in the initial Trump rally crowd of tens of thousands. However, almost literally no guns or other effective projectile weapons were seized during the fighting or found in the Capitol.
A lengthy article in the right-leaning Washington Examiner breaks down all of the weapons that were captured, or taken from arrestees. Some typical examples include 'tomahawk', 'shield', 'firecracker', 'chemical irritant' and 'metal sign'. One well-prepared arrestee boasted all of the following: 'snowboarding helmet, walking cane, master lock, [a] rope'. Even the left-leaning Politifact has apparently only been able to track down three Trumpers who brought actual guns to the fracas – and all of these seem to have been found 'on Capitol grounds' rather than inside the famous building itself. One amateur data analyst argues persuasively that, given rates of concealed-carry of firearms among American adults, there were fewer guns at the US Capitol on 6 January than would be present in almost any other similarly sized crowd of American adults.
And so on. Even leaving aside the debatable veracity of some of the other testimony to come out of a partisan hearing process – the image of a 74-year-old Trump trying to snatch the steering wheel of the presidential limo from a Secret Service agent comes to mind – nothing presented so far makes me seriously think America was ever in much danger. The US of 2022 is not, after all, governed in the same capture-the-flag fashion as Saxony in 1066. If conservative raiders had in fact occupied the Capitol for a full day, and injured 10-to-12 congressmen while doing so, they would not then actually govern the US. Instead, the National Guard and DC City Police would have broken some heads booting them out, and the election would have been certified on 7 or 8 January.
None of this, of course, means that Trump should escape scathing criticism and mockery for his 2020 behaviour. In fact, absurd claims about nearly successful 'coups' distract from the true shame at the end of the Trump presidency – the man's contention, over a period of weeks, that the election was 'stolen' from him. Quite frankly, there was never much evidence this was true, and it's probably not the sort of thing old varsity players like Nixon or Gore would have said out loud to a crowd even if it was. Simply put, there would have been no deadly 'January 6' riot had the president of the United States not given dozens of public speeches claiming that his office had been stolen from him.
But, as we go deeper, it is worth recalling that even this absurd behaviour did not occur in a bubble. While it is clearly not the case that voting machines were made and programmed to record two Democratic votes for every Republican one, it is indeed the case that the 2020 election was 'fortified' against Trump by all manner of Covid-19 voting protocols, behind-the-scenes alliances, loosening of certain rules, etc. We know this, in large part, because Time magazine openly said so.
It is also simply a fact that media outlets and social-media deliberately suppressed the story of Hunter Biden's laptop, which was full of content depicting the current president's adult son smoking crack cocaine, posing with high-end hookers and international business leaders, and very probably implicating his daddy, too. For weeks, anyone who shared the Hunter Biden laptop story, which was immediately and falsely labelled Russian propaganda, was banned from social media. Insanely, even the newspaper that broke the story, the New York Post, was locked out of major social accounts for several weeks.
Ugly stuff, on all sides. And it is hard not to see similar crude partisan motivations behind the prime-timing of the 'January 6' hearings right now. Uncle Joe Biden, by all appearances, is on track to be one of the all-time worst US presidents.
On his watch, US homicides have returned to the astonishing 20,000-per-year pace of the mid-1990s. Illegal immigration has hit near record highs. Inflation has reached such levels that the median price for gasoline, in the low-cost heartland state where I live, is about $5.49 per gallon. And both the president and his hand-selected vice-president, Kamala Harris, often seem barely able to communicate: among many other examples, the backing banner at a recent major Democratic event in Louisiana misspelled the name of the damn state.
Given all this, it has to be incredibly tempting for President Biden and his party to keep the one Republican that Biden might be able to beat in 2024 as prominent as possible. We shouldn't allow this, or at least shouldn't fall for it. The last thing we need at the next presidential election is a 2020 redux of the same two clowns facing off again.
Wilfred Reilly is a spiked columnist and the author of Taboo: 10 Facts You Can't Talk About, published by Regnery. Follow him on Twitter: @wil_da_beast630
To enquire about republishing spiked's content, a right to reply or to request a correction, please contact the managing editor, Viv Regan.