Why I will never use female pronouns for Eddie Izzard
You cannot compel me to say something I do not believe.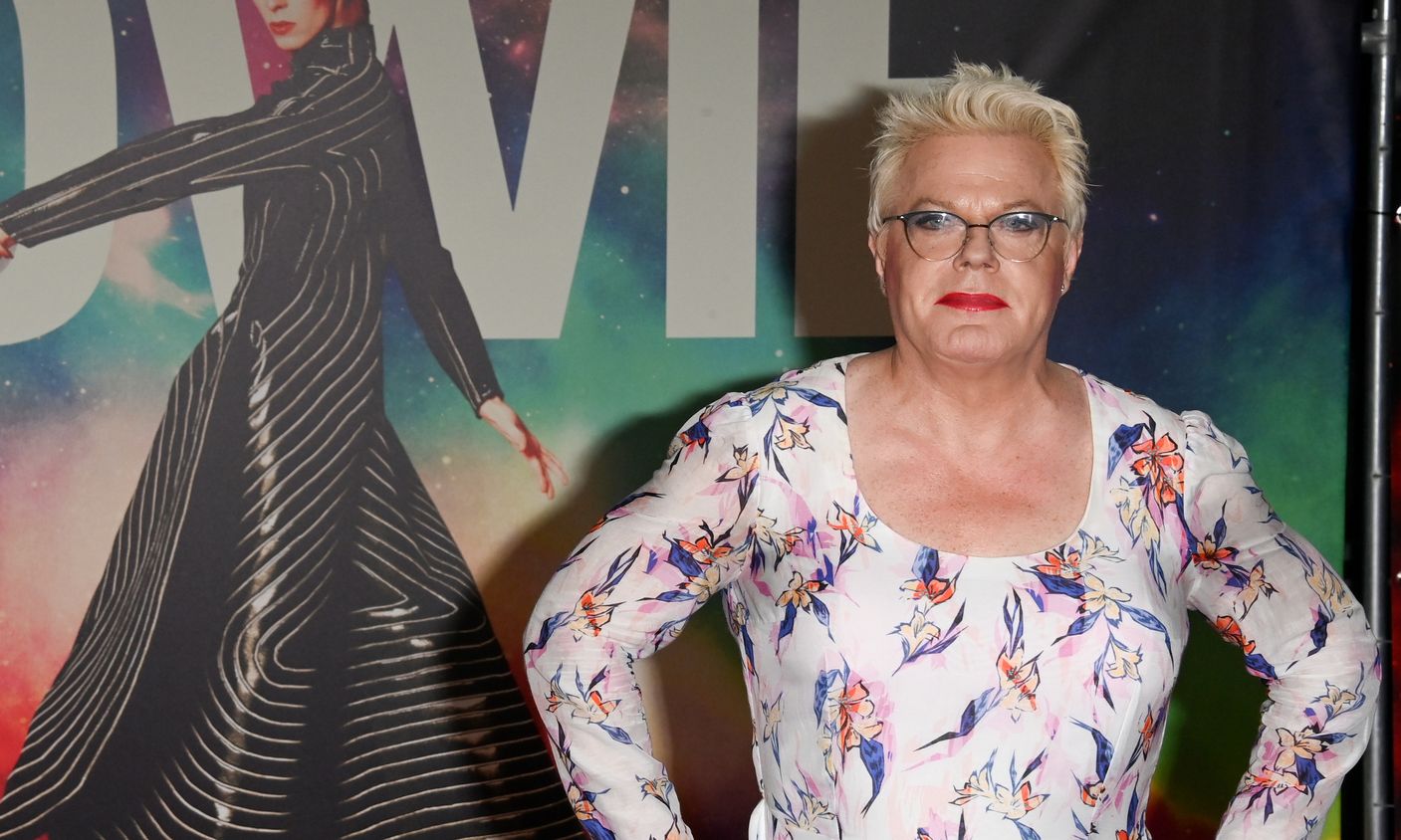 How long will it be before only men are allowed to call themselves women? That might sound preposterous but all the signs for such insanity are already here. Women are frequently referred to as 'birthing bodies' or even 'bleeding bodies', in the words of a notice at the University of Calgary that went viral last week. They're 'people who menstruate', 'people with cervixes', anything but women. Female-identifying blokes, on the other hand, like Eddie Izzard, are definitely women, and woe betide the filthy transphobe who says they aren't. 'I've been promoted to she, and it's a great honour', said Izzard in an interview with the Guardian last year. So Eddie's promoted to womanhood while actual women are demoted to people who bleed from a certain orifice. The misogyny of it all blows the mind.
I was thinking recently that the only time you see the word woman used in a proud, unabashed way these days is in reference to men. It's surreal. 'Trans women are women!', campaigners gleefully cry. These biological males are literal women, proud women, and you had better all bow down to that. 'You go, girl', the cultural elites cry every time a man says he's a woman. Yet when women proudly call themselves women, it's a hate crime. Kellie-Jay Keen is branded a bigot for turning the dictionary definition of a woman – 'adult human female' – into a political cry. One of her billboards with those words was taken down on the basis that it was 'transphobic'. The advertising company that removed this blasphemous utterance of the w-word said it had been 'unaware of the motive' behind it. The motive was women celebrating being women. But that's not allowed now. Only men are allowed to be proud of their womanhood.
When the word woman is still used to refer to actual women, it's done in a shame-faced, caveated way. So the NHS invites 'women and people with a cervix' for smear tests. 'Women and non-binary people' is another phrase you see everywhere now. The word woman never stands alone when applied to women. That would make others – fellas – feel left out. Calling women women is done apologetically, quietly, and 'inclusively' – gotta include those non-binaries. But referring to men as women is done with gusto. So where real woman are 'cis women', 'transwomen are women'. 'I'm a proud woman', says a transgender sports star. This month cosmetics chain Ulta Beauty put out a video featuring two biological males giddily discussing 'The Beauty of Girlhood'. A period of life neither knows a thing about. If a woman were to speak about the unique wonders of girlhood, or to commit the speechcrime of suggesting that going through girlhood is essential to being a woman, there's every possibility she'd be branded a TERF, which means witch. Only blokes can breezily chat about being girls these days.
The male colonisation of womanhood is clear from the neverending saga of Eddie Izzard's gender identity. That a once serious newspaper like the Guardian could feature on its front page a photo of Eddie in a wig alongside the words 'I've been promoted to she' is bonkers. You wonder when they'll have Rachel Dolezal in the paper saying, 'Yay, I'm officially black now!'. It is the ease with which men can be promoted to womanhood that is the most alarming thing. Forget having to experience girlhood, sisterhood, periods, childbirth, motherhood or any of the social lows and highs that come with being female, all Ed had to do was change his shoes. He says he switches between 'boy mode' and 'girl mode', sometimes by kicking off his 'flat shoes' and putting on 'heels'. High heels maketh the woman.
This is clearly a sexist view of what it means to be a woman. The idea of 'girl mode' – a mode being a fashion or a style – drains womanhood of its biological, relational and social depth and reduces it to a costume you can throw on and off as you please. And yet if any woman – actual woman – challenges Izzard's hollow view of womanhood, she can expect to be vilified online for days on end. 'Shut up, bitch', the totally non-sexist fans of the gender cult will say. Witness the viral persecution of Labour MP Rosie Duffield for saying she will never say 'she' in reference to Izzard. Asked about the possibility of misgendering becoming a hate crime under a future Labour government, Duffield said: 'I hope not because you might as well arrest me now. I'm not calling Eddie Izzard a woman.' For that – for refusing to say something she doesn't believe to be true – Duffield is once again being hounded by the woke left.
Momentum has branded her a 'disgrace to Labour values'. (Being a disgrace to Labour values is something Momentum would know about, to be fair.) Labour Students wants her to lose the Labour whip. Her 'behaviour has gone beyond the pale', it said. What, because she refuses to refer to a man as a woman? Get a grip. Various student Labour societies issued a joint statement saying Duffield's refusal to acknowledge Izzard's femaleness is the 'latest in a series of bigoted escalating comments'. Her 'continued presence in the Labour Party' is a problem, they said. Boot her out. For the crime of understanding biology. This is gender McCarthyism. At least in the old days it took being a full-on Commie for people to be blacklisted from public life – now all you have to do to be branded an unperson by the frenzied guardians of correct thought is to say: 'That man is a man.'
In refusing to use female pronouns for Izzard, Duffield is striking a blow for freedom of thought. 'Preferred pronouns' are one of the most troublesome examples of compelled speech. Saying 'she' in reference to men is not about 'politeness', as some claim. Rather, the extreme pressure to use 'preferred pronouns' is about coercing people into a new belief system, one that says we all have an innate gendered soul which sometimes differs from our biological sex. But many of us don't believe that. We think it's baloney. Just as I don't believe in transubstantiation – the religious idea that bread and wine literally become the body and blood of Christ during Mass – so I don't believe in transgenderism: the religious idea that a man literally becomes a woman via the magic of self-identification. Forcing people to profess beliefs they do not hold, on pain of social ostracism, is illiberal, regressive and against the principles of Enlightenment. Which is why I'll never do it. Sorry, Mr Izzard.
To enquire about republishing spiked's content, a right to reply or to request a correction, please contact the managing editor, Viv Regan.