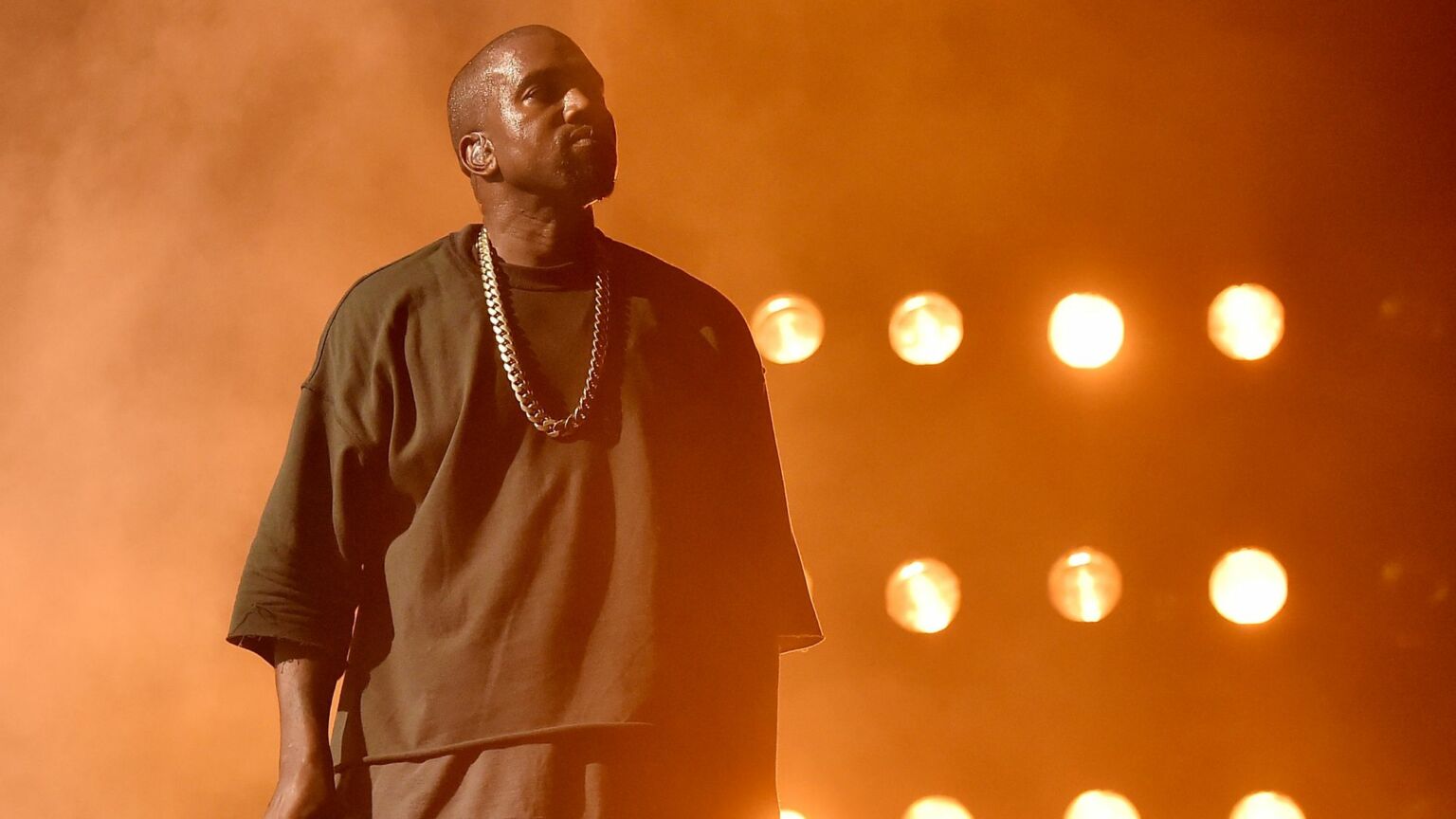 The unpersoning of Kanye West
His anti-Semitic statements are deeply troubling. So is the campaign to censor them.
Kanye West shows no signs of stopping. For the past four weeks, the American rapper has been relentlessly ranting about the Jews. West, or Ye as he now likes to be called, has denounced the 'Jewish media' who supposedly 'screwed' him. He has taken aim at the Jewish record execs who he claims 'control' the music industry. And he has even threatened to go 'death con 3 On JEWISH PEOPLE' (sic). The other night, a video of West went viral, in which he blames a 'Jewish doctor' for supposedly misdiagnosing him with bipolar disorder – a deliberate attempt, he suggests, to have him killed.
West's racist rants are paranoid and unhinged. The sheer relentlessness of his outbursts, along with his well-documented struggles with mental illness, suggests he is not fully 'there' at the moment. But that is no excuse for what he has been saying. He clearly knows that what he is saying is racist. Two weeks ago, he even bragged in a podcast interview – albeit prematurely – that he could 'literally say anti-Semitic shit' and get away with it. What's more, however odious his rants may be, they do reveal a semi-coherent worldview – and one that has not emerged from nowhere.
Ye's descent into crankery began at the beginning of October. During Paris Fashion Week, he appeared alongside right-wing influencer Candace Owens. Both wore t-shirts bearing the slogan 'White Lives Matter'. It was a provocative stunt. And the predictable condemnations flooded in thick and fast. The media and the celebrity set slammed West, accusing him of spreading far-right tropes. Diddy, the rapper and record executive, criticised the slogan both in private with him and publicly on his Instagram. West's response was to accuse Diddy of being controlled by Jews.
From then on, as if a dam had burst, the anti-Semitic comments poured forth relentlessly. A few days later, Ye posted his 'death con' tweet. He used every medium at his disposal, from social media to podcasts to TV interviews, to restate his paranoid suspicions about Jewish people.
So where is West drawing his views from? The White Lives Matter stunt has led many to accuse West of employing white-supremacist and neo-Nazi tropes. His past support for Donald Trump has also led to accusations that he is in league with the far right.
In truth, many of West's ideas can be traced to the output of black extremist groups. He seems to combine older conspiratorial claims about Jewish people running the world with ideas pushed by both the Nation of Islam (NOI) and the Black Hebrew Israelite (BHI) movement. West has a long association with the NOI's leader, Louis Farrakhan, who holds Jewish people responsible for slavery and claims they run the government and the entertainment industry. Farrakhan has even defended West's recent outbursts. Meanwhile, one of West's more outlandish justifications for his remarks – that 'black people are Jews also' – has echoes of the BHI creed that black people are the true descendants of the Biblical Israelites. In other words, West is drawing on a well-established ecosystem of anti-Semitic beliefs – he is not ranting in a vacuum.
This Farrakhan-inspired view that black people are targets of Jewish control may also explain why Ye continually raises the spectre of anti-black racism to deflect from the racism of his own comments. In interviews, whenever he is accused of anti-Jewish racism, his go-to response is to point to the pain suffered by black people – from both slavery and modern racism. When Piers Morgan asked West to apologise on his TalkTV show, he retorted: 'God forbid… one comment could cause people to feel any of the pain that my people have been through for years.' He described his anti-Semitic remarks as 'fighting fire with fire'. On Lex Fridman's podcast last week, West said he recently declined a tour of LA's Holocaust Museum: 'Let's visit our Holocaust Museum: Planned Parenthood.' The Holocaust of the Jews, in West's view, is nothing compared to the abortion of black babies in the modern-day US.
West has frequently raged in recent years against the victimhood culture of left identity politics. But his whataboutery on anti-Semitism actually mirrors the woke hierarchy of victimhood, in which black people are cast as forever oppressed and white people are cast as forever privileged. Jews, in this worldview, often come to be seen as hyper-white and hyper-privileged, thus making them fair game for attack. Indeed, West seems to believe he is actually challenging racism – by calling out those supposedly all-powerful Jews who he says are silencing and controlling the 'black voice'.
Make no mistake: West's comments are deplorable. There is something deeply chilling about a global superstar, among the most influential artists of the 21st century, succumbing to the world's oldest hatred. At the same time, there is also a lot that should worry us about how the world has responded to his outbursts. Since West's 'death con' tweet in early October, there has been a concerted campaign to have him cancelled, to have him driven from public life. He is effectively being unpersoned before our very eyes. This is itself a troubling development.
Over the past few weeks, West has been banned from all the major social-media outlets. Twitter has locked his account and he has been suspended from Instagram. A video of one of West's controversial interviews – on the Drink Champs podcast – has been pulled from YouTube. A leading talent agent, writing in the Financial Times, has even called for West's music to be banned from major streaming services. (Apple Music has deleted its 'Kanye West Essentials' playlist, although his music is still available to stream.) Meanwhile, a finished documentary about West has been shelved and will never be aired publicly.
The business world has also declared him persona non grata. Just about every business he is associated with has cut ties with him. His talent agency, CAA, will no longer represent him. His record label, Def Jam, is keen for it to be known that his contract expired last year. Several law firms have dropped him as a client, with one citing his 'hate speech and bigotry' as justification. French fashion house Balenciaga has removed his name from its website. Gap is in the process of removing its Yeezy Gap products from its stores. Most significantly, Adidas has liquidated its decade-long partnership with Ye – a deal believed to be worth around 10 per cent of the company's annual profits. West claims to have lost $2 billion in a single day from the fallout. He is expected to face financial ruin in a matter of months.
Lucrative fashion deals are not a God-given right, of course. But it is nonetheless alarming that expressing an opinion – no matter how vile – can have such vast and instant repercussions. If nothing else, this sets an alarming precedent for free speech. Not least as the range of the views our elites want to prohibit grows wider each day – far beyond clear-cut bigotry.
More importantly, what exactly has this attempted unpersoning of Kanye West achieved? Has it made him reconsider his comments? Despite all the pressure, he has refused to properly apologise. In one of his madder moments of defiance, he vowed to create a new 'Yecosystem' – independent of the main social-media platforms and the big clothing brands. He has vowed to open his own clothing shops and to buy out Parler, the troubled social-media app billed as a free-speech alternative to Twitter.
Clearly, the attempt to cancel West has done nothing to challenge his warped, anti-Semitic worldview. If anything, he has held it up as vindication. West has said that the reaction to 'the Jewish comment… [has] actually proven the exact point that I made'. In one of his final tweets before Twitter locked his account, West pondered aloud: 'Who you think created cancel culture?' We can take a running guess at who he had in mind.
Anti-Semitism is a distinctly conspiratorial form of racism. And when conspiracy theorists are censored, their censorship is taken as proof that they are actually on to something. That there is a forbidden truth out there that the elites want to hide. That, in this case, there is one all-powerful group in particular you cannot criticise. It is far better to counter racist lies with humanist truths, to take on bigoted screeds with rational arguments.
This is why we need to resist the unpersoning of Kanye West. However foul his views, however relentless his racism, censorship is never the answer.
Fraser Myers is deputy editor at spiked and host of the spiked podcast. Follow him on Twitter: @FraserMyers
To enquire about republishing spiked's content, a right to reply or to request a correction, please contact the managing editor, Viv Regan.