Sexist comedy is back
Jordan Gray is Bernard Manning for the woke set.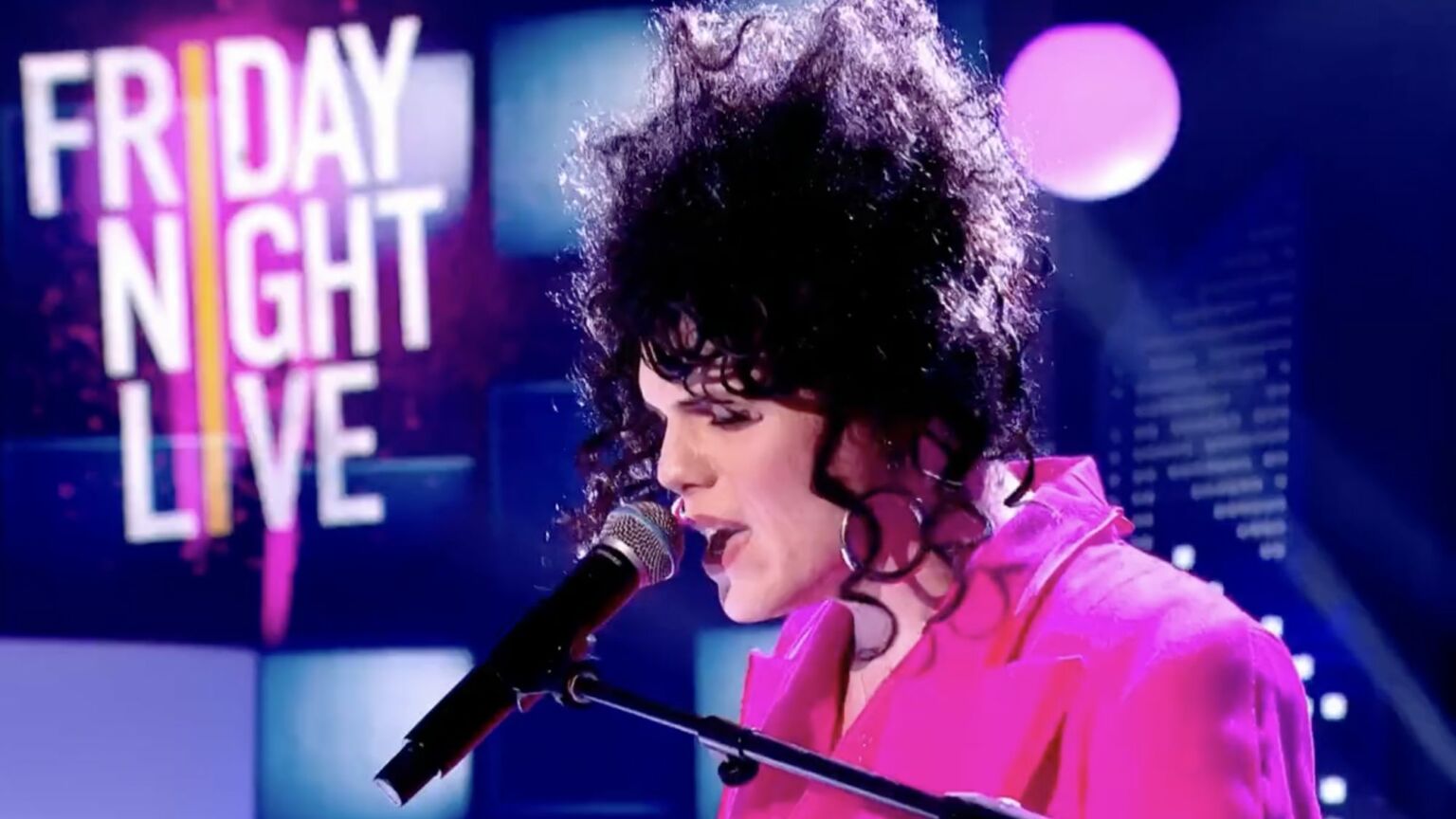 Let me get this right. When Jerry Sadowitz gets his knob out during a comedy routine it's an outrage, a vile, misogynistic crime against decency. The beast must be cancelled. But when Jordan Gray gets his knob out during a comedy routine – I say comedy… – it's 'iconic', deserving of 'praise', possibly the 'TV MOMENT OF THE YEAR!'. What's with the double standard? It's simple: Gray is trans, and that means he can do whatever the fuck he wants.
The fawning over Gray and his little pecker has been mad, even by the standards of today's cult of genderfluidity. It was on Friday Night Live on Channel 4 that Gray whipped out his phallus. He was playing the piano and singing songs and cracking jokes that only someone with a degree in queer studies could find funny. Then he said: 'You know the best thing about live TV is that I can do stupid stuff like this!' He stood up, tore off his neon-pink pantsuit, and stood naked before the live studio audience. Fake boobs, real penis, the works. He then used his dick to carry on playing the piano, which was quite the stretch.
It all rather brought to mind the line from that Seth MacFarlane film, Ted: 'There are no chicks with dicks, only guys with tits!' This guy with tits – or 'woman', according to those who have fully abandoned the pursuits of reason and truth – has been gushed over by the woke media. 'What a moment', they said. An 'iconic live naked performance', declared LadBible. The Mirror did that thing that media outlets often do of using random people's tweets to make a moral point. 'Seeing a trans woman get naked on TV is *exactly* what is needed', it quoted one social-media sage as saying. Is it, though? I know people need help with their mortgages and electricity bills. I'm not sure they need to be dragged against their will into a bloke's narcissistic fantasy that he is a lady despite having a cock that he wants you all to look at.
For the record, I don't have a problem with nudity on TV. Or sex or violence or offensive comedy. It's all good. Please don't write to Ofcom about Gray. But I do have a problem with double standards. It's mere months since the same media that's now salivating over Gray's penis were tut-tutting over Jerry Sadowitz's. Sadowitz got his member out during his stand-up show at the Edinburgh Festival. The right-on set went mental. Indecent exposure is not free speech, they said. Showing your knob to audience members is not culture, they cried. But it is now? Make it make sense!
It will surprise no one who has ever encountered Pink News to learn that it has been at the forefront of all this dick hypocrisy. During the Sadowitz scandal, Pink News went all judgemental. 'Unacceptable' was a word it used. It quoted a shocked audience member: 'He got his penis out to a woman in the front row.' That is 'indefensible content', apparently. Fast forward a couple of months and now Pink News can't get enough of comics with their cocks out. 'Trans comedian Jordan Gray praised for iconic naked Friday Night Live performance', cries its headline. He 'blew away' the audience, apparently. So when a dour Scot shows his penis to women, that's indefensible. But when a younger, perkier bloke who thinks he's a woman does the same, it's wonderful. Right.
It's official: trans people are not judged by the same moral criteria as the rest of us mere mortals. That's also clear from the fact that media outlets are using Gray's preferred pronouns, to such an extent that they're saying 'her penis' about his penis. Gray even 'play[ed] the keyboard with her PENIS', says the Daily Mail. 'Her penis' – now that's offensive. It's an offence against grammar and biology. Doubtless I'll be thought of as transphobic for saying 'he' and 'him' about Gray, but you're crackers if you think I'm going to say 'she' and 'her' about a bloke whose dick I've literally seen hitting a piano keyboard.
It is clear now that men who think they're women can get away with things that men who know they're men cannot. We've actually known this for some time. Call yourself a woman and you can wander into female changing areas, naked, even in a state of arousal if you like. If a man did that, it would be indecent exposure. When a man who identifies as a woman does it, it's trans rights. Likewise, if a man were to take a job or political role that was reserved for women, we'd call him sexist. But when a man who identifies as a woman does it, again it's trans rights. Suck it up, ladies.
Men can even get away with sexist jokes if they identify as women. Consider the song Gray was singing before stripping off. It was called 'Better Than You' and it was about… well, how he, a trans woman, is better than you, a mere woman. 'I'm better than you, don't let that upset you dear', he sang. Dear – oof. 'I'm a perfect woman', he said, because 'my tits will never shrink'. 'I can do anything that any other woman can, but then what do you expect? I used to be a man!' And there you have it: men even do womanhood better than women. And their tits will never droop.
Now, we might give Gray the benefit of the doubt and wonder if his tongue was firmly in his cheek. But whether he was making fun of the trans ideology or straight up stating the trans ideology, the end result was that there was a bloke on TV telling everyone he's a woman, and a better one than you, dear. There was something grimly ironic about the fact that this happened on a one-off revival of Friday Night Live. That 1980s alternative comedy show once viewed itself as the single-handed slayer of the blokeish, sexist comedy of the Bernard Manning era that preceded it. And yet its big moment in its revival was a fella making jokes about saggy breasts. From the old misogyny to the new, eh?
Friday Night Live's compere – still Ben Elton, God help us – talked to the media about political correctness in the run-up to this one-off show. Political correctness is fine, he said. 'There was a time when abolishing slavery and giving women the vote was political correctness gone mad', he said. (There wasn't.) He also mused over the idea that people like him 'invented political correctness' and helped to 'kill Benny Hill' by railing against his sexism. And yet now Elton oversees performances that make light of the entire idea of womanhood, by presenting it as something that is so flimsy and silly that even people with penises can claim ownership of it. It makes Benny Hill look like Betty Friedan.
This all rather points to a crisis in so-called alternative comedy. Or perhaps to alternative comedy's true self finally coming out. Post-1980s comedy presented itself as kinder, fairer, free of the prejudices of those 1970s oafs who had once clogged up the airwaves. And yet now we have Stewart Lee calling voters cunts, Frankie Boyle joking about raping Holly Willoughby, and a man with fake breasts making fun of women's real breasts on live TV. Wokeness really is a cover for cruelty, isn't it? Punching down is back.
Picture by: Twitter / Channel 4
To enquire about republishing spiked's content, a right to reply or to request a correction, please contact the managing editor, Viv Regan.