Why is Graham Norton defending cancel culture?
His tirade against John Cleese was clueless and unedifying.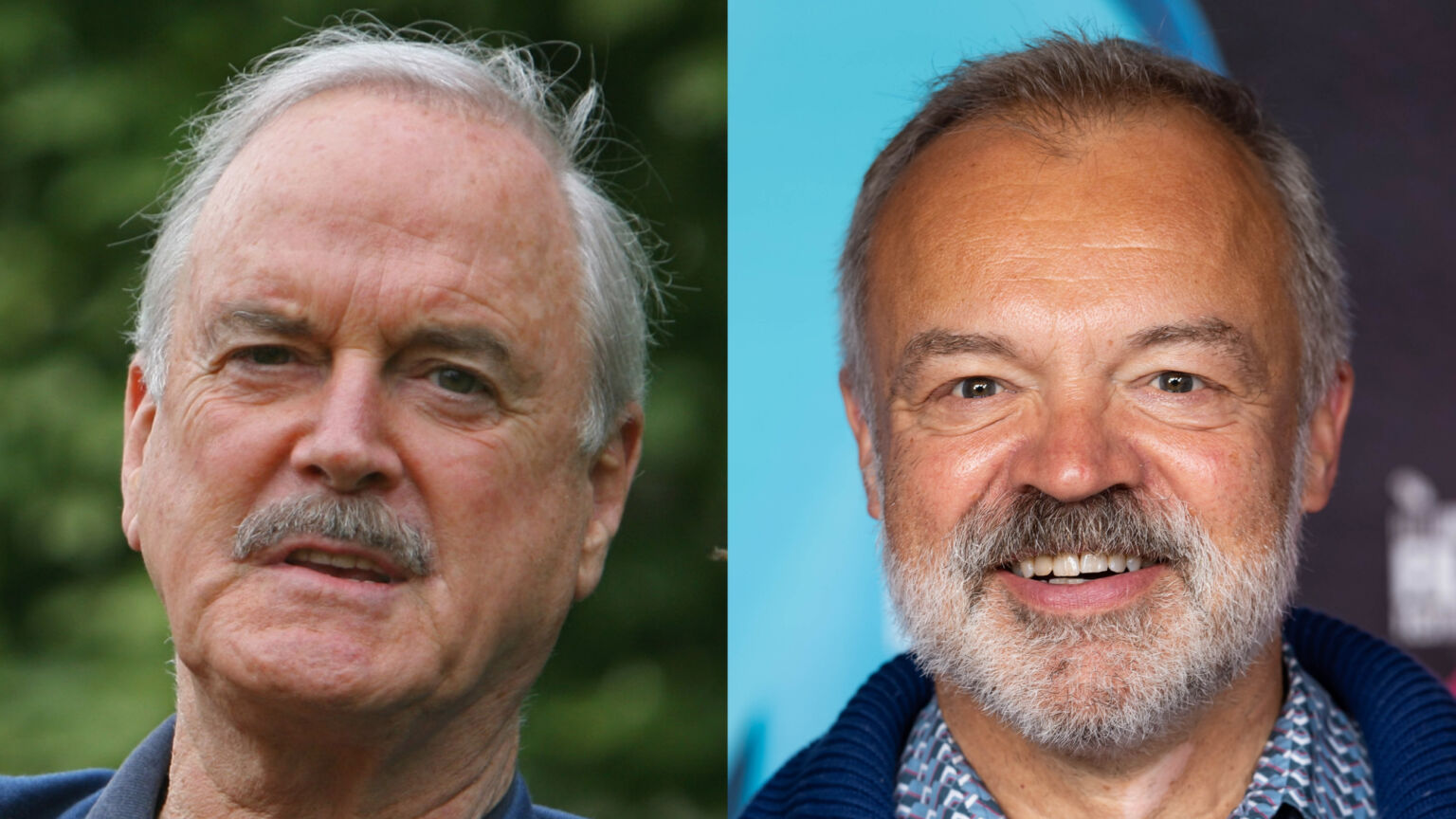 Most of us understand that 'cancel culture' is a polite way of talking about the intimidation and bullying of people with the 'wrong' opinions, by a small number of crazed online children and disturbed young adults. It is enabled by older people who have mistaken a certain section of the miseducated middle class for public opinion.
But no! Stop! Wait a second! Because here comes somebody to set us straight about all of this. And ironically, it is British television's most renowned gay man – the cuddly, bubbly Graham Norton.
Speaking this week at the Cheltenham Literature Festival, Norton decreed of cancelling: 'The word is the wrong word. I think the word should be accountability.'
He didn't stop there, either. Our new arbiter of the discourse named the guilty: 'John Cleese has been very public recently about complaining about what you can't say. It must be very hard to be a man of a certain age who's been able to say whatever he likes for years, and now suddenly there's some accountability.' (Graham Norton, hip young thing, was born in 1963.)
Personally, I find Norton's head-wobbling, celebrity-grovelling chat-show persona unbearable, though his more amiable 'chatty auntie' approach to radio is more appealing. This is a man whose unique selling point is throwing a lever to tip members of the public off a funny chair for being 'boring' in front of Hollywood airheads. For him to start pronouncing on the permissible limits of political discourse is, perhaps, a surprising move.
Nevertheless, it is fascinating to see the hard-of-understanding in the entertainment industry contort themselves into thinking that cancellation is simply a way of holding people 'accountable'. Because to function within the arts industry in our times, this is what you have to believe. You have to prostrate yourself before a junk ideology that has successfully rebranded misogyny as feminism and racism as anti-racism, and which punishes anybody with the temerity to point this out.
No doubt Norton is aware of the nappy loads of online reaction since Cleese announced he will be presenting a show on GB News – a channel which is loathed by the Twitterati, even though it mainly resembles GMTV circa 2008, which I don't remember being a jackbooted junta propaganda station. Is this what Cleese should be held 'accountable' for?
Because we really have to ask: what terrible things exactly does Norton think Cleese has been saying all these years, for which he now needs to be brought to justice? Was his campaigning for (pass the smelling salts!) the SDP-Liberal Alliance in the 1980s merely a front for a hatred for minorities? Was A Fish Called Wanda a manifesto for segregation? Did Fawlty Towers advocate a fascist takeover? Was the parrot sketch a coded demand for the euthanisation of the poor?
It's very ironic that Norton himself has spent decades humiliating people, pulling 'well, they're a loony' faces, 'kink shaming', posing for photos where he's squirting salad cream on to Denise van Outen's breasts, etc. None of it, in my opinion, is especially edifying. But should he be held 'accountable' for it? And by whom? A few thousand nutters on Twitter? Obviously, I think he should not. Because I'm not deranged.
'It's free speech, but not consequence-free [speech]', Norton also said, repeating the mantra of tedious activists like a not-so-ceased-to-be parrot. What are these mysterious 'consequences'? Who decides them? Is firing people from their jobs them an acceptable consequence? Is harassment?
It is fascinating to see such a clear example of 'Do it to Julia!' in the wild. Because Graham Norton, of all people, surely knows it is wrong to punish people professionally for being out of step with currently fashionable bourgeois opinions. He is only slightly longer in the tooth than me. Presumably he remembers Julian Clary's work mysteriously drying up for a good few years after his 'fisting Norman Lamont' joke in the early 1990s. Or how Morrissey or Marc Almond couldn't get their songs played on Radio 1 for love nor money, at the height of their careers, because of their forthrightly expressed opinions. Or how Simon Fanshawe's comedy career stalled at the very same time he became active in gay-liberation politics.
Were those 'consequences' acceptable? And if not, what about the 21st-century 'consequences'? We have seen Gillian Philip dropped from her writing job and having to retrain as an HGV driver. Kate Clanchy was abandoned by her agent and publisher, merely for defending herself against spurious, bad faith accusations of prejudice. Allison Bailey and Maya Forstater were fired. Kathleen Stock was harassed. Are these really acceptable consequences, just for holding opinions?
Perhaps Norton does get it on some level. Interestingly, he dodged the trans debate entirely elsewhere in the interview, saying: 'My voice adds [absolutely] nothing to that discussion. I'm sort of embarrassed that I'm somehow drawn into it.' This is showbizese for 'I am shitting bricks, please change the subject'.
He should perhaps have taken that tack with cancel culture, too. 'I know nothing', he might have said, to borrow the words of a certain Spanish waiter. Even that would have been better than this capitulation to the maniacs.
Gareth Roberts is a screenwriter and novelist, best known for his work on Doctor Who.
To enquire about republishing spiked's content, a right to reply or to request a correction, please contact the managing editor, Viv Regan.